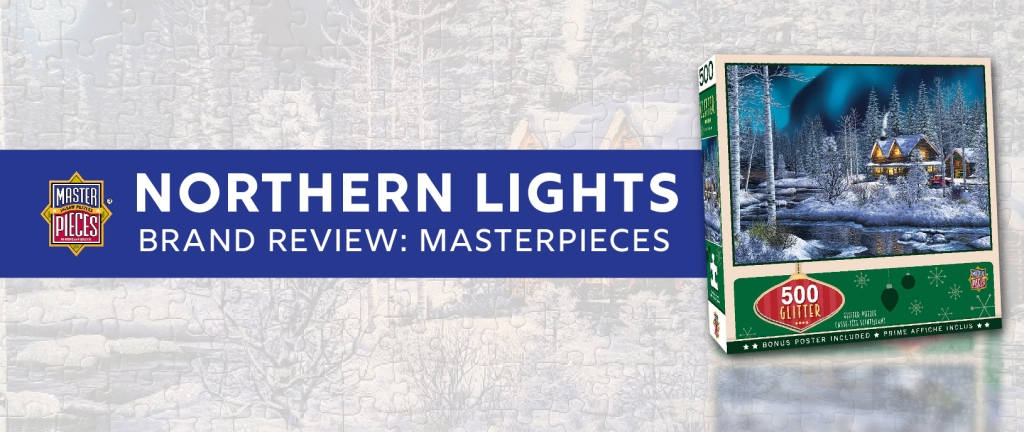 Northern Lights, MasterPieces Review
My Rating: 8/10
I must confess to all my fellow Jigsaw Junkies that I am not just a Jigsaw Junkie, I am also a Christmas Junkie. I know it's spring, but yes there it is, the truth is out. Well I might as well also admit that a good part of my puzzle collection are Holiday and Christmas puzzles. I know I am not alone in this. I am sure many of you do love a good Christmas puzzle as well. So that being said I have something really special for you guys not just a Holiday puzzle but a "Glitter Holiday" puzzle, what could be more fun! Northern Lights, by MasterPieces Inc., is exactly that a lot of fun. I really enjoyed this puzzle. Northern Lights is from their "Holiday" line of puzzles. This is a 500 piece random cut puzzle. I do have some "Glitter" puzzles in my collection, but I must admit its been a while since I assembled one. I enjoyed this puzzle so much that I definitely plan on adding more "Glitter" puzzles to my collection. MasterPieces Inc. was actually founded by David Rolls a former eight year pro baseball player, playing for both the Texas Rangers as well as the Kansas City Royals. In 1995 David Rolls partnered with evergreen brands and top jigsaw puzzle artists. Masterpieces Inc., formally known as MasterPieces Puzzle company is an American based company headquartered in Oro Valley, Arizona. MasterPieces carries a wide range of images and piece counts from 100 too 2000 pieces. Not only do they carry the "Glitter" line of puzzle's they also carry the "Glow in the Dark" line. You will find images for everyone in their library of puzzle's, from "Unicorn's" to the "NFL", there is something for everyone.
Box Quality: 9/10
MasterPieces takes pride in their unique packaging. You will find actual glitter on the front of the box. You can not only see it but you will also feel it as you run your hand across the cover of the box. This is a smaller square shaped box measuring 8″ x 8″. MasterPieces boxes aren't as sturdy as some other brands but in their defense I haven't had any issues with their boxes in the past. I have had MasterPieces puzzles in my collection for years and find all the boxes held up well. On the front of the box you will find the image, logo and piece count. All four sides include the image and logo. You will find the piece count on three sides of the box. My problem with this box is it was actually hard to find the title of the image. It is only on one side and that side is actually printed upside down . As you look at that side the writing and the image are upside down. This could potentially be a problem for storage purposes, because of that I will take a point here for that one issue. On the bottom of the box you will find portion of the image, piece count, logo and a picture of the artist as well as small bio of the artist written in two languages. In the box you will find the bag of pieces along with a nice size poster which also shows some small photos of other puzzles from the same series.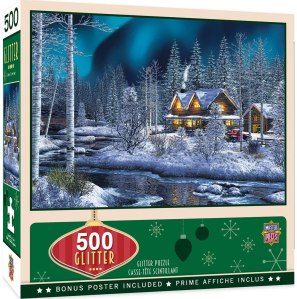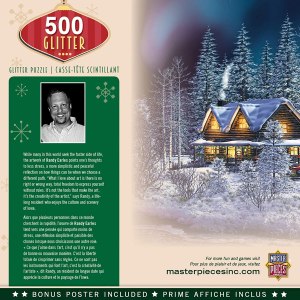 Image: 10/10
Alone this would be a beautiful image now add the "Glitter" and it is outstanding. Look at the snow glistening in the trees. I love the use of "Glitter" in the night sky which makes the moonlight look as though it is dancing. The strategic placing of the "Glitter" only enhances the beauty of this winter scene. It is used to magnify the moonlight reflecting off the stream as well as on the snow covering the rocks. With the use of "Glitter", the snow sparkles and gleams through out the image. The snow shimmers in the tree branches. The slight use of "Glitter" on the roof, is just enough to enhance the roof top of the cabin. Look how cozy the cabin looks nestled in the trees so warm and inviting. The smoke coming from the chimney, makes you want to curl up in front of the fire with some hot cocoa. I am always on the hunt for pretty winter images and I have to say this is one of the prettiest in my collection. Randy Earles is the artist responsible for this beautiful image. A life long resident of Iowa, Randy loves the freedom to express his self in his artwork. Randy often uses the culture and scenery of Iowa in his images.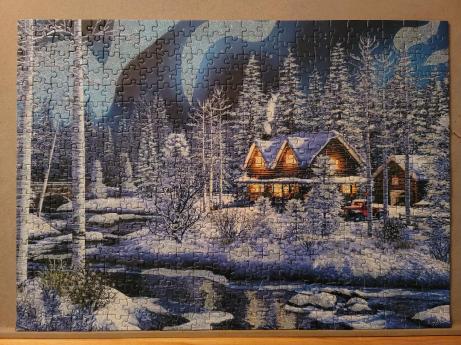 Puzzle Quality: 10/10
The MasterPieces brand I feel doesn't always get a fair shake when it comes to brand comparisons,they usually place lower on the scale. I couldn't disagree more. I haven't experienced any issues with the quality of this brand. Not only can I give the quality of this puzzle a perfect score, I can also give the price a perfect score as well. MasterPieces puzzles price points are lower then other brands out there. So lets see good quality, lower price, its a win win right. Yes the pieces aren't as thick as some of the more expensive brands on the market, but they aren't too thin either. The factory cut of this puzzle was as close to perfection as it comes, only one piece had some shards from an incomplete cut. I found very little dust in the box. The image reproduction was crisp and clear. The chipboard used in this puzzle is made of recycled materials which is always a plus.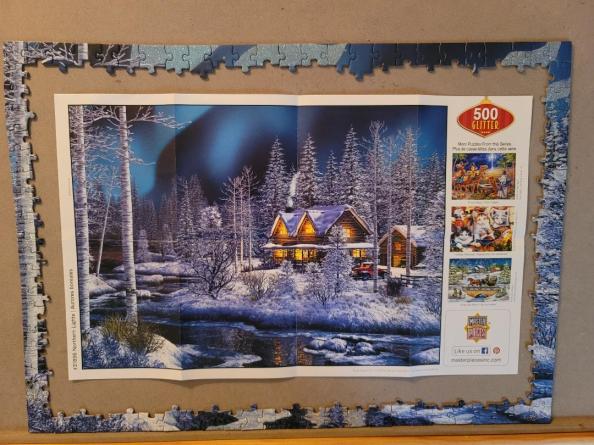 Assembly: 9/10
Unfortunately I will have to take a point here for the loose fit of this puzzle. I am sure I am not alone when bothered by a loose fit. So you will have to take care when moving groups of assembled pieces around your board. Was this the worst experience I have had with loose fitting pieces not at all, just be advised to take care. I would also like to give you a heads up here because this is a "Glitter" puzzle my best advice to you is not to use your usual sorting trays or boxes for this puzzles assembly. This puzzle comes with a bonus poster I used that for my assembly and stored my unused pieces in the actual puzzle box. I used both the bottom box and top box to store my pieces. This way I avoided leaving glitter dust in my sorting boxes. The good news is that I didn't have a lot of glitter dust left on my puzzle board. I know some of you who haven't assembled a glitter puzzle before may be afraid of being left with a glitter mess, I can assure you that wasn't the case. I actually was amazed of how little glitter was left on my board. I started off with assembling my boarder first. The sky looked so pretty that once my boarder was completed I started there. The sky and the cabin were the easiest parts to assemble. At first glance of this image you may think it looks like a bit of a challenge but that really isn't the case. Although there a lot of similar colors in this puzzle such as the deep blues in the river and trees, I can assure you each area is very distinctive in color, the pieces just flow together without much effort. I would rate this puzzles difficulty level as easy. I completed this puzzle in around three hours. The reproduction of this image is clear and crisp. You should be aware that the image on the poster excludes the glitter. It is a picture of the image without the glitter so you may want to refer to the image on the box for a more detailed image. I usually clip posters to my board and assemble using just the poster. I did refer to the box several times myself. This a random cut puzzle with some fun shapes. Random cut puzzles tend to be easier in my opinion. You won't have any issues with trying to fit the wrong piece with this puzzle. This was fun, relaxing puzzle. This finished product was a charming, glittery masterpiece. Remember piece by piece and you will be on your way.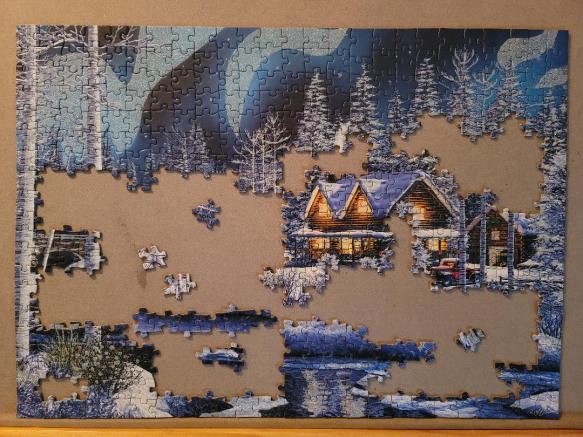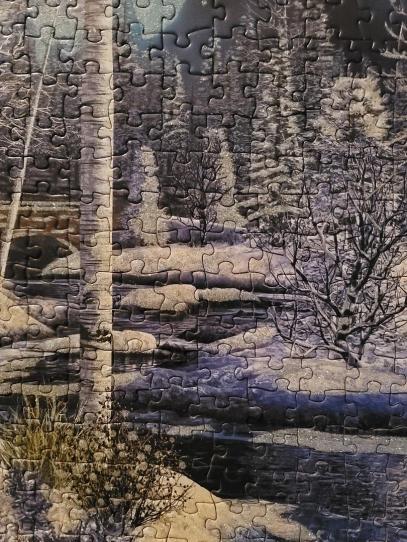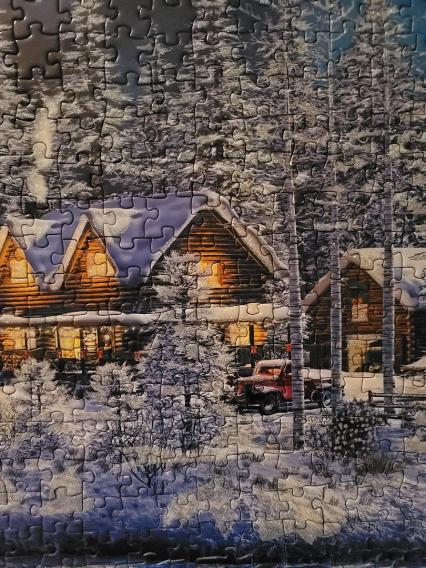 Summary:
If you don't already have MasterPieces puzzles in your collection then you simply must add them. This brand will never disappoint I promise you. You haven't treated yourself to "Glitter" puzzle yet you say, well then your in for a treat. Here are just a few I highly recommend.