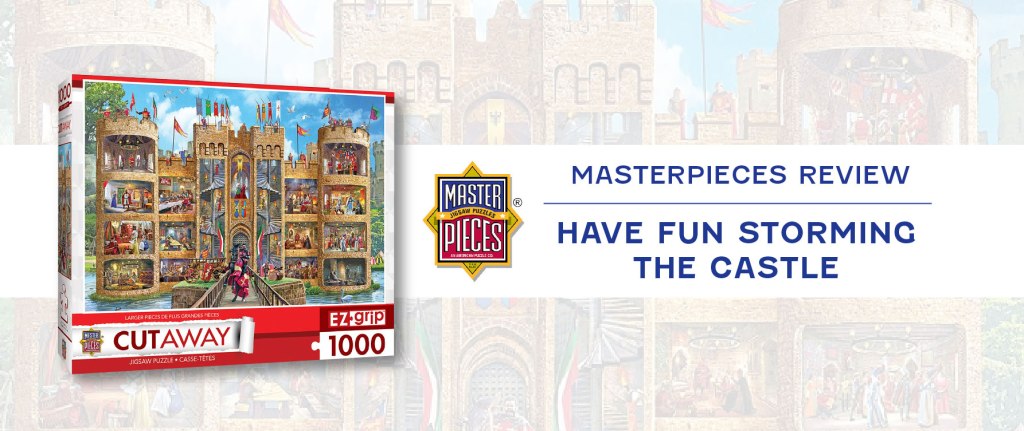 Have Fun Storming the Castle
For several months I watched it from afar. I was intrigued by the history of it. I lurked in the shadows trying to decide if I wanted another cutaway puzzle. Before I could decide, it would disappear. Apparently others were obsessed with this puzzle too. . . I kept checking and when it became available again I quickly clicked and then heaved a sigh of relief. It was on its way.
What puzzle, you ask, had me so consumed that I stalked the Puzzle Warehouse website – a crazed fan, obsessed with finding and owning a historical picture glued to pieces of cardboard?
I was (and remain) captivated by Medieval Castle from MasterPieces. It's part of their EZ-grip Cut-Away Collection that includes Hometown Market and Camping Lodge – all three with art by Steve Crisp. I'm embarrassed to admit that it wasn't until I was holding the box in my hand that I realized the artwork was by Steve Crisp. So many of my most enjoyable puzzles were drawn by him.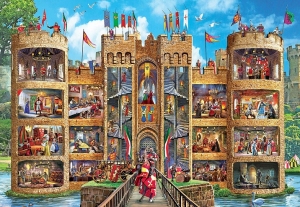 The puzzle came in a large, sturdy box. It included an easel to hold up the box so I could refer to it while working. I didn't use it because I needed to hold the box so I could look closely at the details of the picture. I would rather have had a "blown-up" poster because there is so much going on in those rooms – dances, church services, cleaning, baking, and dining. There's even a dungeon. Although it's pretty easy to see who and what is in each room, I wanted to see more because I was enjoying every single bit.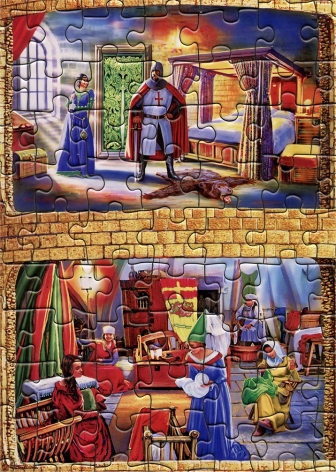 There was just the right amount of sky, helped by those wonderful flags, and a little bit of moat and trees. This was not a case of the last 100 pieces being almost impossible because they all looked the same – muddy and dark. The pieces were thick and large – something I really appreciated because they were easier to pick up and move around. When you push on a bunch of them they slide across the table with much less climbing on top of each other – you don't have to go through again and make sure they are in a single layer.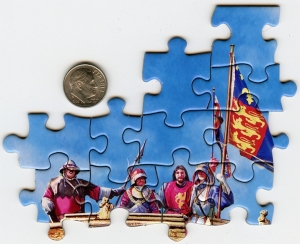 As I worked this one I was amazed at the detail Crisp had included. You might look at it and think, "Oh, no way! All those bricks! Nope, not even gonna try." But different areas of the castle are made from bricks of different sizes and colors. While that makes it a lot easier to put the puzzle together, it's also typical of castles as many were built and added to over the years.
This puzzle was a delight from start to finish. It was an "oh darn, I've finished it" puzzle. I seldom make a puzzle twice and I don't keep many of them. But I'm keeping this one and will probably assemble it a second time.
Hometown Market is the second cutaway puzzle in this MasterPieces collection. Steve Crisp did his usual fine artwork here too. Again, the box was sturdy, the pieces larger and thick.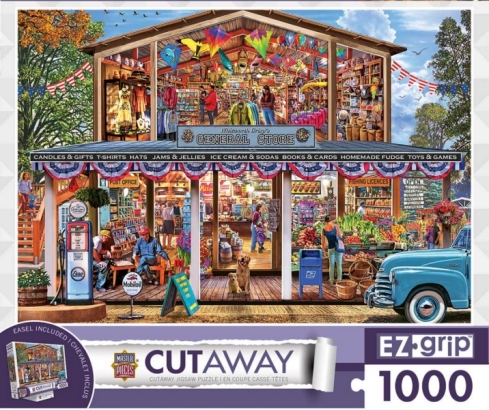 Pieces align unevenly, are somewhat "gridish," but random with unique shapes – including several double pieces like the one to the left of the dime below. The puzzle does not have a linen finish, but there was almost no glare.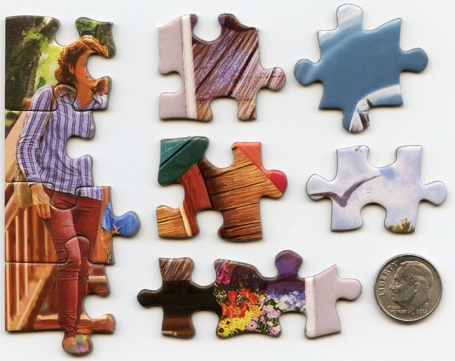 I believe it's the first time ever that the last pieces to be put in were not a wide expanse of blue sky, a dark mountain, or leafy trees. It was the stuff on the shelves that was tough to recognize and place. I really could have used a poster. The top floor looked like stores I've seen in Alaska with the clothing, DVD's, kayaks, kites, fishing licenses, etc. all in one store.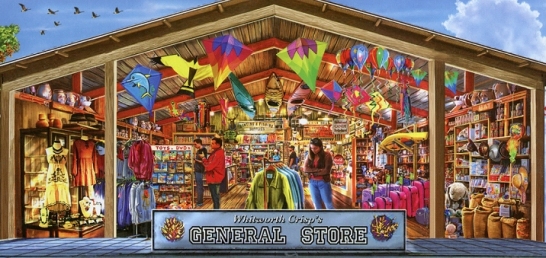 But the bottom floor looked like any small town market in one of the prairie states. I enjoyed this puzzle almost as much as the Medieval Castle.
Although I found the castle puzzle fascinating, in reality they were dark, dirty, and smelly. Glass was too expensive to put in the windows. The only sewer system was the moat. So royalty and lords would frequently stay several months and then move on. This would let nature cleanse the building and moat naturally.
Fortunately this castle doesn't have any of these disagreeable features.
Happy puzzling,
Madelle
P. S. If you're also fascinated by castles, Puzzle Warehouse has a good selection of realistic and fantasy puzzles to choose from.