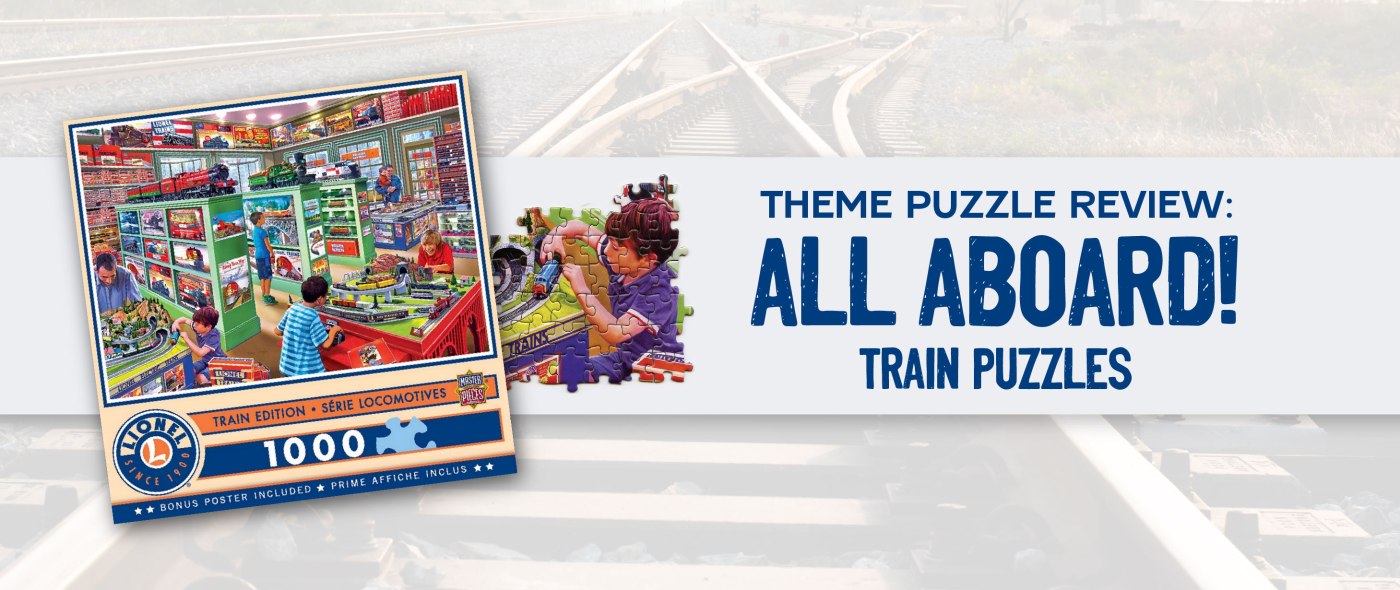 Theme Puzzle Review: All Aboard
If Sheldon Cooper, of TV's Big Bang Theory, were real he'd be telling me that it was time I paid proper attention to trains. I am not sure why Sheldon was obsessed with trains, but when you think about it, they led to the development of management as a profession and the creation of our U.S. time zones. They're also about adventure, putting aside daily tasks and worries, and "being in the moment." In many ways trains are a metaphor for life – the journey where you can board the wrong train, but end up at the right destination. . . . Wish I'd come up with that, but it's from Paulo Coelho, the Brazilian novelist.
Back when demand for puzzles was skyrocketing because of Covid, the puzzle world was struggling to maintain their inventory (so glad things have improved). I searched for an alternate to the Puzzle of the Month selection. I just wanted a puzzle with good resolution, without large areas of one color, and not a lot of dark areas. Subject matter was not so important.
I selected The Lionel Store by MasterPieces. The puzzle is made of 100% recycled board and with soy-based ink. It's one of a collection of Lionel puzzles that includes Shopping Spree, The Boys' Playroom, High Hopes, and Well Stocked Shelves. It wasn't until I started working the puzzle that I realized Steve Crisp had done the artwork. I was surprised and pleased as many of my favorite puzzles feature his artwork. Apparently I'm not alone in liking his work as Jigsaw Junkies interviewed him in 2016.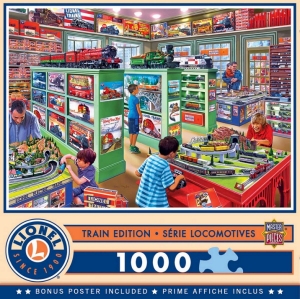 The Lionel Store comes in a nice sturdy box with info about Crisp on the back. It includes a poster, helpful when you need a larger view of the details, and you will for this puzzle. I was a little afraid I was going to wear out the poster, but it's printed on good quality paper and is still like new. I admit I was somewhat surprised by the puzzle quality. The pieces are easily 2 millimeters thick with no separation of the picture from the cardboard and no bent pieces. As you can see from the picture below, the "gridish" pieces are only a little larger than a dime. I would have appreciated somewhat larger pieces.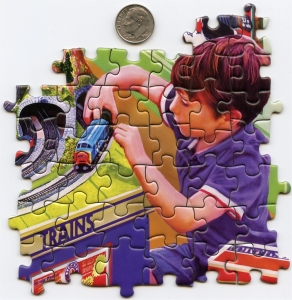 There's a lot of detail so small I was tempted to get my magnifying glass so I could see what I was looking at. But that would have involved getting up and looking for it and I was comfortable drinking my hot tea and sitting in my office chair. (Working a puzzle while sitting in an office chair is very convenient. You can roll around the table to get to the pieces on the other side without standing up. Have I mentioned I prefer to think of it as being efficient rather than lazy?)
This puzzle turned out to be more fun than I had expected – good quality puzzle and interesting details. After all these years of puzzling, it was a pleasant treat to be surprised. I went looking for more train puzzles. There are so many for both adults and children that I had a hard time choosing several to mention.
Riding the Rails, from SunsOut, art by Irv Brechner, is one in their series of crossword and jigsaw combinations. SunsOut puzzles are made in the U.S. with recycled cardboard and soy-based ink. Riding the Rails includes an 11 x 17 Inch poster showing a picture of the puzzle and the crossword solution. I have enjoyed assembling these crossword/jigsaw puzzles in the past. They hit that sweet spot of just the right amount of an unusual challenge.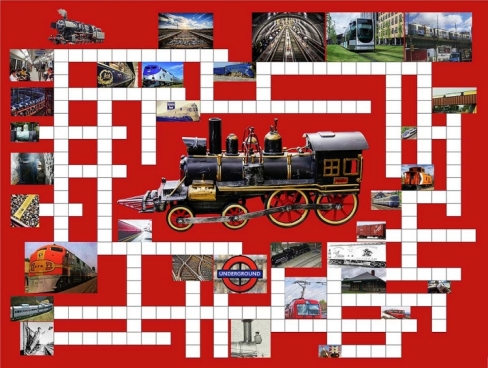 Traveling Thomas is a 100 piece puzzle from Ravensburger, a German game/toy company and publishing house started in 1883. They started producing jigsaw puzzles in 1964. You can count on their puzzles being high quality with sturdy boxes and nice thick pieces. They have a series of Thomas the Train puzzles in a variety of shapes and piece counts that are just perfect for young Thomas fans.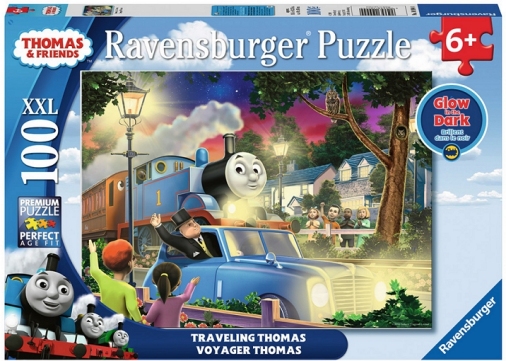 I know it's not the Christmas season, but I had to include North Pole Delivery, a 300 large piece puzzle from MasterPieces. And, let's face it, the only way to be sure you have the perfect Christmas puzzle in time is to shop early. This is a colorful puzzle that made me smile just looking at it.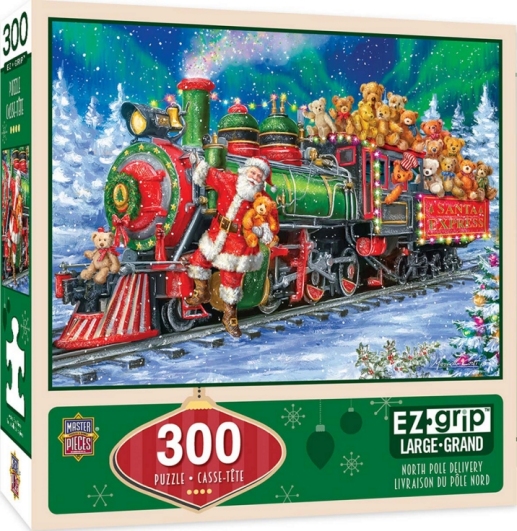 Waiting on the Platform is a 1000 piece puzzle from Jumbo, a Dutch company established in 1853. Their puzzles are made in their Netherlands factory from recycled cardboard and paper. My past experiences with Jumbo puzzles have been very positive – sturdy boxes, thick pieces, nice matte finish with no glare, and no puzzle dust. The pieces have been somewhat "gridish," but each piece was unique. This is my favorite kind of puzzle – not too much sky, not too much of one color, yet plenty of things going on.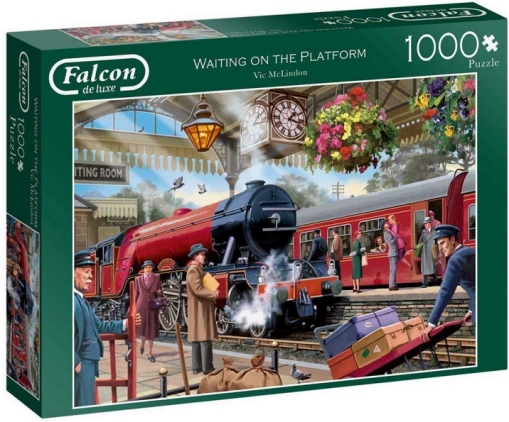 Just as an aside, did you know critics of early trains predicted that their high speeds of 10-20 miles an hour would cause travelers to go insane, as well as cause damage to their bodies? I assure you these trains are harmless.
Happy puzzling,
Madelle