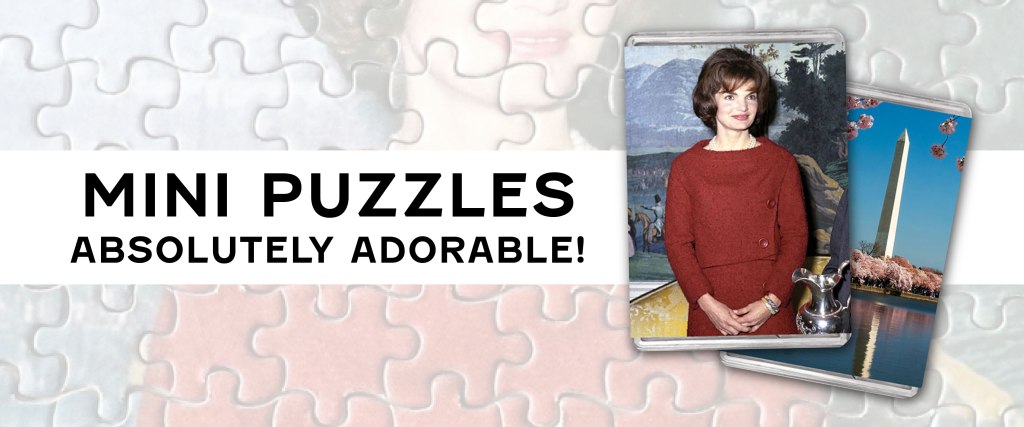 Mini Puzzles – Absolutely Adorable!
I simply cannot get enough mini puzzles! Everything is more adorable when it is tiny – puppies, toys, even people. I have several Pigment & Hue Mini puzzles. One thing I really love about mini puzzles is you can take them anywhere. The boxes are compact enough that you can stick them in a purse or pocket. I have taken them with me on road trips and on airplanes. They are also very affordable so it's not too disappointing if you lose a piece when you are puzzling in an unusual place.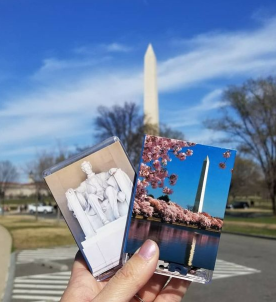 Measuring only 5″ x 7″ when completed, these tiny puzzles can take a long time to assemble. They can be shockingly difficult. The one I did most recently, Jacqueline Kennedy, was definitely the hardest.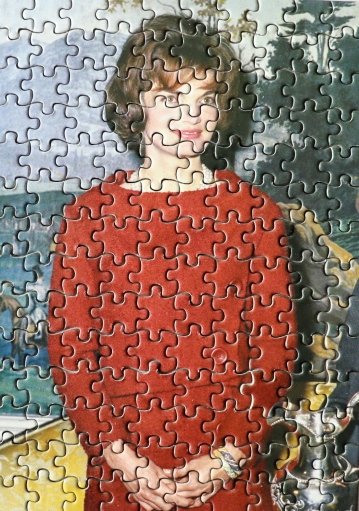 Just look at that beautiful red suit Mrs. Kennedy is wearing. There is not much color variation in it! The buttons and the line where the suit jacket meets the skirt were incredibly helpful. Add to a repetition of shapes to the lack of hues and it get even harder.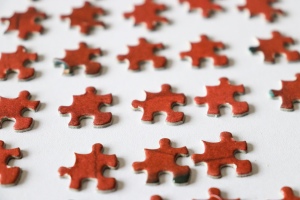 Here's a little tip, organize by shape. This is extremely helpful when you are working on a difficult puzzle. I not only sorted the red pieces by shape, but I also lined them up so they were facing the same direction. Despite my organizational efforts, I did have 2 pieces transposed. It took me some very close examination (and the always helpful Puzzle Scoop) to correct the error.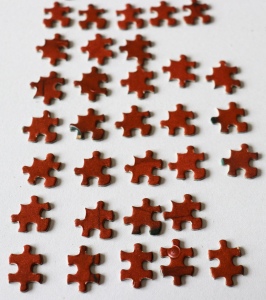 Even through the red clothing was a large section, there were many additional colors on this little cutie. When I started this puzzle, I definitely saved all the red for last. Having the frame around that section made it a lot easier to position the pieces.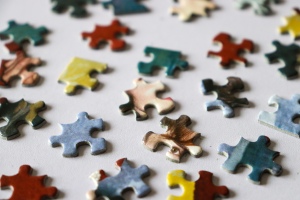 I mentioned that the Pigment & Hue Mini puzzles are a mere 5″ x 7″ and it can be hard to imagine how small that really is. Take a bill out of your pocket ($1, $5, $20 – it doesn't matter). This puzzle is just slightly larger than a US dollar bill. If you have printed photos (am I dating myself by saying that?), 5″ x 7″ is a very common size. To compare further, take a look at the comparison pictures. The Mini piece pits perfectly on top of a US penny. Because the pieces are so tiny, it may be helpful to use tweezers when assembling.
Unlike traditional puzzles, these Mini puzzles come in a small (about 2.5″ x 3.5″) acrylic box. The box has the image and puzzle information wrapped around it – it's a thin piece of cardboard and I am too impatience to take it off carefully. After I rip it off, I cut the image to slightly smaller than the size of the box so I can use it as an insert.
Take a look at my time lapse to see how I assembled this puzzle.
I have puzzled on an airplane, in a car, and at the airline gate. Where is the most unusual place you have completed a puzzle?
Happy puzzling!
Diane aka Bizzle's Puzzles