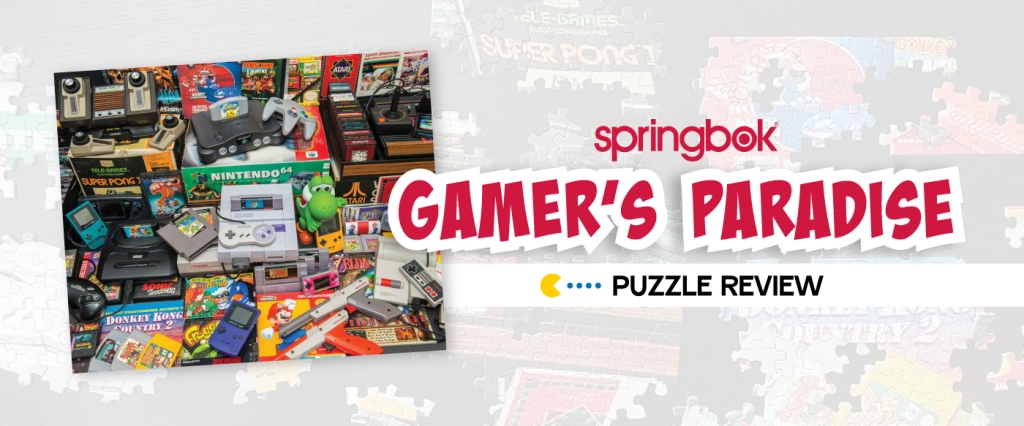 Gamer's Paradise – Puzzle Review
At the height of our COVID isolation some months ago I was close to running out of jigsaw puzzles. Ugly withdrawal was looming. I might have been forced to become productive – shampoo carpets, clean out cupboards. . . that sort of thing. Luckily a relative gifted me with Gamer's Trove which is now once again available from Puzzle Warehouse. So glad inventory is coming back to normal!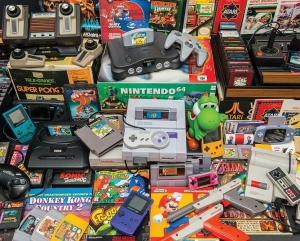 This puzzle was made in the U.S. with recycled materials in the chipboard and box. It features 1990's games from Atari, Nintendo, and Sega. The subject matter would not have been my choice. However, I was grateful for any puzzle to work on. We were all making sacrifices at that time and it was a collage puzzle—one of my favorite types.
I have worked Springbok puzzles in the past and while I love their quality and crazy piece shapes, their signature tight fit was always a bit troublesome. I could have lifted up an entire completed puzzle with two fingers and carried it next door to show my neighbors. Handy when you want to show off your work; however, eventually you have to put it back in the box, and herein lies the "troublesome." Separating the pieces was so time consuming I never did. I just separated the puzzles into box-sized sheets, put them in the box, and let it go. No, I'm not lazy. I'm efficient.
So as I started on Gamer's Trove I was surprised and very pleased to discover that this Springbok puzzle did not have that super tight fit. The sturdy pieces fit together tightly, but could be taken apart more easily. When I had laid out all the pieces there were several pieces still attached to each other, but just hanging by a thread so not enough to be a problem.
This puzzle, being a collage did not lend itself to a nice orderly top-to-bottom process. So I assembled the individual items and put them aside. It was a little messy.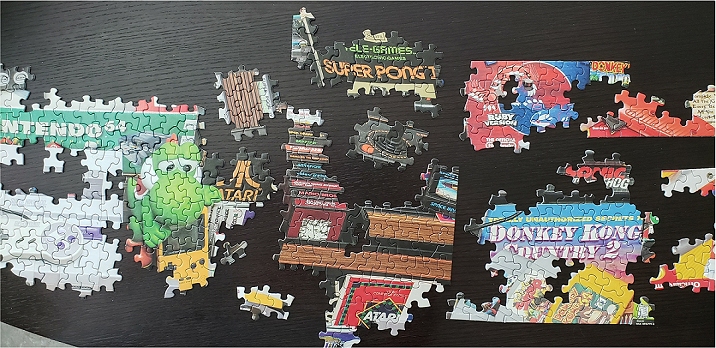 But eventually it was time to put them all together. Sometimes when I take this approach, it's tricky getting the sections to go together. But these sections went together very easily.
One of the challenges of this puzzle was getting suckered into hunting for a huge "innie" that would fit an "outie" like the one on the right side of this piece: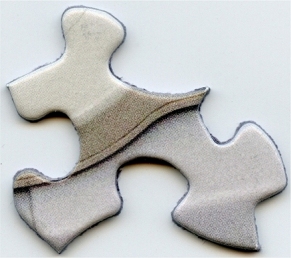 No, I should have been looking for two "half innies" (or slots, sockets, or holes – there's not much consensus on terms). Once I knew about this little quirk, things progressed nicely.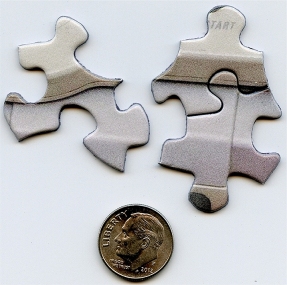 If video games are your passion, Puzzle Warehouse has more puzzles featuring video games.
Video Games Collection, one of New York Puzzle Company's Collection Series, is made in the U.S. of 100% recycled materials. New York Puzzle Company has smaller, sturdy boxes that are easier to store. Their pieces are thick, non-grid with lots of variety. This puzzle is sure to bring back memories of many happy gaming hours.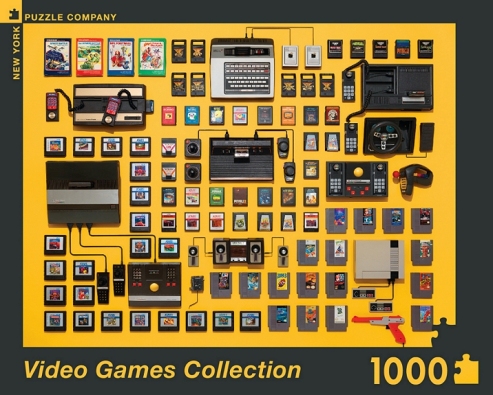 The Legend of Zelda Collector's Puzzle is a 550 piece puzzle from USAopoly, a board game and puzzle company based in Southern California. It is a detailed map of Hyrule from the peaks of Death Mountain to Zora's Domain. The original Legend of Zelda game was released in 1986, and has gone on to be one of Nintendo's most prominent and successful franchises. Several of the Zelda games are considered to be among the greatest video games of all time.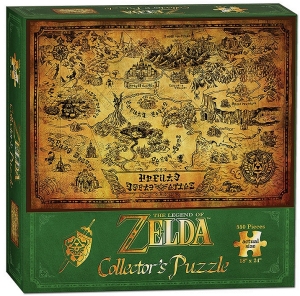 Gaming Monsters from Dowdle Folk Art, with artwork by Eric Dowdle is made in the U.S. Dowdle puzzles come in sturdy premium packaging, with a "no missing pieces" guarantee. This puzzle comes in two sizes – 100 and 300 pieces. It is sure to appeal to younger puzzlers, but I think older puzzlers will appreciate the whimsy both in the puzzle and in the text on the box. (Unfortunately, the 300 piece version is currently out of stock.)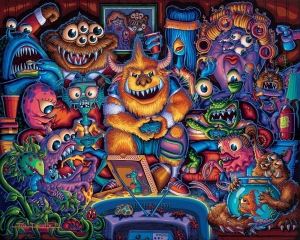 Pac-Man from Buffalo Games is a 300 piece puzzle with larger pieces, bonus poster included. Blinky, Pinky, Inky, and Clyde roam around the maze picking up Pac-Dots. Adults with fond memories of hours spent at the local arcade playing Pac-Man may have to fight off younger puzzlers who are drawn by the cartoon look.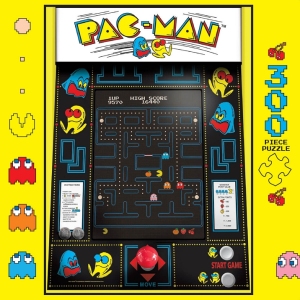 Just for the record – while I enjoyed putting the Gamer's Trove puzzle together much more than I thought I would, I did not waste hours of my youth engaged in these games. I was an diligent student and model child who used my time wisely and productively. . . . I did! Honest!
Happy puzzling,
Madelle
P. S. The New York Puzzle Company Collection series is one of my favorites. It's a real treasure for puzzlers who enjoy collages. The 500 piece puzzles have larger pieces and include Instrument Collection, Housewares Collection, Camera Collection, and Camping Equipment Collection, which I have previously reviewed. The 1000 piece puzzles include Makers Collection, Beachcomber Collection, and Winter Collection.