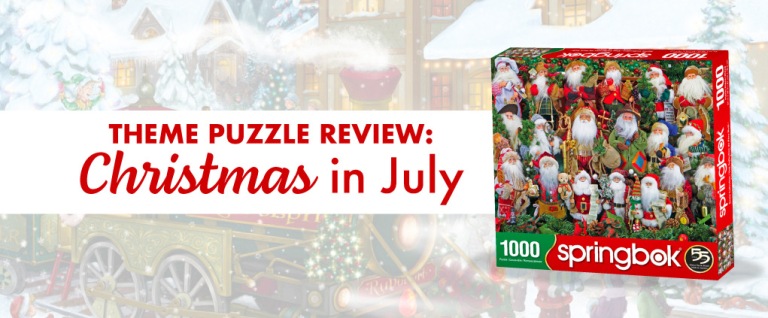 Christmas in July!
Last fall a reader commented on one of my posts that she couldn't find Christmas puzzles from her favorite brands since they were sold out everywhere she looked. Thank goodness last year was unique in the puzzle world (to say the least) and inventory has since improved. But that got me thinking that Christmas shoppers fall into two categories. Those who go on the alert for gift ideas beginning a few months after Christmas, purchase gifts throughout the year, and finish most of their shopping by Thanksgiving. And then there are those who do their shopping after Thanksgiving.
For those of you in the first category I can hardly find the words to describe the variety of subjects and sizes in the Puzzle Warehouse's collection of Christmas puzzles. There are both secular and sacred puzzles that include Santas, nutcrackers, ugly sweaters, idyllic winter scenes, Christmas treats, animals, Christmas trees, and nativity scenes. You can check them out for yourself. Here are a few that caught my eye.
Pit Stop is a 1000 piece puzzle from SunsOut with artwork by Susan Brabeau. It's made in the U.S. with soy-based inks and recycled board. It has a soft "drawing" quality to the picture which makes it a little fuzzy, but not too bad.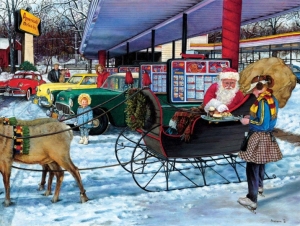 The puzzle has the typical SunsOut wildly random piece shapes that I enjoy. One of the challenges with SunsOut puzzles is identifying the edge pieces. One of the advantages is that you almost never put a piece where it doesn't belong. I know the picture below just shows white snow which isn't very interesting, but it clearly gives you an idea of how random these pieces are.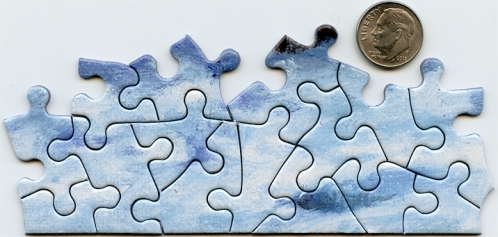 I had been watching this puzzle for months because it had a little different twist on your typical Christmas puzzle. I love the idea of Santa stopping to get a hamburger and onion rings at a small town burger joint. This car hop is on ice skates instead of the usual roller skates.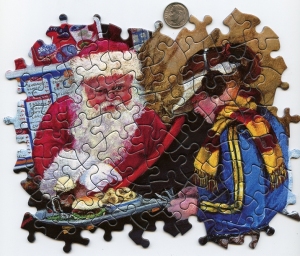 The trees and sled were a little challenging, but the roof, cars, and clothing were easy and fun. There were quite a few "hanging chads" that I didn't expect to see on a SunsOut puzzle.
Santa Collection is a 1000 piece collage puzzle from Springbok. Whether you call him Santa, Father Christmas, Kris Kringle, or Papa Noel he's probably in this puzzle. The puzzle is made in the U.S. from recycled materials. The box was fairly sturdy. The pieces were random cut. The resolution of the picture was crisp, clear with a lot of interesting detail crowded together.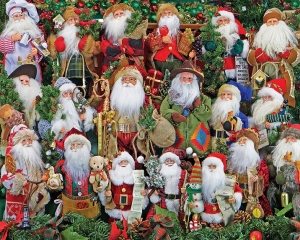 I was surprised by several things. There were a lot of pieces still stuck together. I have never had that happen with a Springbok puzzle. I was also surprised that the pieces did not fit together in that super tight way that past Springbok puzzles have.
This puzzle was more challenging than I expected. All those Santas had white hair and beards. I know, what did I expect? But that's a lot of white. So I separated all the white pieces, then further separated faces from beards. Then separated the beards into scraggly and wispy. That helped a lot. Just for the record, the Santa below is neither scraggly nor wispy.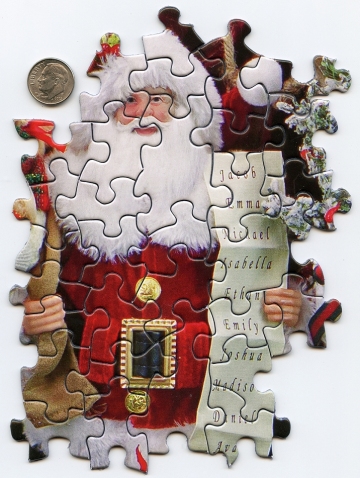 I can now confirm that Springbok puzzles are built in three layers – a thin cardboard, a thicker cardboard, and then the picture itself. How do I know this, you ask?
Well . . . ahem . . . I spilled a glass of water all over the place.
After putting the pieces under a ceiling fan to dry, I spent an hour gluing about 30 pieces back together with a toothpick, white glue, and large paper clips. It worked.
If any of these Santas were accurate representations from various countries I would have enjoyed learning more about them in a blurb on the back of the box, but that information was not provided. Perhaps most of them were just creatively assembled dolls. I enjoyed the unique personalities of the Santas in this beautiful puzzle.
Christmas Ornaments from Cobble Hill is a stunning 1000 piece photo puzzle. Cobble Hill puzzles are made in the U.S. with vegetable based inks and recycled material. I assembled this puzzle last Christmas and loved the random cut pieces and sheer beauty of it. It was a little more challenging than I expected, but certainly doable. This might be a good puzzle to glue and bring out each year as part of your Christmas decorations.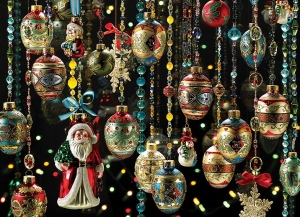 Need Hot Chocolate is a 300 piece puzzle from SunsOut made in the U.S. from recycled materials. Artwork by Kathy Kehoe Bambeck. I think young puzzlers would get a kick out of trying to figure out what would happen if the snowman was given the hot chocolate he claims to want. This could lead to educational discussions about the laws of physics. . . . No, probably not, but good fun would be had by all.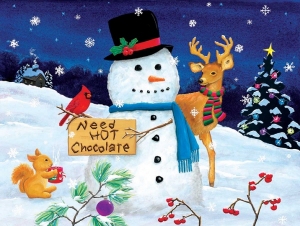 Christmas Chaos is a 1000 piece puzzle from Piatnik, an Austrian company founded in 1824. Artwork by Francois Ruyer. Their puzzle pieces are thick and cut in standard grid shapes. These whimsical cartoon puzzles are always fun as you put pieces together and discover another crazy detail.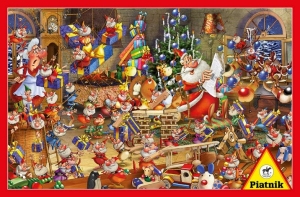 Christmas Balls is a 500 piece photo puzzle from Cobble Hill, made in the U.S. with vegetable based inks and recycled material. Their puzzle pieces are random cut. Apparently this was originally issued in a 1000 piece version. Even though I love collage puzzles, and I usually buy 1000 piece puzzles, in this case, with all that gold color, I think 500 pieces is just perfect.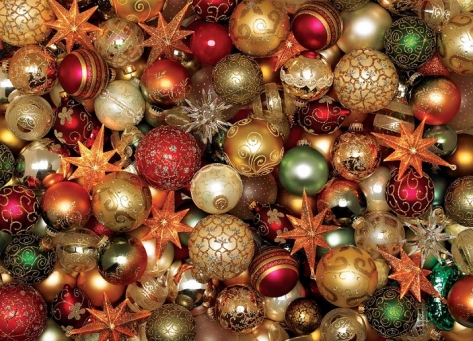 Santa's Express is a 1000 piece puzzle from Vermont Christmas Company made in the U.S. with recycled materials. Artwork by Randy Wollenmann. I put this puzzle together several months ago and really enjoyed it. First, the picture is just plain fun. I started with the train and moved on to the house. There are lots of different colors and areas of interest – lots of people enjoying the day. The black sky could have been too difficult, but the trailing chimney smoke and moon made it very doable.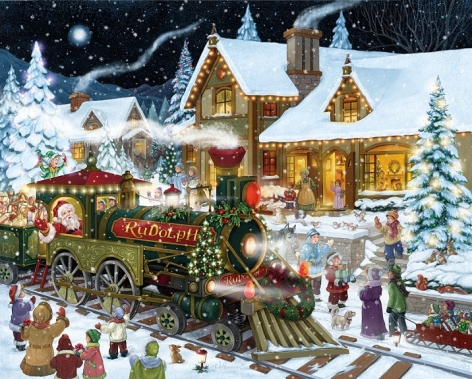 A Child is Born is a 1000 piece puzzle from MasterPieces made from recycled paper and soy-based inks. Artwork by Dona Gelsinger. A bonus poster is included. It's a beautiful representation of the nativity.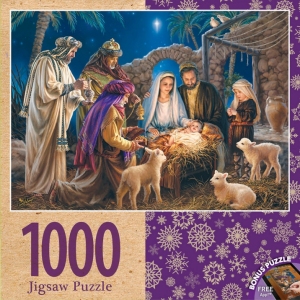 If you don't have a Christmas to do list yet, you can make one even if the only item on it is "Christmas Puzzles." When your chosen Christmas puzzles arrive and it's still summer just think how good it will feel to cross that item off the list. Odds are, come November you won't know where that list is, but hey, you'll have your Christmas puzzles.
Happy puzzling,
Madelle