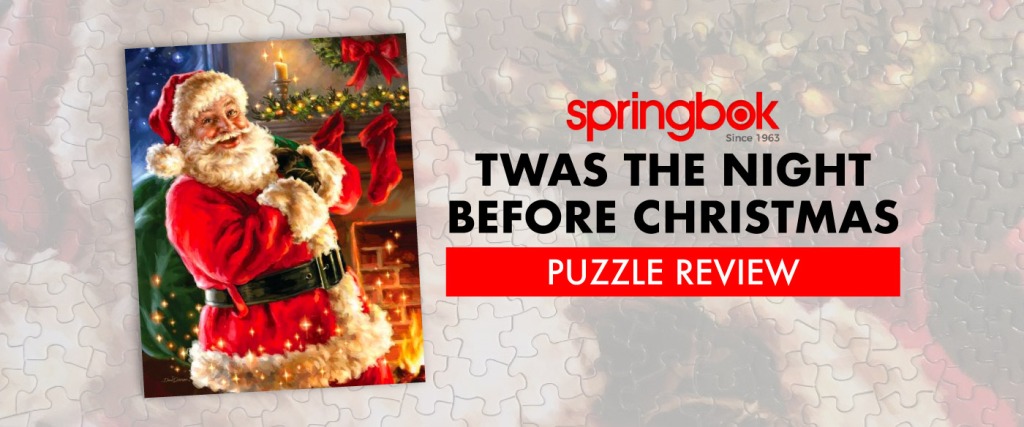 Twas the Night Before Christmas – Springbok Puzzle Review
My Rating: 9/10
Merry Christmas in July to all my fellow Jigsaw Junkies. It's time to dust off those Christmas puzzles and get busy. Well truth be told I pretty much assemble Christmas puzzles year round , I just can't seem to stop my self, lol. Can you blame me really, with so many beautiful Christmas puzzles on the market, they are simply to pretty to resist. I have a beauty here for you guys to see. "Twas the Night Before Christmas", by Springbok it is truly a stunning puzzle when completed. As a matter of fact this puzzle is so gorgeous, I decided to glue and frame it. I know this will be perfect hanging next to my Christmas tree this year. A little secret just between us, I was going to give this framed puzzle as a gift, but then I decided nope lol, I have to keep this one for myself, it is truly striking. Springbok will impress you with their line of Christmas puzzles. This is my go to brand for holiday puzzles. Springboks Christmas collection is brimming with nostalgia and charm, with a little twinkle here and a little sparkle there, each image will surely fill your heart's with holiday magic.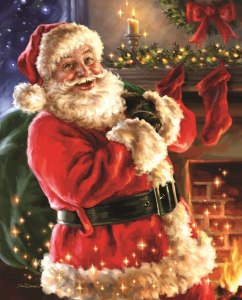 Box Quality: 10/10
Springbok 1000 piece boxes measure 11.5″x 11.5″. They are very well made square shaped boxes. The front of the box has the image, the brand name and piece count. Twas the Night Before Christmas is a 1000 piece puzzle. Three sides has the logo, piece count , title written in English, French and Spanish, measurements, as well as the image. The fourth side has an image of the actual piece size, a choking hazard stamp as well as the made in U.S.A. stamp. Included in the box are the bag of pieces as well as an insert guaranteeing 100% customer satisfaction. The bottom of the box gives a brief description of Springboks high quality standards printed in three languages. Springbok boxes are very sturdy and you can certainly appreciate the attention to detail they observe not only to the puzzles but the boxes as well. For those of you who have SunsOut puzzles in your collection, a Springbok box is slightly smaller in size. With the image, logo and piece count on three sides you will have no issues with shelving purposes. Springbok's 500 piece count boxes are considerably smaller in size compared to their 1000 piece puzzles. Many puzzle brands have the same size box for 500 and 1000 piece puzzles, which makes storage a challenge sometimes. Springbok boxes always get the highest ratings from me.
Image: 10/10
This is truly one of the most nostalgic Santa images on the market. Look at that face, you simply can't get anymore classic than that. Santa's face simply sparkles, with his rosy cheeks, red lips and huge smile. The attention to detail here is remarkable. Springbok left nothing to the imagination, every detail is included. Look at the twinkle in Santa's eye and really, could his beard be any more authentic! Santa's suit with every fold is so authentically portrayed in this image. Look at the intricate coloring through out Santa's suit. Countless shades of red are used in the suit which only enhances the vintage feel of this image. Look how real his gloves and belt appear, even the roaring fire is reflected in his belt buckle. There is so much to see here, the more I look the more detail peeks out. The candle lit mantle with the lighted garland and the wreath hanging above the fireplace, makes me want to get out the cookies and milk, lol. Look closer and you will see Santa's magic following him from the fire. Look at all the twinkling lights surrounding him. The stars twinkling in the midnight sky, the stockings hung by the chimney with care it is the perfect Christmas Eve. Dona Gelsinger is the very talented artist responsible for this image. She has loved and appreciated art from a very young age. I for one truly appreciate her art as well. The artists portrayal of Christmas is spell bounding. Trust me no Christmas puzzle collection could possibly be complete without including "Twas the Night Before Christmas". In my opinion it is the perfect Christmas puzzle.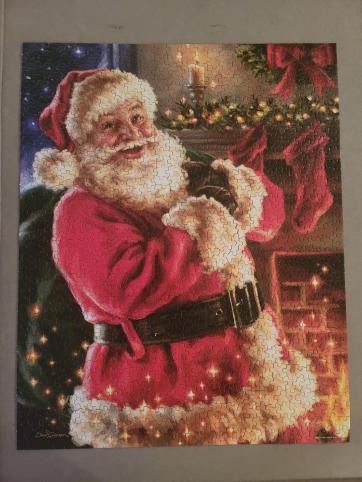 Puzzle Quality: 9/10
It truly pains me to have to take a point here, but I pride myself on giving true and impartial reviews, that being said I have to take a point for an imperfect cut on some of the border pieces. I found on several of my pieces, approximately ten, that had fraying on the edges left from an incomplete cut. I will add that this is the first time I have experienced this with a Springbok puzzle. Though it really did not diminish the puzzles beauty, it does need to be included in my review. Springboks puzzles contain very little dust. The completed puzzle had smooth and even surface. Springboks pieces are 18% thicker than average jigsaw puzzles. To their credit Springbok is rated the #1 puzzle brand for quality and design, and in my opinion they do earn that rating.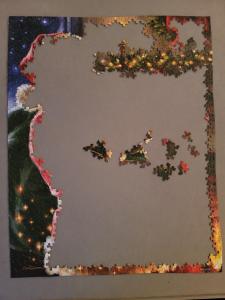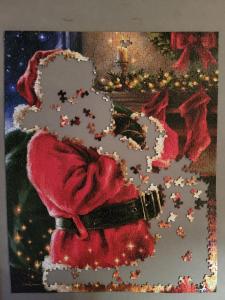 Assembly: 10/10
I can easily give Springbok the highest rating for assembly. Springbok puzzles are so much fun to assemble, because no two pieces are alike. Each piece in the puzzle-die is an individual-shaped cut. I know for those of you Jigsaw Junkies who truly appreciate a snug fit, you will always get that with a Springbok puzzle, I promise. No problem moving small assembled groups around your puzzle board, they will stay assembled nice and snug. The image reproduction here was flawless, which always makes assembly that much more enjoyable. As always I stared with my border. Once that was complete I began assembling the night sky, Santa's bag and the garland on the mantle. That was a breeze. The challenge came when I began to assemble Santa's suit. That was more challenging than I anticipated. A helpful hint here is to really pay attention to all the different shades of red, using the different shades as a guide will make assembly that much easier. I will rate this puzzles level of difficulty as moderate to hard. The reason for that is Santa's suit, it was a bit tricky, lol. Be prepared to pay close attention to all the shades of red, orange as well as pinks to guide you. Because the reproduction is flawless finding your pieces should be very easy. I am sure you will find that each piece being so unique, will also help with assembly. Once I had completed the suit I moved onto the fireplace and the rest of the mantle, easy peasy, I promise, lol. One thing to keep in mind is that Springbok puzzles when completed are larger than most. I used my 2000 piece puzzle board when assembling this puzzle, to ensure I had extra space. Springbok's high quality standards really make assembling their puzzles quite an enjoyable experience, couple that with beautiful images, you simply can't go wrong with a Springbok puzzle. Remember piece by piece and you will be on your way.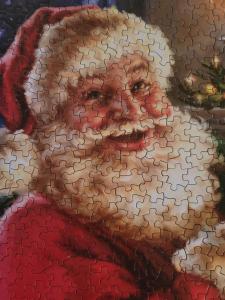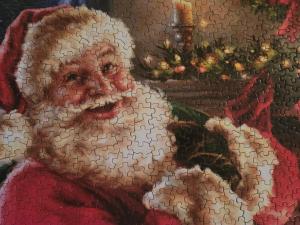 Summary:
I hope you all enjoy Christmas in July, be sure to stop by Puzzle Warehouse to check out their huge collection of Christmas puzzles already in stock. Some of my favorite brands for Christmas puzzles are, White Mountain, Vermont Christmas Company, SunsOut, Heritage, Cobble Hill, and Eurographics I know you will find some you simply must have, I always do, lol. My wish list is growing by the day. While you're browsing the Christmas puzzles remember to check out Springboks full collection of puzzles at Puzzle Warehouse. Happy puzzling folks.
Donna C