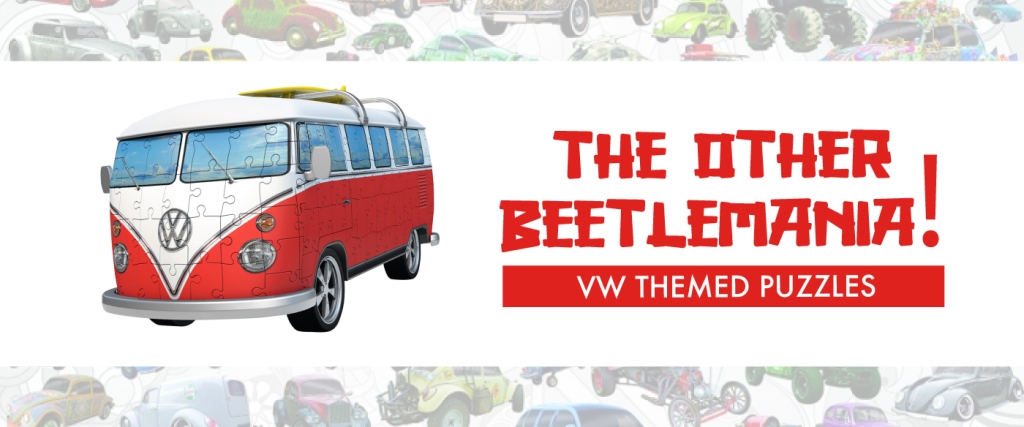 The Other Beetlemania!
When the Volkswagen Bug came to the U.S. my father bought one in the late 1950's. It's hard to describe how different, how bare-bones and stark these cars were – tiny brake and clutch pedals, and no padded dashboards. These cars were so small and with the engine in the back! Unheard of at the time. When Bug drivers passed each other on the road, they honked and waved – members of an exclusive club. And soon there was the Bus! Young adults painted them in psychedelic colors and toured the country. Older adults went camping in them.
When I noticed that the Puzzle Warehouse had a wide selection of VW puzzles I just had to get several.
What's Your Bug? by Eurographics brought back a lot of memories and amazement as I looked at all the creative things people had done to their Bugs. I love collages and have owned more than one Volkswagen over the years so it was an obvious choice. The puzzle comes in a sturdy Eurographics box and is made in the U.S. from recycled cardboard using soy-based inks. There was almost no puzzle dust or glare.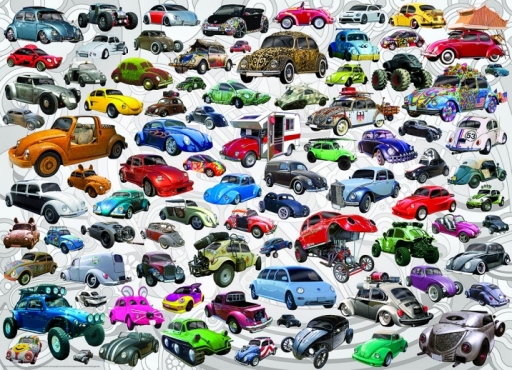 The pieces are cut in a grid pattern, but each piece was unique so I didn't have a problem putting the wrong pieces together. A vertical piece always followed a horizontal piece, but I didn't notice that until I had finished the puzzle because I wasn't having enough problems that I was hunting for a new strategy. The pieces align perfectly at all four corners.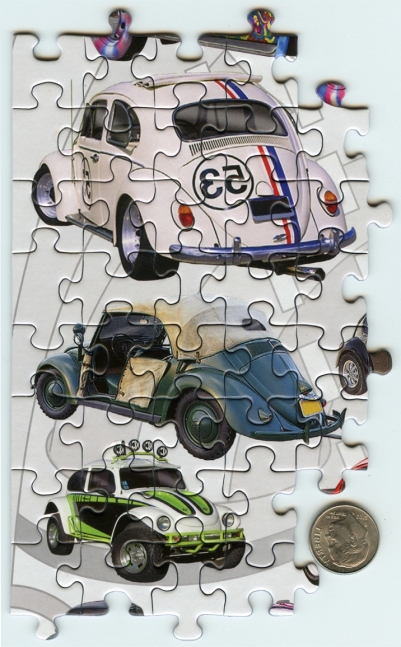 I really enjoyed putting the larger cars together. There were plenty of different colors and shapes. The design in the background helped a little too. But the last several hundred pieces all looked the same – black and white pieces, lots of tires, and very small cars. I needed a bonus poster so I could see those important details. I know a lot of people like the small grid pieces, but for me, making them just a little larger would have been a big help.
Funky Jam from Eurographics comes in their signature sturdy box and is made from recycled cardboard using soy-based inks.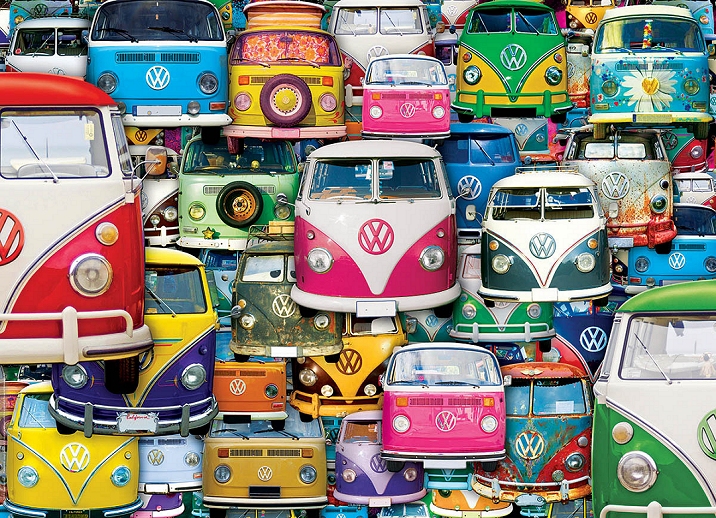 The pieces are 2 mm thick with a matte finish – absolutely no glare and almost no puzzle dust. They're cut in a somewhat random grid pattern, and align perfectly at the corners. The picture was crisp with clear resolution.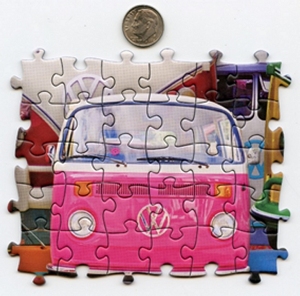 I had a lot of fun putting the buses together. The VW logo and grill work helped me get started on each bus. As you can see from the picture below I don't put the edge pieces together and use them to frame a blank space to work in. If I do that I just end up with pieces sticking to my arms, falling to the floor, or ending up in another room. I put together the edge pieces first to remove them from the pile, then put them aside in long strips. I can then attach them when needed.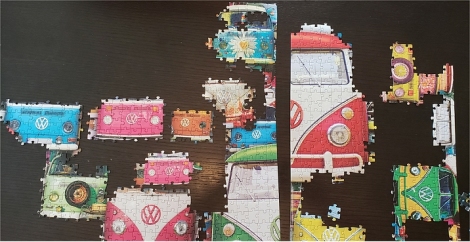 The last 100 or so pieces were more difficult as there are tiny parts of buses hidden between the larger ones. Because those 100 pieces looked very similar, there was some trial and error involved. But it was very doable.
Puzzle Warehouse has a surprising number of puzzles featuring Volkswagens, but also search on VW and VW bug to find them all. I've selected just a few to mention.
Beetle (Mini), is from JaCaRou Puzzles, a small puzzle company located in Ontario, Canada. It's a 150 piece mini puzzle made from recycled materials with artwork by the owner Anie Maltais. It comes in a tube and measures 6 x 4 inches when finished. The pieces are fairly thick, cut in a grid pattern, and alternate between vertical and horizontal. It can be framed without glue because of the tight fit.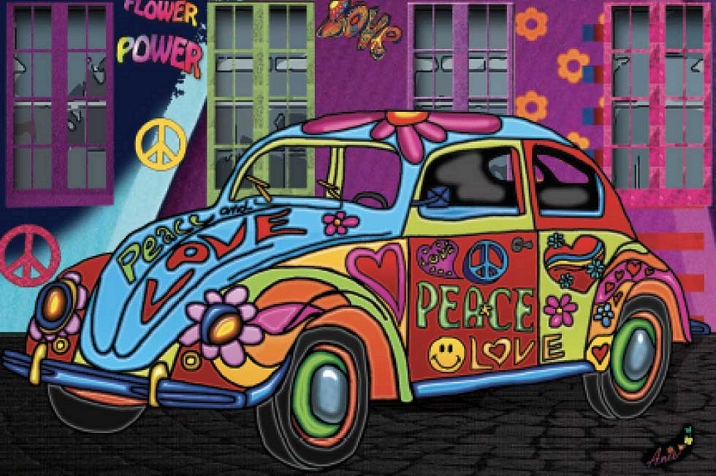 Flower Child is a 500 piece puzzle from SunsOut, made in the U.S. from recycled board and soy-based inks. Artwork is by Sandy Lloyd. It has a canvas cloth look to it that I haven't often seen in a puzzle.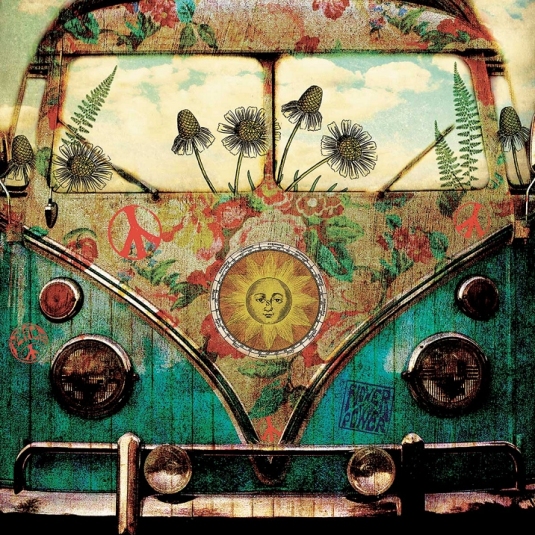 Sam's Garage is a 1000 piece Cartoon World puzzle from Buffalo Games, made in the U.S. from recycled cardboard and with a bonus poster. Either Sam is busy with his thriving business or he's just not very tidy, but that means there's plenty of detail here to keep your interest.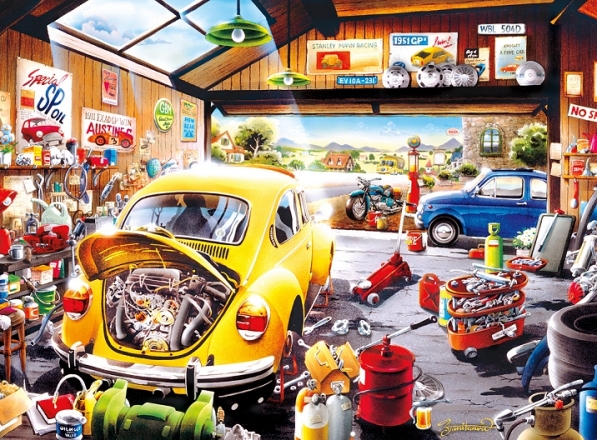 VW BusT1 from Ravensburger is a 3D puzzle with 162 plastic numbered pieces. The wheels actually turn.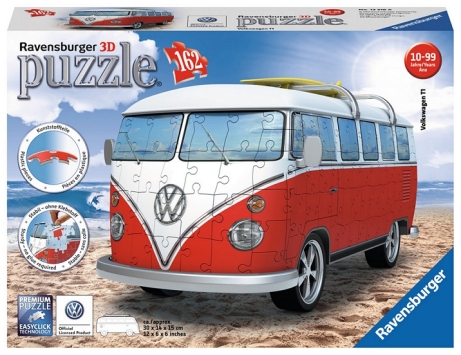 Gettin' Squirrelly is a delightful 1000 piece puzzle, made in the U. S., from Willow Creek Press which has been a family-run publisher in Wisconsin since 1976. You have to hunt for the Volkswagen in this puzzle, but I think you'll love it when you find it.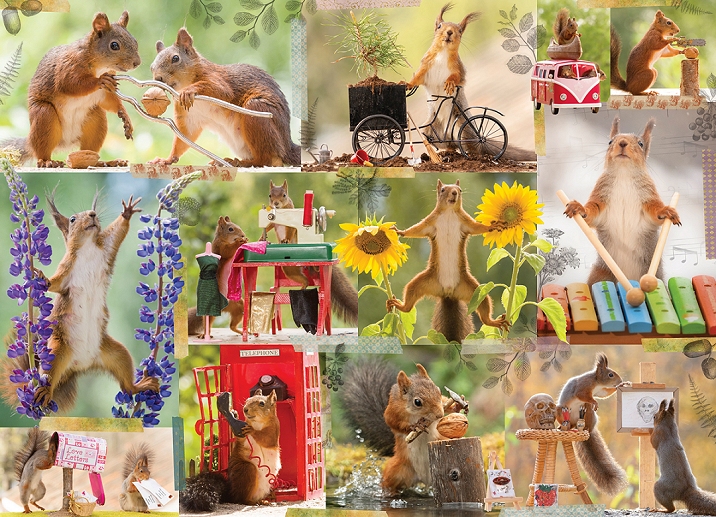 I want to reassure everyone that other than enjoying the Volkswagen puzzles, I have no vested interest in the company. My hands are clean!
Happy puzzling,
Madelle