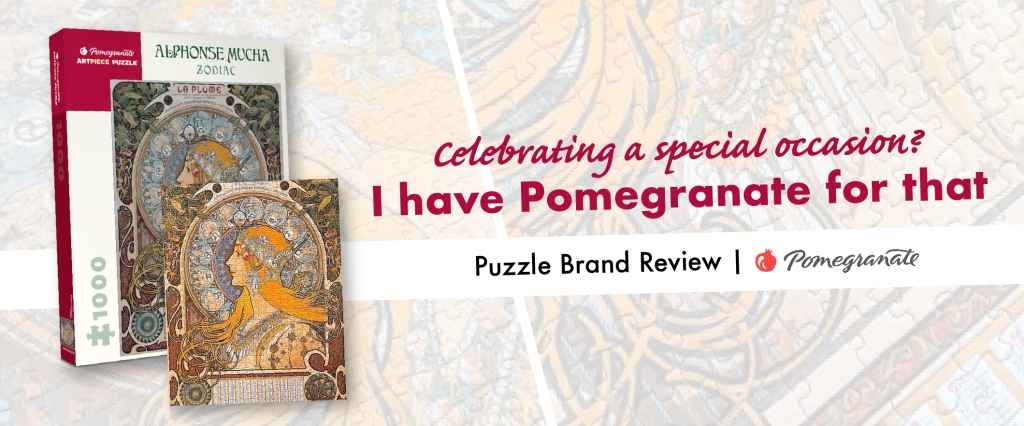 Celebrating a Special Occasion? I Have a Pomegranate for That.
September is always a bittersweet time of the year. On the one hand, I'm sad that summer is going to be over. By this time, we have usually had our last camping trip of the year and temperature starts to get colder. You can start to smell the rain in the air and the leaves are beginning to fall. On the other hand, spooky season is beginning and the kids are getting ready to go back to school. Sorry, but not sorry, I look forward to school beginning. I have two ridiculous goblins causing shenanigans all summer and I look forward to a much needed break! This September is falling a little more on the sweet site though, because it is my one year anniversary of writing for Jigsaw Junkies! That's right, it's been one year of you guys kindly reading and putting up with my random puzzle musings. And for this special occasion, I have chosen a Pomegranate, my most favorite of all puzzle companies. Today's Pomegranate is "Zodiac" by Alphonse Mucha and it is simply perfection.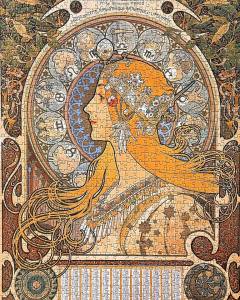 So, if you're new around here, I'll cut right to the chase, I adore Pomegranate Puzzles. My first Pomegranate was actually a thrift store find. I hadn't done a puzzle in years and I was in the thrift store looking for baby clothes. I wandered into the toy section and saw a row of puzzles. I recognized the old standbys, SunsOut, Springbok, Ravensburger……but then I saw one that I didn't remember. Now, Pomegranate has been around for awhile, so I have no idea why I had never done one before, but I hadn't. Anyways, I was curious, and for $3, I considered it a risk worth taking. It was a 1000 piece puzzle, the image was "Plum and Peach Bloom" by Gustave Baumann and it was love at first sort. I remember that I wasn't even a fan of the image, but the pieces and quality were just so amazing, I didn't even care. Ever since then, Pomegranate has been my one true love, so what better company to celebrate a one year anniversary with? I mean, just look at these amazing puzzles!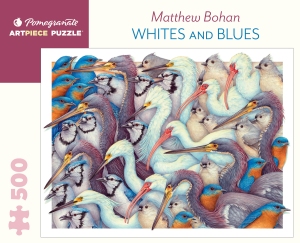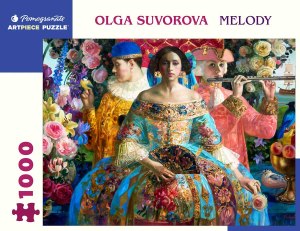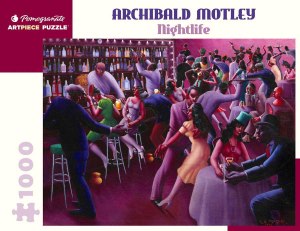 I also have a huge love affair with Alphonse Mucha. His women always look so powerful and ethereal. I have a number of his paintings in puzzle form, all by different companies. His Zodiac piece was actually just meant to be an in house calendar for a printing company. However, an editor for a magazine saw it, bought the rights and made it the magazine's calendar. I know I'm supposed to be talking about Pomegranate here, but if you love Mucha as much as I do, check out some of these other puzzles. I mean, is it really a post by me if I don't go off on a huge tangent?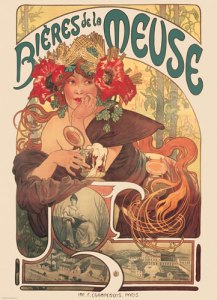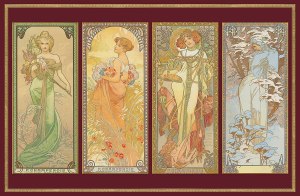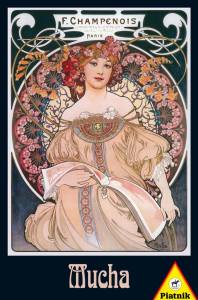 So back to Pomegranate, why do I love them so much? Well, they pretty much have nailed how to make the perfect puzzle. They start with amazing art and all of their images are beautifully rendered and crystal clear. They use a matte finish, so you never have to worry about an annoying glare while you are doing your puzzle. The pieces are of exceptional quality. They run about 2mm thick and are so well constructed. I've rarely had an issue with peeling, bent nibs or pieces being stuck together and the fit is always amazing. Pomegranate has puzzle sizes that run from cute 100 piece portable puzzles to 2000 piece table fillers. There truly is a puzzle for everyone!
For Zodiac, I started with the edge (as always) and the calendar. Then I decided to work on the greenery at the upper corners. After about an hour of not much progress, I gave up on that and decided to work on her hair. I sometimes have an issue with certain patterns and those leaves were NOT doing me any favors. After her hair, I assembled the crown and her gown. I then tackled the zodiac signs and last, I did the red and gold patterns on the edges. Look at her beautiful crown and necklace! They are seriously my favorite parts of this puzzle. 10/10, highly recommended.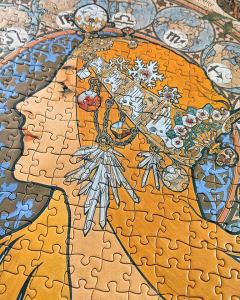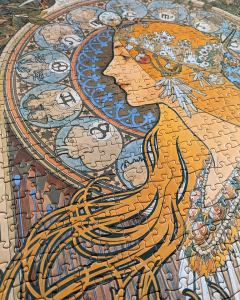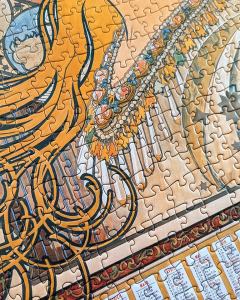 Thank you all so much for sticking with me this year and reading my posts. I love that I get this opportunity to put together puzzles and then write about them! As a special treat, myself, another of our resident bloggers Diane (who is also celebrating her blogiversary), and Puzzle Warehouse have a surprise! If you happen to have an Instagram account, head on over there for a fun giveaway running from today, 9/8/21 through 9/15/21! Just follow me @puzzlepastime, Diane @bizzlespuzzles and Puzzle Warehouse for a chance to win a $30 gift certificate! Happy puzzling!
-Gaby @puzzlepastime