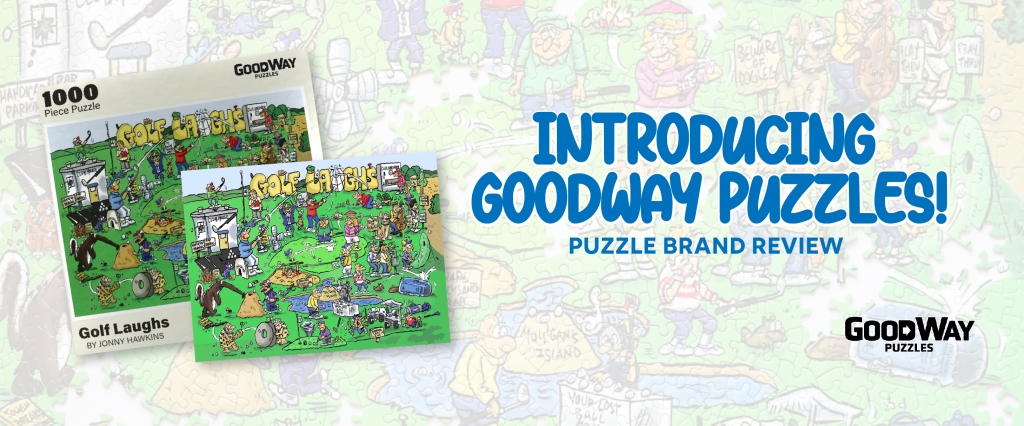 Introducing Goodway Puzzles!
Before I tell you all about the new brand, Goodway Puzzles, I wanted to take a moment to celebrate! It's officially been a year since I began contributing to Jigsaw Junkies. Also celebrating is the hilarious and informative Gaby (check out her latest Pomegranate review here). Thank you to everyone who joined in the celebration and entered the Puzzle Warehouse gift card giveaway! We will be notifying the winner shortly.
Goodway Puzzles is USA made and one of the newest brands that Puzzle Warehouse is carrying. When I saw these puzzles, my brain was immediately flooded with memories of the mornings when my mom would read the newspaper and I would steal the comic pages. And Sundays were the BEST DAY EVER because the comics were in color. As I was looking at these new images, I decided I needed to give one a try and got Golf Laughs.
I am not a golfer. I have tried to play golf a few times, but never stuck with it to make any improvements. However, I can say I rock mini-golf. Or at least I did one time when I was in Florida, and got 2 hole-in-one. I am not athletically gifted, so this occasion had to be commemorated.
So why did I choose a golf themed puzzle? Because the image is so funny! It is full of puns and made me laugh. Not surprising either when we take a look at the artist, Jonny Hawkins. He is a cartoonist whose work has appeared in nearly a thousand books, newspapers and magazines since 1986. I used to read his comic "Hi and Jinx" which ran from 1993 – 2006.
As usual, I sorted my puzzle. I sort by color and also pull out the edge pieces. However this is a random cut puzzle which means tricky edges. When it comes to random cut puzzles, there are often pieces that look like they are edges but actually are not. This one was quite tricky and, although I tried, I did not manage to get the edges all placed until I was nearly done with the puzzle. The pieces are really nice quality with a thickness of the standard 1.8mm.
Because the title Golf Laughs stood out, I decided to to that part first before moving on to the people.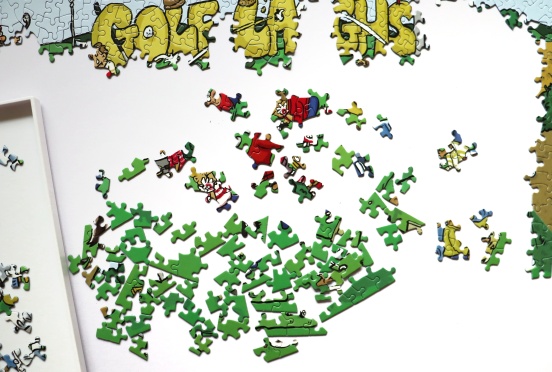 This style of comic puzzle is always a bit of a challenge because there are so many things going on. So when I sorted, I tried to group the people. I found this to be very helpful in getting sections done.
Golf Laughs also has a lot of green for the grass. But not many of the pieces are solid green. On some you will see golf balls or lines showing movement. When I was almost finished, all I had left were pieces of grass.
For me, this puzzle was harder than average because of the piece shapes and details. I did have to refer to the box often to determine the right placement. The box has a simple design – with the full image, brand, title, and artist on the front as well as the sides. The bottom of the box is blank white cardboard.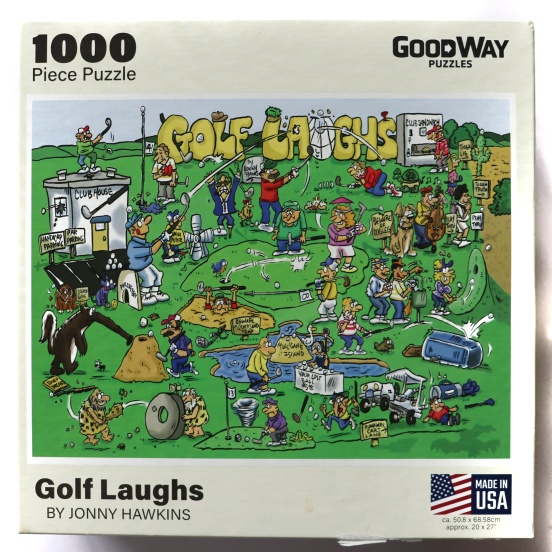 This new brand is off to a great start! One items I want to mention is that a poster is not included, which is one thing I always like to have. But you can see the full image on the front of the box, so it is not a deal breaker. Besides, the images are hilarious.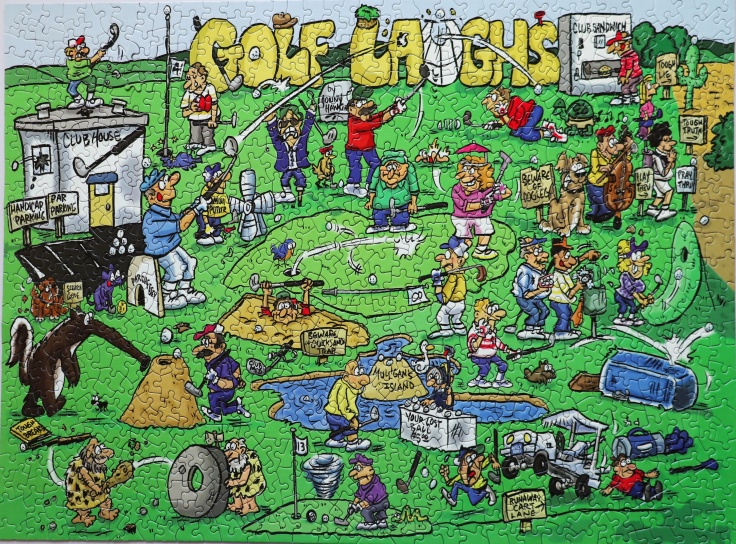 Goodway Puzzles currently has four 1,000 piece puzzles in their line at a very reasonable $14.99.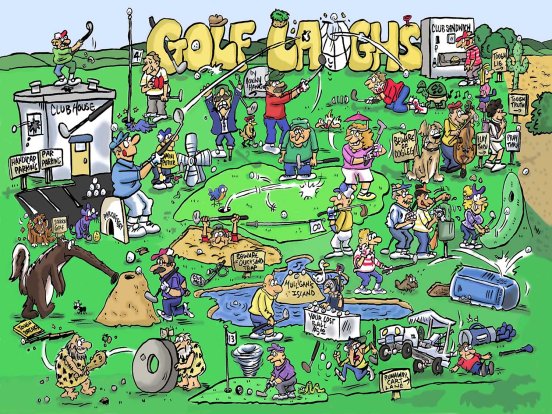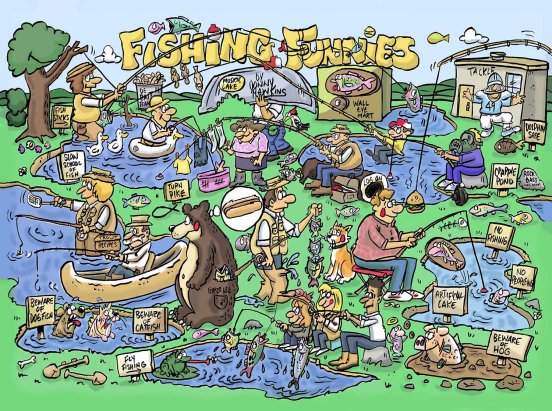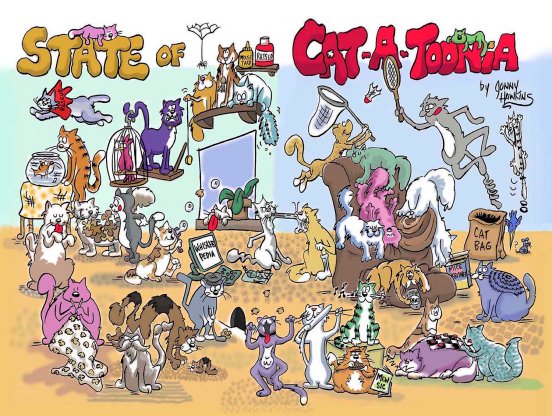 I actually do not have a time lapse of this puzzle. My tripod broke and I have a new one, but I need to figure out a better angle. The one I tried to make was a big fail.
I just want to say thank you so much to everyone who has been following Jigsaw Junkies and reading my reviews over the past year. It has been so much fun to put a puzzle together and share all my thoughts. I am very excited for my 2nd year of blogging.
Diane aka Bizzle's Puzzles
Just finished doggie doodles, it was awesome!