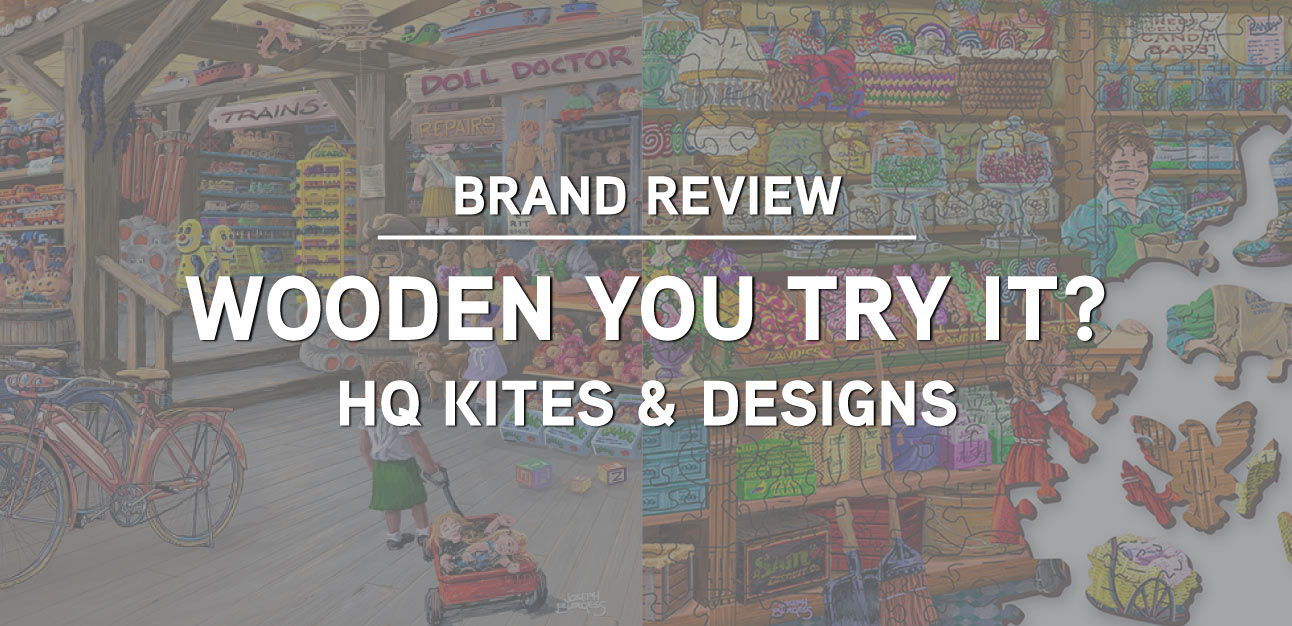 Wooden You Try It? Candy Adventures
I had planned to write about something else this time, BUT. . . . I recently ordered a HQ Kites & Design wooden puzzle for my Puzzle of the Month selection. When I received and assembled it, all my plans changed.
Some months ago I tried a wooden puzzle for the first time. I found it to be an intriguing experience. When I shopped larger wooden puzzles generally available, the price was more than I cared to spend. So when I saw that Puzzle Warehouse had puzzles from HQ Kites & Design I had to check them out. They were so much more reasonably priced and I really liked the pictures so I had to have one – immediately! For some reason, I love the feel when the pieces slide down into their proper place. If you have never assembled a wooden puzzle I encourage you to give them a try. However, you might want to try a small size first because they are a little different.
Candy Adventure from HQ Kites & Design, made in Poland, comes in several sizes – 200, 400, and 1,000 pieces. I chose the 400 piece. These puzzles incorporate all natural cardboard and environmentally-friendly packaging. The pieces were in a brown paper bag – no plastic. I was very happy to see that it came with a poster that was larger than the picture on the box.
.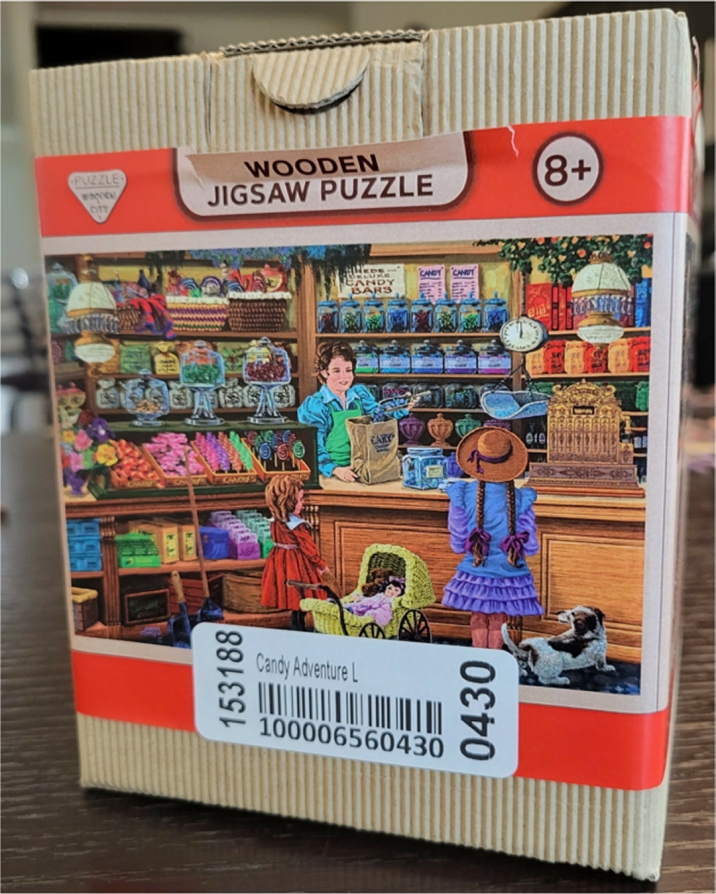 Candy Adventure | HQ Kites & Design | 400 Pieces | 10x14.75 Inches
Of course, there was no puzzle dust. Not even sawdust. And no glare – a really nice feature of wooden puzzles. I separated out the whimsical pieces. There were a lot of "Old West" pieces and more modern shapes unique to the United States.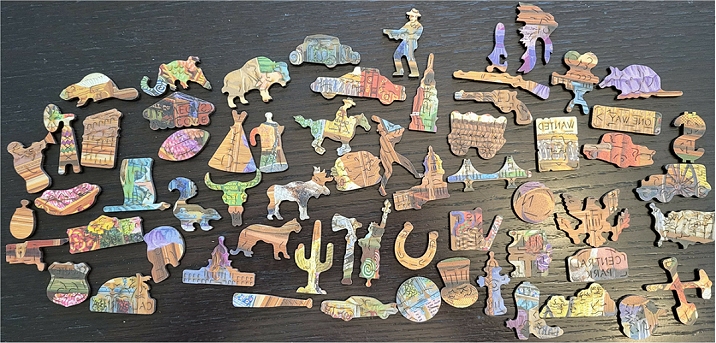 Because the pieces are 4 mm thick the small pieces are a little easier to handle than if they were cardboard. However, if you think it might be a problem, you may want to find your tweezers. As you can see in the picture below some of the pieces are not much bigger than a dime.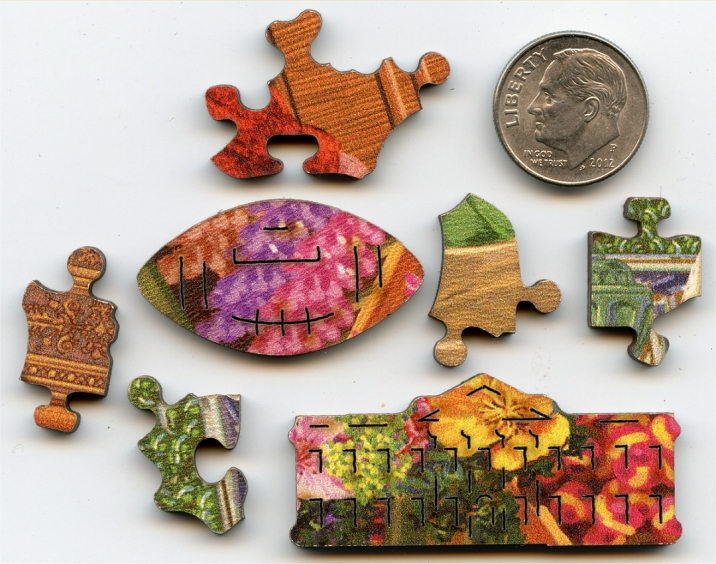 These puzzles are double sided. The back has a wallpaper design for those who want a bit more of a challenge.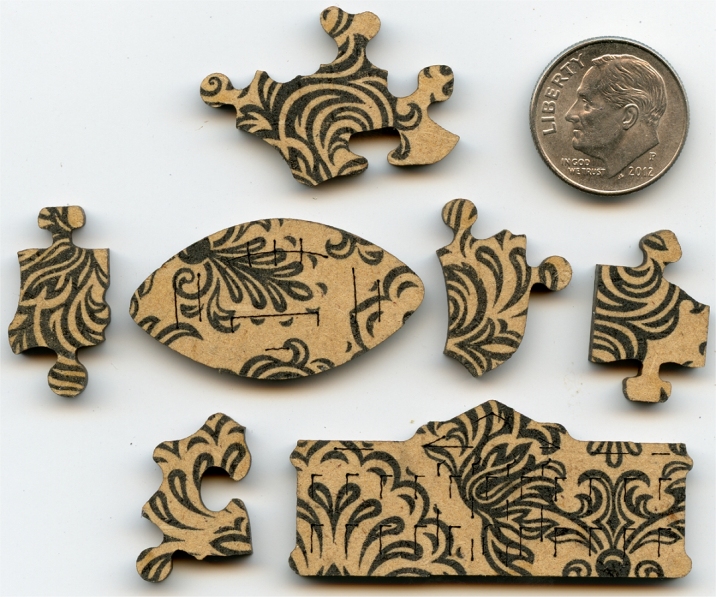 Wooden puzzles slide all around on my table so I attached a large piece of felt from my local hobby store to a strong piece of cardboard. Now I don't have to adjust the entire puzzle every time I put a few pieces in.

I've learned that with wooden puzzles any time I find two pieces that go together, I'd better put them together. I know, that probably goes without saying, but while it's a nice practice for cardboard puzzles, for these wooden puzzles it's almost a requirement – it helps me identify what those two pieces are a part of and where it's going to go. And it makes me feel like I'm making progress. Sometimes it's the only way I can get started.
The Puzzle Warehouse has a nice collection of wooden puzzles from HQ Kites & Designs. One that I thought looked interesting was In the Toy Shop, which comes in 200, 400, and 1,000 pieces. The whimsies are similar to those from Candy Adventure.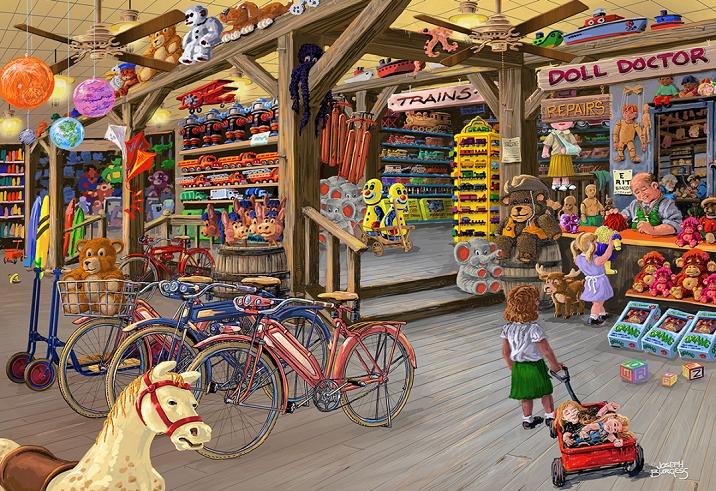 In the Toy Shop | HQ Kites & Designs | 200, 400, 1000 Pieces
Peaceful Traveling just jumps with vibrant color. It comes in 150, 300, and 600 pieces. The whimsies emphasize a travel theme – helicopter, train, motorcycle, plane, and more.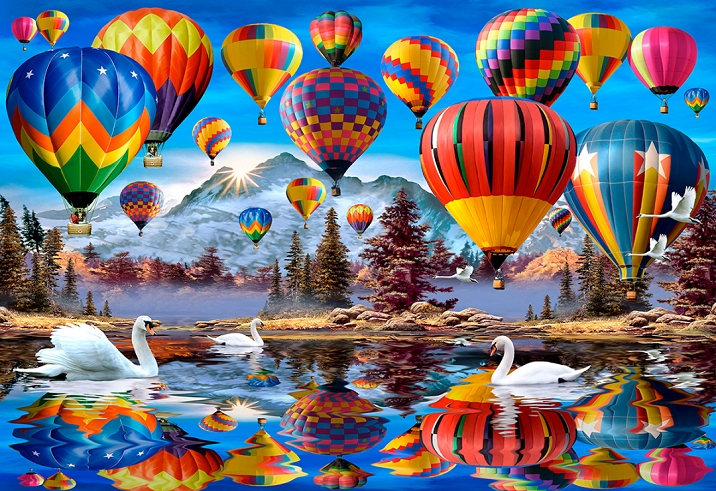 Peaceful Traveling | HQ Kites & Designs | 150, 300, 600 Pieces | Various Sizes
London Pub comes in 150 and 300 pieces. The whimsies are cut in shapes reflecting London life – double-decker bus, Sherlock Holmes, phone booth, soccer player, and more. Those flowers might be a bit more of a challenge. But it's so pretty I think it would be worth the effort.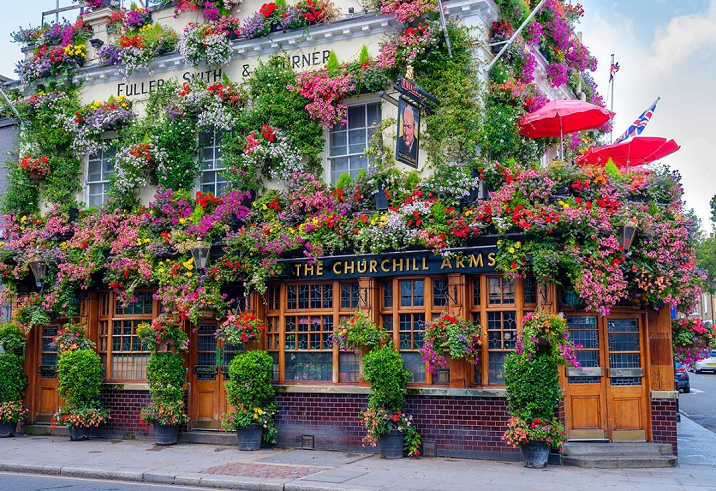 London Pub | HQ Kites & Designs | 150 and 300 Pieces | Various Sizes
Jigsaw puzzles got their name from the jig saw used to create the first puzzles, which were made from wood. Sometimes moving backward and doing things the "old-fashioned way" can be a lot of fun.
Happy puzzling,
Madelle
I picked one of these for my puzzle of the month! I am excited to try it. I love your photos.