Puzzling into the 3rd Dimension with the Mandalorian
Hi there! I'm Alyssa, and I'm so excited to be a 2023 Puzzle Warehouse Ambassador! Welcome to my very first blog post! I have loved puzzles of ALL kinds since I was young, but I found a more social aspect of enjoying jigsaw puzzles when I started my Instagram account @puzzlesatoz (that's A to Z, for my initials! AZ! Although frequent interpretations also include puzzles at oz and puzzles atoz). This month I get to review the 160 piece 3D Mandalorian Helmet by 4D Cityscape Inc, which is not actually a jigsaw puzzle but I think you puzzlers would really enjoy it! Especially the Star Wars fans out there. (May the force be with you)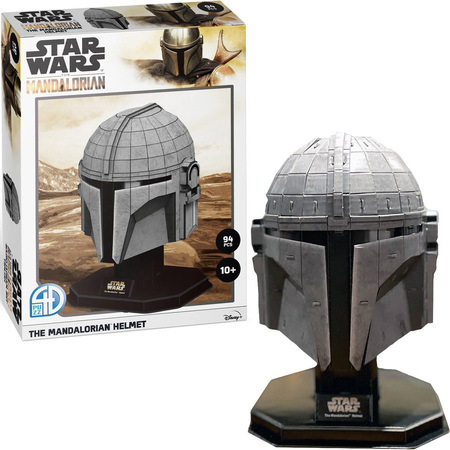 I put this Mandalorian Helmet model on my list on a whim. I'm a mother to 3 boys, and my middle child (R) is super into the Mandalorian and "baby Yoda". I've seen different types of model kits at puzzle and game stores, and I admit they caught my interest, but I thought to myself, I am so deep down the puzzle rabbithole, I just cannot make time for another similar type hobby! It did seem like something my oldest kid (Z) could get into though. He's a LEGO enthusiast. He likes to build. Unfortunately I haven't managed to turn him on to puzzles… YET. But I digress.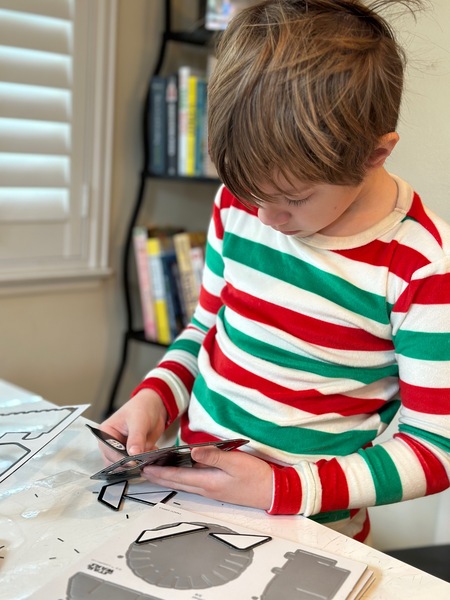 The box suggests this product for ages 10 and older. Z is nearly 9 but he's a smart cookie and great at building large LEGO sets, so I roped him into helping. It turns out the build is not very complicated, but it does require a bit of dexterity and fine motor skills that were a little challenging for him, so he was content to pop the pieces out of the stencil and pop out the holes, and I did the assembly. When I'm not puzzling or parenting, I'm working full time as an obstetrician and gynecologist. So my surgical training came in handy - I employed the principles of traction and countertraction - but don't worry. No prior experience is required for this kit.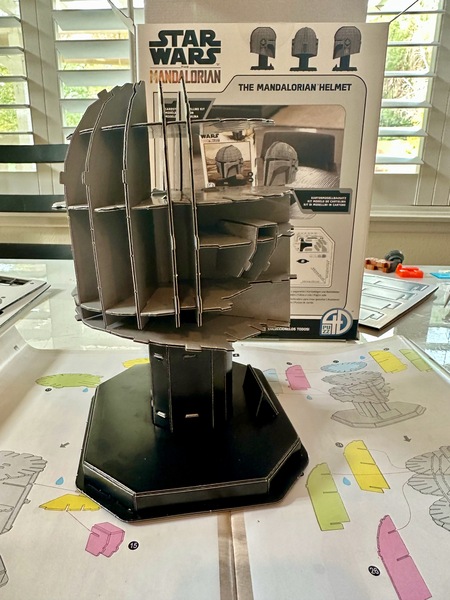 I worked on this for almost an hour and a half, before getting stuck and needing to take a break. I made it to page 8 of 14.
The downside of cardstock is that if you bend it too much it gets worn and frayed. I was not able to pull the tab through no matter what I did! I even tried grabbing tweezers. So I put some glue on it to stiffen it up, and did what I always tell my kids to do when they get frustrated. Take a break. Walk away.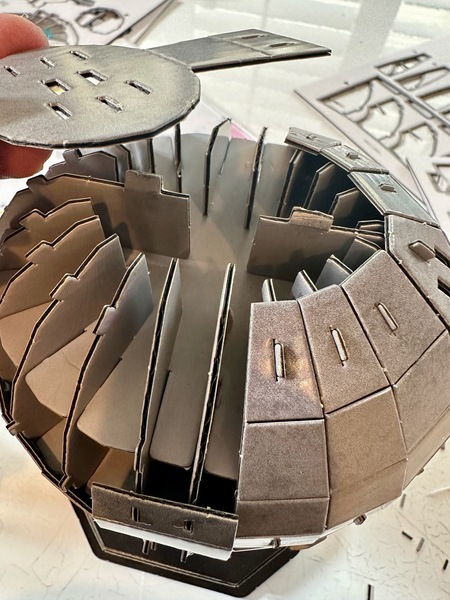 On that note, the handy poker wore out pretty quickly too, but that's no big deal, a toothpick works better anyway.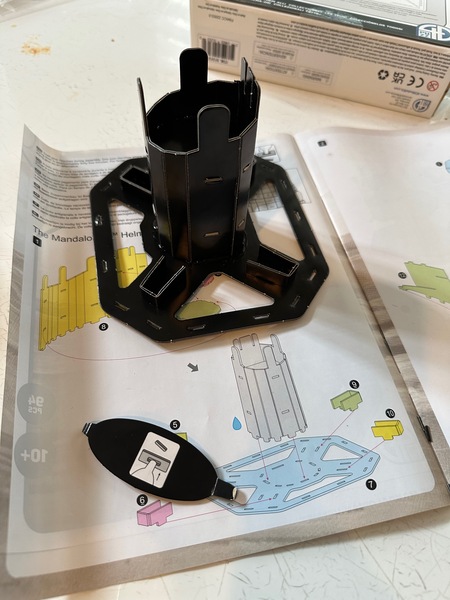 So after my break, the glue trick worked to firm up the board, but I think the issue was also that it's just a really tight fit. Remember to really cinch those boards in!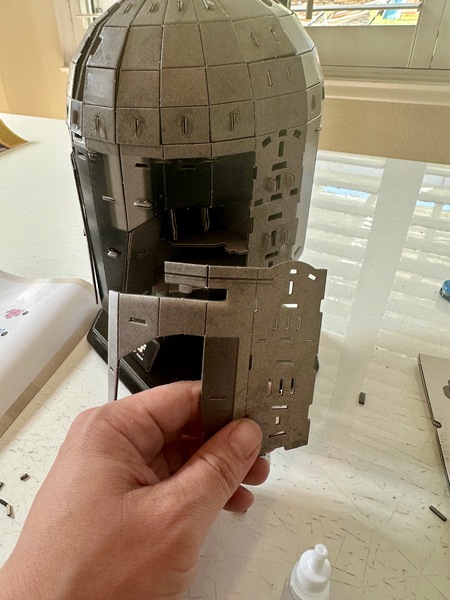 Session 2 came in just under an hour to finish up. I again struggled with the top piece, but part of that was because I put it on backwards. Oops! Learn from my mistakes, people! But look how COOL!!!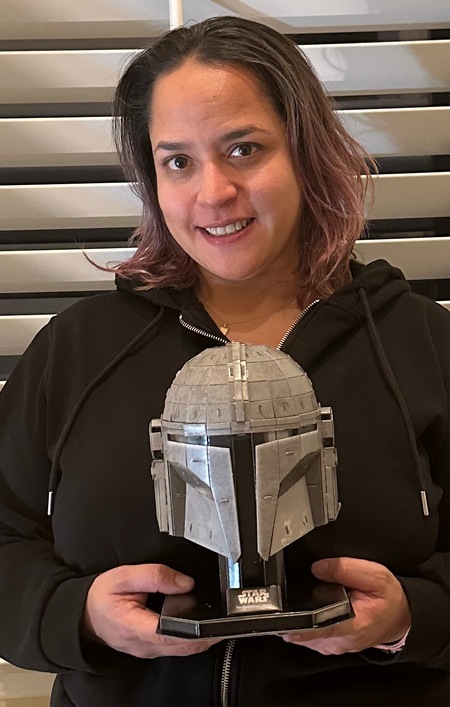 It also looks good on the shelf with our Lego models!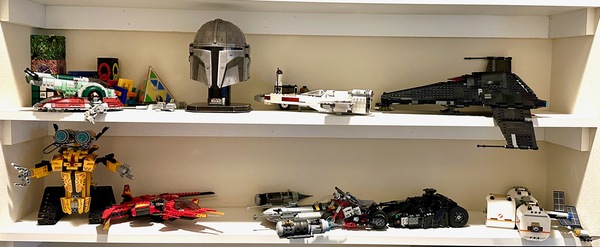 Ultimately, this was a really fun model that was pretty simple, does not require any outside supplies and, did I mention? It looks really cool!
(Note: although other supplies are not required, a toothpick and some quick drying school glue may work better than the supplies that are included in the kit. ) Here are the initial contents (I never did figure out to do with the blue sticky tabs though):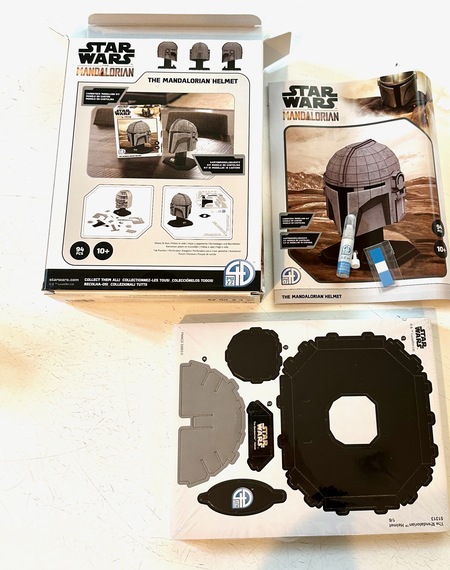 I would absolutely do another one of these. In fact, I think I need to get the BB-8 next.
They also have other non-Star Wars models. Some of my favorites are Harry Potter, Marvel, and Disney castles. The company is listed as 4D Cityscapes, but they also do the Prime 3D puzzles. If you made it to the end, thanks for reading my first blog post! Happy puzzling! See you next month!

-Alyssa @puzzlesatoz