The Art of Eureka
Hi everyone! Have you ever seen an artist's artwork and fallen in love with their style? I have, and I wanted to share one of the artists whose puzzle images I absolutely adore. If you aren't familiar with the artwork of Nur Ashikin Hussin a.k.a Eureka, I'll be showing you some of her artwork that's been turned into puzzle images. Eureka is a Malaysian-based digital illustrator and artist who created the brand EurekartStudio to share her creations. Her artwork is colorful and comforting, full of magic and charm. Her images often combine elements of astrology and nature. It really speaks to me, and I can't get enough!
The first puzzle with Eureka's artwork that I ever came across was Galison's Stargaze. It's a 500-piece, double-sided puzzle where the glossy front depicts a magical, cozy room filled with books, crystals, and house plants, the universe right beyond the windows. The reverse side is matte with a black-and-white map of the cosmos. I would love to step into this image. I could see myself wrapping the blanket around my shoulders, watering the houseplants, flipping through the pages of a book, feeling the aura of the crystal floating above the desk.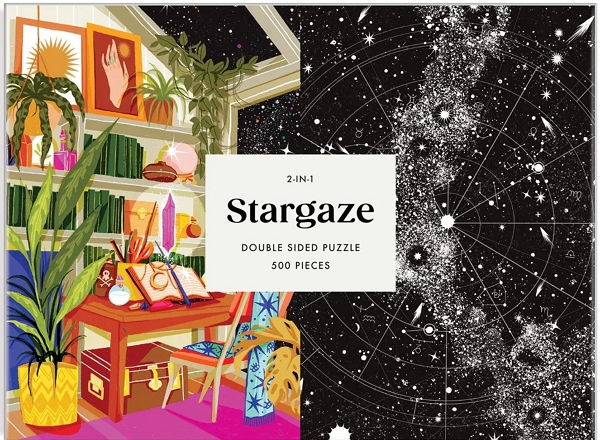 This particular puzzle was quick and enjoyable. This was my first double-sided puzzle, and I have always been a little concerned about how tricky they might be. Because the images on each side are so different and you can easily tell the difference between the glossy and matte coating, the double-sided nature of the puzzle didn't slow me down. I actually really like that the back side of the puzzle wasn't just a solid color. Plus, I guess if you're really feeling like a challenge, you could puzzle the image on the back.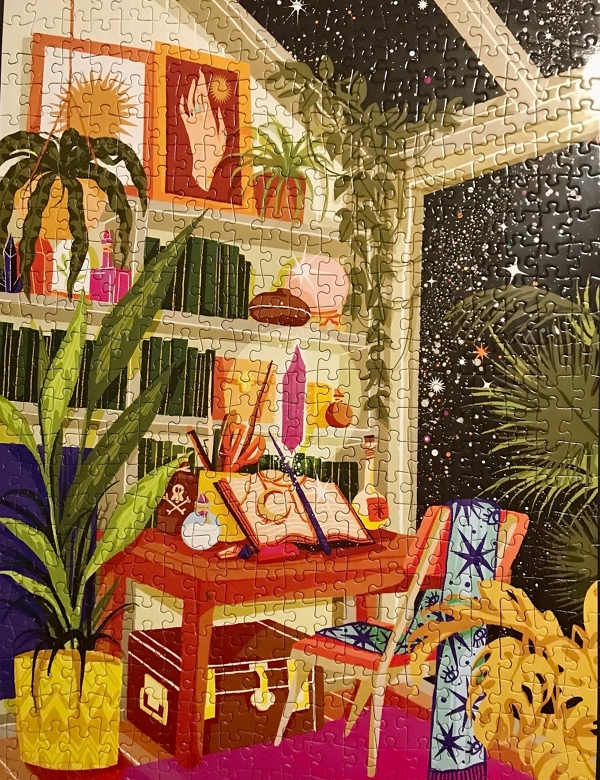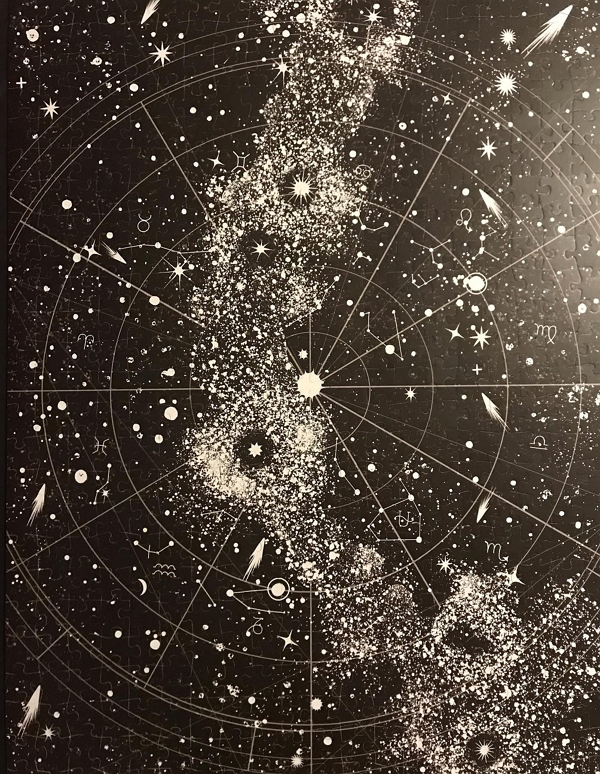 Another of Eureka's puzzles images that incorporates the natural and astrological themes is Galison's Intergalactic Flora, pictured below. It's a 1000-piece puzzle that literally shines because of its gold foil details! Foil puzzles are irresistible to me. The pieces look like little sparkling jewels….gets me every time. I might have been a magpie in a past life. If you're looking for other foil puzzles to do, check out Galison's House of Astrology with art by Michelle Berlin. I love the little vignettes for each zodiac sign, and the foil accents really add the puzzling experience.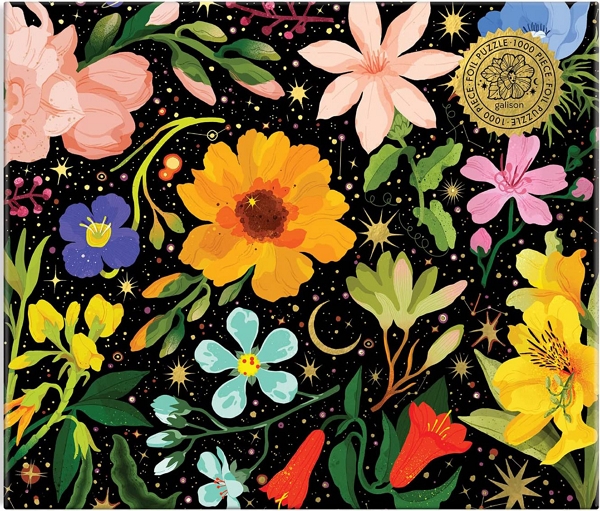 If you're looking for puzzles with scenes to step into, another of Eureka's artworks was turned into Galison's Lighting 101: Houseplants, pictured below. This collection of puzzles come in magnetic-closure boxes that are perfect for display. They look like books! In addition to the fun box for this 500-piece puzzle, the artwork is beautiful. It's a view into a bright, peaceful room full of houseplants. I adore the mid-century vibes and the overall aesthetic. If you want another in the same collection to pair with this one so you have two puzzle books to put on your shelf or coffee table, there's also Constellations 101: Stargazing with art by Caitlin Keegan.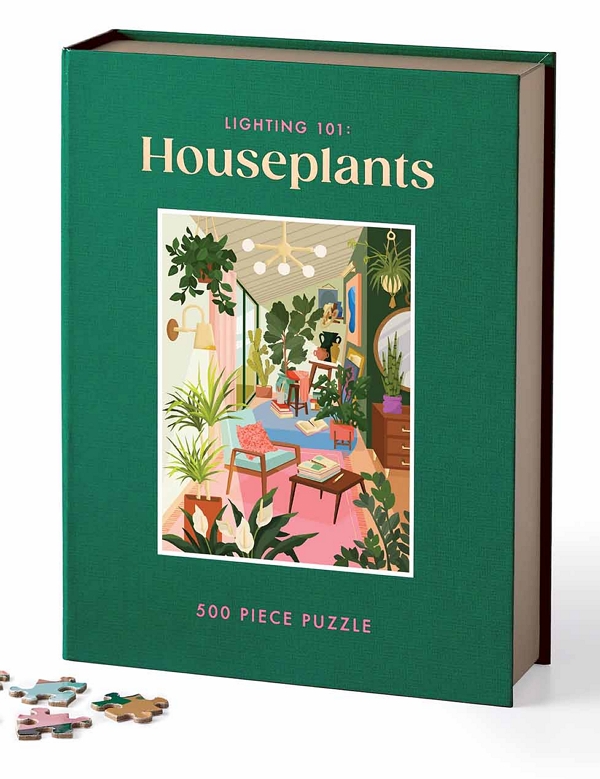 Another puzzle with Eureka's art is Galison's Seek Magic Every Day 128-piece matchbox puzzle. This image beautifully combines florals and the cosmos with a healing message. Its compact size and foil details make it a perfect portable puzzle snack. I don't know about you, but I love having little puzzles around to do when I'm unwilling or unable to commit to a larger puzzle. It's a quick way to soothe the soul!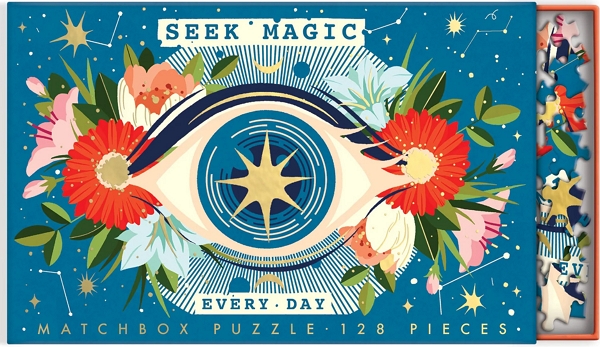 Eeboo also has a couple of puzzles that feature Eureka's art. Bookstore Astronomers was the first of Eureka's puzzle images that I'd seen with people in it. This 500-piece puzzle shows a group of women surrounded by books and flowers, learning and exploring the stars above. I love the air of curiosity and companionship here. If this was a real bookstore, I'd live there.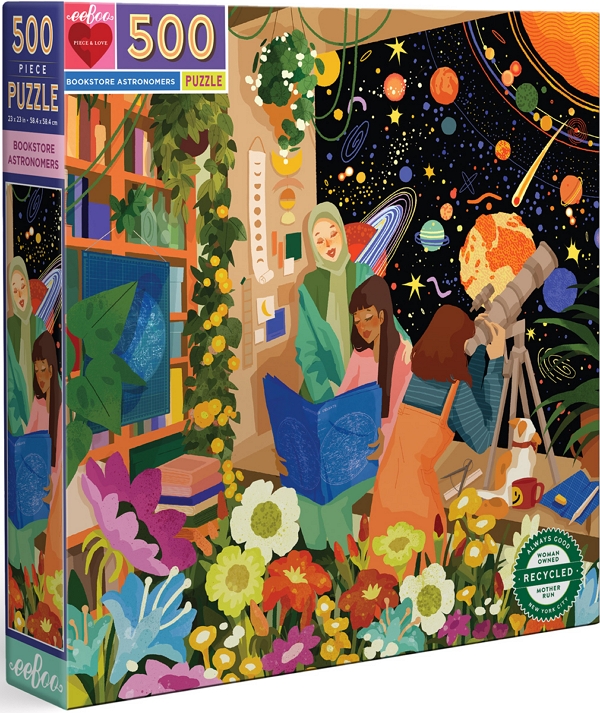 The other Eeboo puzzle is Reading & Relaxing. It's a 1000-piece puzzle that shows a woman relaxing and reading in the bath. The view from the window is impressive, showing beautiful buildings and water scene, with a castle perched on the hill. Inside has floor-to-ceiling shelves full of books and treasures, the room is lined with plants, and there are several cats lounging around. It looks very relaxing indeed.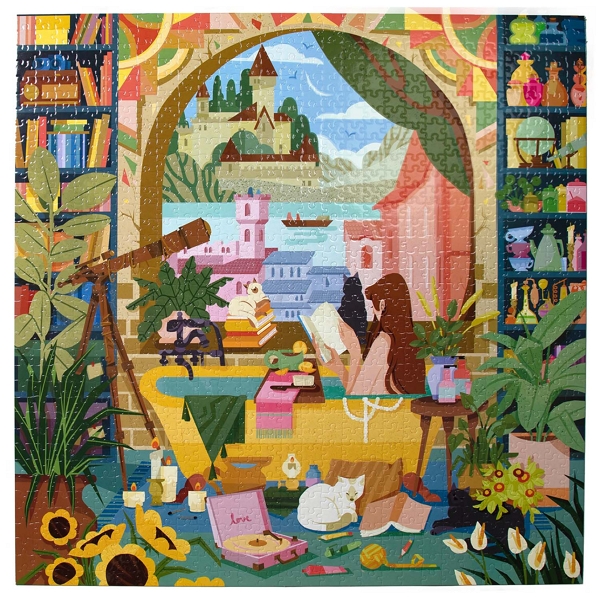 Honestly, the reason I love Eureka's artwork so much is that it makes me feel good. I love the magical, mystical quality of some artwork, the cozy, warm quality of others. I hope that if you haven't seen Eureka's art before, that you liked this overview of some of the puzzles featuring her artwork. And even if it's not for you, I hope you fall in love with someone's artwork, art that gives you joy.

-Alex @pokylittlepuzzler