Artists Create the Magic
ANNIE LEE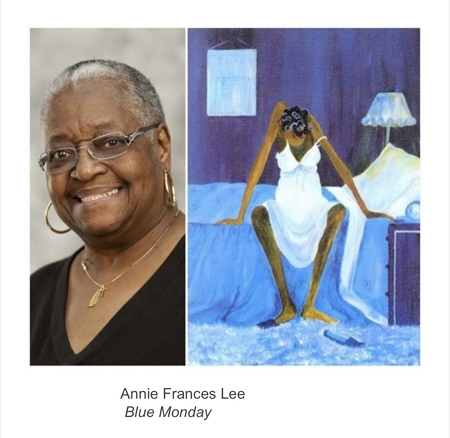 Photo credit: Artz of Culturez
The 411:
According to The History Makers, Annie Lee decided to pursue an art career at age 40. She earned her master's degree after eight years of night classes while working at Northwestern Railroad as a clerk in the engineering department. Her railroad job inspired one of her most popular paintings, Blue Monday, which shows a woman struggling to get out of bed on a Monday morning. Her work is known for creating animated personalities even though the faces are painted without features.
Annie passed away on November 14, 2014 at the age of 79.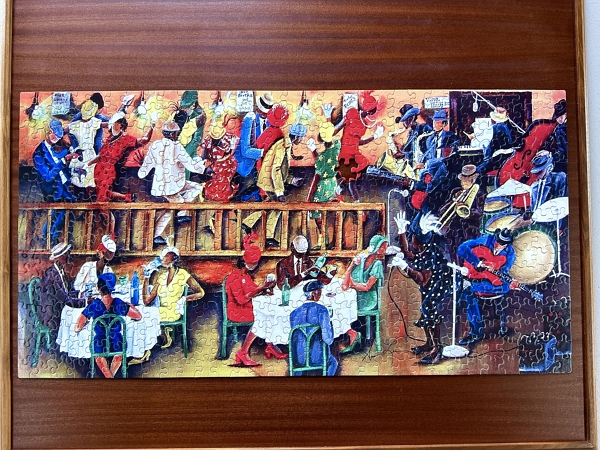 Juke Joint | SunsOut | 500 pieces
Did you know?
All the characters in Annie's paintings have faces with no features. So, why no faces??
Annie wanted viewers to be able to picture themselves, or people they know, when they look at her paintings. By allowing people to project themselves into the painting, she provides a way for everyone to relate to the story the art is telling.
Show the love!
The Annie F. Lee Art Foundation showcases Annie's life story and artwork through charity programs and annual scholarships.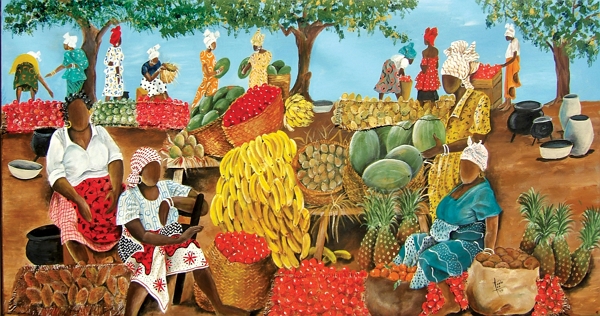 Marketplace | SunsOut | 500 pieces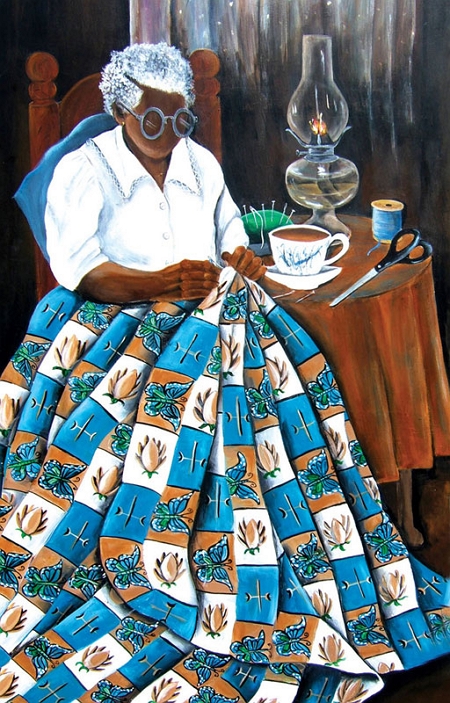 Gramma's Hands | SunsOut | 1000 pieces
Find her:
On Instagram, follow the hashtags #annielee & #annieleeart and online at The Annie F Lee Art Foundation & Annie Lee Gifts.
AIMEE STEWART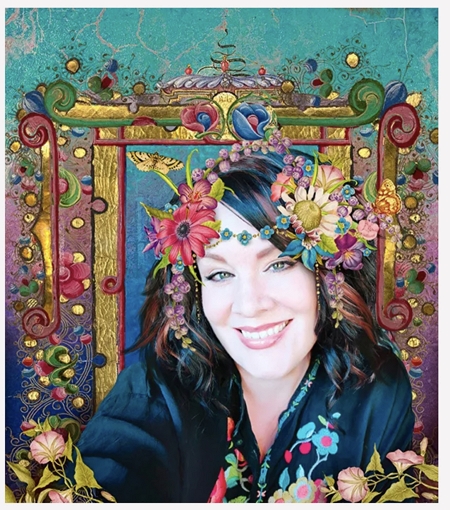 Photo credit: Art by Aimee Stewart
The 411:
Everyone loves Aimee's puzzles because she uses beautiful colors, weaves them into fanciful images, and then adds a healthy dose of magic to create memorable and compelling puzzle art. My first 2000 piece puzzle was an Aimee Stewart puzzle and I've been in love ever since!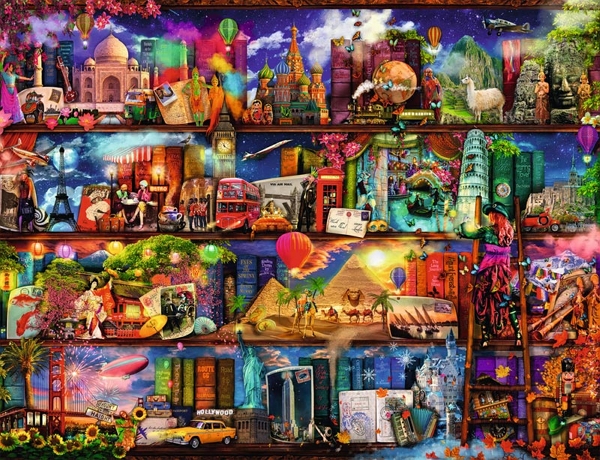 World of Books | Ravensburger | 2000 pieces
Did you know?
Aimee Stewart is a self taught artist who has "music in her soul and daydreams in her blood". She also creates masterclass tutorials on photoshop techniques. She confesses that she is addicted to many things … some of her favorites are books, Sleepy Monk coffee, baubles and sparklies, antique stereoview cards, England, rain, Frangelico, and foxes.
Show the love!
Aimee is in a constant battle to prevent her art from being stolen, bootlegged, and copied. When I first started buying puzzles, I didn't know that art licensing ensures that artists are paid for their work. Now I know to check my puzzles to make sure the artwork is properly licensed.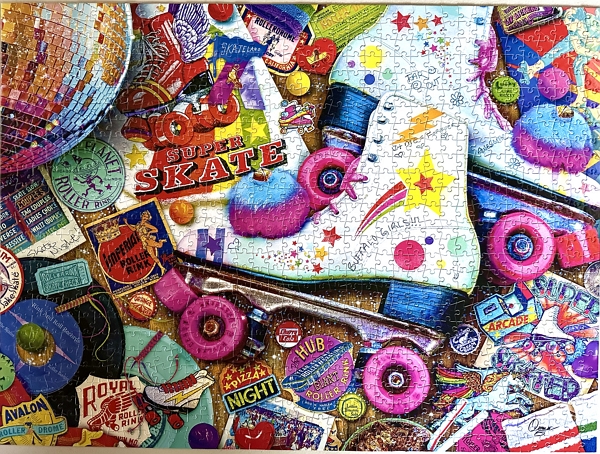 Skate Night | Buffalo Games | 1000 pieces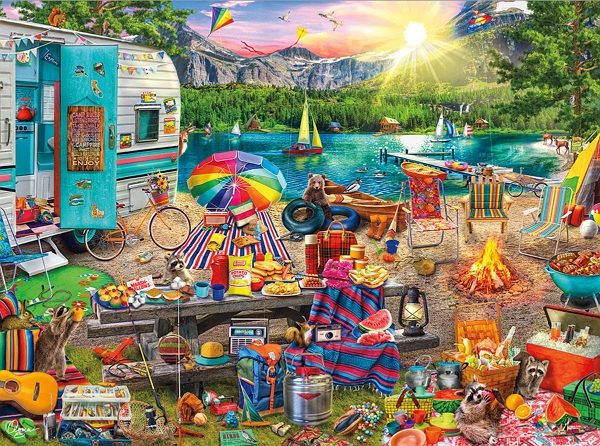 The Family Campsite | Buffalo Games | 1000 pieces
Find her!
On IG @aimee stewart creations and online at Art by Aimee Stewart .
GWENDOLYN McSHEPARD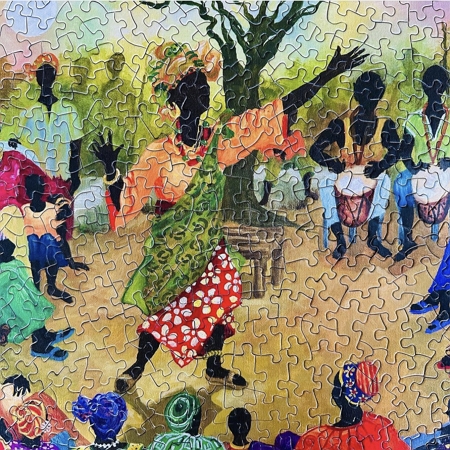 Storyteller | SunsOut | 500 pieces
The 411:
Gwendolyn's trademark is her uninhibited style and her bold use of color. The integration of her life experiences gives her work a sultry and soulful edge. Her fanciful and meticulously detailed street scenes capture the unique liveliness of a place.
She was recently cited as one of the top up-and-coming artists in California's Bay Area.
Did you know?
Her mural at the Rose Garden Inn in Berkeley is one of the largest single female artist murals in the California Bay Area.
Show the love!
Check out her process video on Painting a Mural on her YouTube channel.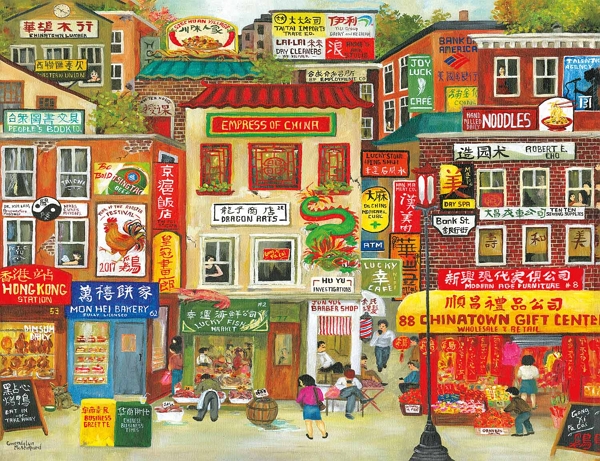 Chinatown | SunsOut | 500 pieces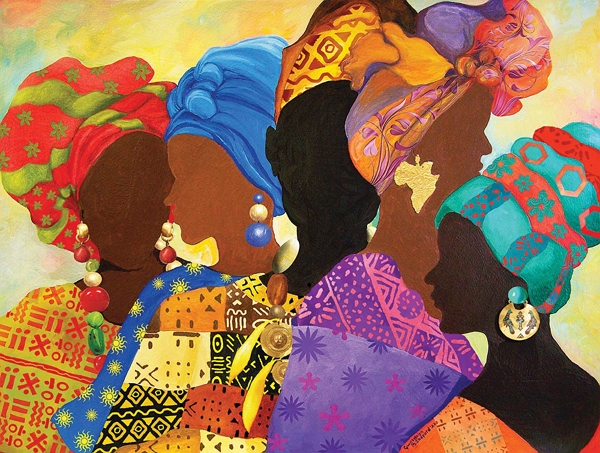 Regalia B | SunsOut | 500 pieces
Find her!
Gwendolyn is the proprietor and sole artist of GPY International Fine Art Galleries.
Look for her on Instagram under the hashtag #gwendolynmcshepard and on YouTube @GPY International2478
JOSIE LEWIS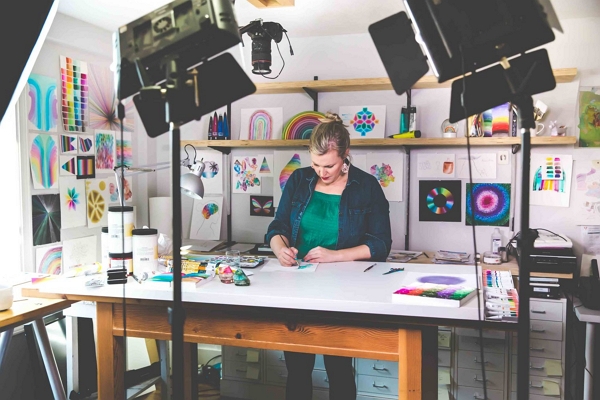 The 411:
Josie's motto is "Make art fun! Make fun art!" She loves abundant color, the joy of artistic process, using unusual materials, and inventing tactile texture. Josie pushes the boundaries of what is typically "done" with art materials. She occasionally gathers haters that think she "wastes paint". She has an entire highlight reel on her instagram page devoted to haters(!) Josie's hilarious alter ego, The Art Police, takes calls from haters and tries to talk them down.
Did you know?
Josie is obsessed with social media and has been posting daily art videos for 6 years! She has over 3 million followers and teaches workshops, coaches artists, and provides training online.
Show the love!
Josie loves helping artists get paid and offers free resources to help folks sell their art.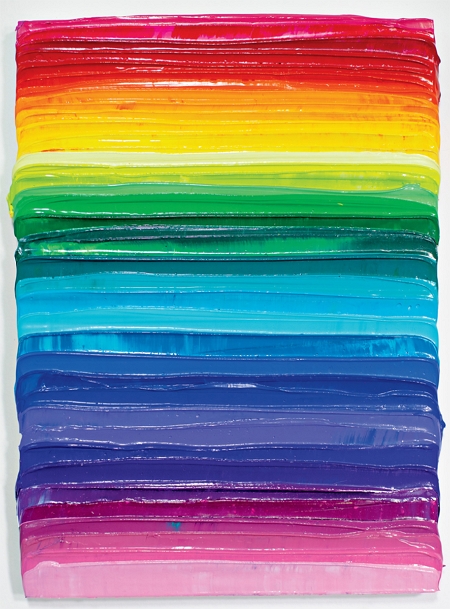 Chunky Rainbow | Buffalo Games | 1000 pieces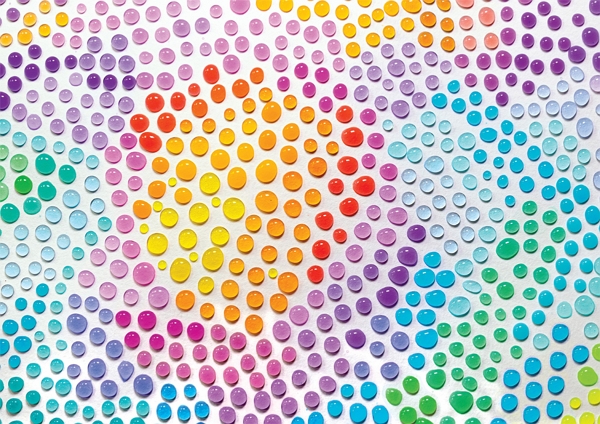 HueDew | Buffalo Games | 500 pieces
Find her!
Josie's super fun Instagram page is @JosieLewisArt, she is online at JosieLewis.com, and her YouTube page @JosieLewisArt is filled with interesting and educational videos.
Until next time, happy puzzling and remember to thank your friendly neighborhood artists for creating so much joy!
Tracy @16feet
Interesting fact about Annie Frances Lee and why she doesn't include faces! That Chinatown puzzle was just added to my wish list - love it!