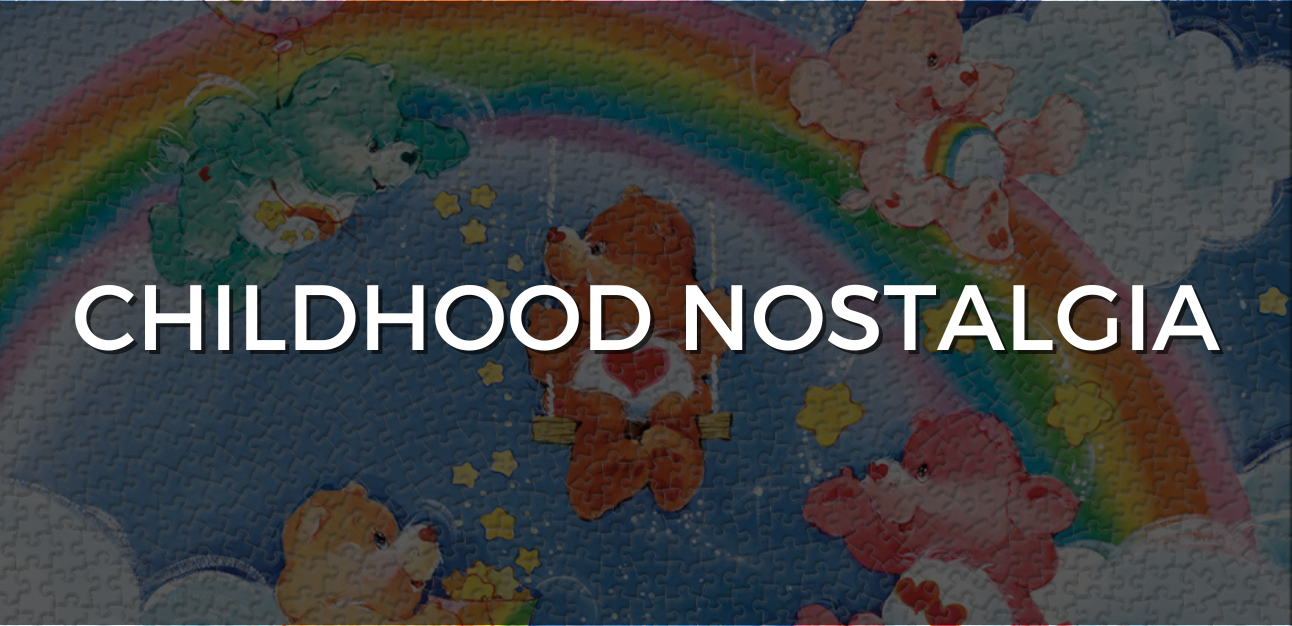 Childhood Nostalgia
The simple pleasures in life are one of the best things we experience as we journey through our time on earth. For many people, a reminder of a particular food, toy or game from their childhood is enough to evoke a fond memory and provide that simple pleasure of happiness.
I'm totally about to age myself here. I was around when Care Bears first hit the scene (Team Cheer Bear!). I played Pac-Man and Space Invaders when they were released and I still remember my first Sony Walkman. When it comes to puzzles, we all have that certain element in the image we connect to for various reasons. It can be the colours, the dog or cat that reminds us of our own, a particular landmark that we visited and adored or that one toy from our childhood that we had and loved.
For this blog post I thought I'd search through the Puzzle Warehouse website to see what I could find in their puzzle range that I remember from my childhood.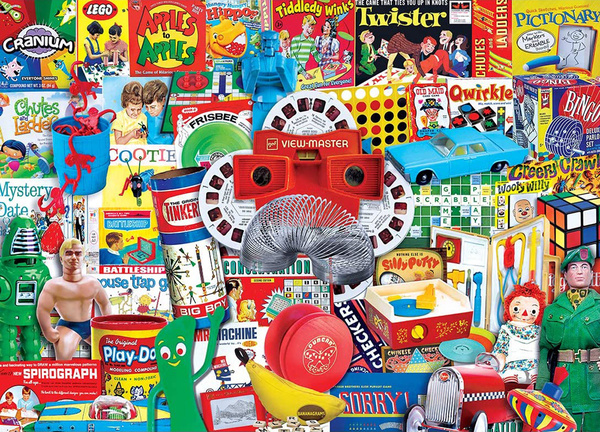 Let the Good Times Roll | MasterPieces | 1000 pieces
I remember when yo-yo's were super popular. Lunchtime at school was when the playground would fill with kids showing off their yo-yo skills. It was also when the inevitable yo-yo induced injuries would occur. Someone would overestimate their skills and clunk themselves on the head with the spinning plastic missile.
The Rubik's Cube…I solved that by peeling off the stickers and replacing them so the colours matched on all sides. Hungry Hungry Hippos, I adored that game. I'm fairly certain my parents probably regretted that purchase. For a game not run by batteries, it was so noisy!

Technology is great but these toys and games were so simple and so much fun. There's so much nostalgia in this puzzle and the good thing is that almost all of the toys and games in the image are still available today. I think it would appeal to a wide range of age groups.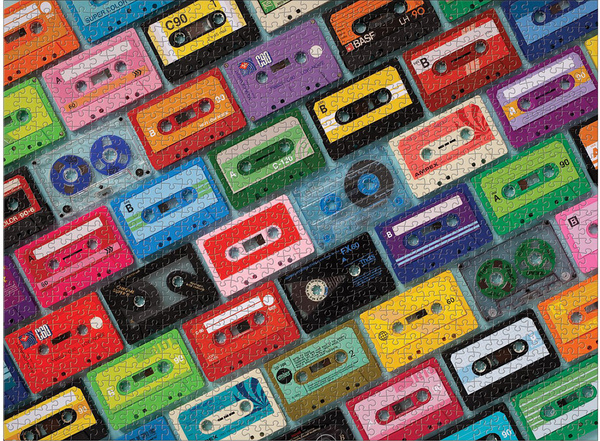 Mixtapes | Galison | 1000 pieces

Saturday nights as a young teen were spent listening to the "Top 40 countdown" of the most popular music hits on the radio. It wasn't usual for teens to sit in their bedroom with a blank cassette tape in their portable stereo, recording the latest pop music directly from the radio. It was always a race against time to try and stop the recording before the radio announcer would start speaking at the end of a song. I loved my mix tapes as a teenager. My Dad didn't love my mix tapes. I can remember a few times of him storming up to my room telling me to turn my volume down…and by my volume he meant my singing. I'm sure my talent should've been far more appreciated than it was.
For fans of block colour in puzzles, this is perfect. By sorting the colours you should be able to build the brighter coloured cassette tapes quite easily. This would be a fun puzzle to build while listening to your favourite songs from your teen years.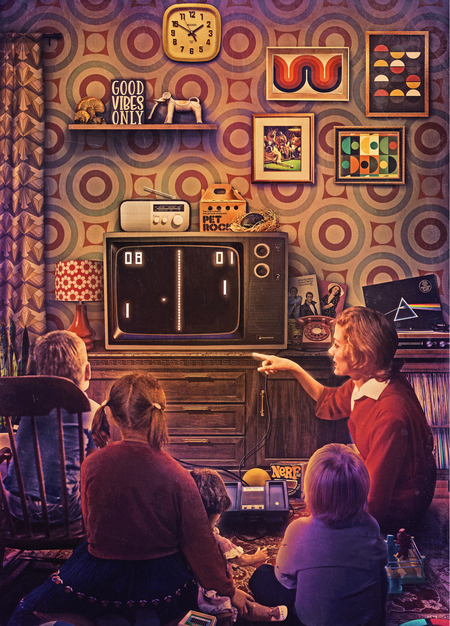 Dawn of Video Games | Mchezo | 1000 pieces

Video games have pretty much always been a part of my life. I'm still to this day an almost daily gamer. As I mentioned above, I remember playing Pac-Man and Space Invaders on the Atari 500 gaming console. I love the family involvement depicted in this image. This is literally how I remember playing on a gaming console for the first time. My Dad, uncle, sister, cousins and me, sitting on the living room floor, all taking turns and cheering each other on as we tried to outsmart ghosts or fought off the alien invasion. I wouldn't be surprised if similar wallpaper was on the walls during that time too.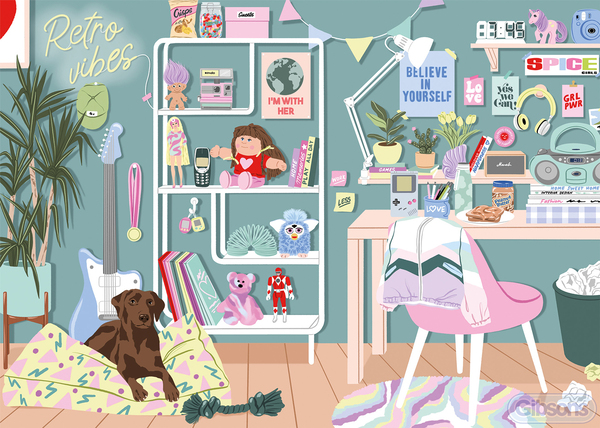 Retro Vibes | Gibsons | 1000 pieces
My bedroom didn't look anywhere near as cool as this one but it had the potential! I can confirm that my room had a Cabbage Patch doll and numerous Troll dolls. Even though I was probably too old for them, at one stage I even had a Tamagotchi and a Furby. I will also confirm I was a HUGE Spice Girls fan. This Gibsons puzzle has such a pleasing colour palette. I'm a pretty big fan of puzzles with lots of little details and this one certainly fits the bill!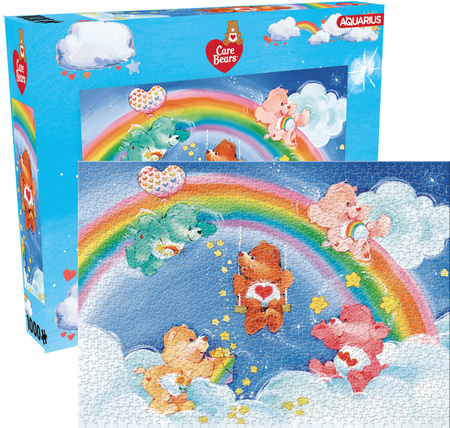 Care Bears Vintage | Aquarius | 1000 pieces
Finally, I have to end with the ever cute Care Bears. They've recently had a resurgence in stores and I think they're actually even more popular now than when they were initially released! My daughter even has a Care Bears calendar hanging in her bedroom. I remember receiving a plush Cheer Bear as a child. That bear sat on my bed for many years. My mum kept Cheer Bear at her house and eventually my own daughter and niece ended up playing with it. It's always so nice when childhood characters survive decades and can be loved by generations. How nice that we can now enjoy the Care Bears in puzzle form too!
Well, I hope you've enjoyed my little nostalgic journey. I'd love to hear if any of these puzzles remind you of a particular memory from your childhood! If you'd like to continue a walk down memory lane, check out the search terms "Nostalgic & Retro" and "Pop Culture Cartoon" on the Puzzle Warehouse website!

Until next time,
Rell @relishpuzzles