Collections and Curiosities
Many of my puzzle friends have amassed an impressive collection of jigsaw puzzles, but for many of us, puzzles are just the tip of the iceberg. Maybe it's craft supplies or action figures, dolls or items from your travels (all of the above?), but the urge to collect things can be very real. I sometimes find myself picking up items that some might consider unusual, so perhaps it's no surprise that I am also drawn toward puzzles that feature these kinds of oddities or curiosities. Today I'll be featuring some of these curiosity-themed puzzles….after this peek into one of my display cases.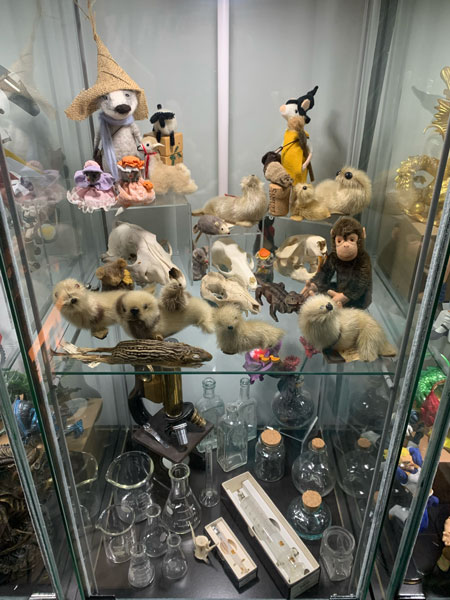 As someone with a background in biology,I tend to collect things like animal skulls, scientific glassware, and even little animal figures made of real fur. It's a little comforting to know that my attraction to bones and skulls is not unique, and in fact they are often featured in this genre of puzzles. I particularly appreciate the alligator skull in Curiosity Cabinet, a 1000-piece puzzle by Buffalo Games.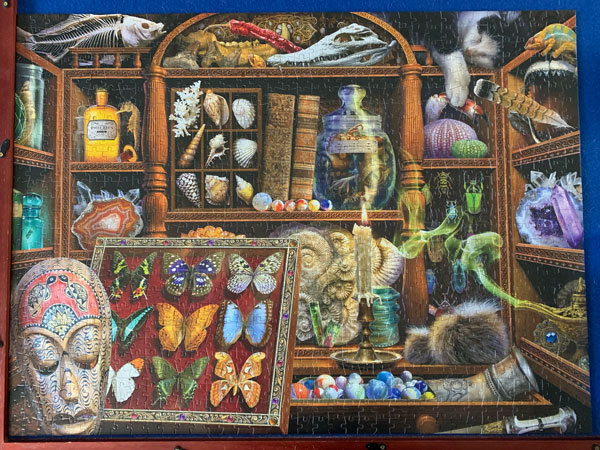 I also love the many shells and colorful geodes and marbles in this puzzle, and I'll never say no to a well placed cat. Another common element in puzzles of this ilk are collections of beetles, butterflies, and moths. As in Curiosity Cabinet, moths/butterflies and gemstones make an appearance in Curiosities, a 1000-piece puzzle by Galison.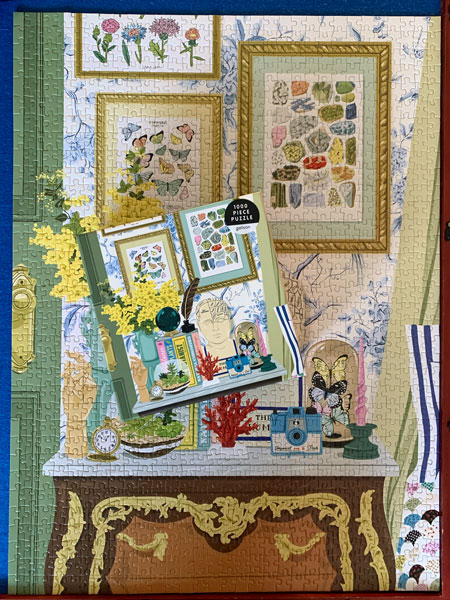 I really enjoy that this Galison puzzle does everything it can to avoid being a dark puzzle. The colors are a refreshing change from many darker curiosity-focused puzzles, and I love the little cloche of butterflies and succulent planter. The art prints of carefully classified rocks and butterflies on the wall remind me of the couple years in college that I spent in museum collections. Although admittedly, my time among the rows and rows of specimen cabinets was mostly spent measuring bat teeth…but that's a story for another day.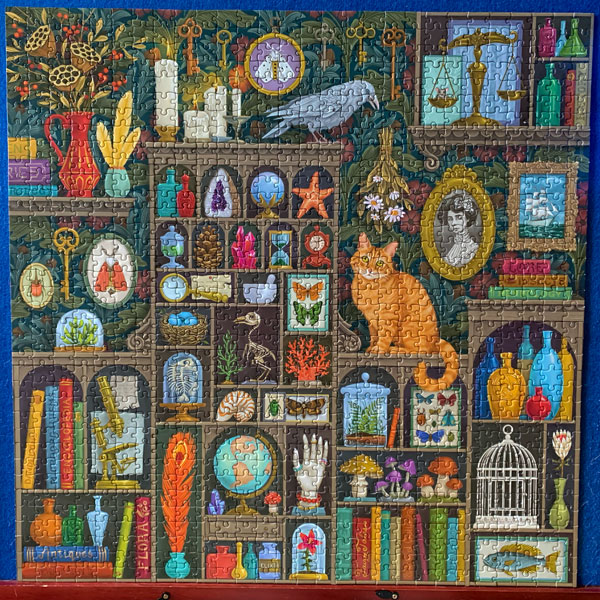 Perhaps my favorite curiosity-themed puzzle to date is Alchemist's Cabinet, a 1000-piece puzzle by eeBoo. There are so so many fun details in this one, and of course another cat. Although I almost always sort my puzzles by color before starting to build them, I approached this one a little differently. It was fun to pick a detail, like the microscope or a portrait, pull out the pieces of those elements from the box and then put those tiny sections into place. This puzzle also has several more relatable items, like pinecones, feathers, and plenty of books. This amazing collection is actually featured within one of the rooms in the puzzle The Alchemist's Home along with many other treasures. And in the same vein, eeBoo also offers Ancient Apothecary, though the items here have more purpose than display in a case or cabinet.

Another colorful collection that has made it to my wishlist is Odds and Ends, a 1000-piece puzzle by Lucky Puzzles. I enjoy the many fun and colorful vintage items in this one.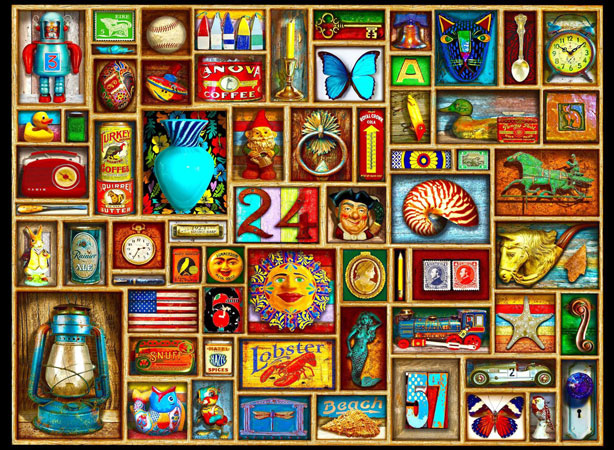 And of course, part of the fun of finding treasures of your own is delving into antique and thrift stores and browsing the collections on display. Some puzzles that highlight this experience are Curiosity Shop, a 1000-piece puzzle by Buffalo Games with artwork by Aimee Stewart; Antique Attic, a 500-piece puzzle by Educa with an excellent small-scale triceratops skeleton; and Curiosity Shop, a 2000-piece puzzle by Buffalo with—yes, friends—a fabulous shop cat.

Best of luck on all your collecting endeavors, be they for puzzles or something a little more unusual!

- Gail, @jiggies_and_gems