Dog Days of Summer
July 3-August 11 marks "The Dog Days of Summer" – a time that we Floridians find especially "ruff!" Where better to be than indoors working on a dog puzzle in air conditioning to keep from going barking mad! Here's a fun fact - did you know the term came about because the sun is in the same region as Sirius, the dog star, during these dates? The star is so bright, ancient Romans believed it intensified the sun's warmth! Now that's cleared up, here are the puzzles that were throwing off heat on my board this month (and there were a doggone lot of them)…
It would be hard to pick a favorite from this blog, but this 636-piece Walkies from Gibsons is up there! I pounce on any puzzle featuring Linda Jane Smith's artwork. On her website, she talks about how she used to make animals out of scraps of material when she was young, placing them in secret worlds and I find the enchanting worlds she continues to create for her critters delightful! Lots of cute details and a quality brand, which is good because the shade of some of the dog fur was very close and could have made one snarl if there were false fits, but there were none.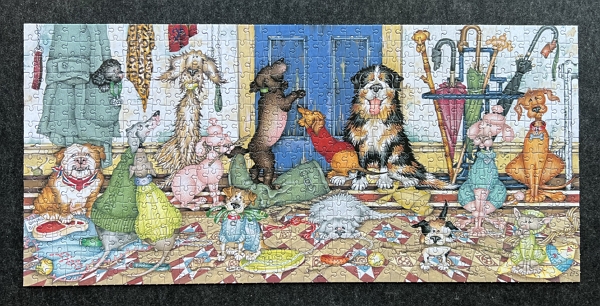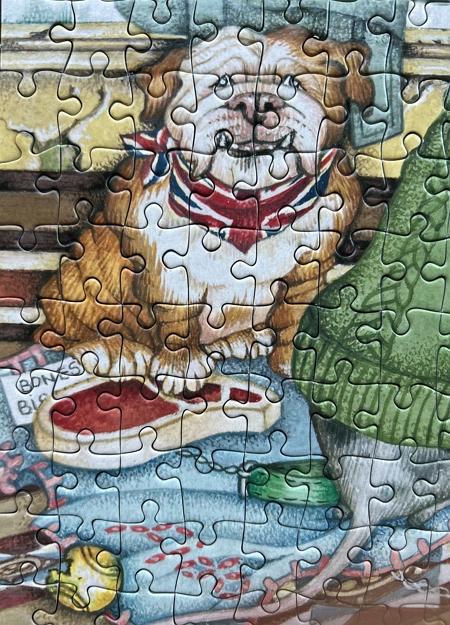 I completed three 500-piece puzzles from Galison Publishing. Two were from Galison, which originally worked with museums when they opened in 1979 to make select art imagery available to the masses. Since then they've expanded their imagery. I'm sure my picks - Laundry Dogs and Boss Dogs - may not be found hanging in a museum, but they certainly appealed to the masses as the many "likes" I got on social media would attest!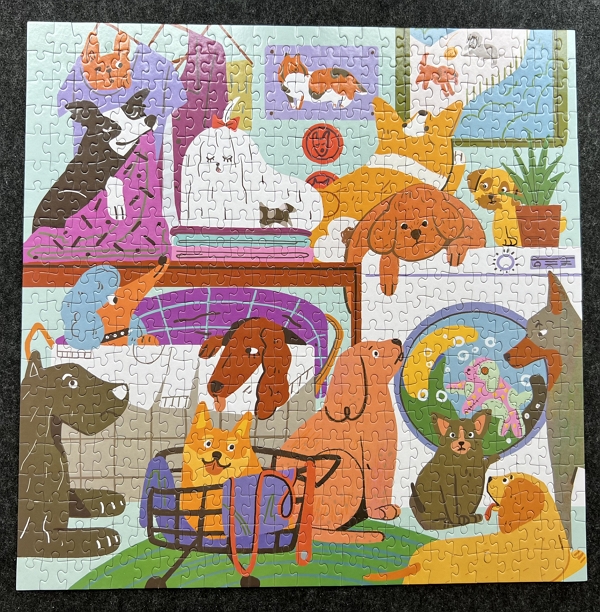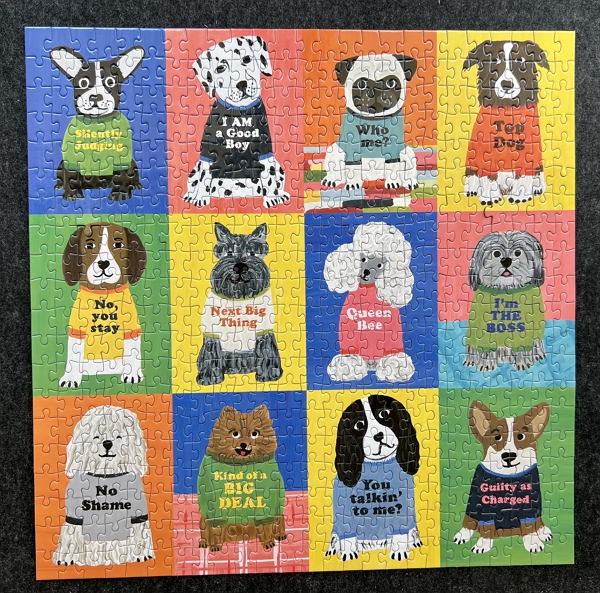 The third, Doodle Dogs, was from Galison's other brand Mudpuppy, which is described as their kid's brand. I guess I'm a big kid because I'm fond of many of their puzzles! I was even somewhat intimidated by this one at first for fear that all the green would make it difficult, but all but one piece had some other color besides green on it, which simplified things. Also, the fur colors in all three of these puzzles had varied shading, ensuring no pieces strayed.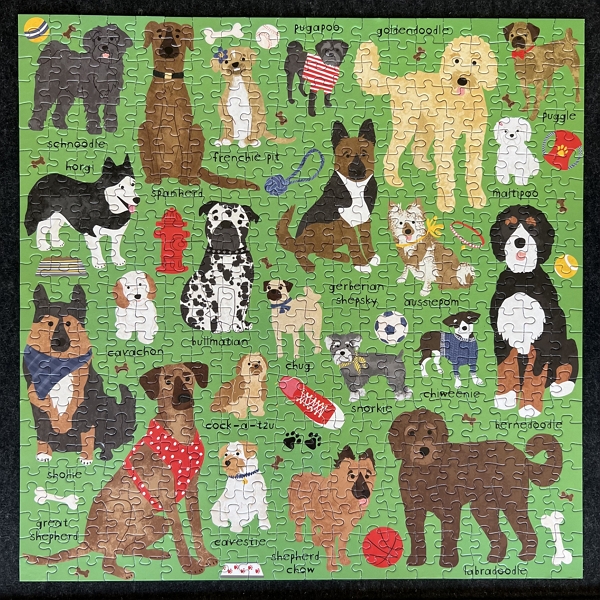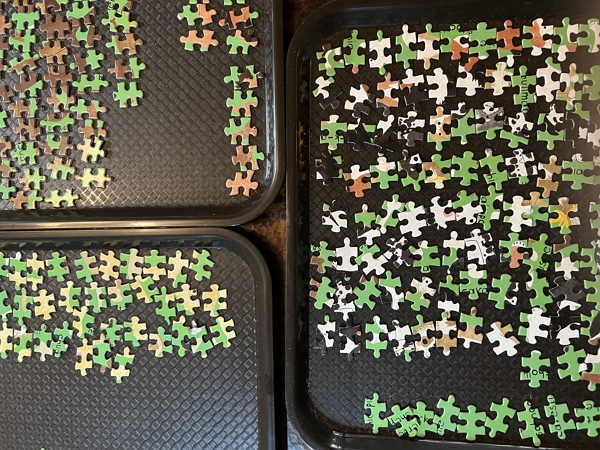 There were also no worries about howling in frustration when looking through similarly colored dog fur in this 1000-piece JaCaRou puzzle entitled New Dogs on the Block. Color simply bursts from the scene! What's special about founder Anie Maltais' puzzles is she was passionate about puzzles as a hobby first and then began creating images that would delight puzzlers. Her detailed images always lend towards an interesting build and her insistence on high quality results in thick pieces made from recycled materials that hold together tight (no need to glue her puzzles together if you want to frame them).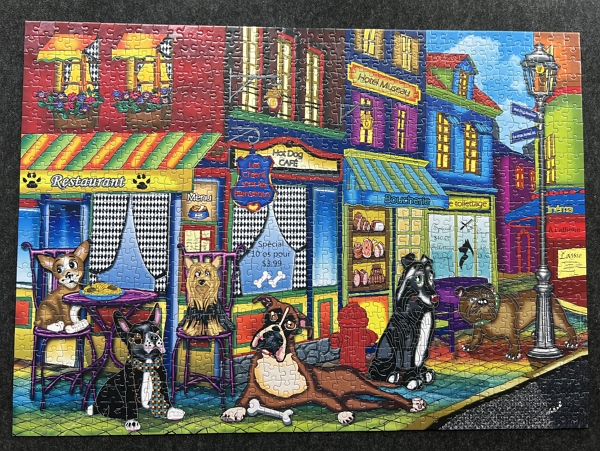 Re-marks is another preferred brand of mine, as I am fond of panel-based artwork. The different-colored backgrounds make collaring the right pieces go quickly. Their puzzles come with a poster - an important note as the entire image often isn't shown on the box, which was true of both this 300-piece Retro Dogs and 1000-piece Dog Tales as you can see here. I especially enjoyed going down memory lane as I assembled the latter. So many of these titles gave me a good cry!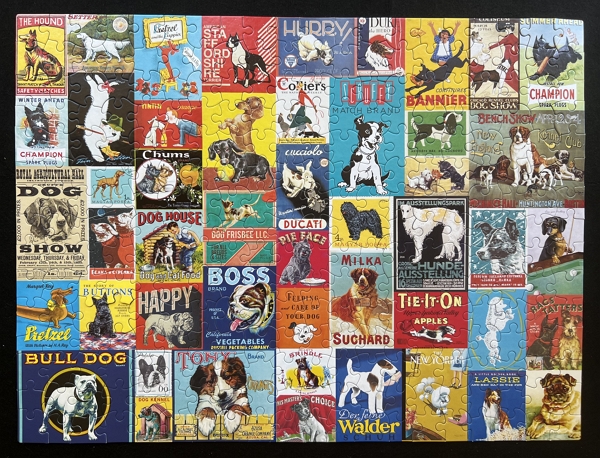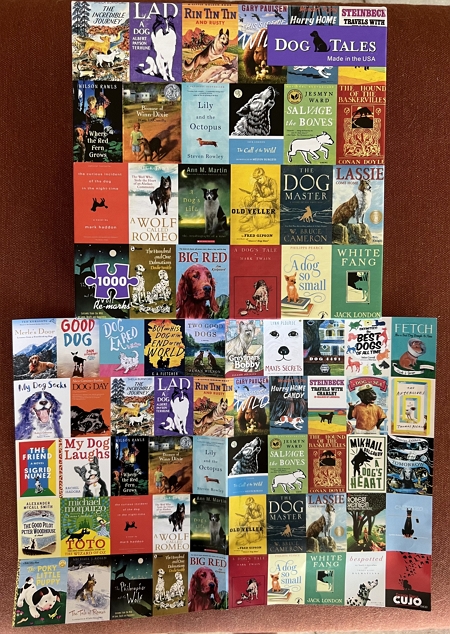 Finally, starting with the edges is like a religion to me! If you're like me, I'm going to put a flea in your ear about Ceaco's series that this 750-piece Animal Jam – Cats and Dogs puzzle is part of…consider doing the edges last as there is so much white space with very few colors attached to them! Ironically, many will tell you never to start with edge pieces on a round puzzle, yet doing so was extremely easy with this 500-piece Dogs of the World by eeBoo, as the edges have colored dots on them. Thank you, eeBoo for overcoming this bone of contention for "edges first" people like me!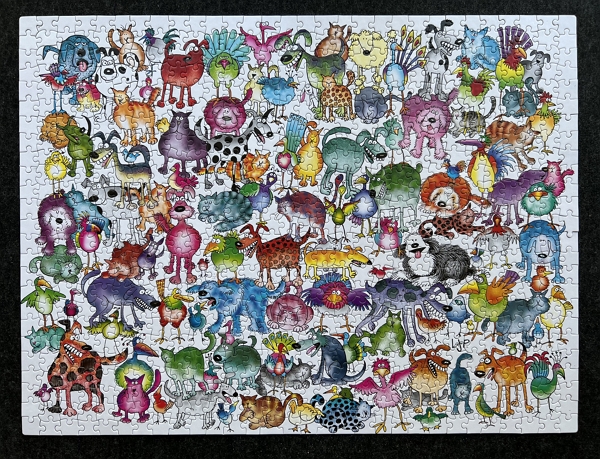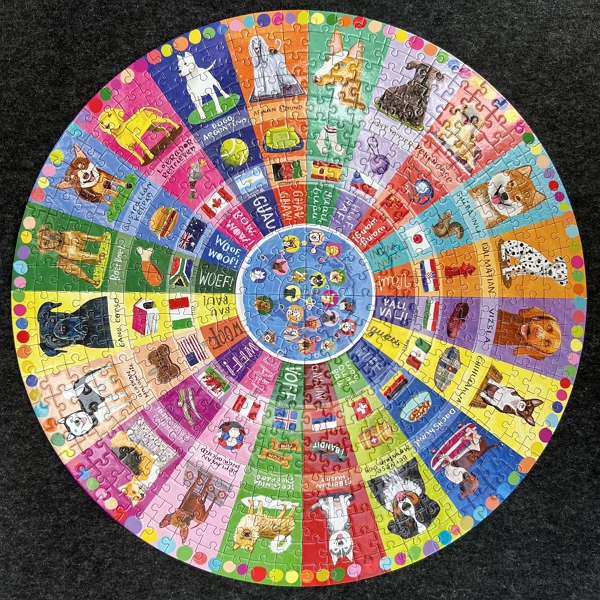 Many more dog-themed puzzles "sit" on my shelves, including this Dogtown puzzle that literally just got delivered as I was writing this blog! For those of you who were hoping for puzzles that featured more realistic dogs, here are some I'd definitely unleash in the future -Ravensburger's 99 Lovable Dogs, Re-marks Welcome Home and Educa's Shared Moments.
As they say, every dog has it's day and I hope you found a few dog puzzles you'd like to do in the summer days ahead. Go on…I double-dog dare you!
– Lisa @lisalovespuzzles
Love the puzzles you chose, and I'm not even a dog person 😉. Walkers and Laundry Dogs tied for my favorite. I always enjoy the humor you add to your blogs.
What a fun column. Love every puzzle you discussed and have done some of them. Looking forward to doing more of them!