Fall into Football!
Fall Into Football Season! Go Patriots!

🎶 I've been waiting all day for Sunday night 🎶 If you read this line, and sang it with the mental image of Carrie Underwood dancing in your brain, then YOU are my people. If you didn't have that mental image, then you're here to read about puzzles, and that makes YOU my people, too! Yup, you guessed it. I am going to nerd out on football themed puzzles with you today. Go New England Patriots!
Football season is upon us! Thursday, Sunday, and Monday nights just got so exciting again. Bring out the chips, salsa, chili, friendly rivalry, and most importantly… bring out the puzzles!
While watching the Patriots, and the Eagles in support of my husband, on the field creating sports magic, I like to pull out a puzzle and put it together to help ease the tense and stressful excitement when the games are too close for comfort. I found puzzling, while fearing for my team's life, is a lot more therapeutic and manageable than screaming at the TV. What's better than watching your team play, while puzzling them at the same time? It's really fun… you should try it! Like this 1,000 piece Philadelphia Eagles puzzle by Masterpieces.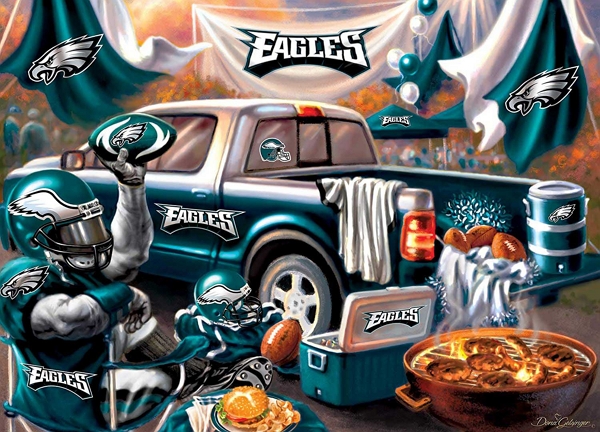 Philadelphia Eagles Gameday by MasterPieces
How fun would it be to watch the Eagles WHILE you puzzle the Eagles? I think this Game Day puzzle line by MasterPieces is so incredibly fun! The pieces are random cut which make the puzzle so fun. At first glance, the image looks a tad difficult due to the solid colors. Once your eyes get used to the puzzle, various distinctions start to appear and the puzzle just flows from there. Most teams have an image in this line, and I think it would be so great if you were to collect them all, and make a collage of them in a game room or sports bar. They'd make great gifts if the puzzle was framed for the football enthusiast in your life. Just in case you're a Patriots fan, you know, like me, well they have a Game Day puzzle too!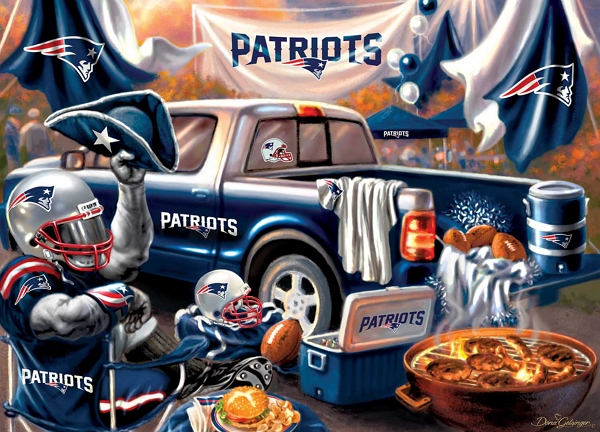 New England Patriots by MasterPieces
One of my favorite puzzle/football traditions that I do every Super Bowl Sunday is I put together the same puzzle while I watch the game. I usually start it the night before, and finish on Super Bowl Sunday. Then I write on the box who played the Super Bowl, who won it, the score, the date, and I sign the back of the last piece I put in the puzzle. It's my favorite thing to do!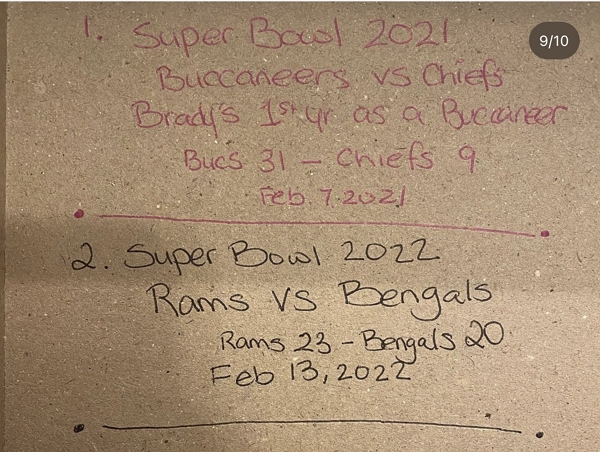 In case you're not a huge football fan, but do enjoy all sports, then I have a creative and very unique Ravensburger for you to consider. It's called Athletic Fit and its 750 pieces of such fun caricatured images of all sports. Afterall, who doesn't like representation and variety in their puzzles? And you know you can't go wrong with the top notch quality of Ravensburger, so I say this puzzle is a winner for the neutral sports fan puzzler out there.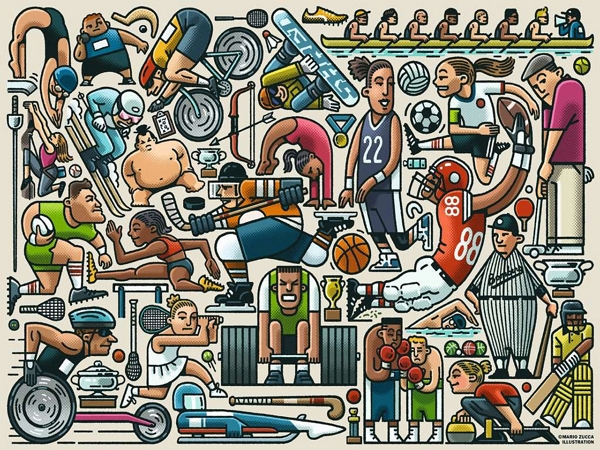 Athletic Fit - by Ravensburger

Puzzle Warehouse has so many more fun football themed puzzles in various piece counts, both college football and NFL. I highly recommend taking a look because they are so much fun! I might need to add a few more teams to my puzzle collection… you know, for fun! I think it's been mentioned a couple of times that I'm a Patriots girl through and through, right? So in fairness, I want to know, who's your favorite team? Who are YOU hoping, wishing, and praying will make it all the way to the Super Bowl? Share with me in the comments your favorite team… and hey? If you feel the need to heckle me for being a huge Bill Belichick fan, go for it. I'm a big girl, I can take it!
Happy puzzling!
Marwa puzzledprincessdiaries