Getting Back on Track
Cruising along in life the day-to-day things generally fall in place: Wake up, morning routine, lunch, afternoon stuff, dinner, etc., etc., etc. And so it continues, until….
A few months ago my father died. I had wondered, sometimes, how losing a parent would affect me. Would I suddenly miss him, even though our contact has always been sporadic? Would I grieve visibly, as I've seen others do from loss? Or would I continue with the day-to-day, going through the steps of everyday life as if there hadn't been a change at all?
As it turns out, mine was a quiet grieving. What I lost wasn't just a dad, but my motivation. It's weird. It felt like life was normal - until I looked closer. After a couple of weeks, I realized I hadn't been reading my books, I hadn't been taking my walks and, most surprisingly, I hadn't been doing my puzzles!
Before Dad passed, I had this 3000 piece Peanuts Cast puzzle on the table. I had sorted the pieces, and had hooked the first 200 or so. And that was it. For over two months. That was it.
That realization - that I had unknowingly put life on pause - surprised me. It also inspired me, and I vowed to get things back on track. So I pulled out a 500 piece puzzle, and told myself I wasn't getting up until it was done. The next day I did the same, and started feeling that old puzzle mojo again. And then I got to business; 3000 pieces or bust. And got it done.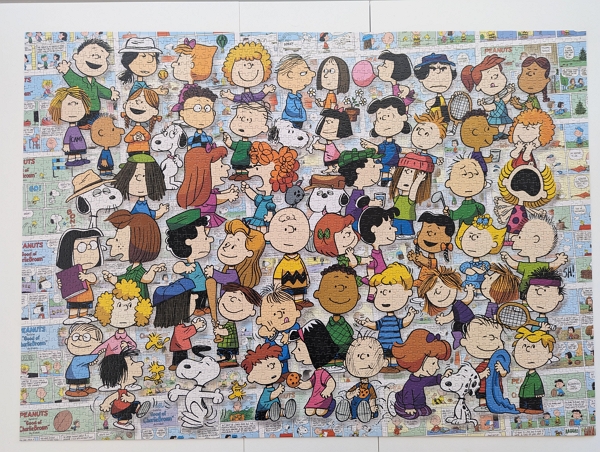 Peanuts Cast (3000 pieces) by Aquarius
Things feel closer to "normal" now, though I know I'll never get to talk to dad again. Instead, I'll make sure to do puzzles that bring him to mind; puzzles that make me smile, that remind me of our time together. Like… Morning Ride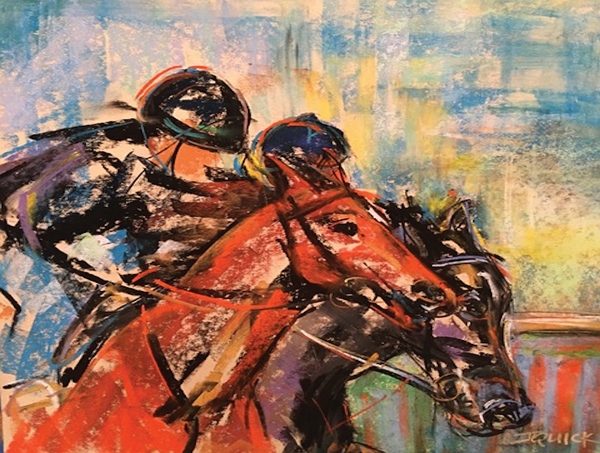 Dad was a big horse racing fan. He never was much for betting, but loved to be at the track, with the sights, the smells, and the excitement of risking a buck or two on his homemade handicapping system. Sometimes he would visit the stables in the morning and get just a little horse "doo" on his shoe. He said it brought good luck. And when done at the track? Time to relax in the evening with a good book. Maybe he could find one here… Do Not Disturb.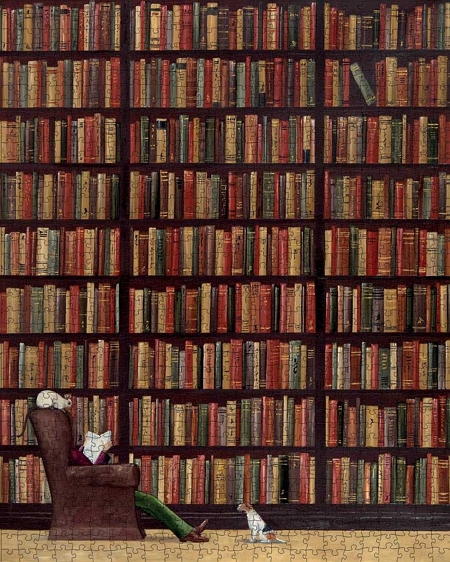 Nearly every night we could find Dad asleep on the couch, with an open book sitting on his chest. Oh, did I say asleep? No, he wasn't asleep - he was "resting his eyes." And "every night" is not exaggeration. But the book could not be opened until the baseball game was over. As a Dodger fan for over 50 years, Dad would always have the radio tuned to that night's game. Of course no tribute to him would be complete without some reminder of the time we spent at games, and the beauty of Chavez Ravine, also known as Dodger Stadium.

Dodger Stadium by MasterPieces
There was a lot going on this year, and somehow several months of life slipped past me while dealing with it. I am now, however, feeling fully back on track and ready to move ahead. Let's go. I love you, Dad.
Happy Puzzling.
Phil (aka Puzzle Buster)
5 Stars
Lisa J. - Windermere, FL
So sorry for your loss, Phil. Glad puzzling helped you through the grieving and it's nice that you found some that remind you of your dad.
5 Stars
Yvonne S. - Albuquerque, NM
I'm so sorry for your loss. My Dad (and Mom) have been gone over 20 years now and I still remember the little moments with them. Yup, baseball games on the radio in my house too. Hugs to you!