Spooky Puzzle Season - Halloween!
It's haunting season, and I'll give you one guess how I'll be celebrating! If you guessed… stealing my kids' Halloween candy, you're right! But if you guessed, jigsaw puzzles, you're also right! There are SO MANY great Halloween puzzles, it was hard for me to pick just a handful to talk about in this blog.
Let's start with Witching Hour from Vermont Christmas Company. At first glance I thought 100 pieces was a typo for 1000, but when I found out they indeed have 100 piece puzzles I figured it would be a great one to do with my kids. My 6 year old is my most promising future puzzler, but he initially dismissed it because it wasn't Star Wars related. So I started off on my own, and the kids gathered around to watch.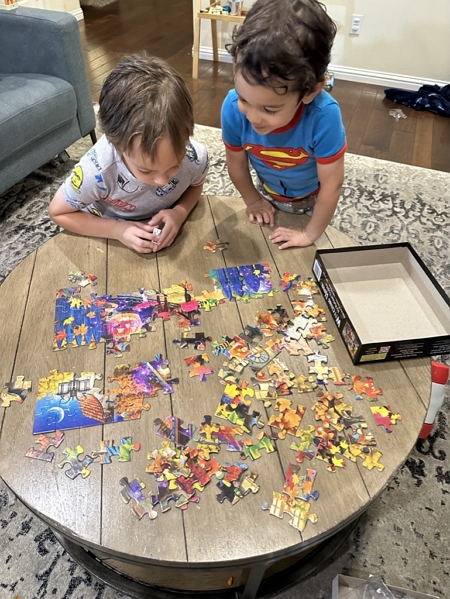 I had to step away for work before I finished. I was absolutely delighted to find my kid not only finished it while I was away, but he left the very last piece for me! And he left a pen with the completed puzzle because we like to write our name and the date on the last piece. I picked that habit up from a Facebook group. It's so fun to trade puzzles and find pieces from those who worked it before you!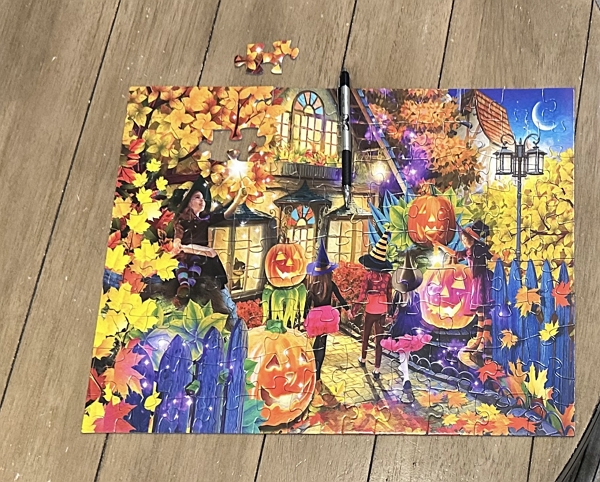 Witching Hour by Vermont Christmas Company
Next we have Spellbound Night by Springbok, 500 pieces. This was just the right size for this cute puzzle. I started at the top and worked my way down, finishing with the pumpkin.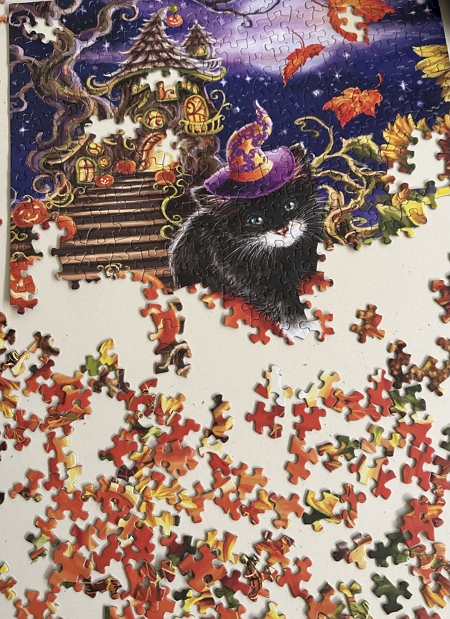 That's a lot of orange! I really enjoy the wonky shapes in Springbok puzzles. They're more challenging, but as I've said before, that just allows me to enjoy the puzzle for that much longer! This is a must-have Halloween puzzle for any cat lover! They say black cats are bad luck, but look at those innocent blue eyes!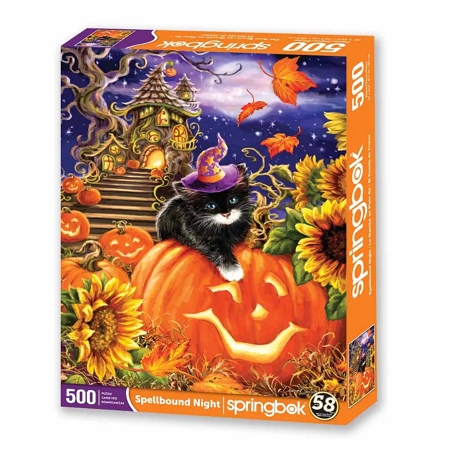 Working my way up in piece count, next I did the 1000 piece Halloween Globe by SunsOut. Both the above-mentioned Vermont Christmas Company and SunsOut have excellent holiday puzzle selections. SunsOut deserves extra honorable mention for their super fun shaped puzzles! (I've done the Christmas Snow Globe as well!)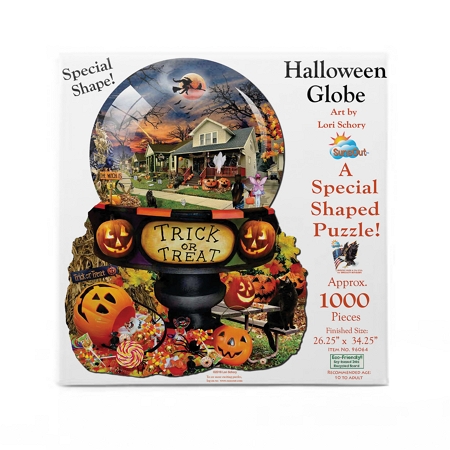 A couple unique things about this puzzle - the irregular shapes will provide an extra challenge to those puzzlers who insist on always completing the edges first! Some of the edge pieces don't interlock with each other (only with an adjacent inner piece) and there are some pieces that may look like edges, but are not! Coincidentally I also approached this one from the top down.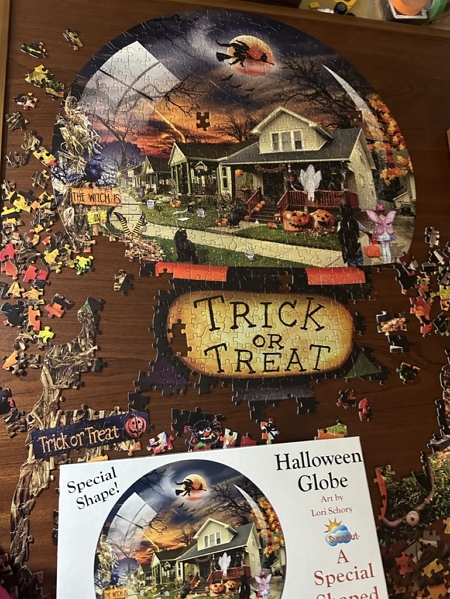 The other thing is how BIG this puzzle is. This won't fit on a standard 1000 piece puzzle board! It's nearly 35 inches tall and a little over 26 inches across. There's nothing worse than starting a puzzle and realizing it won't fit the surface you've started it on! Fortunately I planned ahead, this time! I ended with the black section, as you can see by my signed and dated last piece.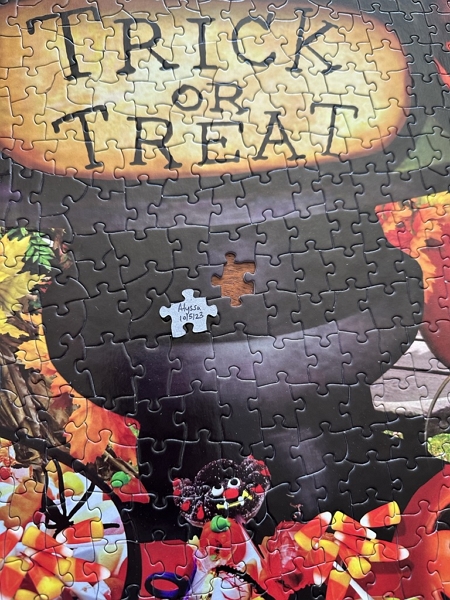 I lucked into another Halloween puzzle with my monthly speedpuzzling.com event on zoom. Scared Silly wasn't very speedy for me but it's a funny image AND it glows in the dark! For more on glow in the dark puzzles be sure to check out my friend Marwa's blog right here!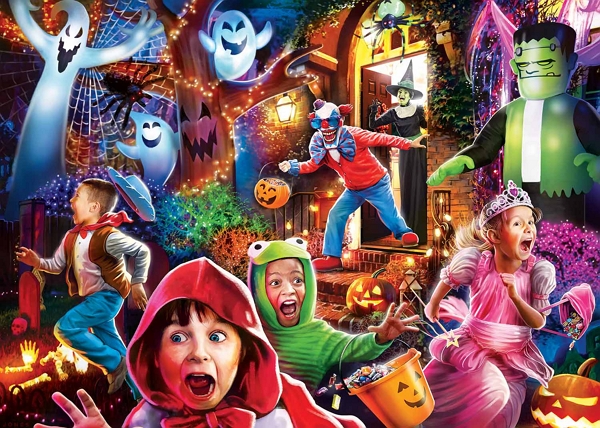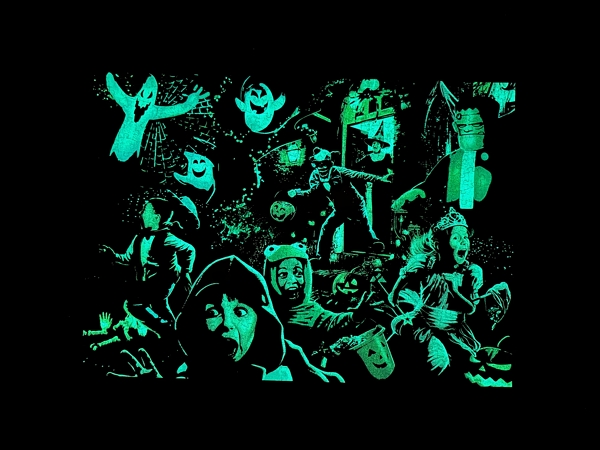 But because I can't stop there, I will give a shout-out to these other super fun Halloween puzzles. One of my all time favorites was Day of the Dead by Vermont Christmas Company. I completed this 2 years ago and it remains a memorable one! In fact I loved it so much, when I saw Schmidt released the same image in 2000 pieces as La Catrina, I bought it as soon as I could. Unfortunately it's not currently in stock, but I'm hopeful Puzzle Warehouse will stocking more Schmidt puzzles soon, because they're top notch!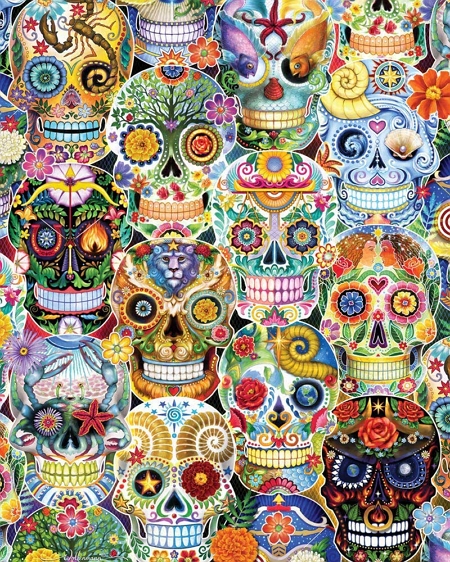 Day of the Dead by Vermont Christmas Company
Another super cute Halloween puzzle is appropriately titled Happy Halloween by Ravensburger and comes from artist Demelsa Haughton. I absolutely love all of her art! I can't wait until her new puzzle with Ravensburger is released early next year!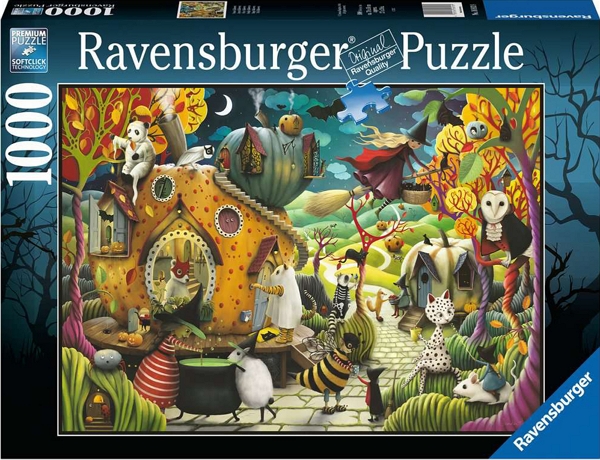 Happy Halloween by Ravensburger
And last but not least, there is this super scary Halloween Nightmare by Vermont Christmas Company that might just be spooky enough to live up to its name!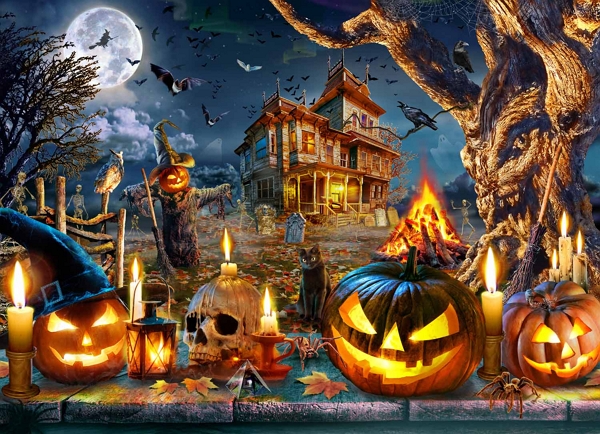 Halloween Nightmare by Vermont Christmas Company
That's all for now! There's still time to get your Halloween puzzle! Standard shipping usually arrives in 3-7 days. And it's never too late to stock up for next year! Pro tip - if you love an out of stock puzzle, you can still add it to your wish list and you will get an email when it comes back in stock!
Happy Halloween!!
Yours truly,
Alyssa @puzzlesatoz
5 Stars
Philip L. - St. George, UT
I did "Scared Silly" last weekend, but didn't have a chance to see the "glow in the dark" bits. Now I've seen them without having to do the puzzle again. 😁 I also have to mention your choice of "Happy Halloween." Demelsa Haughton is my absolute favorite artist, so I always love to see her puzzles featured. Her use of color, the joy and whimsy displayed -- beautiful.