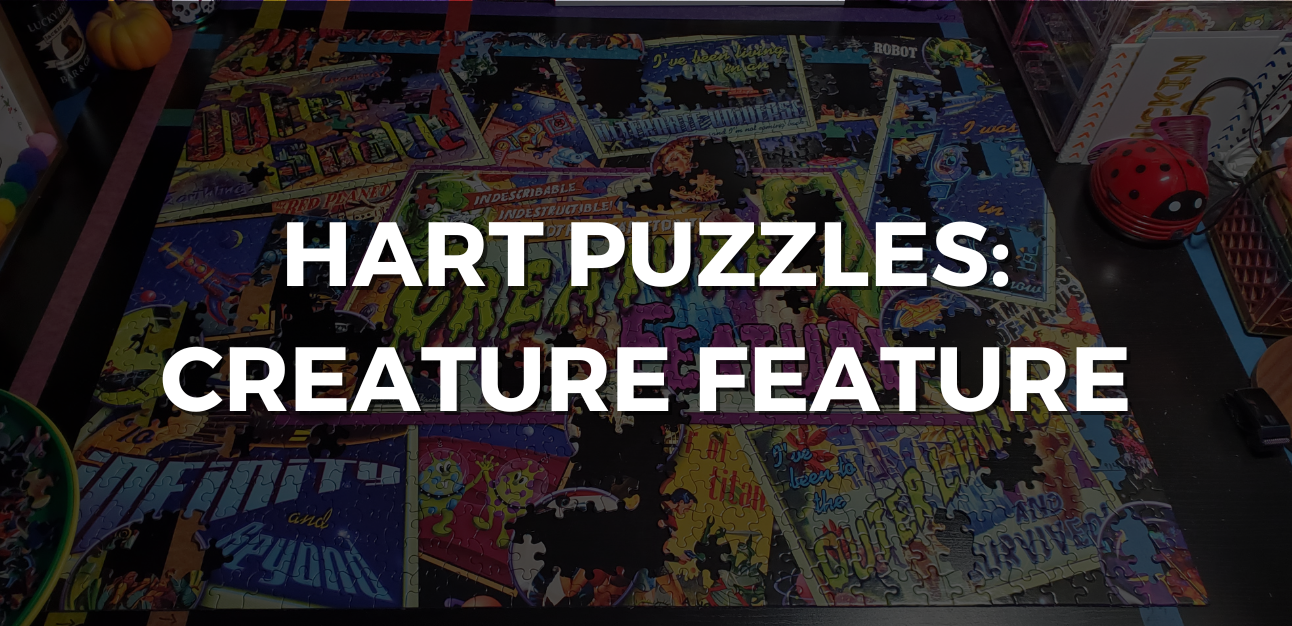 Hart Puzzles: Creature Feature
It's spooky season!!! I love all things creepy and kooky, mysterious and spooky... Wait, I think I've heard something like that before...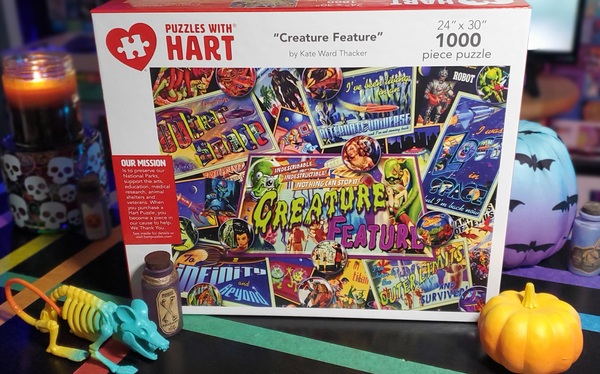 Creature Feature was my first Hart Puzzle, and there was a lot of love to go around. Hart Puzzles mission statement, which is proudly displayed prominently on both the front/top and the back/bottoms of their boxes; "To preserve our National Parks, support the arts, education, medical research, animal shelters, and veterans. When you purchase a Hart Puzzle, you become a piece in our cause to help." Included in the box is a document describing more details of how they accomplish that statement, including a list of 24 causes that are automatically donated to with each purchase of a Hart puzzle.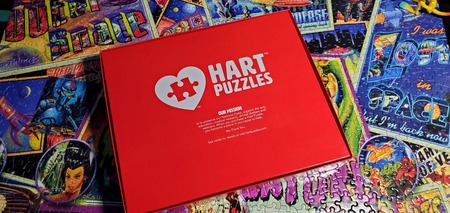 The side of the box has wonderful information about the artist of the designs. For this specific puzzle, Kate Ward Thacker, who is a former Disney designer who specializes in travel, vintage, and even contemporary. They also have a special thank you on to The Makers of the puzzles, from the artists and machinists to the janitors and truck drivers, and every important role in puzzle making. With the box and puzzle being made from 100% recycled material, they may as well have been called Heart Puzzles, because there is nothing but love and passion oozing from this brand.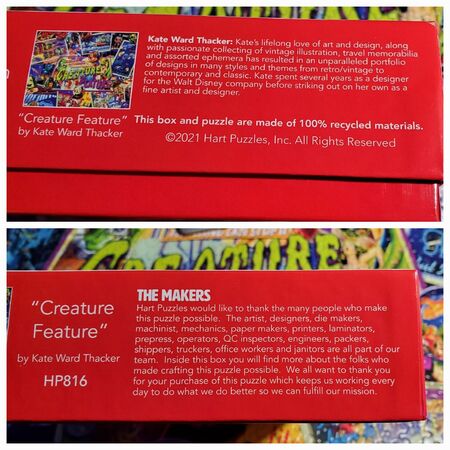 This puzzle is larger than your average 1000 piece puzzle at a sizable 24" x 30" when completed. With a larger size puzzle, you get larger size pieces, which is helpful for getting your hands wrapped around them and placing them where they belong. Pieces are thick, with a blue backing, and very little puzzle dust to be found. I would give the fit a 7 out of 10, able to move small sections of a few pieces, but larger sections wouldn't work without being unsupported by a card or something underneath it.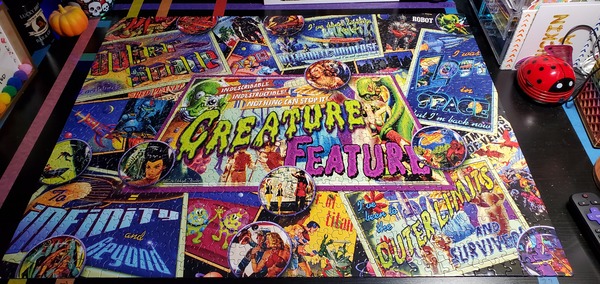 The colors drew me into this image, I'm a huge fan of purple and green together. Pretty much all the rest of the colors are included in this image too! The combination between the rectangles and circles of the collage make for a very interesting composition. You can't go wrong with some robots, monsters, and women in need of saving. OK, well maybe that last one is a bit outdated, but we can't go back in time and rewrite all the B-horror movies.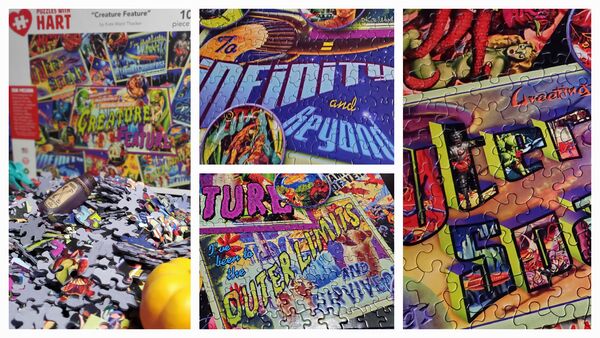 For me, assembling this puzzle had me relying more on sorting out specific details. The texts in a specific color, or the borders of each of the posters. As it was an image made up of fantasy and sci-fi objects, there was less of an inherent knowledge of what a single piece belonged to. As an example, when doing a puzzle of cars, when you pick up a piece of a tire, you can guess pretty well where in the puzzle that piece will go. In this puzzle, picking up a green and orange piece could belong to any of the aliens, monsters, or tentacle yielding creatures. I relied on the box heavily, which luckily is a huge and clear image, with only a tiny little section covered by other graphics. There is not a fold out poster included in the box, which was fine since the cover was so prominent.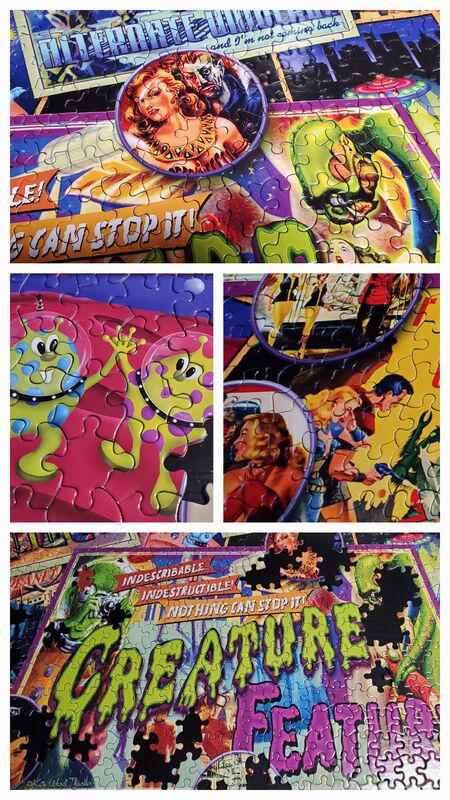 Overall, this was an enjoyable experience, and I will happily support Hart Puzzles and their mission statement in the future. Now...which creepy film do I put on next?
-Jenn / @PuzzleKnucks