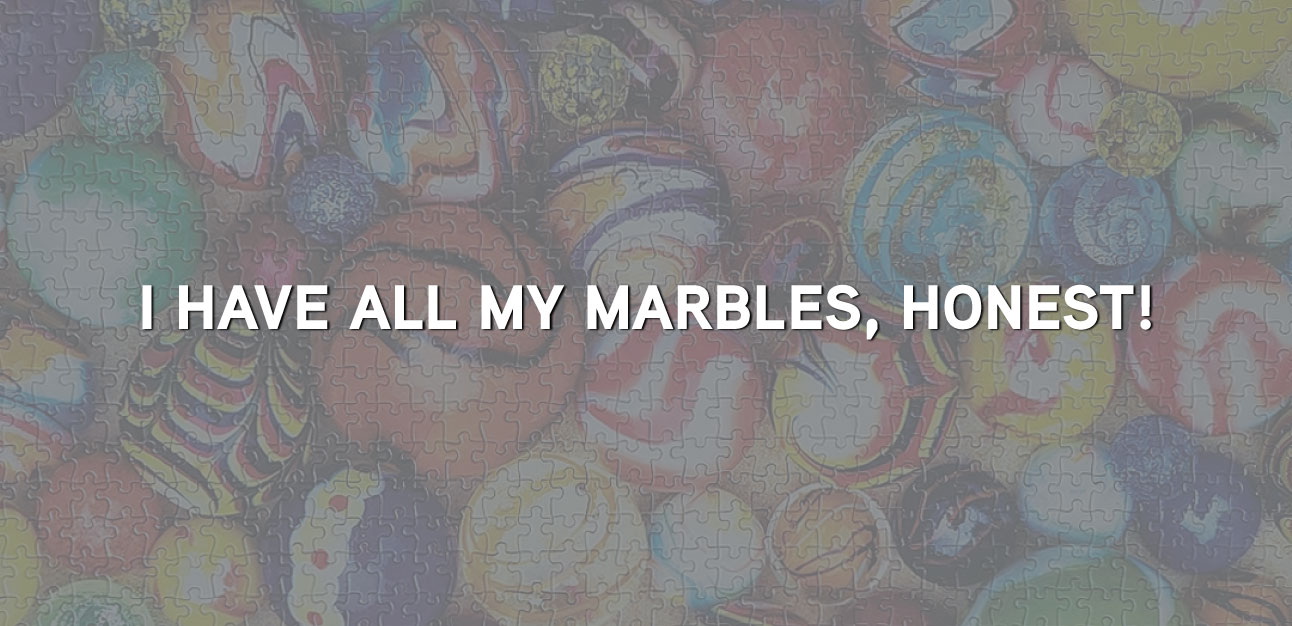 I Have All My Marbles, Honest!
As I've said before, I really like collage puzzles. Maybe I'm just lazy, but to focus on 50 plus pieces of a cupcake, tea cup, or stamp rather than all 1000 pieces of the puzzle makes it so much easier. Then when I have enough of those items assembled and can put them together, along with the border, I feel like I've really accomplished something. I'm on my way!

So when I saw a beautiful marble collage puzzle at Puzzle Warehouse I just had to get it. The package arrived quickly and I eagerly began unpacking it. . . . and then my heart sank all the way down to my toes. The marble puzzle was one of those tiny puzzles – pieces not as big as a dime. Oh my! I should have been more careful reading the description. What now? . . . . I'm an experienced puzzler, but no expert. Was this going to be my first abject failure?

After thinking it over, I decided I was going to put on my big girl clothing and give this a try. I am so glad I did.

All My Marbles, from Masterpieces World's Smallest Collection, is 1000 tiny pieces with chipboard made of recycled materials. The picture itself is vibrant with marbles of different sizes and designs – stunning really. The resolution was about as clear as multi-colored marbles with gradient shades of color can be. I knew the highlights on the marbles meant I would have to pay more attention than usual.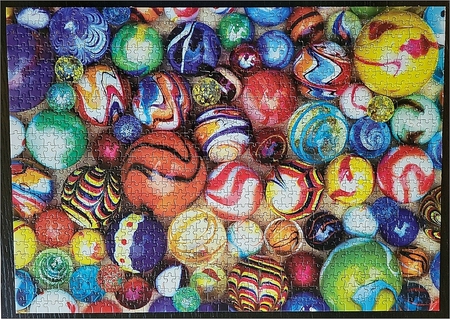 All My Marbles | Masterpieces | 1000 Pieces
It came in a beautiful tin box with a poster that I appreciated because it was a little bit larger than the completed puzzle itself which was 16.5 x 11.7 inches.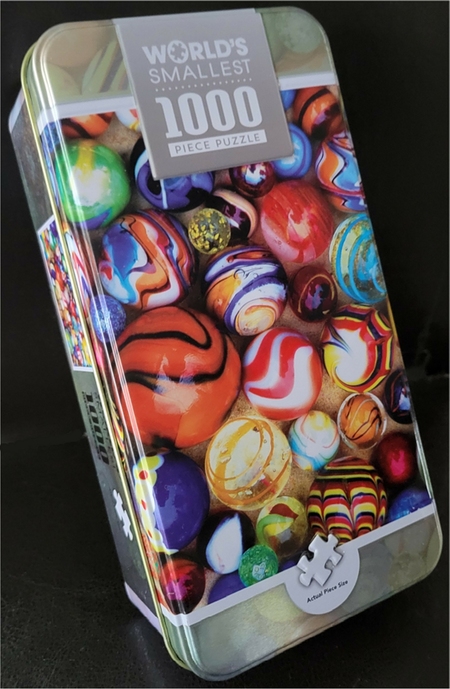 I thought I would have to use tweezers to handle the pieces so I was ready, but the pieces were thicker than expected and that, plus an index fingernail, made handling the pieces easy.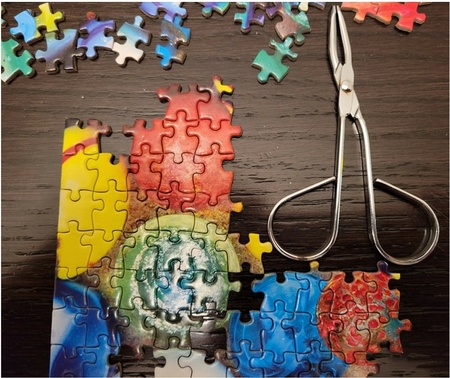 The pieces are cut in a grid pattern and align at all four corners, but each piece is unique. I only put two or three pieces in the wrong place. Realizing that a horizontal piece always followed a vertical piece helped a lot. Pieces fit together tightly enough that I could move assembled pieces around easily.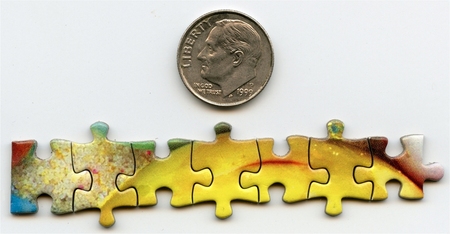 There was no puzzle dust, but some appeared when I took the puzzle apart to put away. The surface of the pieces was somewhat shiny. I found I was bobbing around trying to avoid the glare from my overhead light. I was surprised and delighted at how much I enjoyed this puzzle. If you've always thought these puzzles were impossible, this was no more difficult than any other 1000 piece puzzle I've assembled. I would encourage you to give one of them a try. I'm looking for some more of these tiny Masterpieces myself.
Marble Madness, by Springbok, is a 500 piece puzzle made in the US. The puzzle and box are made from recycled materials with the picture by Melinda Pritzel Photography. There was some puzzle dust that responded well to being jiggled around in my colander. But I was surprised at how much was left on the table when I took the puzzle apart to put it away.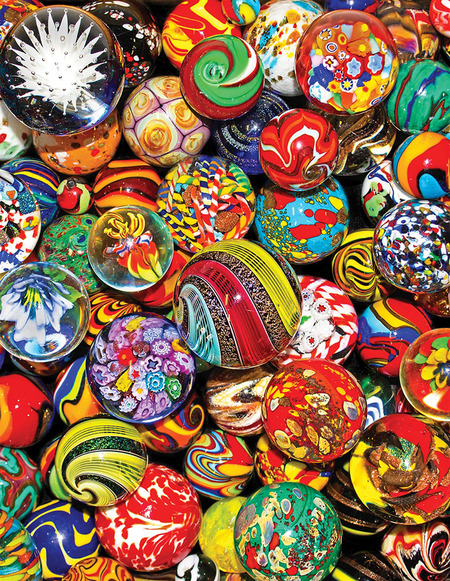 Marble Madness | Springbok | 500 Pieces
The pieces are cut in Springbok's characteristic wildly random shapes. They stick together tightly enough that I could easily move assembled bits around, but not so tight they were difficult to take apart after completing the puzzle. I really enjoyed putting together marbles separately until I had quite a few, then joining them together.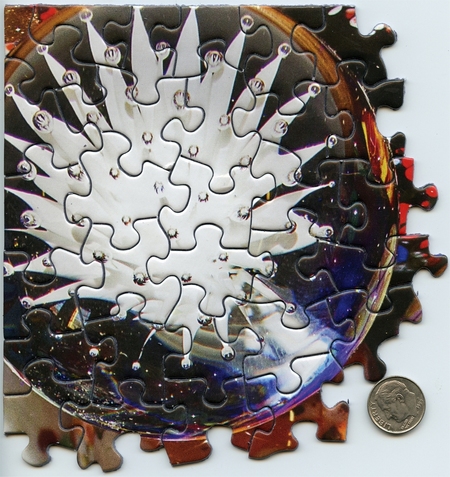 This puzzle was a Christmas gift that was given to me with smug laughter and a "that will keep you busy for a long time." However, it was not as difficult as my would-be tormenters thought. The picture was crisp; the resolution was clear. It also helped that the marbles were unique so it wasn't hard to tell which pieces were part of a particular marble. All of these things aside, this was a beautiful, fun puzzle at 23.5 x 18 inches.

When I saw Cosmic Marbles and noticed the detail of the beautiful marbles, my breath caught. This would be a puzzle to complete, glue, and hang on the wall. I wanted to work this puzzle immediately. Until I can do that, I'll have to enjoy the picture and dream about it.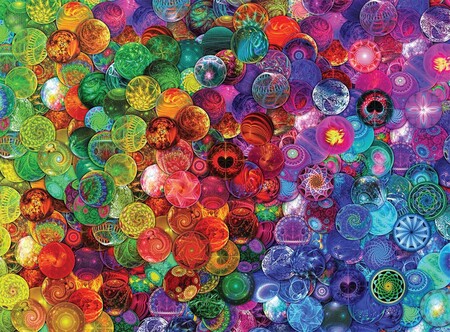 Cosmic Marbles | Buffalo Games | 1000 Pieces
This is a 1000 piece puzzle from Buffalo Games with artwork by Aimee Stewart. Her fantasy images have been licensed for puzzles by many brands including Ravensburger, SunsOut, Buffalo Games, White Mountain, Schmidt, and Educa. She creates unique images packed with color and detail. I'm definitely a fan as I've assembled several of her puzzles: The Bookshop Kids and Pixels and Pizza.
Contrary to what some people may think, I can prove I have all my marbles. They're in neat little boxes, tucked away in my closet.
Happy puzzling,
Madelle