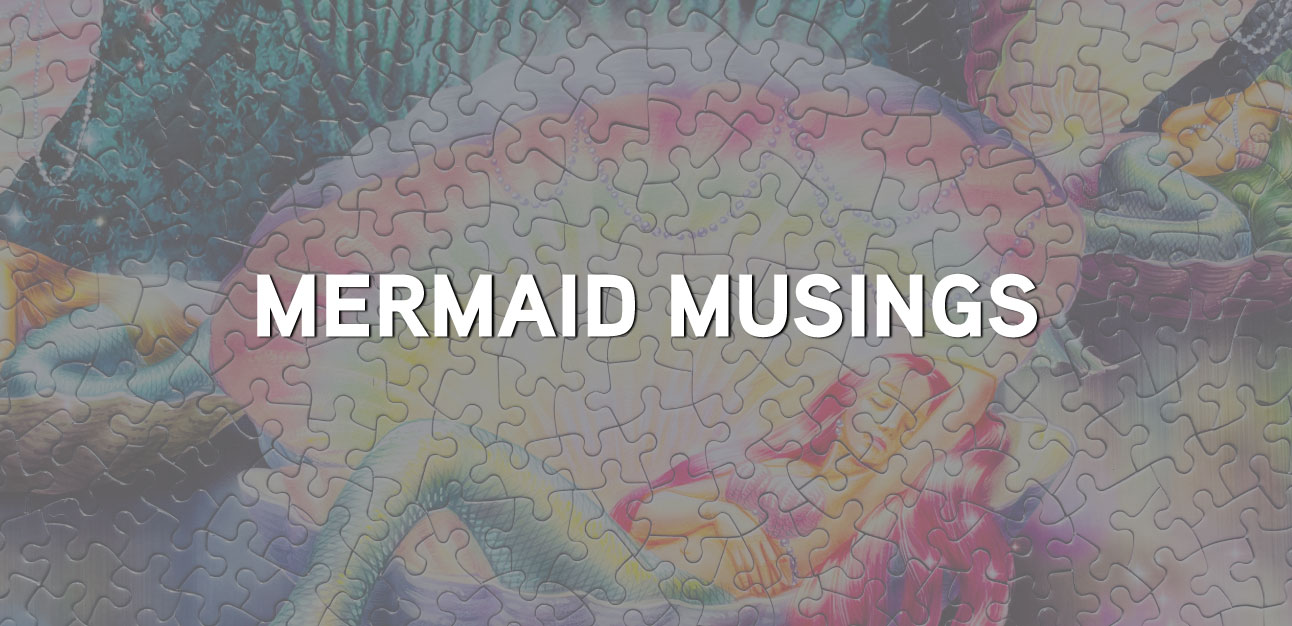 Mermaid Musings
For as long as I'm allowed to write blogs for Puzzle Warehouse, I'll be featuring a mermaid puzzle every July. Mermaids are definitely one of my favorite subjects to puzzle, which has to stem from my love of The Little Mermaid. I was four when it came out, so I was at the PERFECT susceptible age for that amazing gem of a Disney movie. Of course, I spent the remainder of my childhood, and if we're being honest, all of my adulthood, wishing fervently that mermaids were real, and I could somehow reverse the movie and be a human that became a mermaid! If I became a mermaid, would I then be known as an MD instead of a DVM? Hmmm. The musings of a mermaid wannabe!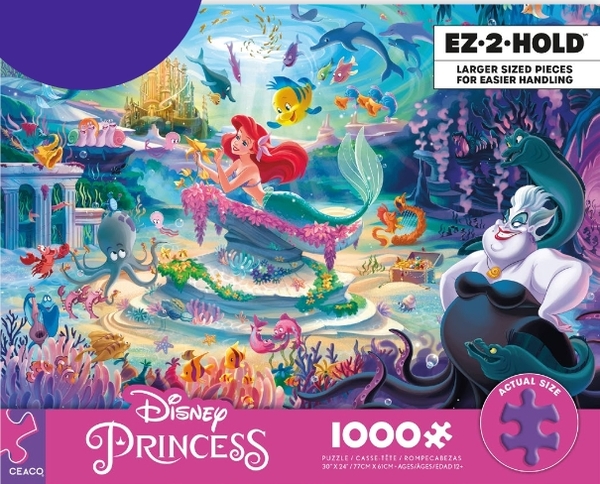 Disney Little Mermaid | Ceaco | 1000 pieces
When I started thinking about what puzzle I should feature this month, it was easy to be drawn to Ariel. When it comes to cute Disney scenes, no one does it much better than Ceaco puzzles!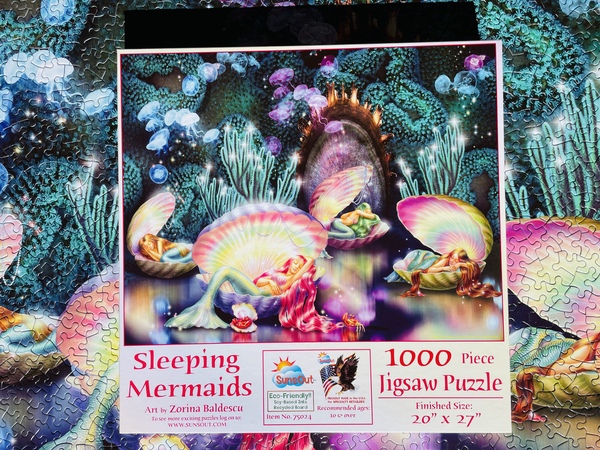 But then I saw Sleeping Mermaids by SunsOut, and my decision was made instantly. The second I saw this puzzle, I knew I had to have it. Those sleepy beautiful mermaids make me want to make a bed out of a beautiful abalone-esque seashell (sounds super comfortable right?), and lounge in pearl dripped bikini tops and other sea jeweled accoutrements. These sound like reasonable life goals, right?
I always forget that Sunsout puzzles are much more difficult than I expect, likely due to the random cut pieces! If you're looking for a good bang for your buck, go with high piece count, random cut puzzles- you will get many puzzle hours for your money!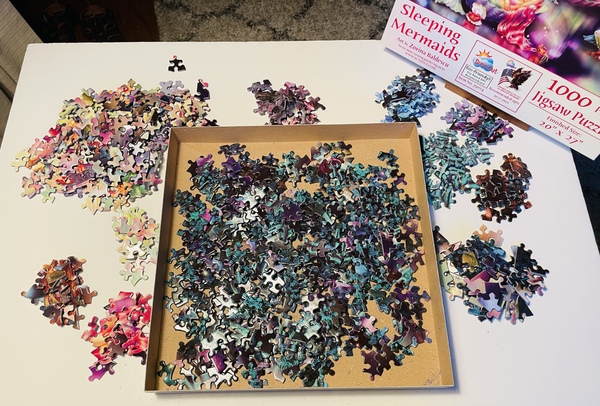 When I started sorting this puzzle, I really had no idea what I was going to do. With Sunsout puzzles, and really any random cut puzzles, I don't usually do edges first. I usually look for some sort of color story to follow. So I ended up doing a very chaotic sort of anything that could be mermaid related. Once I had my piles, I jumped into assembling those beautiful rainbowy shells- and wow, they were just a gorgeous place to start!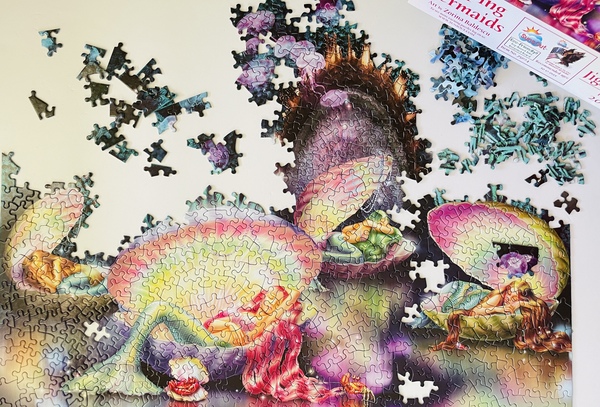 From there, I finished the colorful bits (the reflection of those shells on the sea floor and the mermaids), and then it was just the background left. This part was definitely challenging. I started with the purple and then the blue jellyfish, and then I tackled the green plants with the straight arms. Once these portions were done, I basically finished the background based on the subtle color differences and piece shapes- which is so satisfying when they're random and crazy!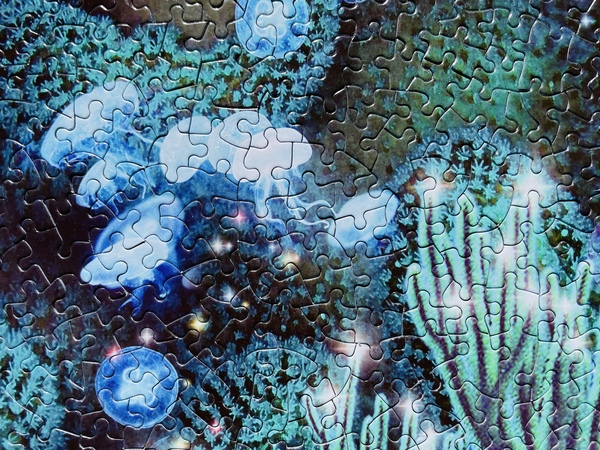 If you're looking for a gorgeous random cut puzzle, but think that 1000 pieces may be a bit too challenging, check out this mermaid themed puzzle in 500 pieces. It gives off all the beachy vibes, and I wish I could be sipping a pina colada in front of that cute little cafe!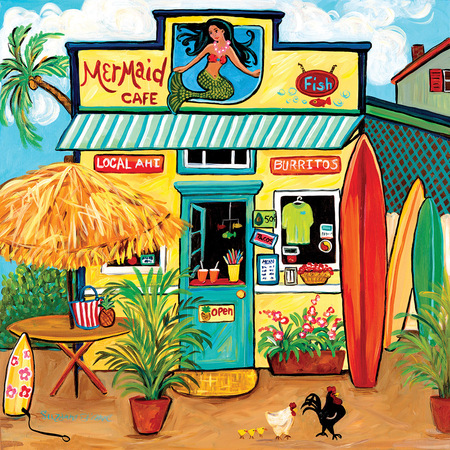 Mermaid Cafe | SunsOut | 500 pieces
If I want to keep mirroring my life from the lives of puzzle mermaids, this New York Puzzle Co puzzle is a great one! Lounging in a fountain in this Retro-y world from Janet Hill, wearing a dazzling crown is definitely high on my to-do list!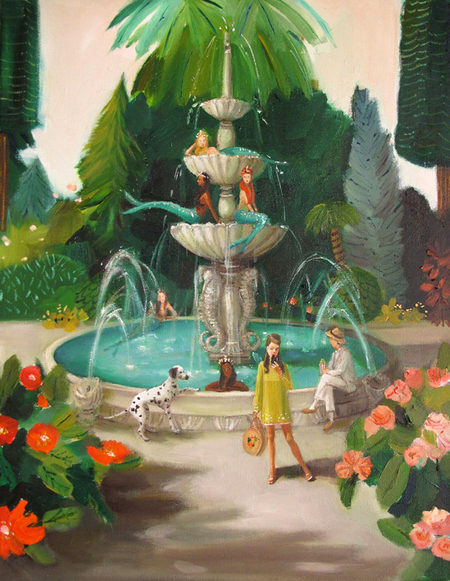 Mermaid Fountain | New York Puzzle Co | 1000 pieces
I also recommend checking out this glitter accented Josephine Wall creation from Buffalo Games. If you have never done a glitter puzzle from them, the end product is truly stunning.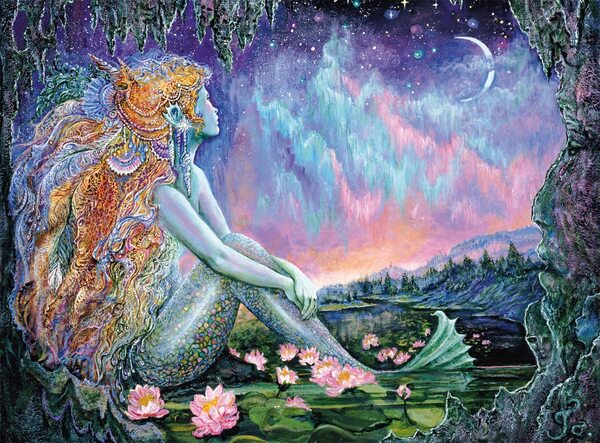 Mermaid Pool | Buffalo Games | 1000 pieces
The last two puzzles I want to mention are much more unique takes on Mermaid puzzles. Determination of the Little Mermaid by Puzzlelife (a Korean puzzle company) and Sedna's Wonder by Indigenous Collection (a Canadian puzzle company specializing in indigenous art) are beautiful and whimsical, and take such a distinctive play on mermaids. I think these would be amazing additions to anyone's mermaid puzzle collection!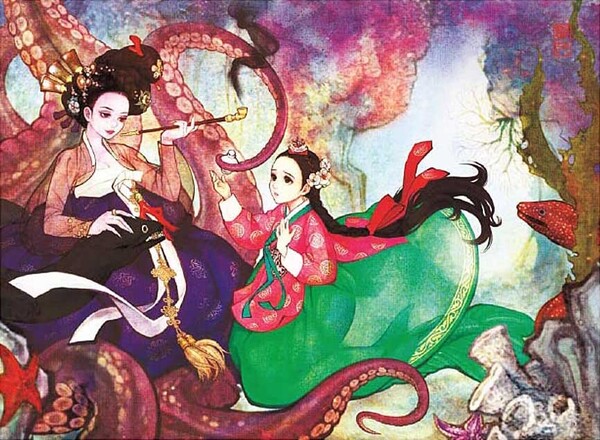 Determination of the Little Mermaid | PuzzleLife | 500 pieces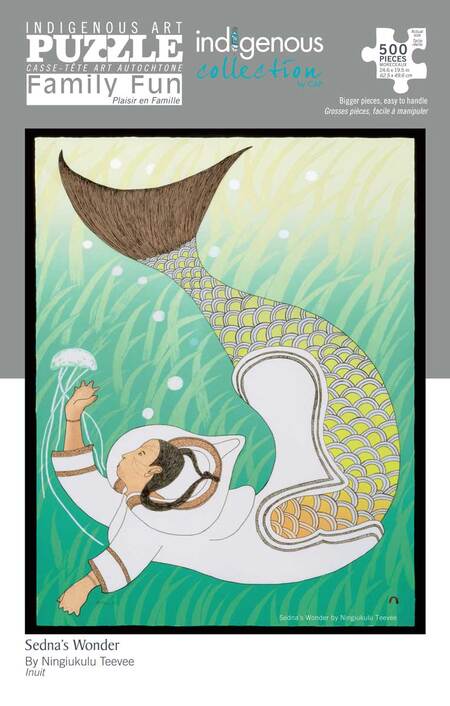 Sedna's Wonder | Indigenous Collection | 500 pieces
I truly hope you love mermaid puzzles as much as I do. And next year, if we're lucky enough to meet again in July, I'll happily feature a different but equally mesmerizing mermaid puzzle!
Until then, happy puzzling my Jigsaw Junkies!
Amanda @600hoursofpuzzle
PS: I definitely want this adorable little crab sleeping beside me if I ever become a mermaid! Not so much the grumpier looking one- he looks like he's ready to give a little pinch!