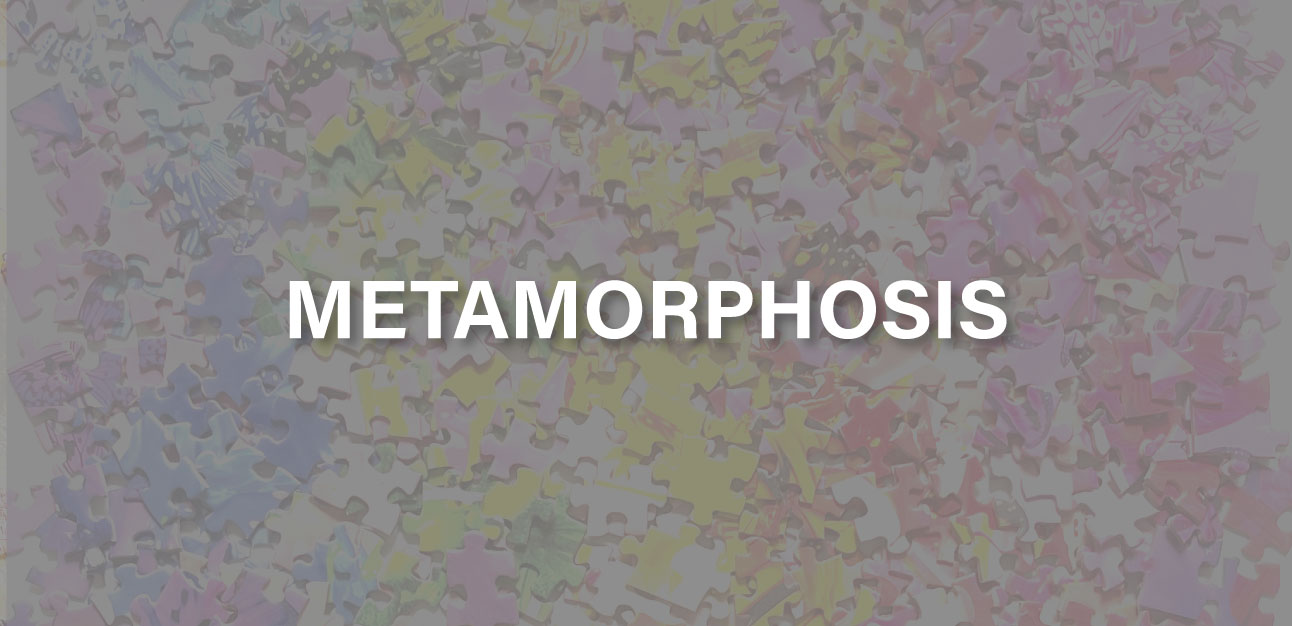 Metamorphosis – Puzzle Transformation
It seems fitting that a puzzle featuring butterflies is also a transforming puzzle. If you're wondering what I mean by that, MasterPieces Metamorphosis is a vibrant rainbow gradient of butterflies, until you turn off the light and it transforms into a mysterious glow in the dark field of winged creatures. It's two striking images in one, neither of which you can see without the other. But before I show you the glowy magic, I'll take you on the journey to get there. I promise, it's worth it.
Right out of the box, I knew something was different about this puzzle. On other glow in the dark puzzles I've done, the glowing pieces are dull from the luminescent ink used to highlight the image. That was not the case here. Even though the glowing pieces had a different, rough surface texture, their colors were still as saturated and vivid as the regular pieces. I forgot all about them as I started sorting the pieces into the rainbow gradient.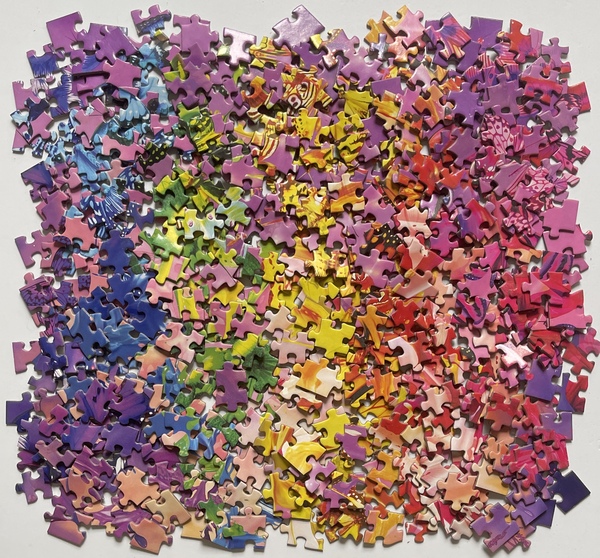 If you aren't familiar with MasterPieces puzzles, you should know this U.S. brand has been in the biz for over 25 years and they know what they're doing. Their puzzles are printed on recycled chipboard, feature ribbon cut pieces with varied shapes and have a slightly glossy surface. In my experience, they have a medium snug fit, meaning you can do a careful puzzle pickup, and their pieces fit monogamously. This 500-piece puzzle met all my expectations for this tried and true puzzle staple brand.
I thought I would work this one left to right, but the greens were calling to me, so I jumped in there first and then moved on to the blues and purple. For a mid-size piece count, this one was packed with pattern, color, and detailed images that stood out from the first completed section.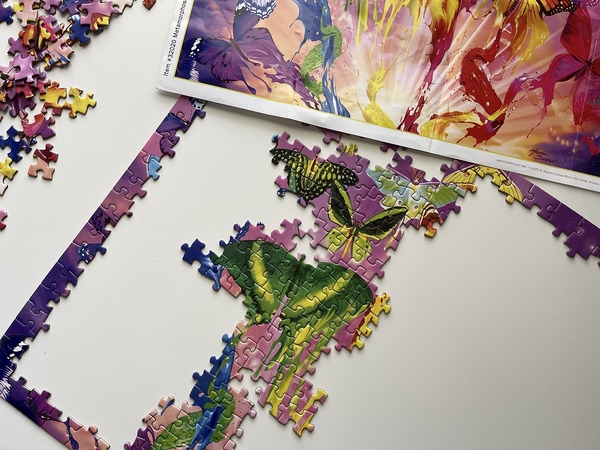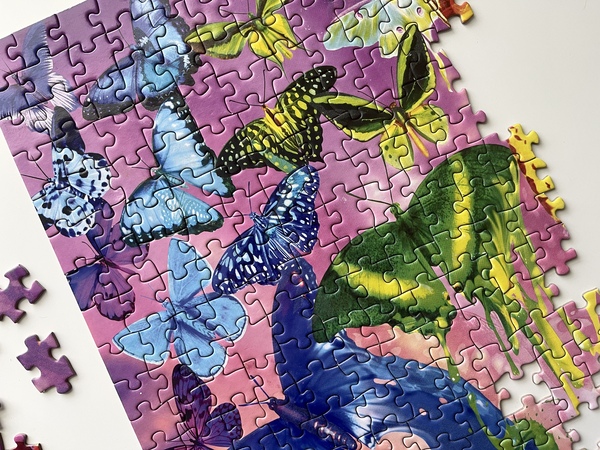 The rest of the puzzle flew together. Like it had wings. I just can't help the puns. Anyway, before I knew it, I was leaning back from my puzzle table admiring the final image that looks to me like butterflies bursting out of the dawn. What's more transformative than that?!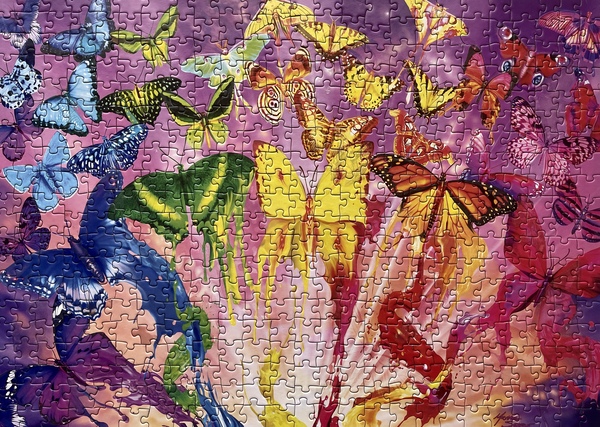 Though I didn't need the reference poster, all MasterPieces puzzles include one and they have the full image printed on the front and sides of the box. Any way you look at it, you know which puzzle you're grabbing off that shelf.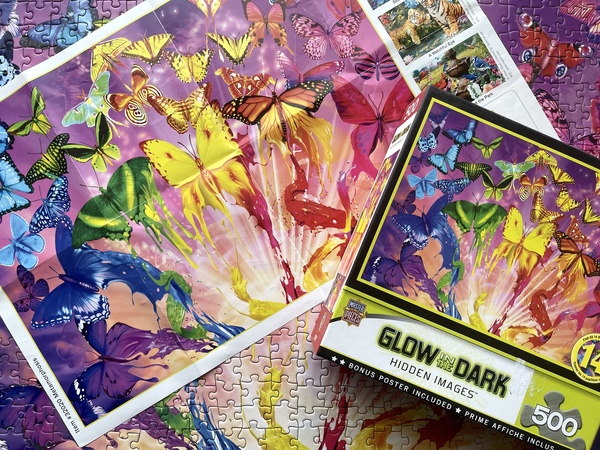 Ok, so now for the transformation part. Once I was done admiring the bursting butterfly dawn from artist Michael Searles's imagination, I switched off my puzzle lamp. Again, I wasn't expecting much glow due to the subtle presence of the luminescent ink on the glowing pieces. Well folks, I was quite pleasantly wrong! I was so thrilled with the glowing effect that I slid the puzzle onto a piece of posterboard and carted it around the house to make my family look at it too. They were suitably impressed, of course.
The images below were taken with some ambient light spilling in from another room and in full darkness. Look at that transformation! I'm a sucker for any kind of puzzle magic and this definitely fits the bill.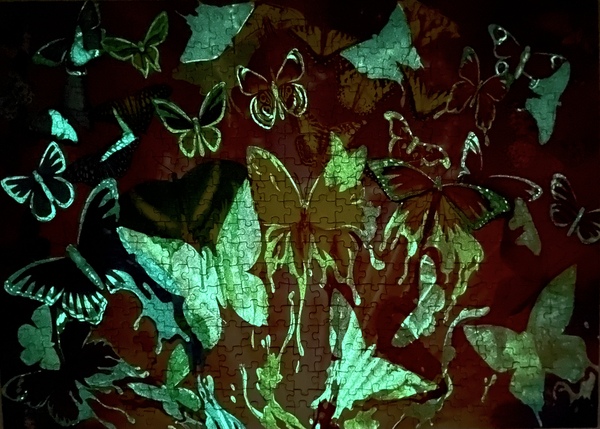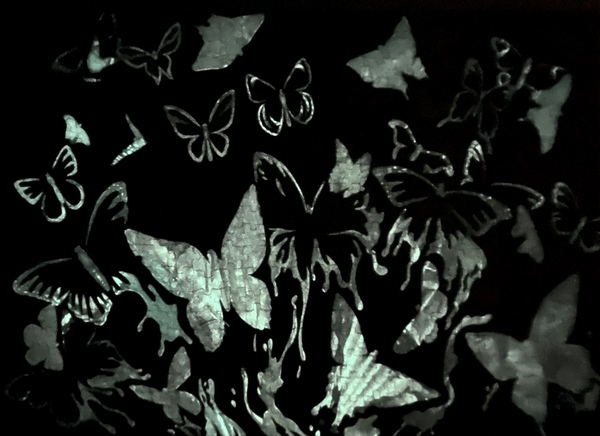 Lucky me, I already have another MasterPieces glow in the dark puzzle in my collection. This Halloween Terrors puzzle is going to be high on my October puzzle list for sure.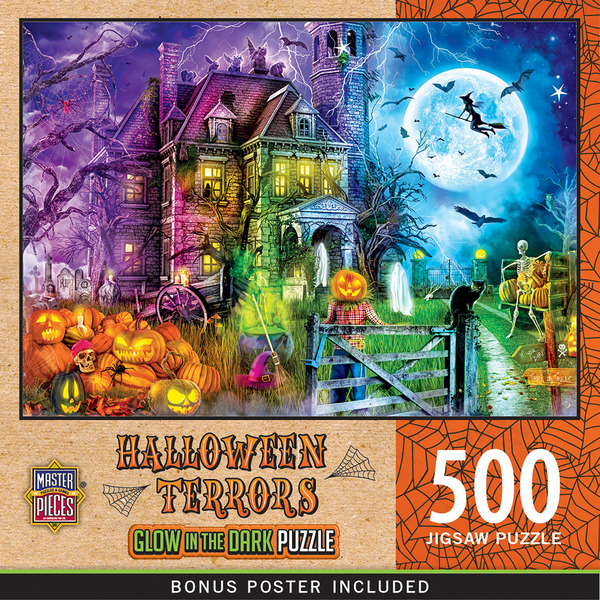 Halloween Terrors | MasterPieces | 500 pieces
I love that MasterPieces hasn't limited the glow effect to Halloween and bugs. They have a glowing fairy puzzle, several glowing tiger puzzles, and even a glowing dinosaur puzzle. In piece counts that range from 60 to 550, there's sure to be a perfect puzzle to spark that magic transformation for puzzlers of any age or skill set.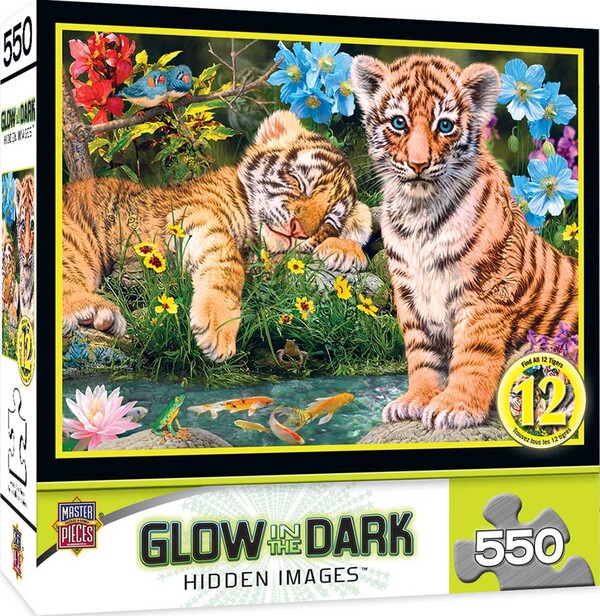 A Watchful Eye | MasterPieces | 550 pieces
I hope you have fun sharing puzzle transformation magic with your puzzle family and friends!
xo, Sarah B. @necessarahly_puzzles