The Mother of All Mothers
Happy May fellow puzzlers! We all know what's coming up on May 14th, right? Well if you don't know, let me give you a heads up so you can run out and buy the mama in your life a little something… a puzzle perhaps? Mother's Day is coming up! Now I know Mother's Day isn't for everyone so I decided to celebrate the mother of all mother's this Mother's Day… Mother Nature. Who doesn't love Mother Nature and planet earth?! You know who loves Mother Nature and produced a gorgeous image with a depiction of her on it? JaCaRou Puzzles.
JaCaRou released this amazing puzzle by artist Hannah Lynn called Mother Earth and its 1,000 pieces of pure magic.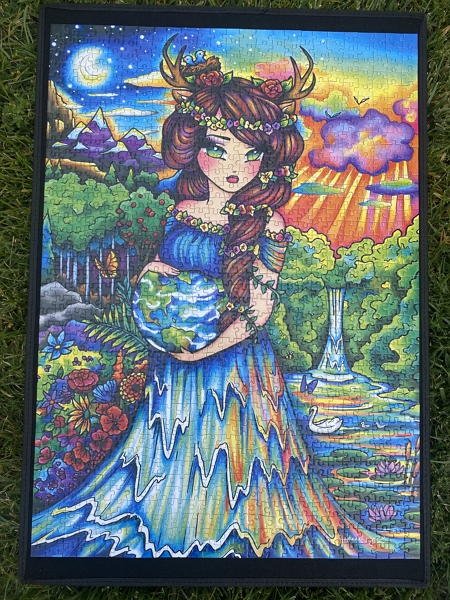 This was my first JaCaRouand it was absolutely wonderful to put together. The pieces were thick, had no false fits, and there was absolutely no puzzle dust which is always a win with puzzlers. What JaCaRou did best was team up with Lynn and create this magical beauty that absolutely took my breath away. Measuring at 20 x 27 inches, I felt like every single space was used to portray Mother Earth in all her grandeur. The details were so fun to discover while putting it together. And the art… the art is truly breathtaking!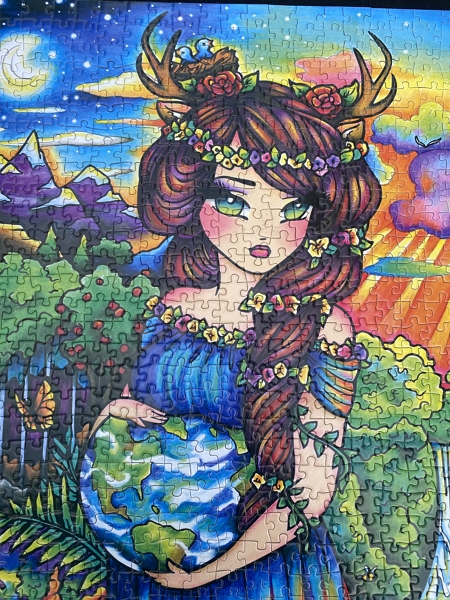 Lynn took a tale as old as time and wove it into a modern piece of art showing all aspects of Mother Earth in a colorful and unique way. Birds, swans, and butterflies were fun to discover hidden in different parts of the image. The contrast of day and night on either side of Mother Earth using rich non-conforming tones was riveting. Even something as simple as the trees was beautifully done with a cascading waterfall that flowed into a colorful river and morphed into her wearing the water as her dress. My absolute favorite part is how she carries Earth in her belly so elegantly, with her hand protectively under it. So incredibly beautiful.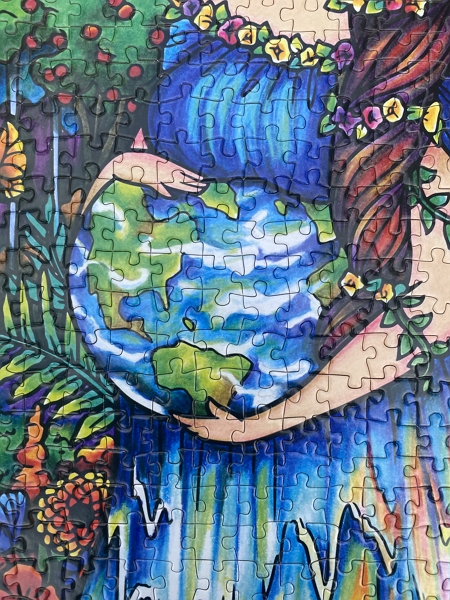 As we take time celebrating the mothers in our lives this Mother's Day, let's take a moment and celebrate Mother Earth and all her glory! From the rain to the sunshine, from the gorgeous mountains to the soothing rivers, all the majestic animals and varied humans, we are all lucky to be here. I highly recommend celebrating Mother Earth while puzzling away at this stunning JaCaRoubeauty.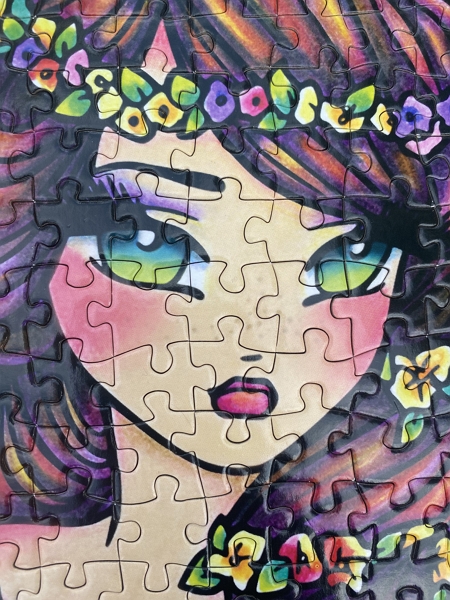 Happy puzzling!
Marwa