Moving My Puzzle Collection
Moving is considered the third most stressful life event, following dealing with death, and dealing with a divorce. I have moved over a dozen times in my adult life, from small moves across towns to several cross-country moves. The past few months, my husband and I have been dealing with a relatively large move from southern California to the PNW in Washington state. I won't go into all the details of planning, selling our house, living in temporary housing or how we were given a 10-day window to get everything done. However, I will give you the scope on moving my puzzle collection. Hopefully there are a couple tips in here that I implemented or learned from fellow puzzlers who have shared their experiences with me.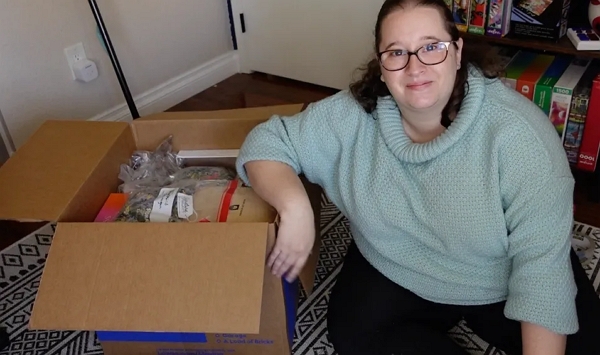 Step 1: Purging puzzles that I don't need anymore.
I am consistently going through my collection and weeding some puzzles out. However, once I knew we were moving, I realized my collection was overwhelming. Prior to moving, I had well over 250-300 puzzles, and I did not want to move that many. I am someone who loves that the puzzle community has opportunities to share puzzles and give old one's new life. So, the first thing I did was part with puzzles that I had already done and don't see me doing again or puzzles that I had purchased once upon a time but didn't see me doing. The puzzles I removed from my collection were either given to friends, sold at a garage sale, or donated. Of course, I didn't part with some of my favorites, like my collection of New York Puzzle Company puzzles or my Jaca Rou La View Est Belle which was one of my favorite puzzles in 2022.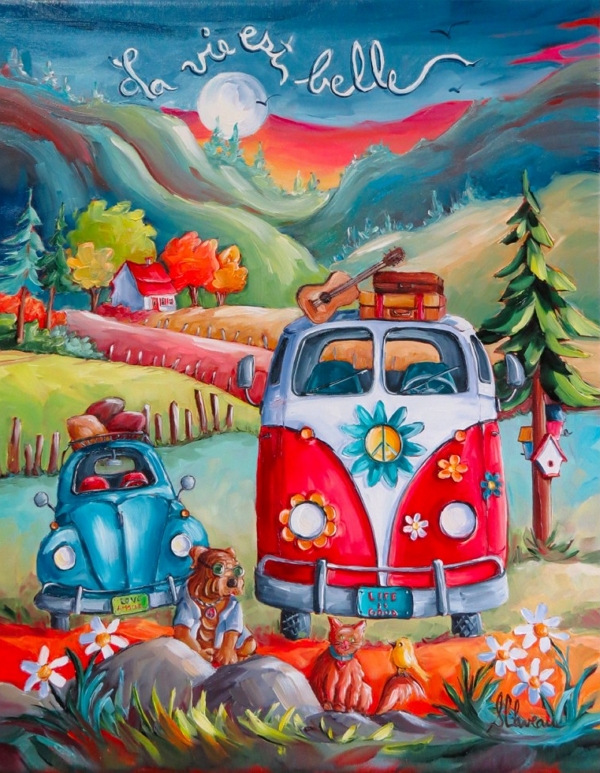 Step 2: Figuring out what to bring with me
Now this step, is unique to my situation. With our move, we were going to be in temporary housing for an unknown amount of time. We were expecting anywhere from 2-6 months while we sell our house in California and purchase a new one here. During this time, I was not going to have my whole collection, and no way to access it when it was in storage. After some trial and error with the car that was going to hold everything, we were bringing with us into temporary housing, we determined that we could only bring 1 medium sized box of puzzles with us. Ummm, yeah. This was a challenge. Luckily with my experience of shipping puzzles to friends, I have learned a couple tricks, so I was able to bring more puzzles than I was expecting.
The first trick was to compact the puzzle boxes. This may be hard for me to explain in writing, but what needed to happen was to remove the puzzle bags from the boxes and stack the boxes inside each other. For example: I really wanted to bring a Casterland puzzle and Clementoni's Portland Headlight with me. Both brands are notorious for having massive boxes for the number of pieces inside. I could fit two bags of pieces in one box and put the larger box around them to condense the boxes down.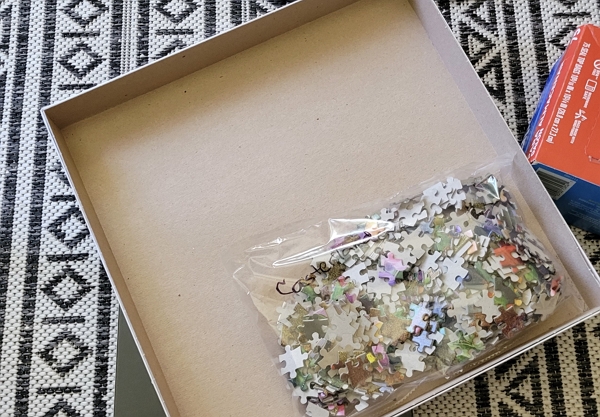 The second trick was to make sure all bags with pieces in them had a hole punch in them to remove all the air inside the bag. This made many bags a lot smaller and easier to cram into smaller spaces. Also, if you are using this advice, make sure to label all the bags. I used a permanent marker, just to make it easier when I unpacked to know which puzzle was what. I was able to bring 18 puzzles with me, which I was happy with and had plenty of options for my time away from my collection.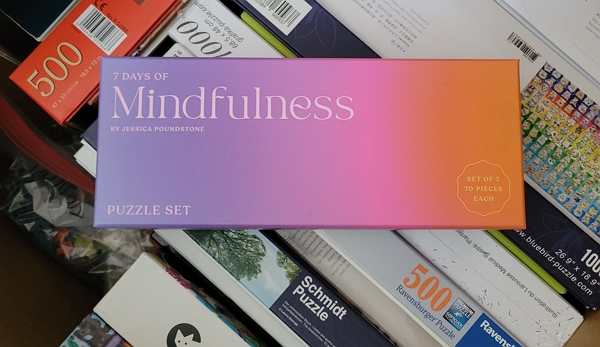 Step 3: Preparing for Packing
Now most likely, most people would be packing their own stuff, and have total control over how their items are being handled. I did not have that option. Our stuff was being packed by a third party for insurance purposes for the movers. This meant I was not the one putting my puzzles into the moving boxes. This made me very nervous with a lot of possibilities for missing pieces. This meant I had to do a little prep work. I didn't have much time for this, so I wasn't able to do a super thorough job, but here is what I did to prepare my collection for packing.
Went through the puzzles I had done and put the pieces in plastic bags.
Puzzles with loose fitting boxes I would secure with a large rubber band.
Ensured new puzzles were either sealed or also bagged pieces for transport.
Took Inventory of what I had – just in case a box from the move went missing.
Made sure puzzles that were irreplaceable or harder to replace came with me and were not packed by the movers. (Antique or limited edition)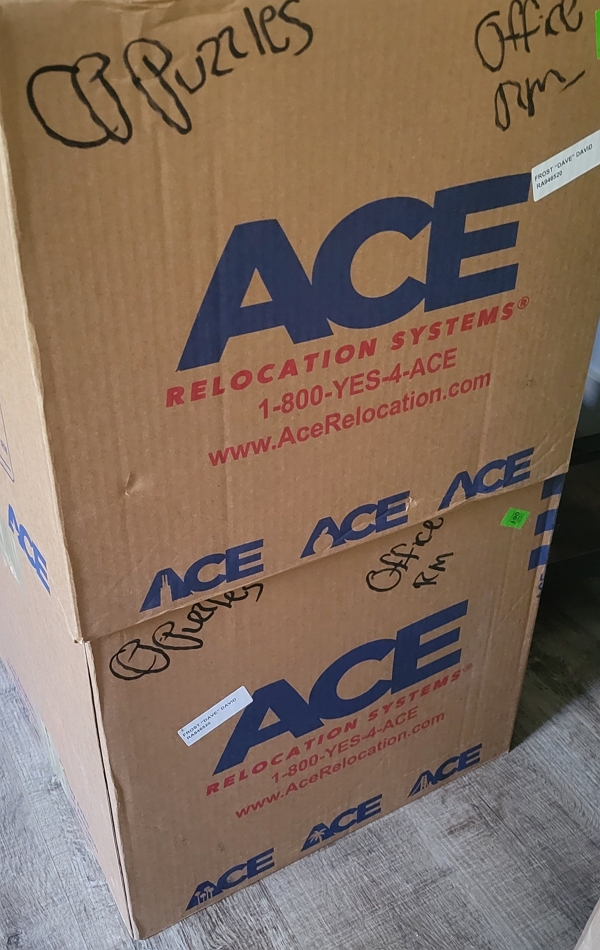 Step 4: Moving Day!!

Man, was I nervous about my puzzles on moving day. The movers were friendly enough, but the speed and roughness were hard to watch. In fact, I didn't watch, I hung out in the garage out of the way. Let's just say – they packed up our whole house AND had it in the moving truck within 2 hours. There was only 4 of them – wild! So, moving day was quick but also disheartening. We had to inspect the rooms when they were done packing and I was not-so-pleasantly surprised to find a collection of puzzle pieces sitting on the floor. The supervisor said, "Eh, it happens". Wrapped them up for me and put into the last random box of items we had found last minute. This left me very worried about the state of the rest of the puzzles but nothing I could do until I saw my collection again.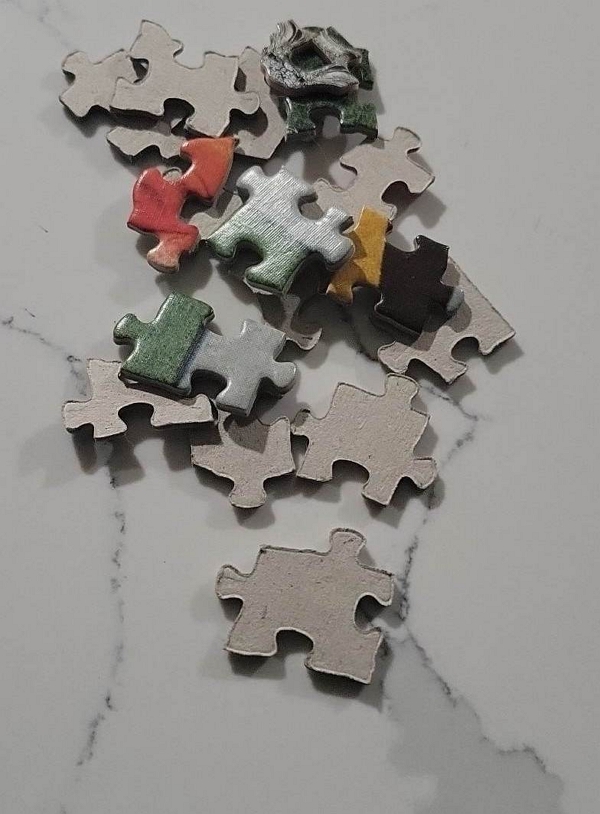 Step 5: Living away from my collection

Not too much to report here. Between our road trip to Washington, living in a hotel and house hunting my plate was pretty full. However, I did manage to do 13 puzzles while in temporary housing. This included two super fun 500 piece puzzles: Seasons by Schmidt and Jazz Masks by African American Expressions. Of course, during the two months I also purchased a bunch of new puzzles from Puzzle Warehouse which I have yet to do, but now have several Puzzle Twist and a new Ravensburger wooden puzzle on my to-do list.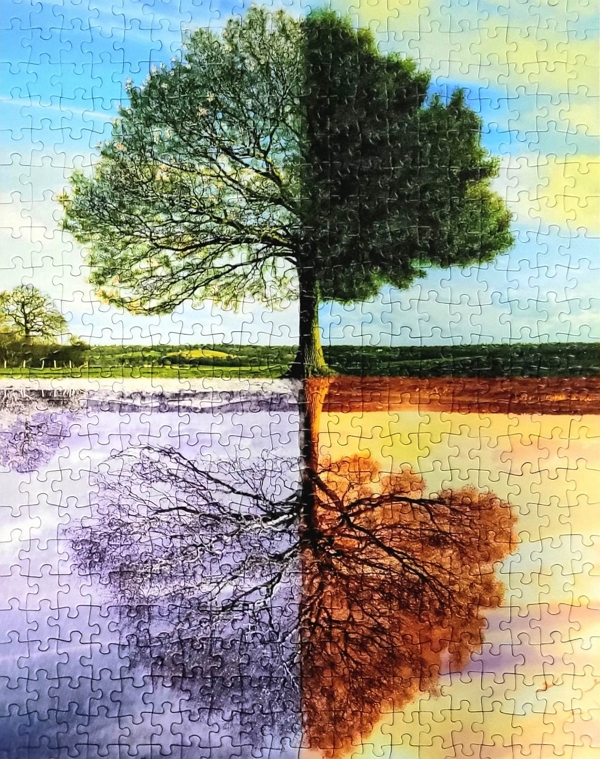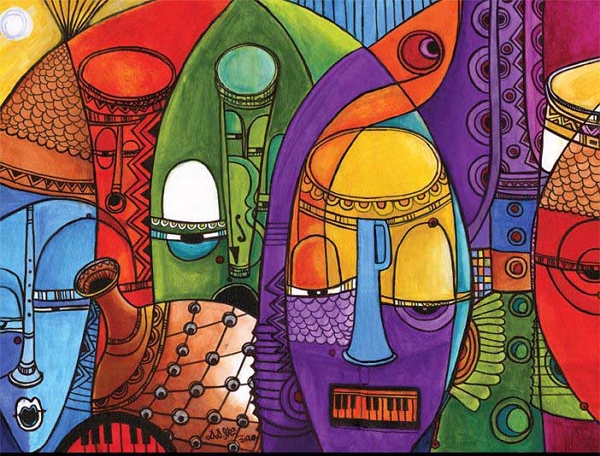 Step 6: Unpacking
Two months later and my husband and I are in our new house. Unpacking my puzzle boxes has been fun, time consuming and a bit overwhelming.
This is the first time I've ever had enough space to have my whole collection in one place, and I realized I have over 100 puzzles on my to-do list. Reorganizing my collection has been entertaining and I'm sure will change over time. Surprisingly, all of my puzzles made it in one piece. I was surprised even my Ravensburger VW Bus made it all still intact.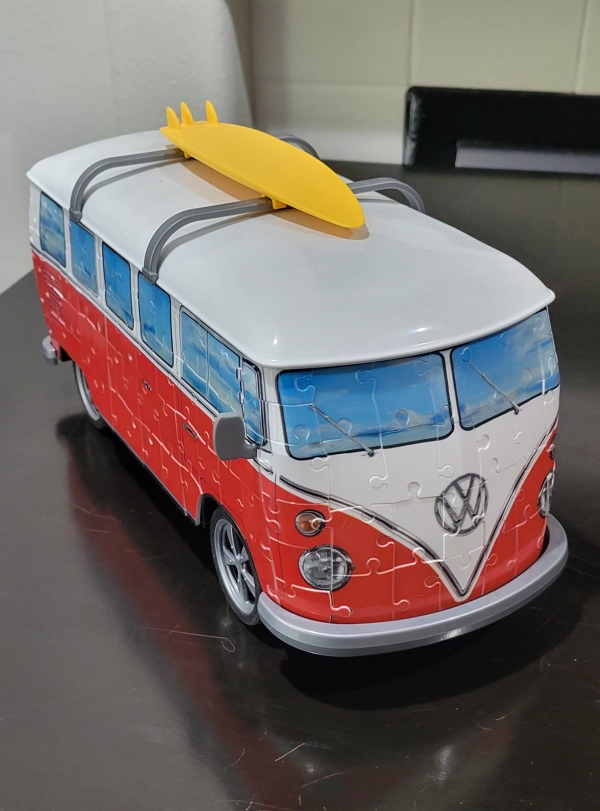 Once I got to my mystery piece, I was able to determine that it was a New York Puzzle Company Puzzle. This I could tell by the texture and shape of the pieces. Having done over a dozen of them, I have a good understanding of their quality. Unfortunately, it is one that was discontinued – so I hope all the pieces are there.
But I'm just happy the rest of my collection is pretty much intact – well in pieces.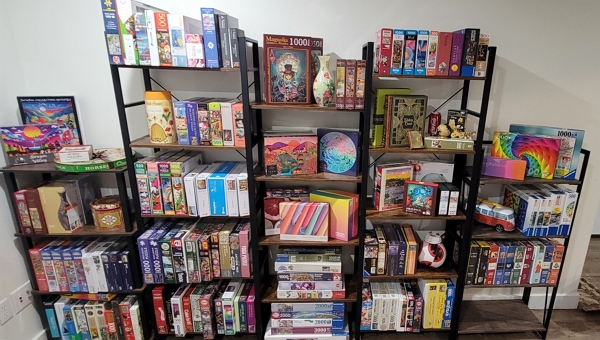 Emilee – The Casual Puzzler