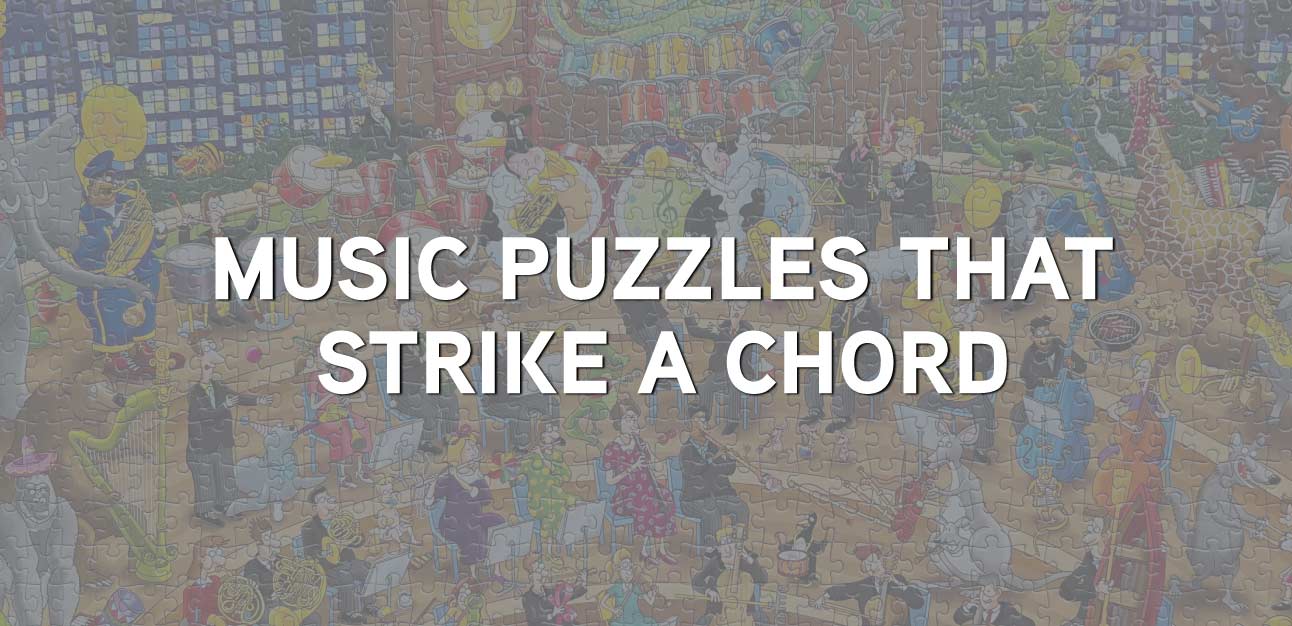 Music Puzzles That Strike a Chord
Music is near and dear to my heart. My father was a church music director and music always filled our home. My mother said she'd lay me down for a nap as a child and I never slept – I'd just lay in bed and sing at the top of my lungs. So, doesn't it figure that a music-themed puzzle would be the one that sucked me into my love affair with puzzles?
I used to say I HATED puzzles – I couldn't understand why anyone would want to do one. Then, two Christmases ago, I got not one, not two, but three puzzles as gifts with one of them being an Aquarius, 3000-piece Magical Mystery Tour of 100 Beatles Songs with artwork by Tom Masse. My mother-in-law, knowing what a huge Beatles fan I was, thought it would be the perfect gift. As fate would have it, I dove into the two 1000-piece puzzles first to see if I'd like them…and I did. But then came this puzzle. I yelled at it. I cursed my mother-in-law's name. Why, why would she buy me such a huge puzzle?! Despite wanting to quit many times, I stuck with it. By the time I finished it two months later, the rewarding feeling was overwhelming and a puzzle fanatic was born! I promptly framed it (the person who did so was next to curse the puzzle as she dropped it during the framing process and redid the broken part for 4 nights in a row before she could frame it) and it now hangs in pride of place in my home.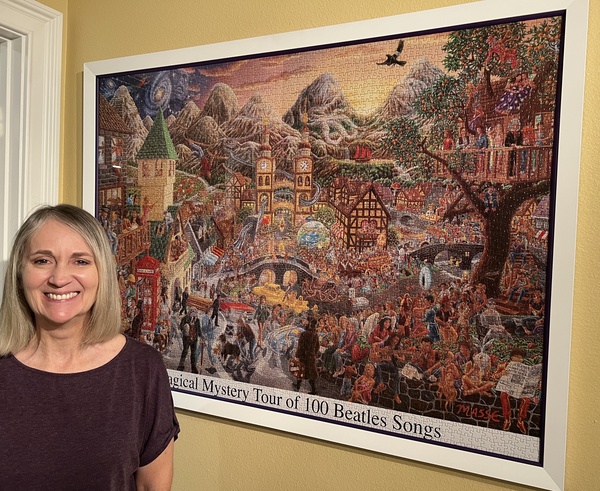 Not only did I enjoy the process, I also enjoyed guessing which images related to which Beatles' songs. As an avid Beatles fan – here's a picture of the other thing I collect besides puzzles, Beatles' record album purses – I identified all but 3 of the songs correctly! If you look closely at the photo, you'll see other Ravensburger and Aquarius Beatles-themed puzzles awaiting completion sandwiched in on the shelves with the purses.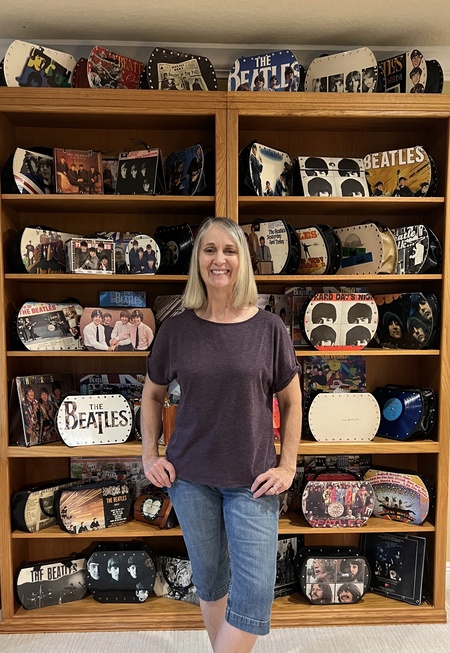 If you've been reading my blog, you know it's been my mission to try as many "new to me" brands as possible this year. The latest brand I can tick off my list is Anatolian. These high-quality, anti-glare puzzles are made in Turkey and boast that each of their thick, blue cardboard-coated pieces is unique. That certainly held true with this 1000-piece Simpatico puzzle I completed, as there were no false fits and they were a joy to handle. And how fitting for a puzzle that featured so many music stands in the artwork - it came with a puzzle box stand inside the box!
This whimsical puzzle features artwork by Steve Skelton, a favorite of mine who has been illustrating and cartooning for three decades. I loved the animal antics and the funny touches of the orchestra truly were music to my eyes with little "inside jokes" such as the violin player playing with "a bow."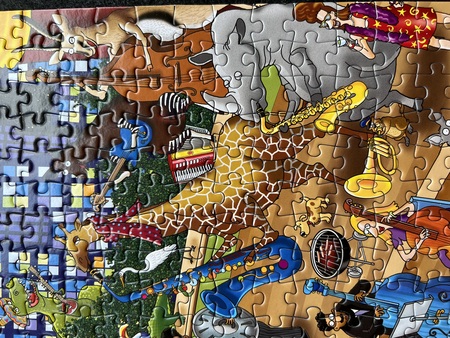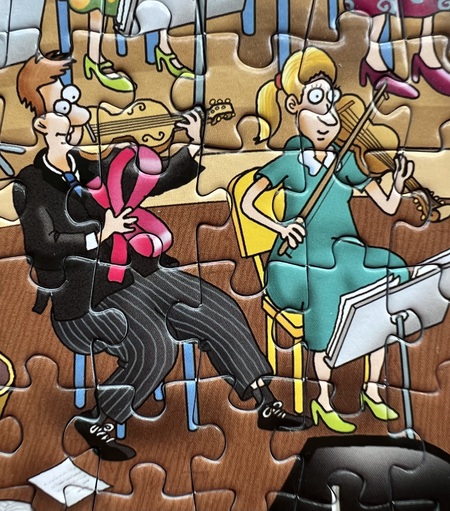 Next, it was time to go "shopping" in a couple of music stores. I used to work in a record store in college – yes, when records were popular the first time around - so I found Springbok's "The Melody Shop" to be especially appealing.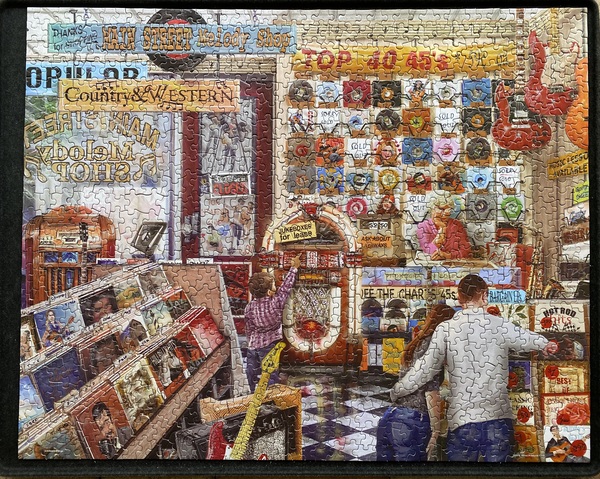 I adore Springbok puzzles, as their random-cut pieces on premium quality blue board are my forte. Take this sneaky part here - I spent quite some time looking for one piece and it turned out to be two, which may frustrate some, but it made my heart sing! There was a bit of puzzle dust to contend with, but a good shake in a colander beforehand, quickly took care of that.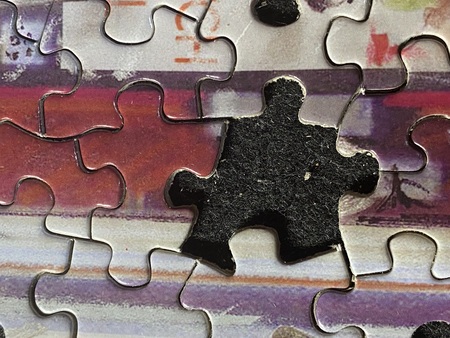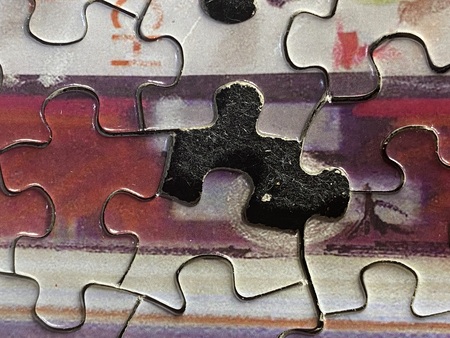 Finally, I tackled Eurographics' Rock Shop. I've always wanted to play the guitar and I even paid for guitar lessons, but I never actually took them. The guitar sits unused in my closet, so for once, it was nice to master an instrument, even if it WAS in puzzle form! The pieces with their recyclable materials, vegetable-based inks and blueboard truly struck the right note with me.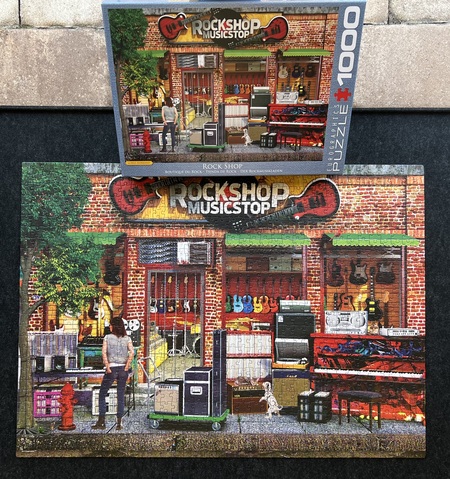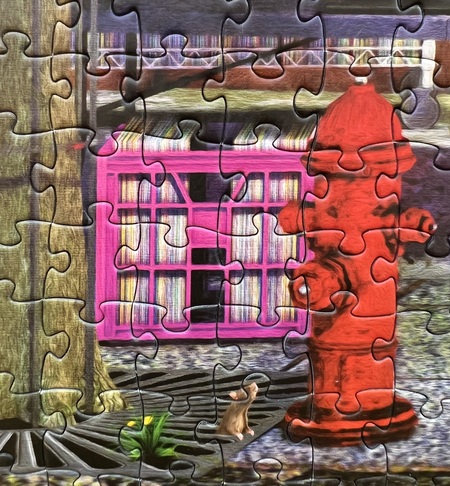 Not to harp on about it, but I truly relished these music-themed puzzles and have since added more to my wish list including Eurographics' 550-piece Cassette Player Tin, eeBoo's 1000-piece Music in Montreal, and should I ever get inspired to do another large-for-me puzzle, Heye's 2000-piece British Music History.
I hope you enjoyed jamming along with me this month all – rock on!
Lisa - @lisalovespuzzles