Nostalgia
Nostalgia:
Way back in middle school and high school (which is much longer ago than I'd like to admit), my best friends and I absolutely LOVED to write each other notes around the theme 'Remember the time…'. These were chalk full of all the crazy, fun, and sometimes down right insane memories we were making each and every day. Flash forward a couple decades, and I smile every time I think about those notes, and all those good times. Isn't nostalgia such a powerful feeling?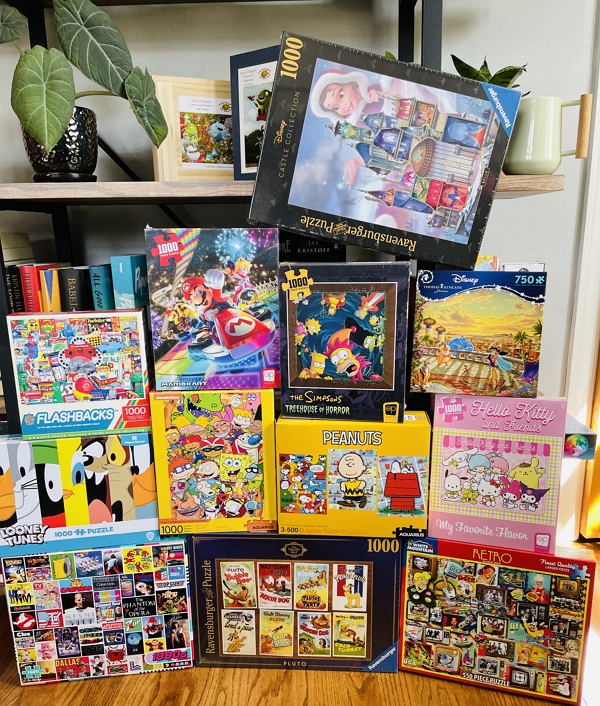 When I started looking at the pile of puzzles I've accumulated over the past few months, a prevailing theme started taking shape. So many of these puzzles ended up in my tiny house already bursting at the seams with puzzles, because they brought back some powerfully good memories! From singing along to all the Disney princesses, to Saturday morning cartoons, and expanding my already HUGE Pluto collection, these specific puzzles grace my puzzle collection for one reason only: pure unadulterated nostalgia!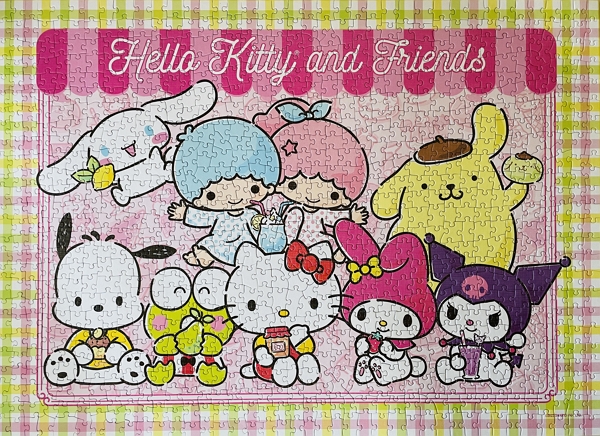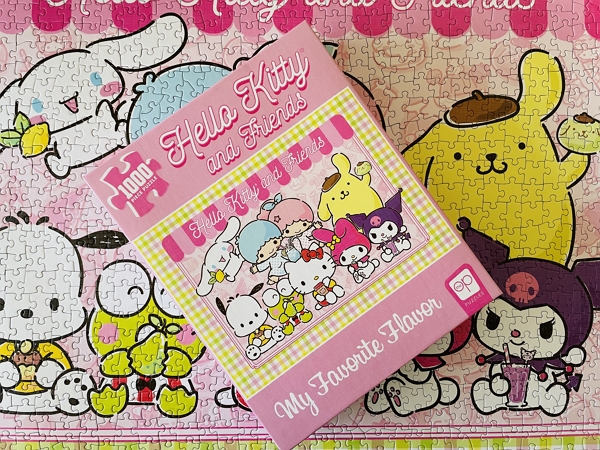 Enter this perfect Hello Kitty puzzle 'My Favorite Flavor' by the OP puzzles. I don't know about you, but Hello Kitty was a must for me growing up. Plushies, stationary, pens/pencils, backpacks- you name it, if it had Hello Kitty branding on it, I wanted it. So, I cannot even begin to express how much happiness it gave me to puzzle this throwback childhood love of mine. In addition to this perfect Hello Kitty image, the quality was top notch! A really nice random cut puzzle, that held together incredibly well for a puzzle pick up!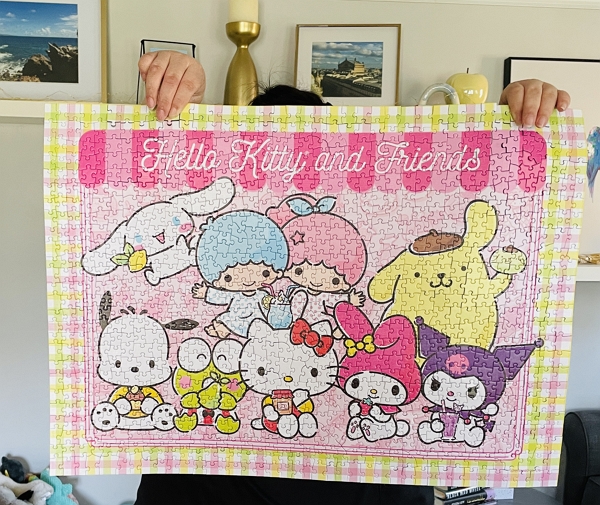 Then I moved on to this amazing Aquarius puzzle Nickelodeon Cast. I 100% watched Rugrats, Ren and Stimpy, and Rocko's Modern Life growing up. But the reason why this puzzle immediately ended up in my cart the second I saw it? GIR!!! Who watched Invader Zim??? Probably one of the most underrated cartoons IMHO. I mean, who else couldn't stop singing the Doom Song?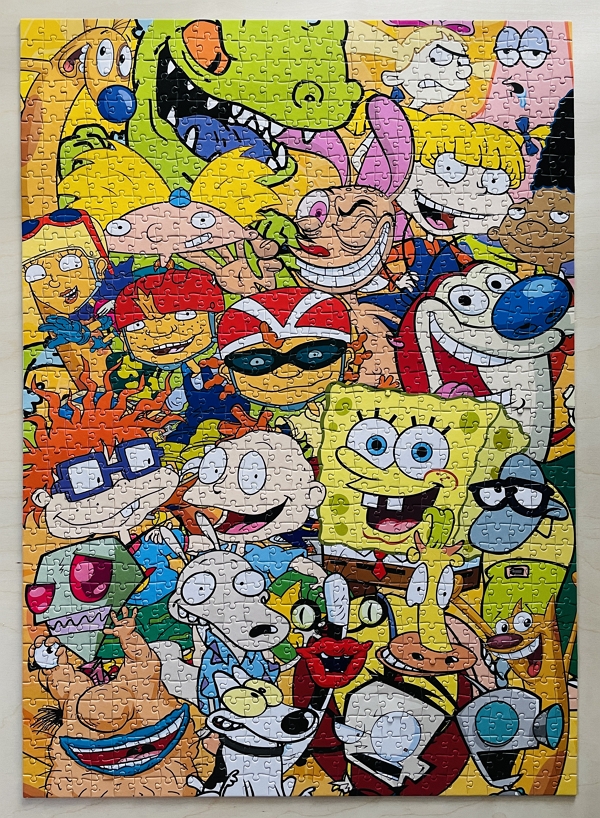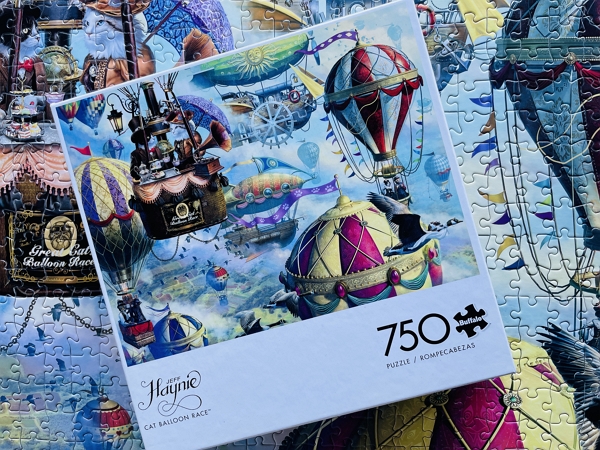 But for real. I remember watching episodes of Invader Zim in high school with my group of friends. There would be 9-10 of us all sprawled out in my parents living room- couch, chairs, floor- eating popcorn, laughing, and falling even more in love with Gir (that may have just been me)! I remember the care free good times we all had, and it definitely all came pouring back as I pieced this puzzle together.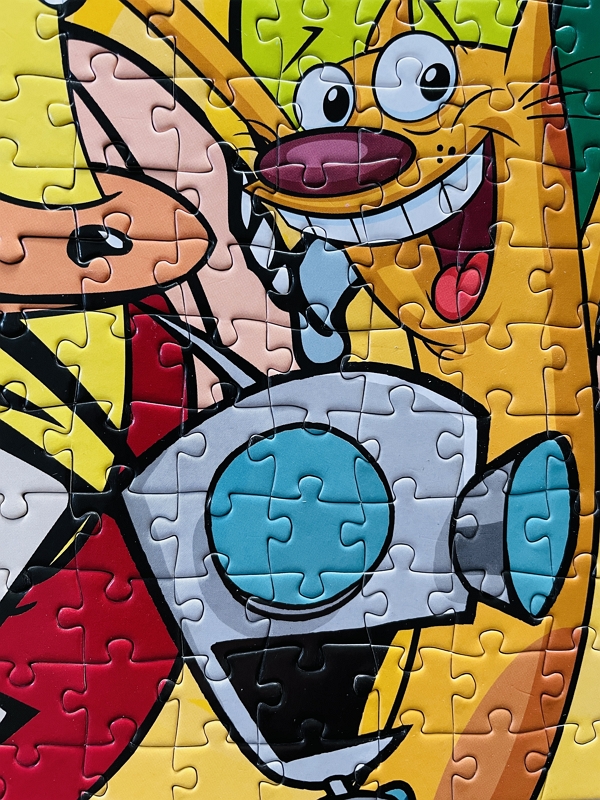 There are so many reasons to buy puzzles. Most of the time, I don't even need a reason to add a few more to my ever growing collection! Puzzling has always been a form of stress relief for me. I love taking the chaotic mess of all those singular pieces and forming one cohesive image. But to add in reliving great memories while bringing order from chaos, it really elevates the whole puzzling experience even more!
Not that I need any more puzzles, but I definitely fell down the rabbit hole and couldn't stop finding ones that brought back great memories!
This amazing Handbook for the Recently Deceased from Beetlejuice is unbelievable!


Growing up in Minnesota- any puzzle that has Spam in it makes me smile- like Moms Pantry Masterpieces:

Anyone an Anne of Green Gables fan? I watched that movie countless times, and can never forget the Lady of Shalott. Imagine my surprise when I stumbled across this Eurographics puzzle!

I've done the 1970's puzzle by Re-marks, and while I didn't grow up in the 70's, I thoroughly enjoyed it. But I was born in 1985, so when I saw this 1980s puzzle- it made it to my Wishlist immediately!

Once last one- this Childhood Stories puzzle from Springbok is actually one I've already done, and loved every second of:

Thanks for coming along with me on my trip down memory lane! Until next month my Jigsaw Junkies- happy puzzling!
Amanda @600hoursofpuzzle