Patriotic Puzzles
The Fourth of July holiday always brings back a flood of great memories for me. All the years of state park picnics, watching huge fireworks displays over the lake with friends during college, and "drawing" designs in the air with sparklers as a little kid. (I guess no one knew those things burn at 2000 degrees back then!) The scorch marks from all the "snakes" we lit on my grandparents' driveway were there for years! I've had so much fun putting together a plethora of patriotic-themed puzzles all month while I reminisce and look forward to this year's 4th.
The Statue of Liberty is such an inspiring symbol of freedom, even more so when she has a backdrop of fireworks on the Fourth of July. The statue's official name is "Liberty Enlightening the World" and I love the variety of puzzles that feature her, like Buffalo Games 1000 piece "Celebrate Lady Liberty" from their Night and Day series with the fireworks over the nighttime New York skyline.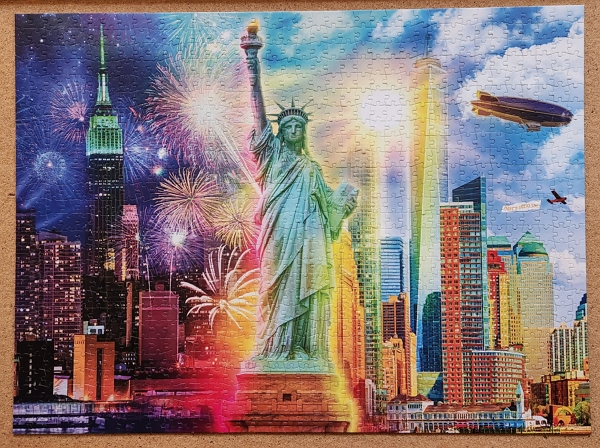 One of the most unique puzzles I found is from Ceaco's Land of the Free series called "Stars and Stripes." This beautiful 550-piece features artwork from Claudia McKinney called "Change Starts with You." The horizontal pattern was a big help assembling this one!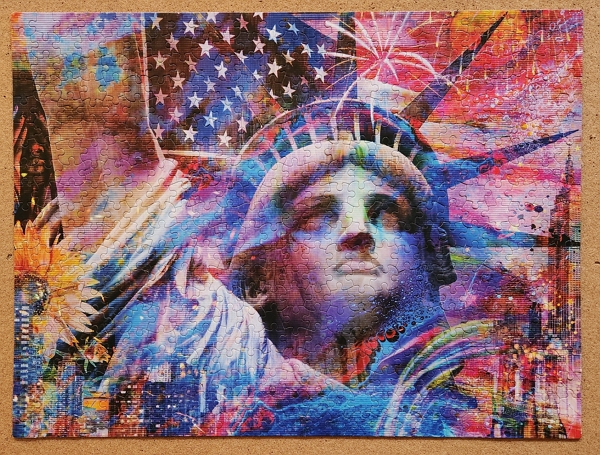 The bald eagle has been the national bird of the United States since 1782 when it was first pictured on the Great Seal. One of many puzzles featuring this beautiful bird of prey is "Patriotic Eagles" from Sunsout, featuring the art of Steven Michael Gardner. Adding to the fun and challenge is finding the hidden eagles in the design once you've completed the 1000-piece puzzle.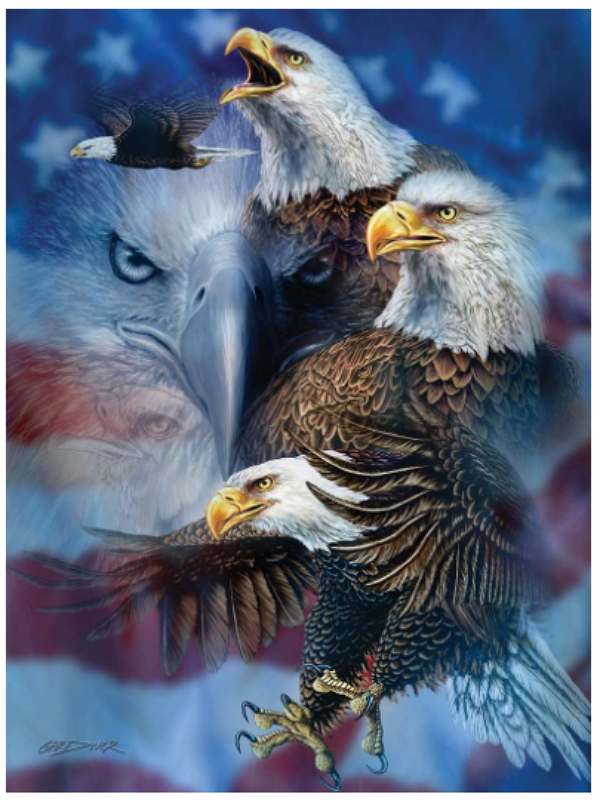 Independence Hall is called the birthplace of America, since the Declaration of Independence and the U.S. Constitution were both debated and signed inside this building—now listed as a UNESCO World Heritage Site. The Fourth of July is the perfect time for Buffalo Games "Independence Hall" puzzle!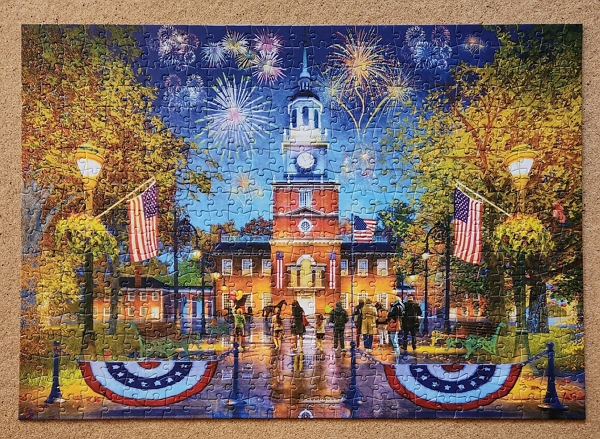 Growing up, selling most fireworks was banned in my state, so once my friends and I were old enough to drive, it was a big deal to break the rules (like everyone else!) and drive 30 miles across the border to buy those prohibited pyrotechnics! Today's giant tents and huge inflatables that pop up in parking lots every year just aren't as charming as Charles Wysocki's nostalgic fireworks stand in Buffalo Games "Bang, Boom, Bam & Pow" puzzle. I put together the 500-piece version, but it's available in 300 count, too.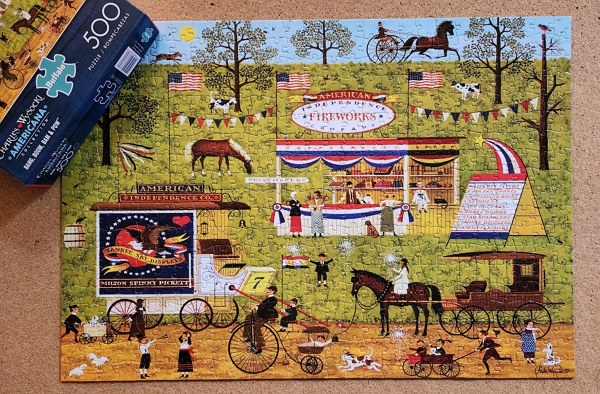 Small town parades and festivals are another great Fourth of July tradition. RoseArt has a fun new retro puzzle from artist Ed Wargo to take you Back to the Past with "Hometown Celebration 2." I love the fact that a neighborhood near us has a 73-year tradition of a parade down a few blocks of their boulevard, with no vehicles allowed (except for the one carrying the Grand Marshal.) Families get together to build homemade floats, kids decorate their bikes in red, white and blue, and pets wear their patriotic best. Buffalo Games "Main Street Celebration" reminds me of this great tradition.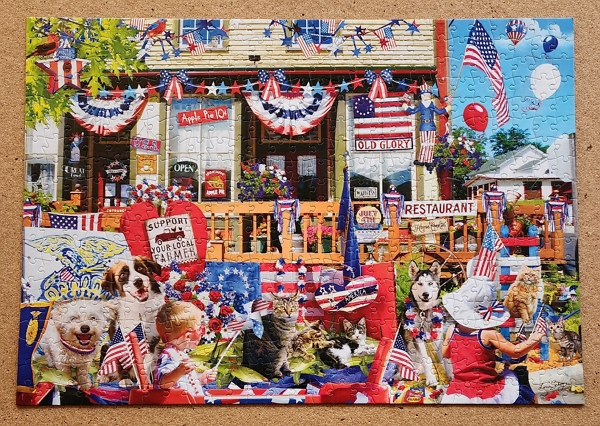 Along with fireworks, festivals and fun, food is a big part of July Fourth celebrations. My husband's family and their friends have had an annual picnic at one of our state parks for the past 50 years where everyone brings far too much food! Before you fire up the grill, enjoy RoseArt's "Burgers and Hot Dogs."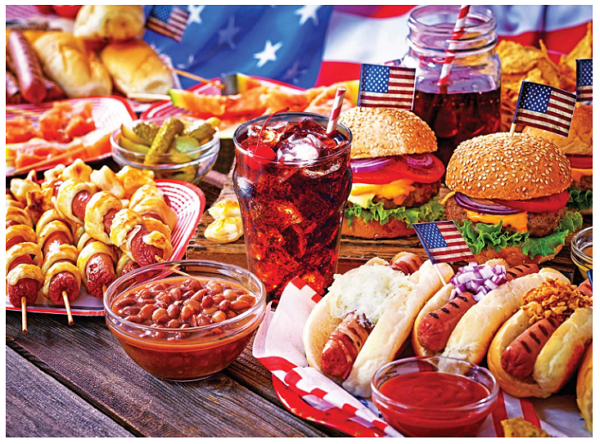 Of course, American flags are part of every patriotic celebration. For a unique design you might even want to preserve and add to your flag décor, check out the red, white and blue vintage look of Ceaco's Land of the Free "USA License Plates" 550-piece puzzle. Even with the similar colors, this was a fun puzzle to assemble, and the state names made it a bit easier!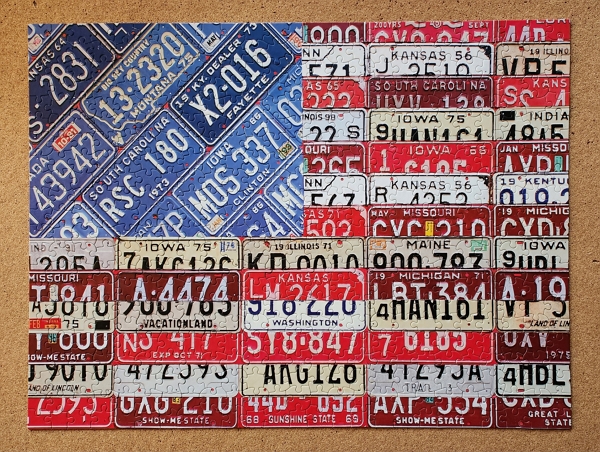 However you celebrate our nation's birthday, putting together a patriotic puzzle can be a fun tradition for you and your family. I hope you have a great (and safe) Fourth of July!
Happy Birthday, USA!
Dawn @fivewolves
I loved how your blog brought back great 4th of July memories for me!