Puzzling London
All eyes will be on London this month in light of King Charles III's coronation on May 6th, and what better way to mark the occasion – or to simply revel in the beauty and history of this historic city – than through puzzling. In addition to the thrill of discovering new artists or enjoying fun pop culture imagery, I've always found that choosing puzzles from faraway places can be a great way to immerse oneself in the visual details of another place.
I live in New York City now, but while I was in college I studied abroad in London for two semesters and over the years have truly come to view the city as a kind of second home. Before the pandemic, I made semi-regular trips across the pond to see theatre, visit museums and cultural sites, see colleagues abroad, catch up with old friends, and enjoy the city's burgeoning food scene – which no longer encompasses just pub food and mushy peas.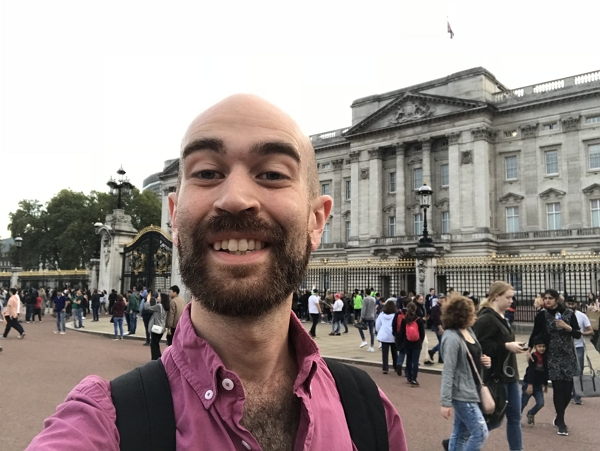 What I love most about London is the way the past and the present commingle so comfortably. For example, it's just a 7-minute walk to journey between St. Paul's Cathedral, built in the 17th century (and the tallest building in London until 1963), and the Shard skyscraper, completed in 2012 and currently the tallest building in the UK.
Putting aside these iconic structures, the most recognizable London building by a long shot has to be Big Ben, which is actually the nickname of the Great Bell of the Great Clock of Westminster. The Palace of Westminster, of which Big Ben is a part, is the home to both houses of Parliament for the UK: the House of Commons and the House of Lords.
Since I can't be physically in the UK for the coronation, I chose a beautiful 500-piece Trefl puzzle called Sunny Day in London depicting Big Ben as my London puzzle to celebrate the occasion. This was the very first Trefl puzzle I've done, so I was excited to try out the brand as much as to piece together this vibrant image.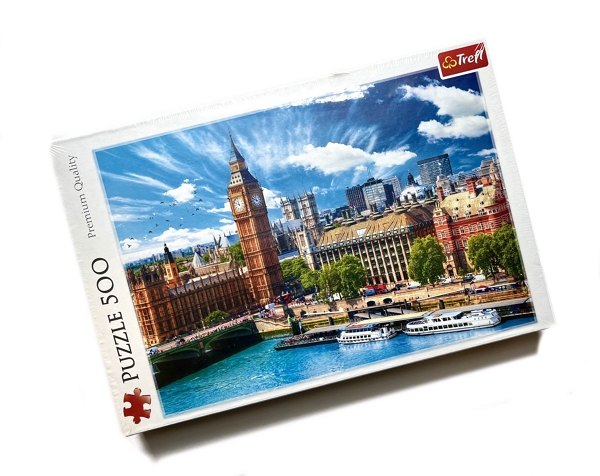 I'm not usually a big fan of puzzles that feature a large section of sky. I know that for some people landscapes or sky scenes are favorite images, but I find it frustrating to focus on such a large area of one color and to have to resort to sorting by piece shape to ultimately get the job done. What I liked about this image when I chose it is that the sky within the image is so varied – both in terms of the shades of blue but also in terms of the cloud patterns.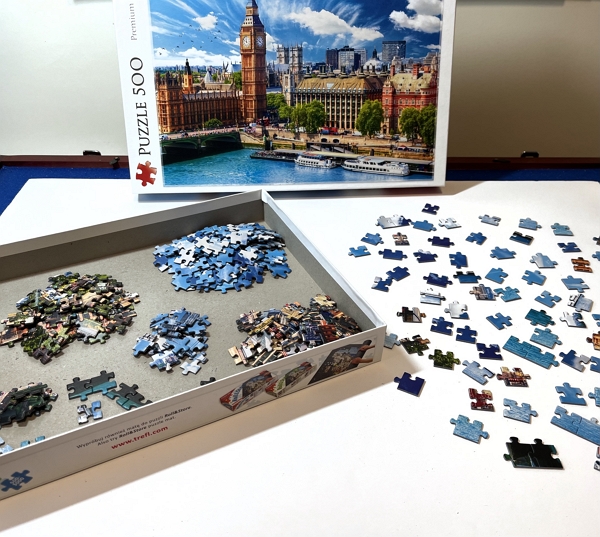 Sorting this puzzle was a breeze. The pieces were fairly small but not too small in my opinion, with a subtle linen finish, and standard cardboard backing. The variation within the image guaranteed that I could form neat piles of pieces – sky, buildings, pieces with green/trees, the River Thames, etc. And because there are only 500 pieces, I didn't even need sorting trays. It was easy as pie to sort within the puzzle box.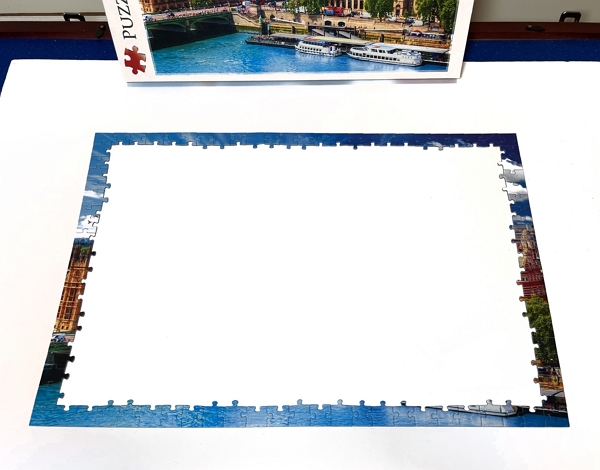 Next, I put together the border.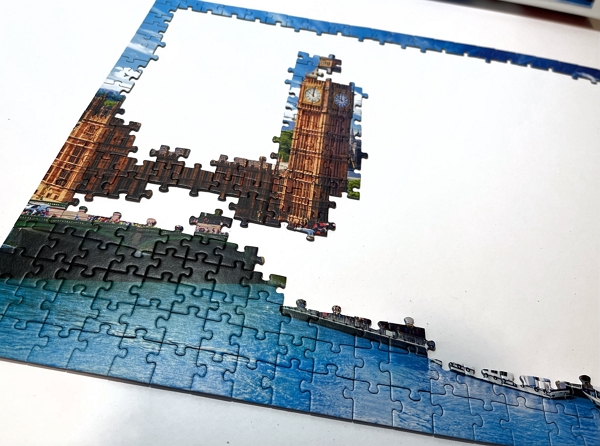 I had worried early on that the blues of the sky and the River Thames might be indistinguishable, but the texture of the river really stood out as I was sorting, as did the texture of the Houses of Parliament and Big Ben, so I picked out those pieces and put them together to build confidence in my process.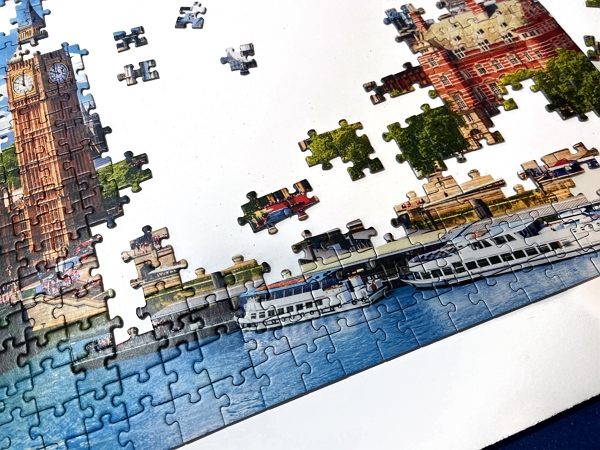 Next, the boats in the river and the shoreline started to take shape, along with the green of the trees. Of all the elements of the puzzle, the green tree pieces gave me the most trouble, as a handful of pieces seemed to go together which ultimately didn't. It was easy enough for me to discover the mistake though, so this only caused a momentary setback.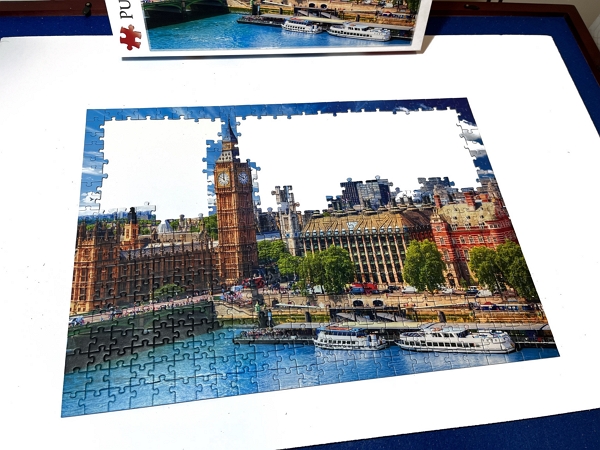 Once the lower half of the puzzle was finished, I felt a real sense of accomplishment. Even though I could tell that piecing together the sky would be the most difficult task, I was ready to launch into the next phase of the puzzle. After I laid out the pieces, I worked on developing a tactic for the sky pieces. Some of the pieces were clearly a darker blue, and others were mostly clouds – so I set these aside and figured I could use like sides of pieces to group together clouds, and specific shades of blue.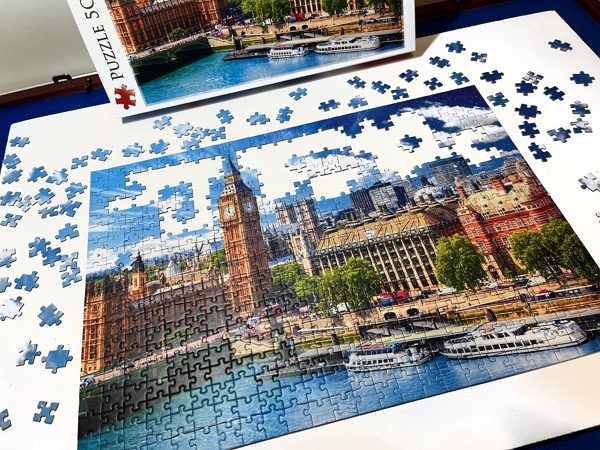 As you can see, my strategy worked. As much as I could, I tried to array the pieces across my puzzle board by shade from light, to medium, to dark. It wasn't an exact science, but it helped.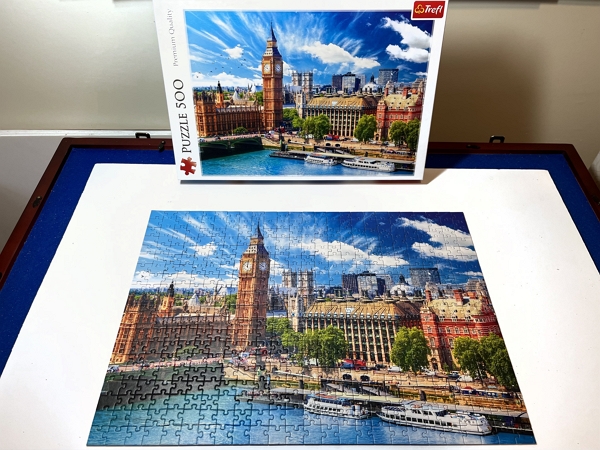 Success! The sky section of the puzzle definitely involved some trial and error, and some patience, but as i was working on the puzzle I listed to a great podcast called Royally Obsessed, all about the monarchy, and it really helped to pass the time and added some atmosphere to match the setting of this puzzle.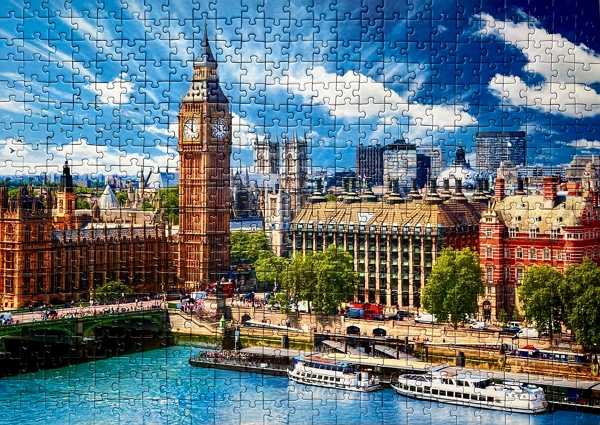 I think the finished puzzle looks really great. I love how vibrant the colors are within the image, and this brand has done a really good job in terms of the image transfer. The image is crisp and clear and detailed, which is everything you want in a photographic puzzle, to keep it from being impossibly difficult.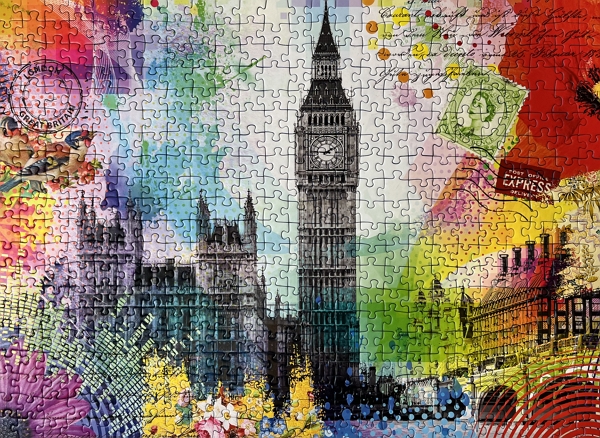 If this specific puzzle isn't exactly your cup of tea, another variation on this Big Ben imagery that I love is another 500-piece puzzle, London Postcard by Ravensburger, which utilizes a strong graphic style and bold coloring.
Additionally, Puzzle Warehouse has an entire page with many, many options for puzzles with London and United Kingdom-themed puzzles. There are photographic images, illustrations, maps, and themed puzzles (like Shakespearean, British teas, royalty, etc.).
A few of my favorite images are: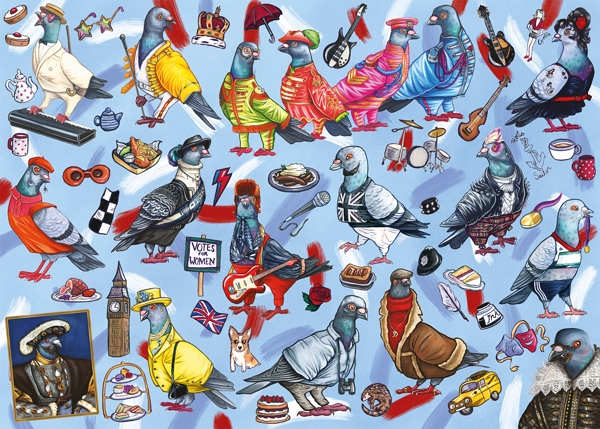 Pigeons of Britain (1000 pieces) by Gibsons - look how groovy this one is! It's definitely British, but more subtly so.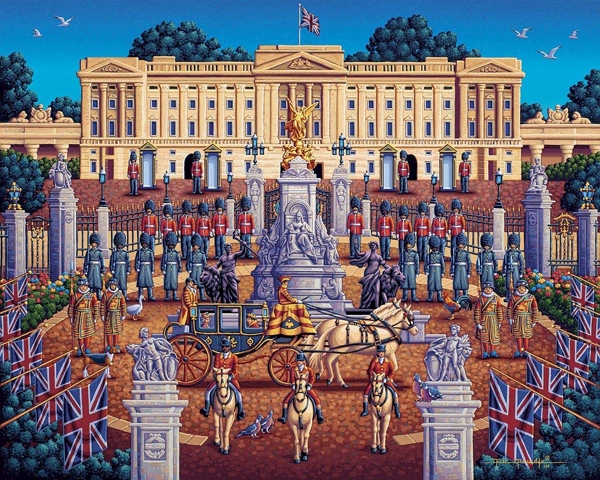 Dowdle Folk Art's 1000-piece Buckingham Palace puzzle - I love Eric Dowdle's painting style, and I think his depiction of the Palace is one of his very best images.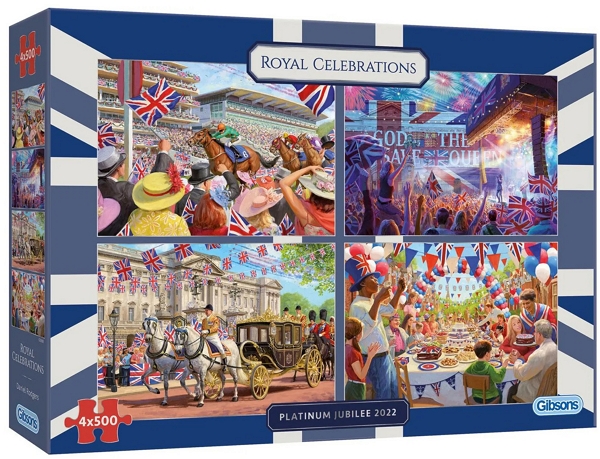 And Gibsons' 4-pack of 500-piece puzzles called Royal Celebrations, commemorating the late Queen Elizabeth II's Platinum Jubilee last year before her passing. I have this pack of puzzles on my shelf and am looking forward to putting them together and reminiscing about that amazing celebration of her history-making 70 years on the throne.
Whether you're a royal-watcher or not, there's something for every puzzler to enjoy in terms of London puzzles available through Puzzle Warehouse. I hope that while you're bombarded with news of the UK's big event, you might be inspired to puzzle along. After all, the pomp and circumstance has its share of downtime and dull moments which are easily filled by a spot of tea and placing in the next few pieces. Now, by all means, keep calm and puzzle on!
-Richard (@piecebypiecepuzzler / YouTube channel: Piece By Piece Puzzler)