Puzzling is for the Birds!
No question, my favorite place to put together puzzles is at the table in my travel trailer, where there's a big window that provides plenty of natural light. Our annual camping spot is right next to a large mulberry tree, so I have bird feeders hanging just a few feet from where I sit and enjoy visits from my regulars—a few pairs of nuthatches, a variety of finches, downy, hairy, and red-headed woodpeckers, and of course, a squirrel or two! For me, it's puzzling paradise!
It's hard to know for sure, but from the casual to the avian-obsessed, it's estimated that there are at least 45 million birders in the United States. With those numbers, I figured odds are good that there are a lot of dissectologists who enjoy birds—and bird puzzles—as much as I do, so I thought I'd share some of my recent ones here. Whatever your taste, there's probably almost as much of a variety of bird puzzles as there are bird species--from fun and whimsical to artistic or educational.
The American State Birds puzzle from Eurographics is an excellent quality, challenging 1000 piece puzzle that doubles as a great way to learn about a variety of birds. I love the "bulletin board" look of this design, and enjoyed reading the facts about each bird as I completed their "card." The illustrations are by ornithologist David Allen Sibley, author of "The Sibley Guide to Birds" which is considered one of the most comprehensive guides for bird identification.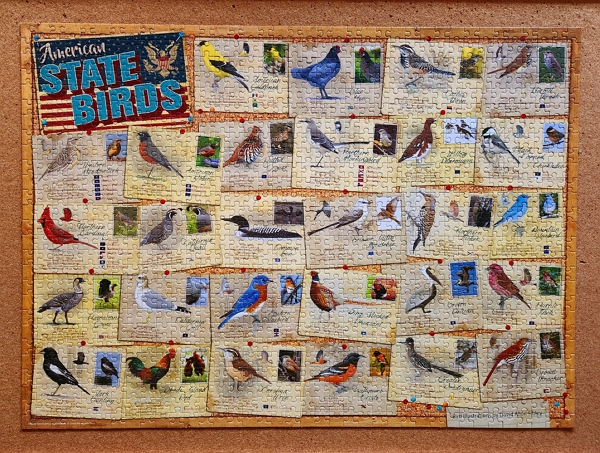 I enjoyed every minute assembling Rare Birds from Buffalo Games! (You have to smile at a bird named the Great Patoo and crazy crest of the African Hoopoe!) The bright colors and fun facts make it a great one to put together with your family or friends for Puzzle Night.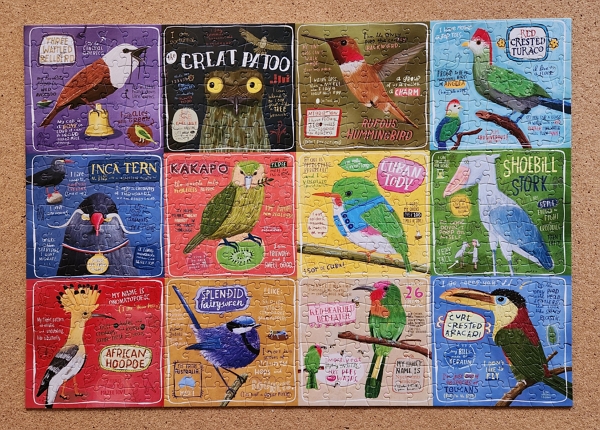 This 500 piece puzzle is easy to sort by color, so it would be added fun to see who can put "their" bird together first! I call the Shoebill Stork!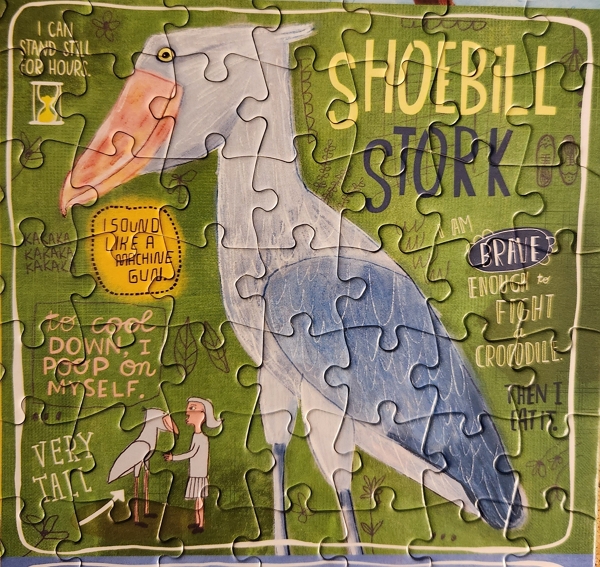 This puzzle also has the distinction of having one of my favorite single puzzle pieces ever! (Couldn't resist!)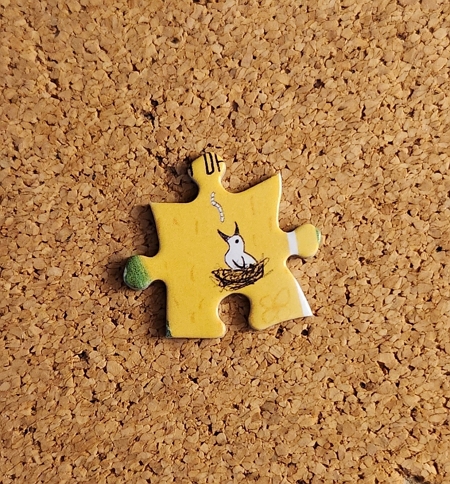 There are so many unique bird puzzles by a variety of artists and illustrators to explore on the Puzzle Warehouse site. This 500 piece Pomegranate California Quail caught my eye. The art is from a painting by Molly Hashimoto, but the style reminds me of the linoleum block prints I used to love making as an art student. This puzzle was more of a challenge than I expected, especially the solid black top and bottom borders. I had to put them together last!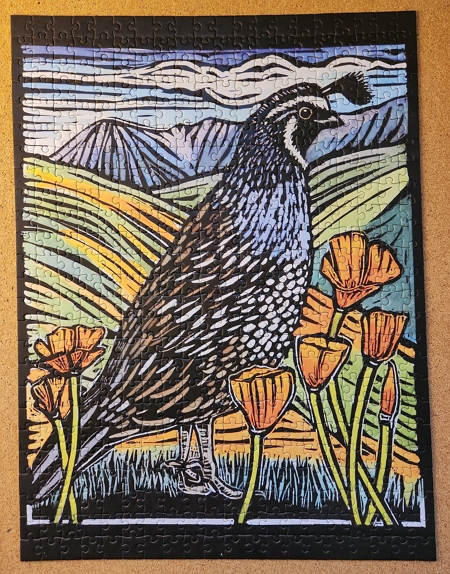 I have a citron-crested cockatoo named Willow, so naturally I had to have Buffalo Games Party Parrot puzzle! Willow's idea of a party is a rousing game of peek-a-boo or "barking" at the cat, but I'm sure she'd LOVE to tear apart jigsaw puzzle pieces if she ever got the chance! These 500 pieces would make some serious bird confetti!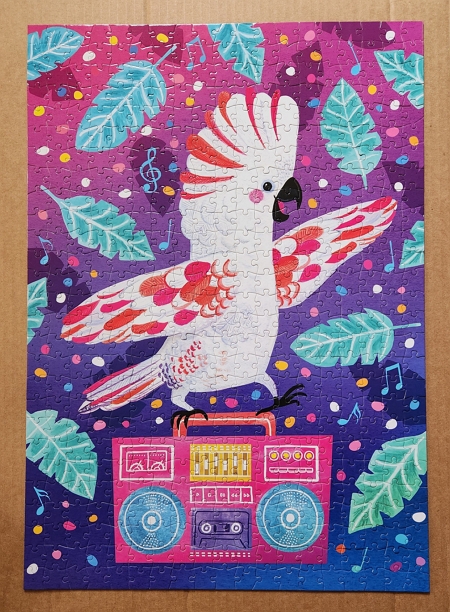 Another bright, fun design that goes together quickly is Wild Bird Cactus from artist Denice Ferragamo. This 300 piece Buffalo Games puzzle is a perfect break to brighten up a gray afternoon!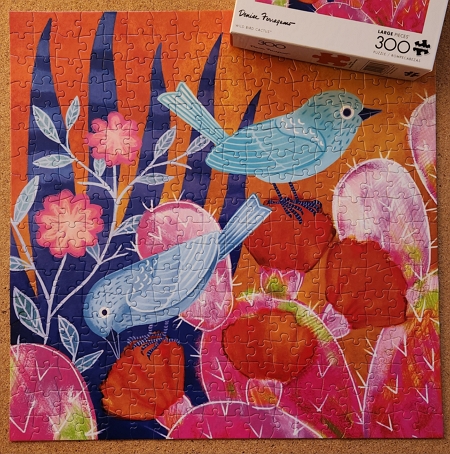 If realistic, true-to-life wildlife images are more your style, you'll want to check out the beautiful variety of puzzles from the Hautman Brothers. Joe, Robert and Jim Hautman are three of America's foremost wildlife artists and winners of numerous awards. They are the only brothers to have won the prestigious Federal Duck Stamp contest, a conservation program that has raised more than $750 million to conserve wetland habitats. My most recent Hautman puzzle was Colorful Wood Ducks from Buffalo Games. Now I hope I'm lucky enough to see them in the wild!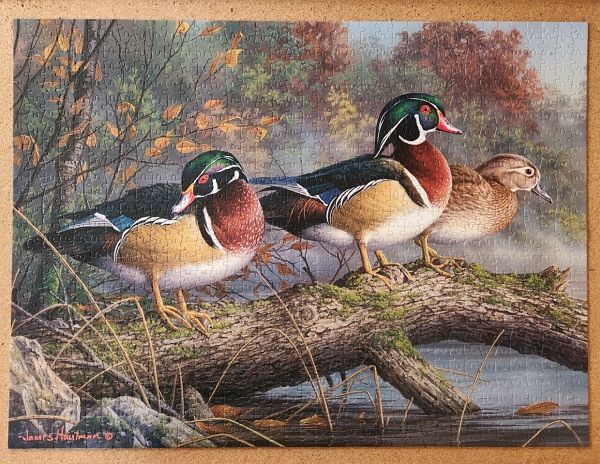 Whether you have a feeder in your backyard, head out with your field guide, binoculars and spotting scope for some serious birding at every opportunity, or just appreciate the beauty of birds, I hope you'll enjoy exploring all the avian-inspired puzzles out there! If anyone tells me my puzzles are "for the birds" I'm just fine with that!
Don't forget to look up!
Dawn @5wolves
5 Stars
Brian - Alpharetta, GA
Bird watchers will probably enjoy this blog. Your spot under the mulberry tree sounds wonderful! Thanks.
5 Stars
Gail M. - State College, PA
What a lovely collection of birds! Party Parrot is one of my favorite puzzles ever. It's just so bright and happy and it always makes me laugh!