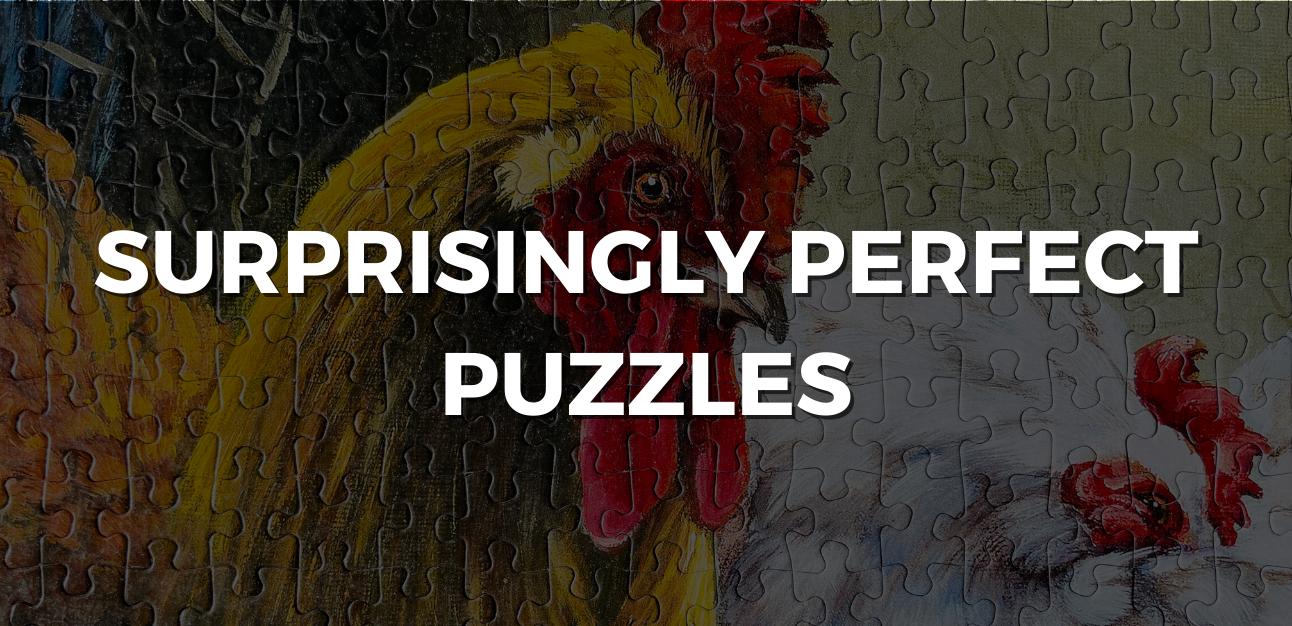 Surprisingly Perfect Puzzles
Happy December! The month of cold weather and snow (hopefully!), holiday decorations and delicious holiday food. And the month for gift giving!
I figured this might be a great topic to discuss in December, as many of us may receive puzzles from friends or family members. If your friends and family are wise- they will ask for a puzzle wish list, as I know most of us tend to be picky puzzlers. But, at least in my case, I can tell you that all too often, a well-intentioned non puzzling friend will get me a puzzle, and I have absolutely NO interest in puzzling it. We all have our own puzzle aesthetic, and if you're like me, stepping out of that aesthetic is almost inconceivable!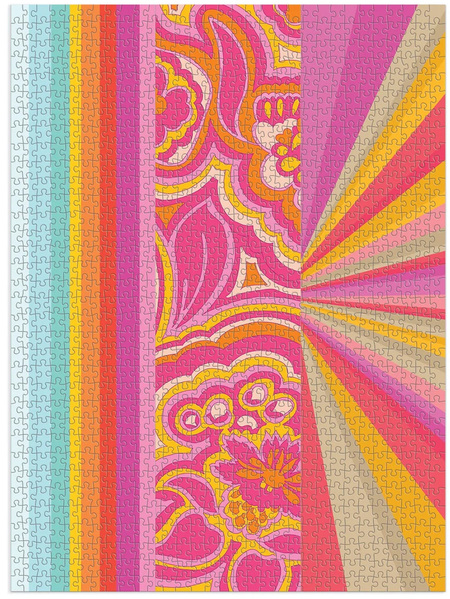 Puzzles like Galison's Trina Turk or Heye's Wildlife are right up my alley! But have you ever assembled a puzzle that had an absolutely perfect image, and find that you didn't enjoy the process as much as you'd hoped? If that happens, then why can't we occasionally puzzle an image that we don't really find appealing, and end up loving it?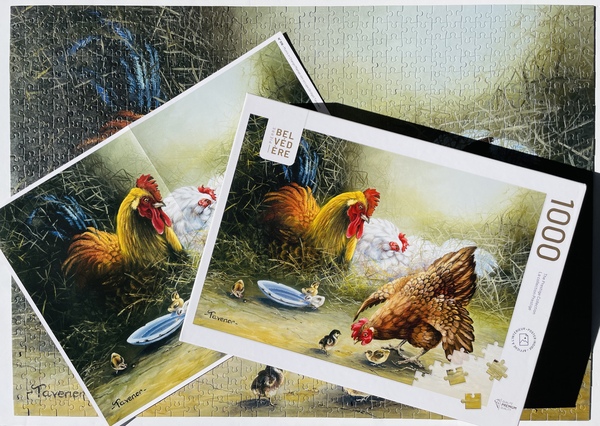 This brings me to my topic of this month's blog: surprisingly perfect puzzle finds. I decided to deliberately choose a puzzle that doesn't really interest me, piece it together, and see what I truly think about it. Enter Pierre Belvedere 1000 piece puzzle titled Mum's in Charge. Yeah, that title may have swayed me to this puzzle for sure!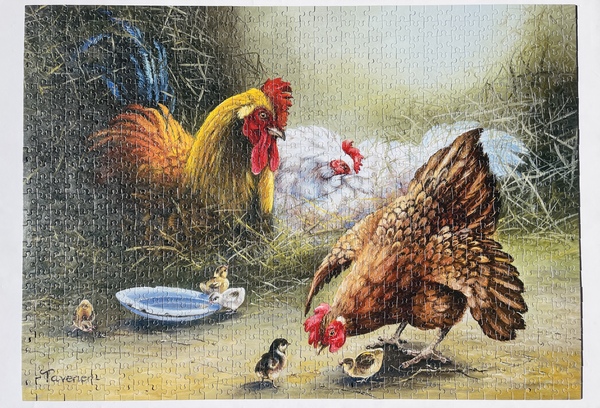 Now, honestly, I may have cheated a bit. I chose a puzzle brand that I know I love. But this image? Even though it's absolutely adorable, it is definitely not in my wheelhouse. The color palette is much too monochromatic, with no loud pops of bright fun colors. I also trend towards more cartooney, non realistic images, and I tend to like more fantastical puzzles. Never in a million years would I really choose to put this particular puzzle image on my puzzle board, but I figured let's try it out and see if I enjoy it!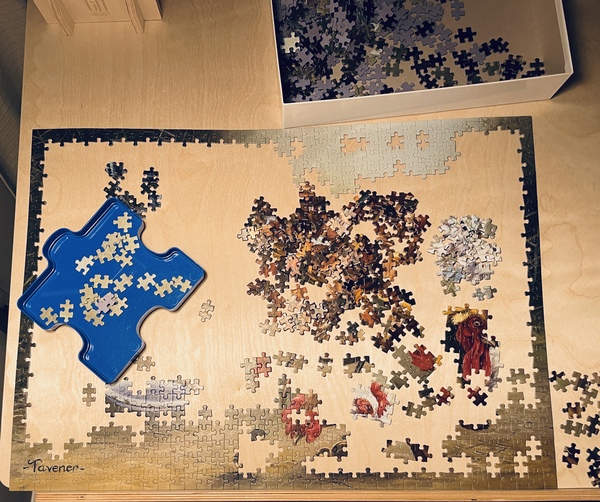 My first observation? Those pops of fun colors that I tend to love also tend to make the puzzle much easier! This monochromatic beast was much more challenging than my normal puzzle! I don't always start with borders first (gasp!), but I did make myself do that for this puzzle. I thought it might give me some insight on the placement of patterns, and it definitely helped me for the straw material scattered throughout the entire puzzle.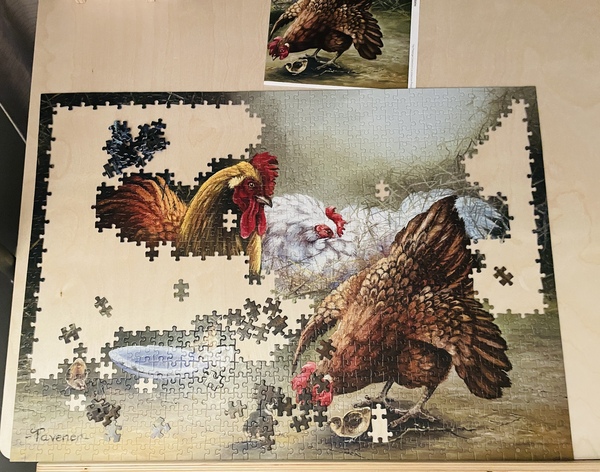 Then I focused on putting the hens, rooster and chicks together. This was a lot of fun: the detail in Pierre Belvedere puzzles are exquisite, which is great, especially for a puzzle like this with only subtle changes to help with piece placement. From there, I basically worked the background from light to dark.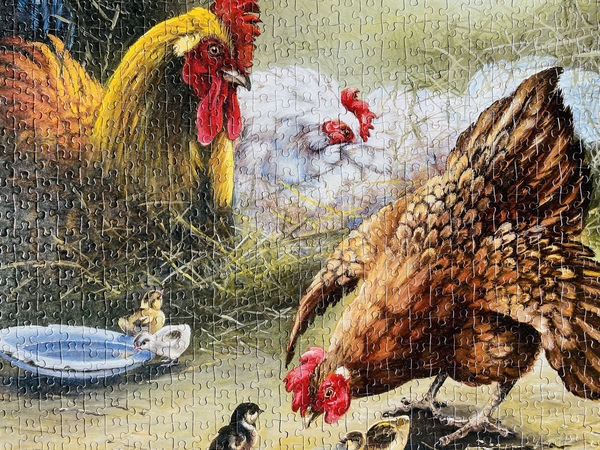 So, did I end up loving this puzzle? Yes I did! At the very beginning, I definitely wondered what I had gotten myself into. And I will admit that when I'm not particularly jiving with the image, I fall back hard on the quality of the puzzle. So I will 100% admit that part of my enjoyment of this puzzle definitely came from the superb quality! The piece fit is wondrous- I was able to move LARGE chunks of puzzle around with ease, the piece feel is fabulous, and the details exquisite.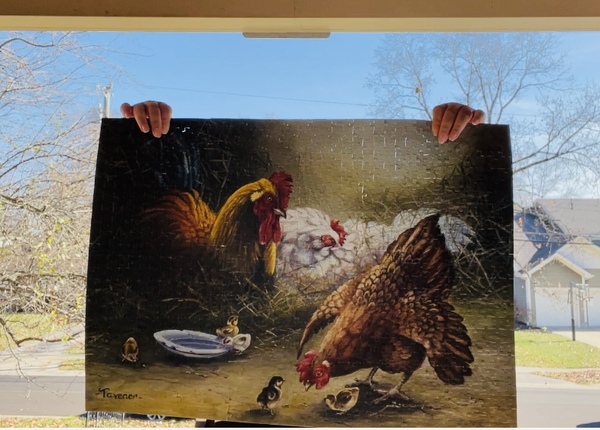 But once my brain got over a bit of shock puzzling such an abnormal image for me, I really started getting into this puzzle. I could tell I had to challenge myself on how to build this puzzle, and it was really neat to figure out how to attack it and watch it come together. Instead of just sitting down and puzzling like I normally do, I kind of had to reintroduce myself to puzzling. This reminds me of my February blog where I tried puzzling without the image. Just like then, I had to focus on the basics of my puzzling skills, and I really enjoyed that.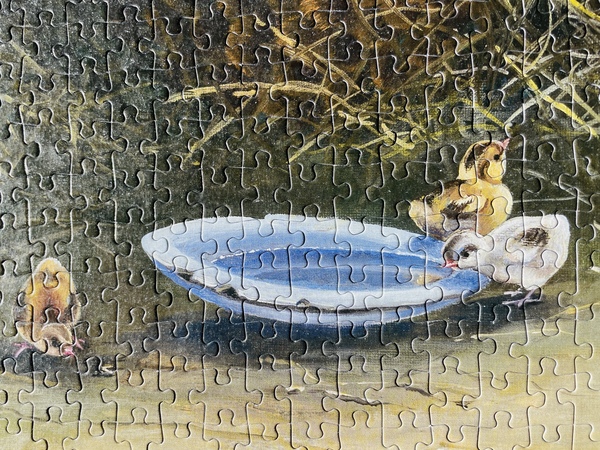 I love puzzling. I mean, duh- if you're reading this blog, then I assume you love puzzling too (unless you're family or friends that I strong arm into reading them!). But I would encourage everyone to change things up every once in a while, and step out of your normal puzzle comfort zone. I think you'll be surprised at how your puzzling strategy changes, and I also think you just might enjoy it! So especially if you receive a puzzle as a gift this year that may not just be your cup of tea, I highly encourage you to try it out!
Happy holidays my puzzle friends, I hope that they are filled with warmth, love, laughter, friends and family. It has been my absolute pleasure sharing my puzzle love with you for the year of 2022!
Amanda @600hoursofpuzzle
PS: Truthfully, I had a blast picking an image that I wouldn't normally puzzle. There's something really intriguing about going out on a limb, and picking a puzzle you wouldn't normally do! Here are some of the puzzles that made the short list for consideration- what do you think?
This beautiful Anatolian Ballet Studio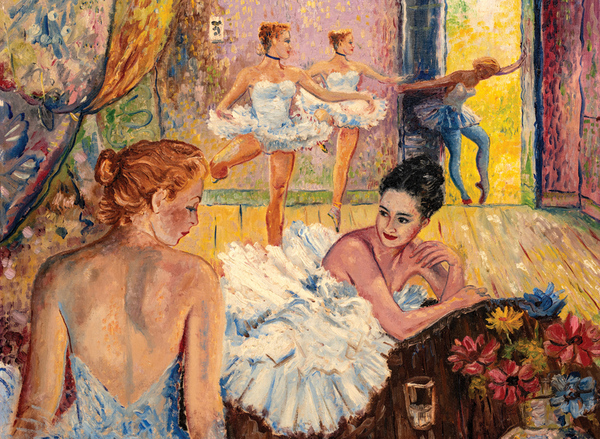 This calm and gorgeous Gustave Caillebotte Pomegranate Paris Street; Rainy Day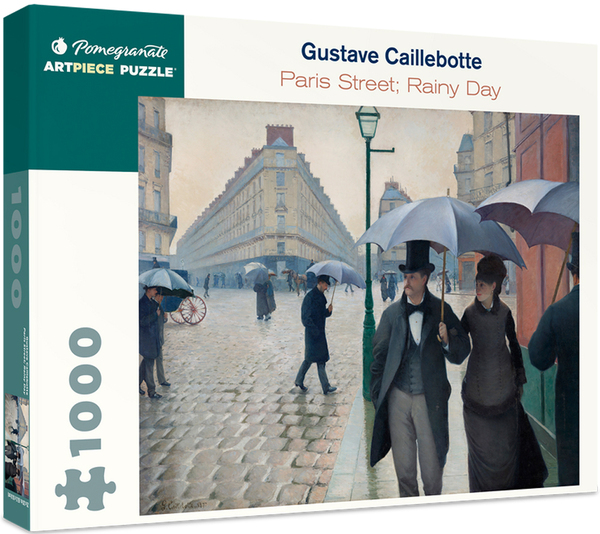 This Cobble Hill Chickadees and Lilacs was soooo close!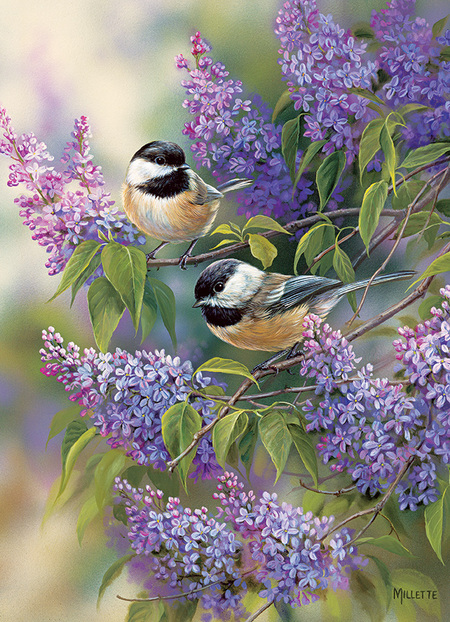 And last but not least, this surprisingly beautiful Antique Watches by Mchezo