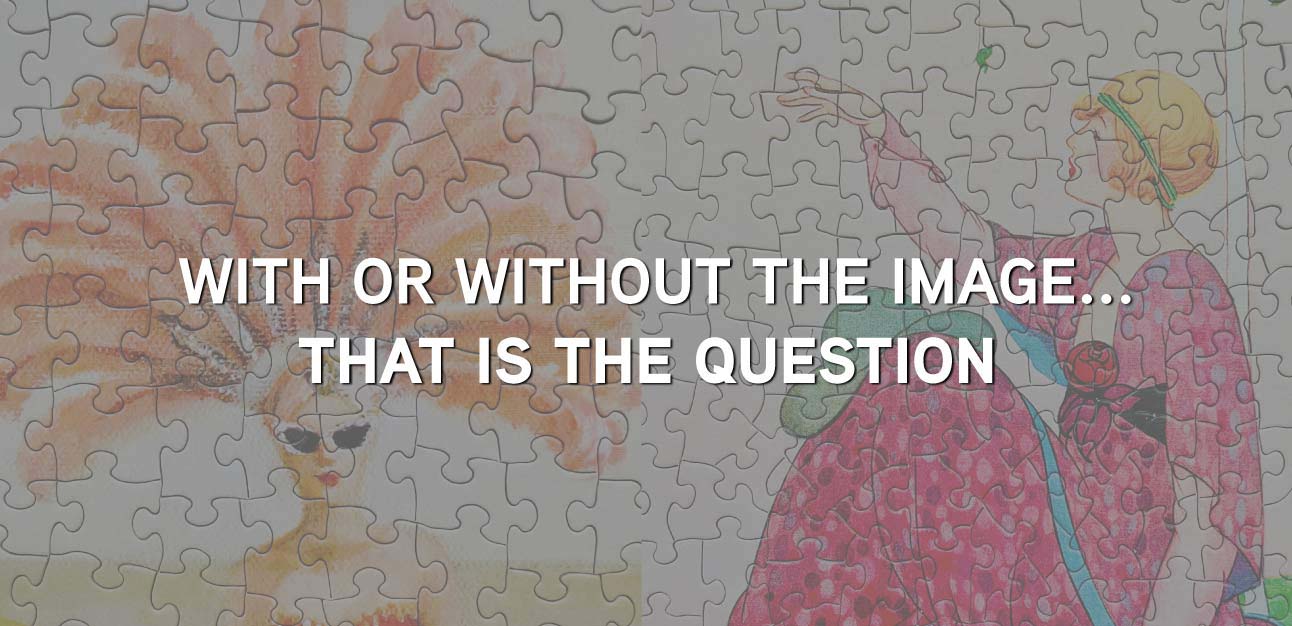 With or Without the Image, That is the Question…
In an attempt to answer this age-old question, to puzzle with or without the image, I have offered up my worlds okayest puzzling abilities (coined by @22krazypieces- check her out on Instagram, she's awesome!) for this very controversial topic. I feel like this question could go down in history with the likes of: Stefan or Damen, Edward or Jacob, Dean/Jess/or Logan, B.Davis or P.Sawyer (I swear, I don't just watch teenage angst drama shows/movies!). Now, I know most people have unshakable ideas about this question, so 'put your dukes up, Beesly', bc we're going to delve deep. Are you ready?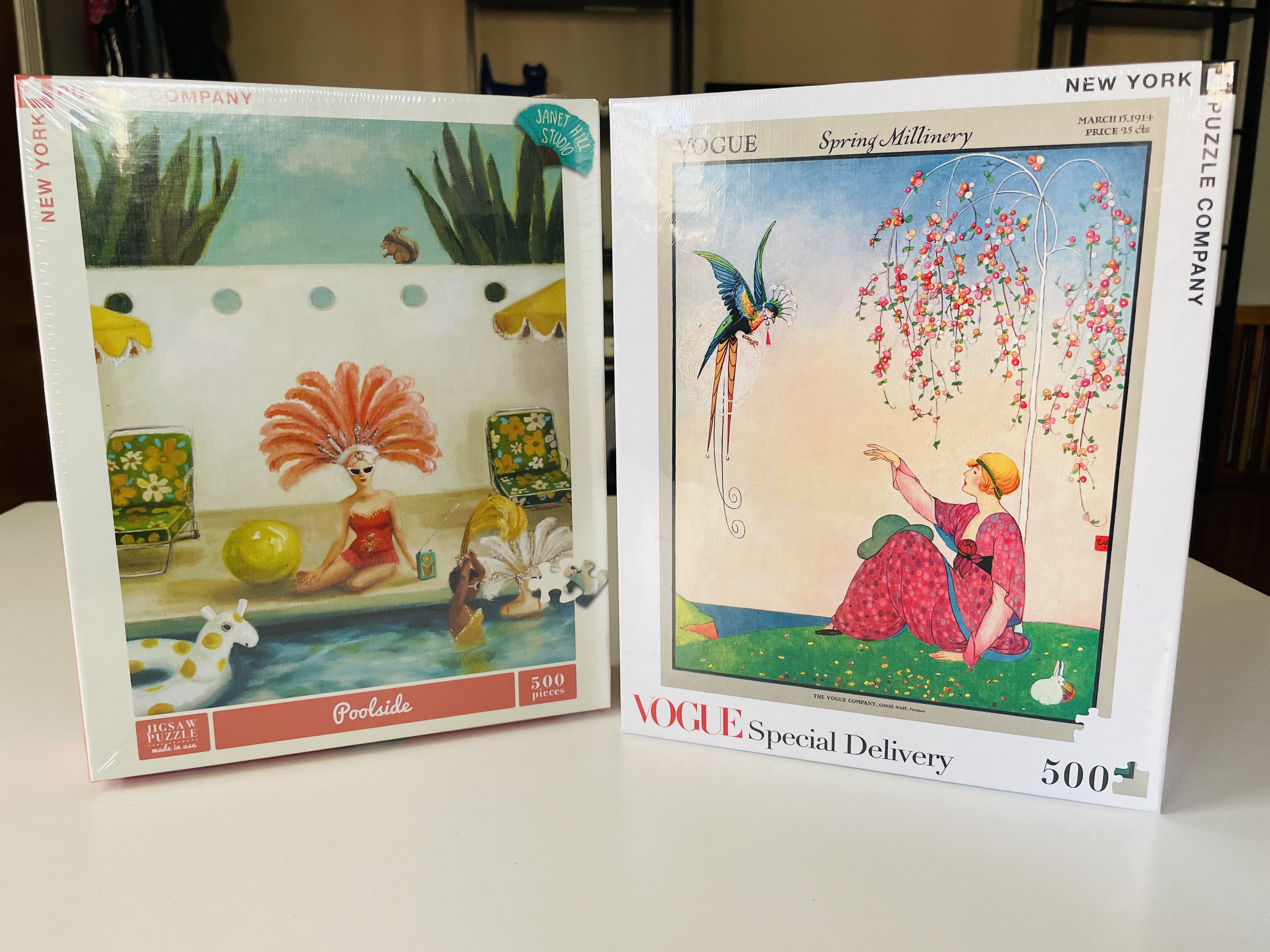 So, what I've done is pick two puzzles from the same brand, with the same piece count, of equal likeness (erm… the actual images aren't alike, I just mean that I like them equally!!!), and I did one with the image and one without. I've timed myself for both puzzles and taken pictures every thirty minutes to try and show my progress. I do have to insert this caveat- I chose unwisely. I was probably a little chicken, and subconsciously (or maybe a little consciously) picked a very easy puzzle to do without the image.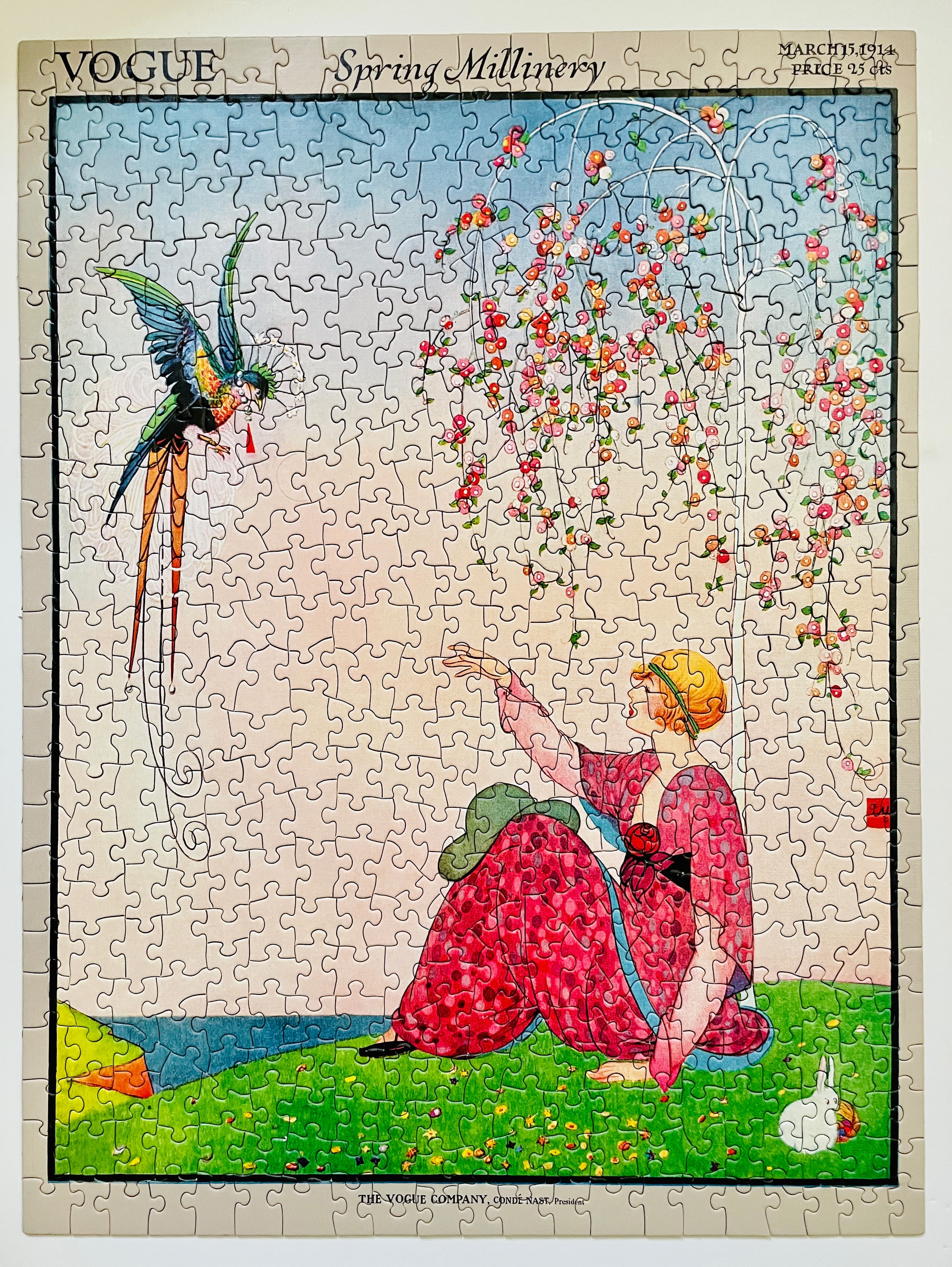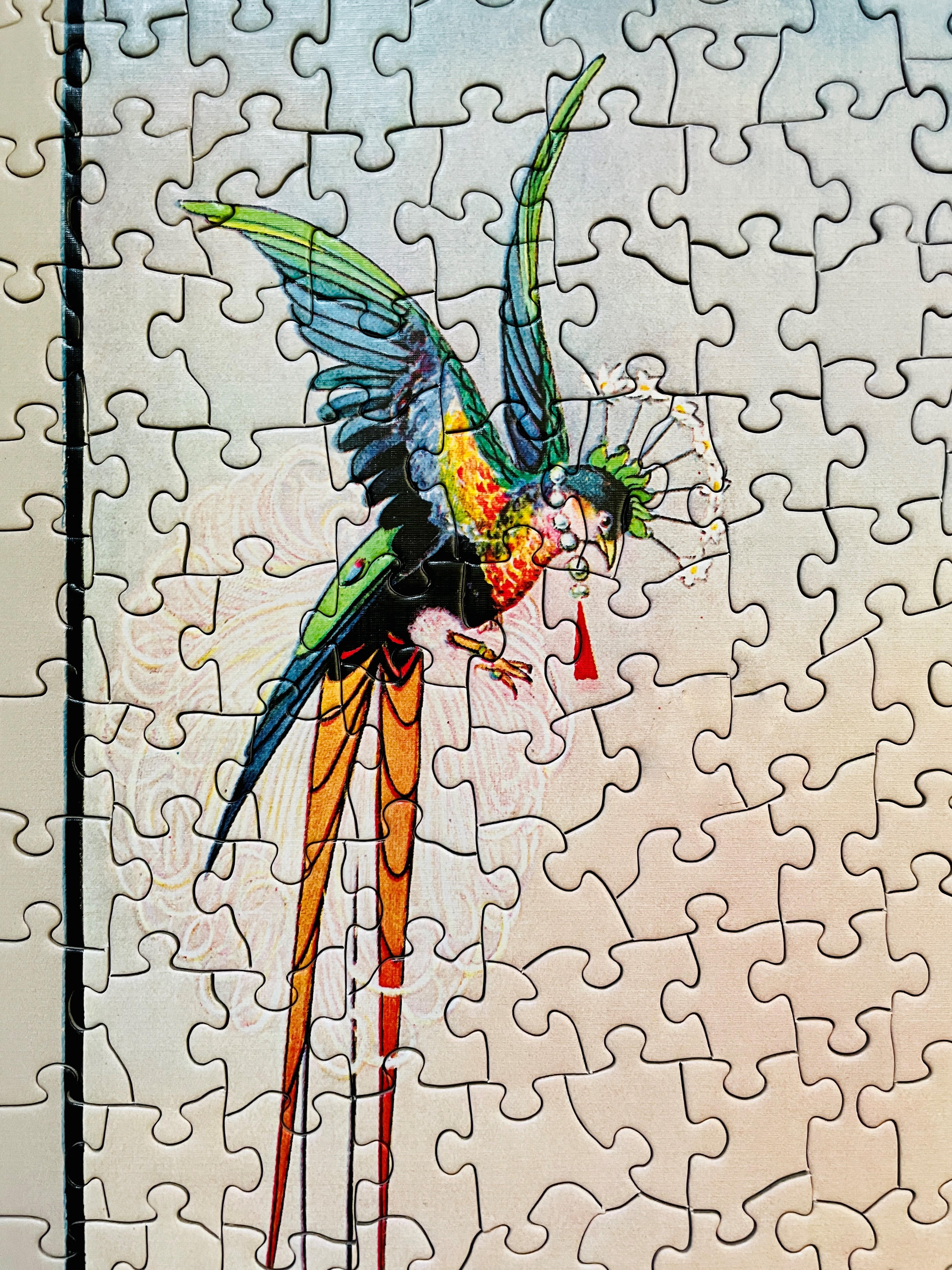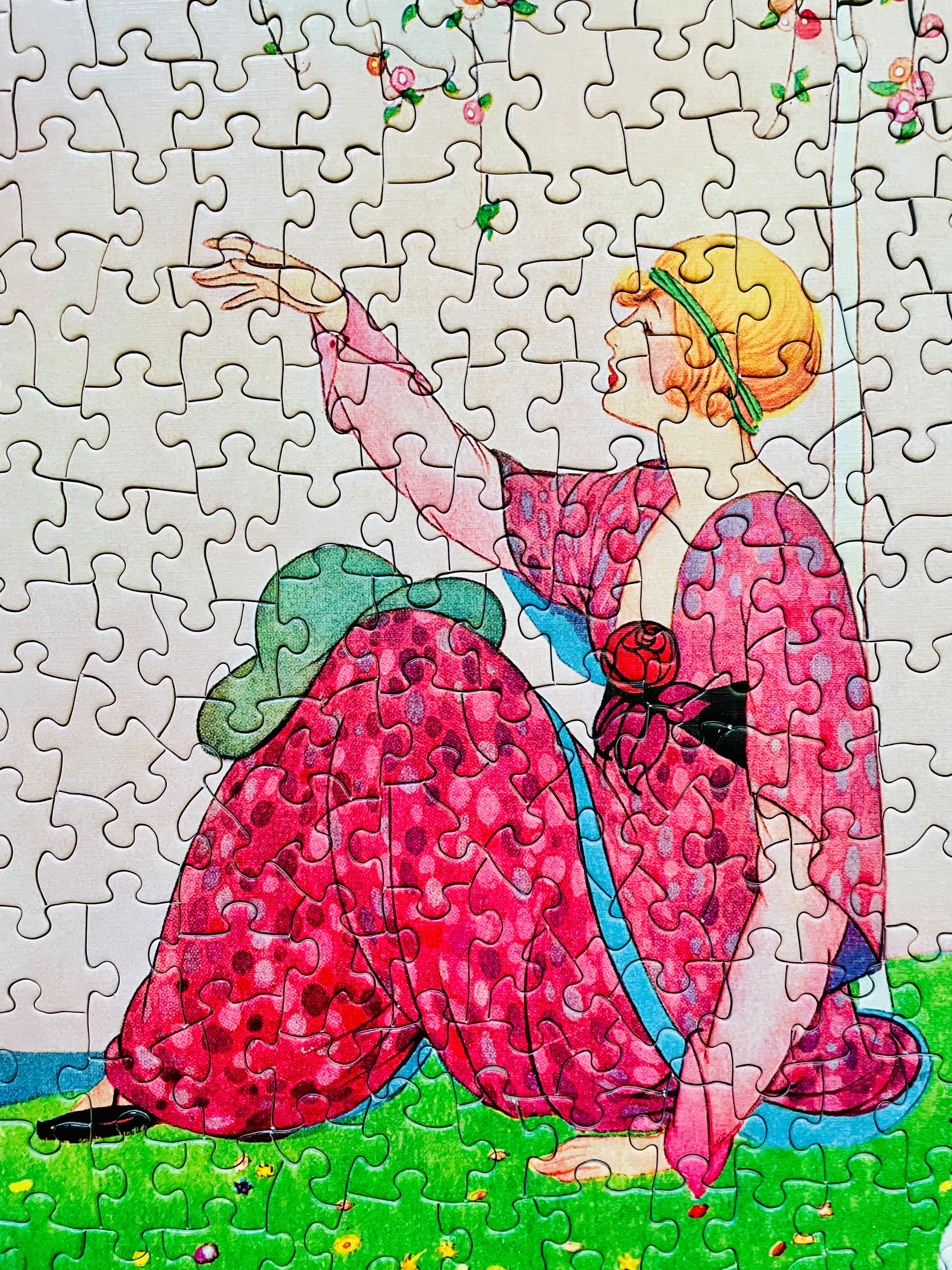 Vogue: Special Delivery by New York Puzzle Co was the puzzle that I did without the image. Because it has a green lawn, a blue sky, a gradient in between, and the bird and the flowers, it made it incredibly easy to sort. What really surprised me was how much I sorted. For this puzzle, I sorted the entire puzzle before I placed one piece. That's pretty abnormal for me. But not having the image to reference felt like one of my senses was cut off, and I panicked and sorting brought me comfort! Can I say sort anymore? Once it was sorted (oh, there it is!), it was very easy to piece together. The colors told me where the sections lived, and that's where I really regretted my decision. I wanted to be thrown entirely out of my comfort zone so I could give you guys a true sense of how difficult it is to puzzle without the image. But in that regard, I failed. Not having the image slowed me down, but choosing such an easy puzzle made this experience much easier than I expected. Maybe I'll have to try again in the future with a much more difficult puzzle!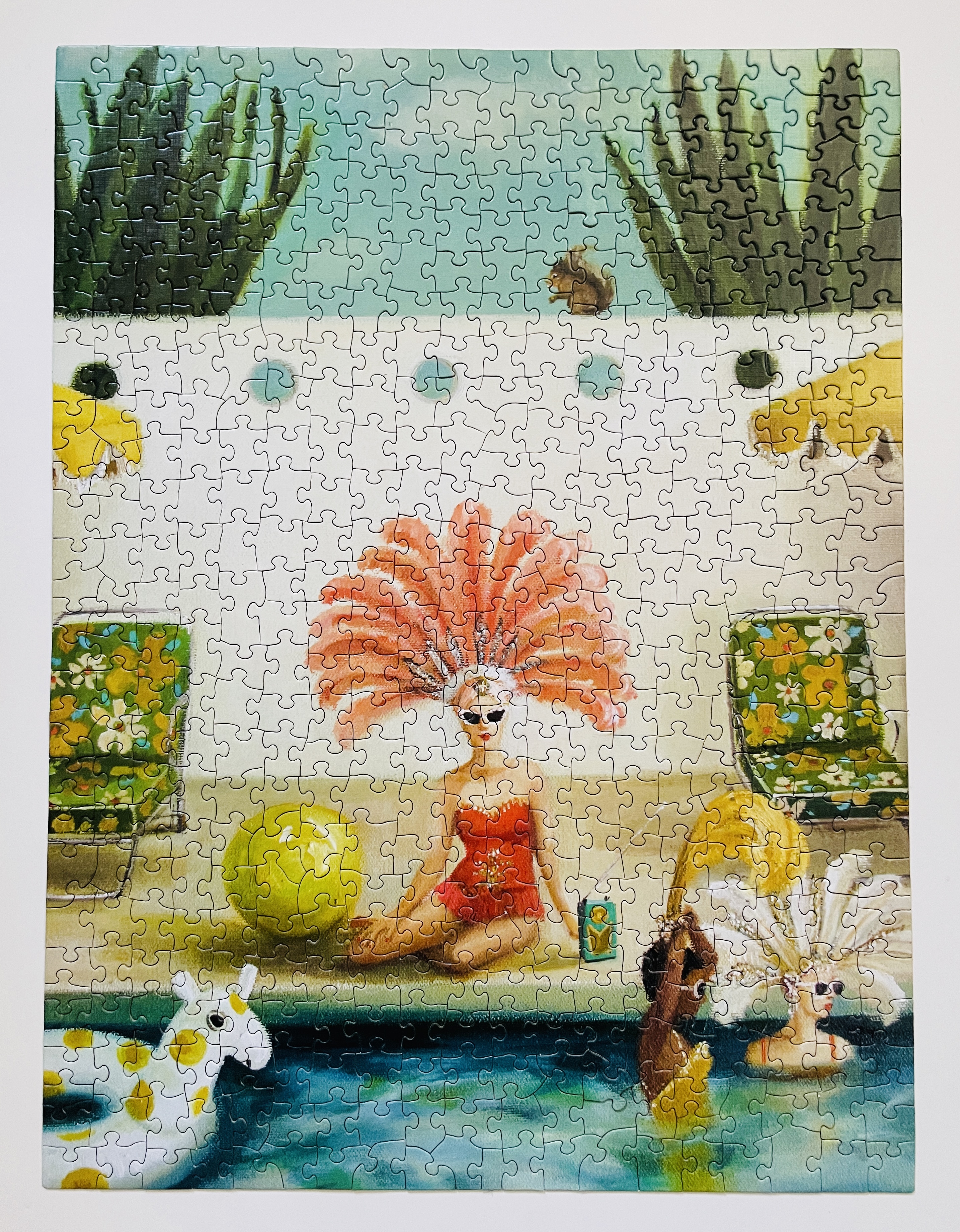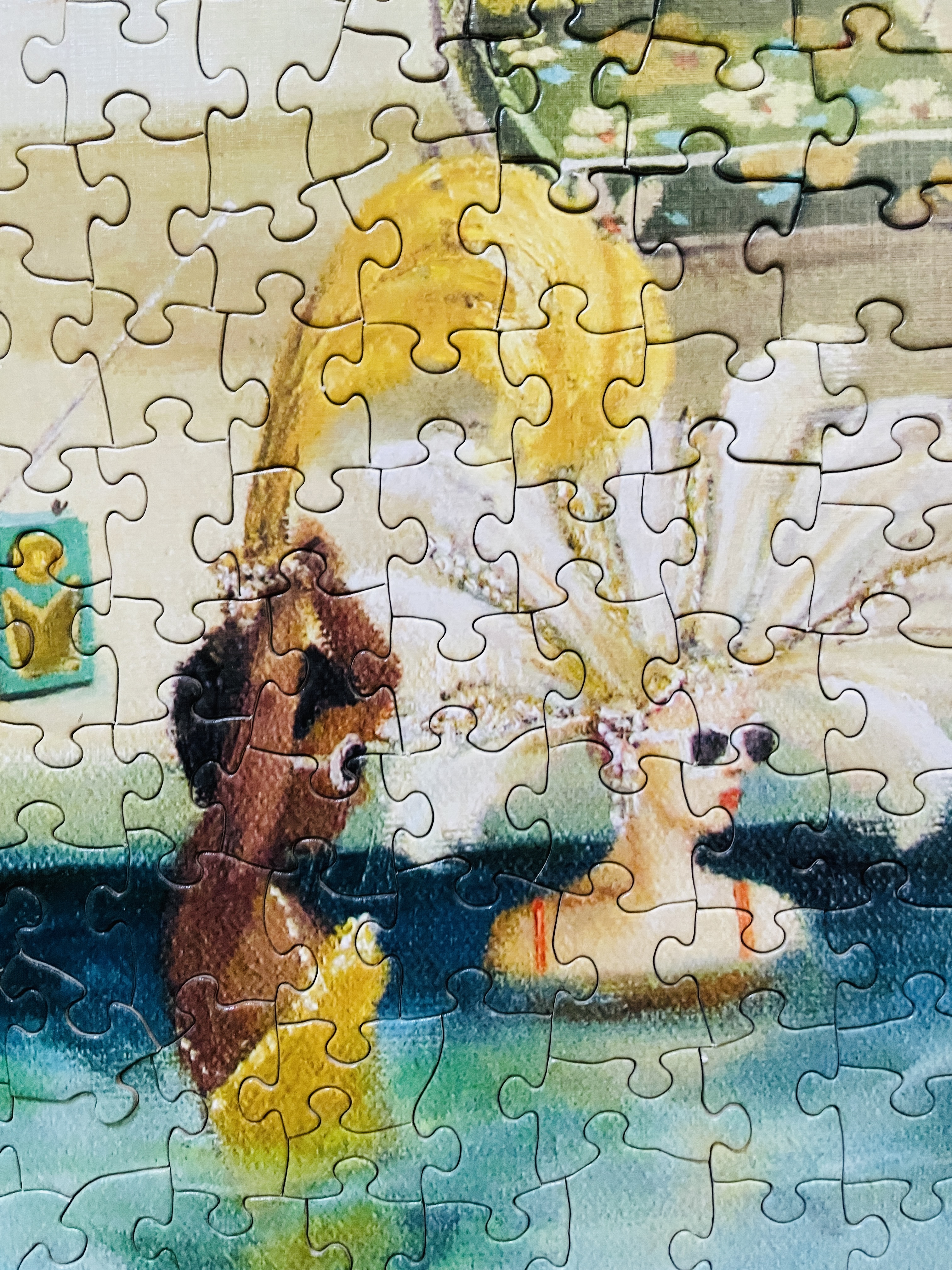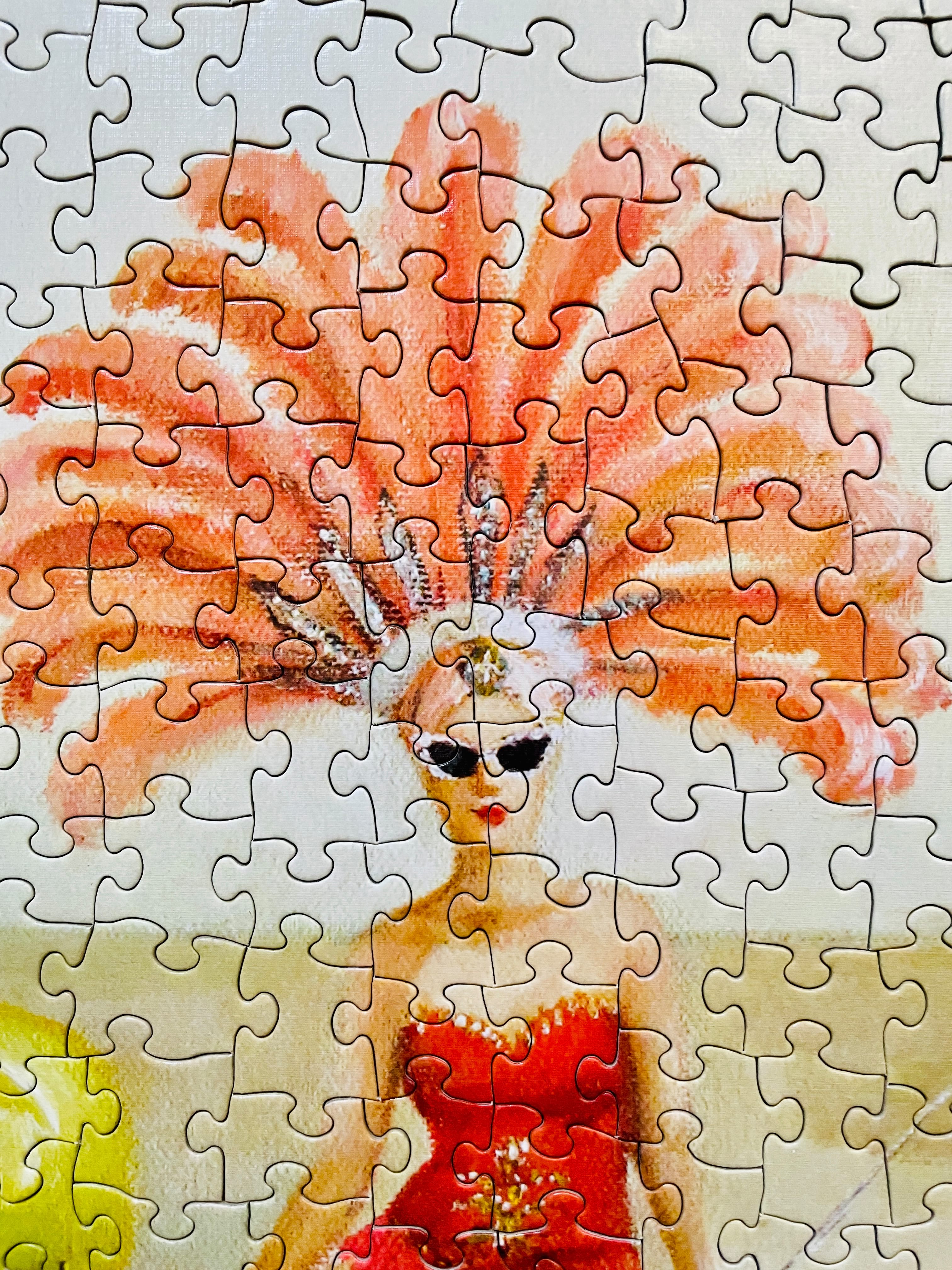 Poolside by New York Puzzle Co (check out the blog Decadent Whimsy by Sarah B for more information on this amazing new Janet Hill studio line) was the puzzle I did with the image. Funny enough, as soon as I started this puzzle, I knew it was going to be much more difficult than Special Delivery. It was then that I knew I had made a truly grave error, and I really wish I had reversed these puzzles. Even with the image, this puzzle was a bit tricky, so without the image, it would have definitely given me the experience I was going for. Why, oh why didn't I make better choices!!!
Ok, are we ready for the comparison??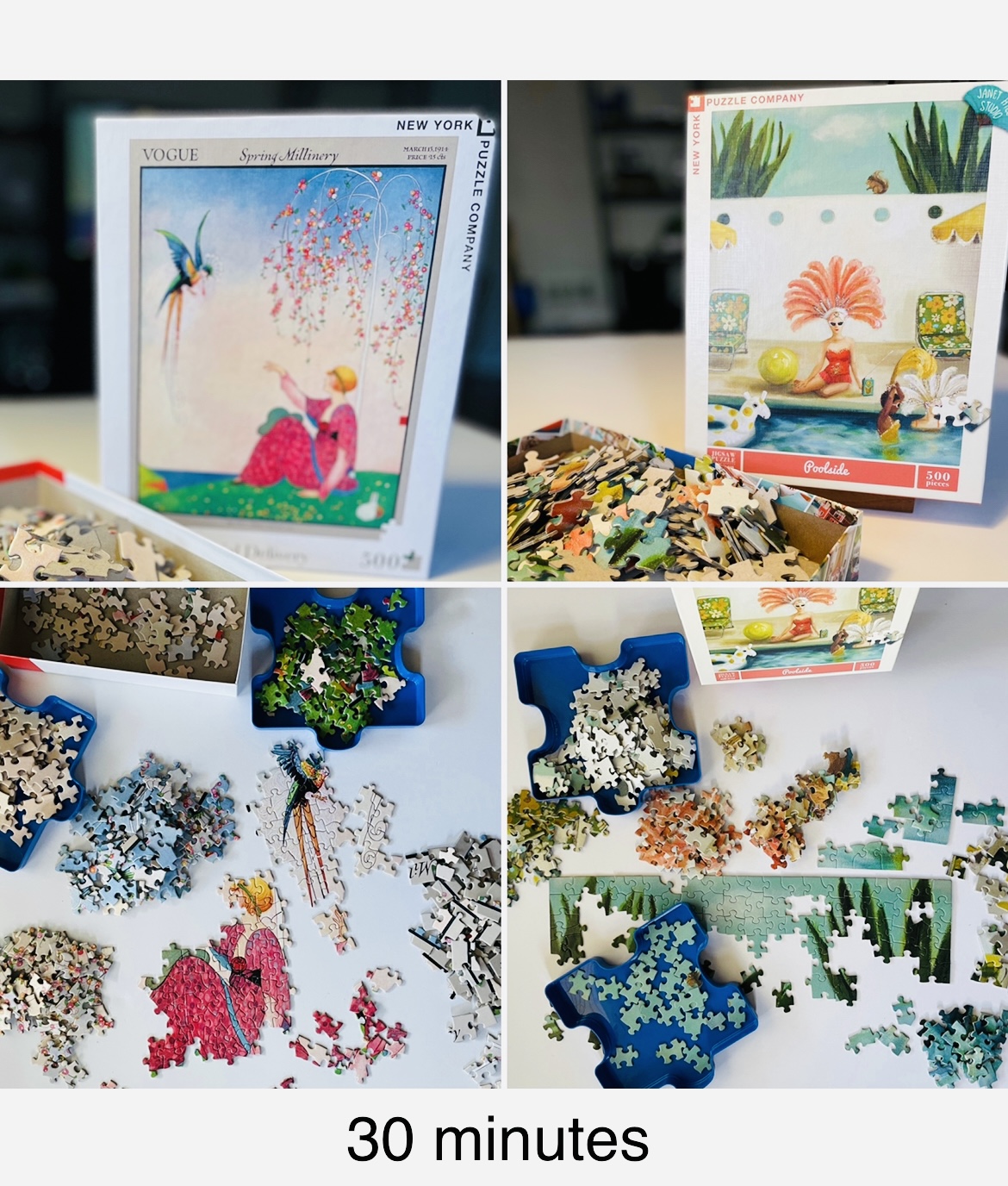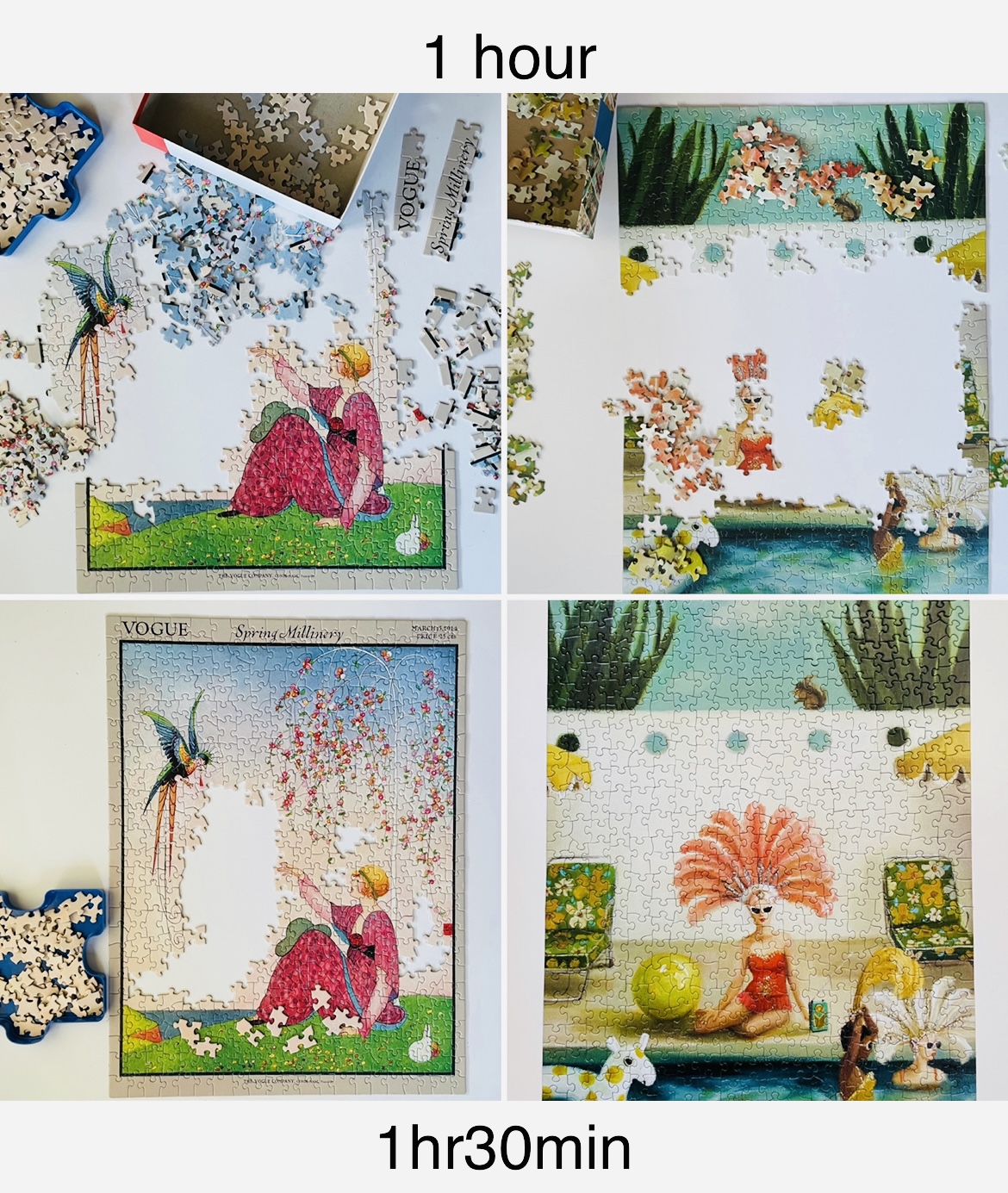 All in all, what I can tell you is that I think every single puzzler should try a puzzle without the image. If you do multiple puzzles a month, maybe make it a goal to do one puzzle a month without the image. And don't be like me- choose a nice difficult puzzle. It's an incredibly different experience, and 100% worked my mind in a different way. My emotions ran the gamut of panic, a little bit of terror (I mean, as much as a puzzle can terrify you), and then the timid 'I think I can do this', and then the bravado of 'I got this' all in the span of about 5 minutes. Who doesn't think that emotional roller coaster sounds like fun?? But in all seriousness, it was a really unique experience to get to attack a puzzle completely differently, and I think every puzzler needs to try it out. I'm wondering if I should try this again later in the year with two much more difficult puzzle images. What do you think?
Until next time my Jigsaw Junkies- step out of your comfort zone and try puzzling without the image! Let me know what your experience is- I'm very curious!
Amanda @600hoursofpuzzle
PS: I couldn't help myself- here's some cuteness to brighten your day!
I'd love to see you try this again! I heavily rely on images when the puzzle is detailed (Jan van Haasteren for example).