The Wizard of Puzz
It's hard to believe we're already almost halfway through 2023. It feels somehow like I've blinked and, bam – it's June! Around this time last year, I first met my ride-or-die NYC puzzle friends, the Puzzle People of NYC, and this year we're celebrating the first major one-year milestone. Putting aside that celebration, June is always a favorite month of mine. My birthday is at the end of the month, and the lead-up is Pride Month, the annual fete dedicated to LGBTQIA+ pride, here in New York City and around the world. It's also Father's Day coming up, and that ties into my reasons to celebrate this month as well, as you'll see.
As part of that celebratory mood that June brings, I've decided that piecing together an Oz-themed puzzle makes a perfect pairing. During my childhood in suburban Pennsylvania, my dad would bring home the books in the Oz series by L. Frank Baum, reading them to me as a form of father-son bonding in spite of his long commutes at the time. I'll never forget those formative stories, which shaped my imagination as a child. My love of Oz carried on into adulthood too as I became a bigger fan of Judy Garland and came to appreciate the complexity of her life, having led from The Wizard of Oz and "Over the Rainbow" to the landmark Stonewall Uprising in 1969, which, legend has it, was fueled at least in part by the LGBTQIA+ community's response to Garland's funeral one week prior and the lingering grief of that occasion, which Time dubbed the "end of the rainbow."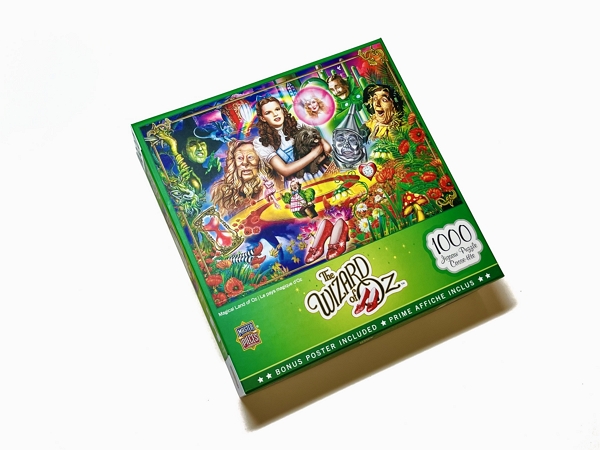 This is all a long-winded way of saying that Oz, and Judy Garland, and Pride, and reading with my dad, are all tied into one sentimental feeling of "June-ness" for me, somehow. These books that came so vividly to life in my mind during my childhood, and in front of my eyes via the Judy Garland movie, will forever be a part of my cultural consciousness. And this particular puzzle that I've chosen, Magical Land of Oz by MasterPieces, perfectly captures that same spirit.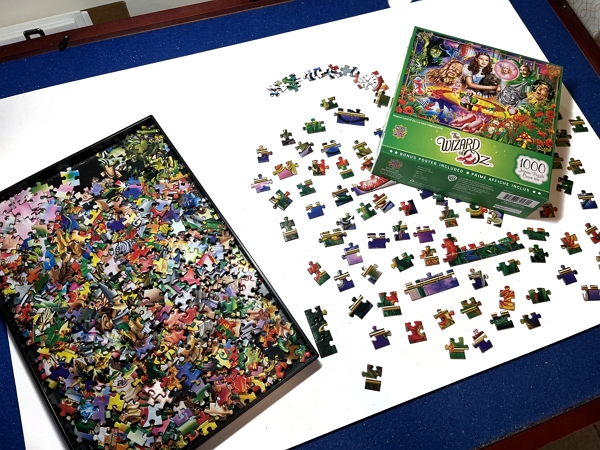 Now for a glimpse into my process with this puzzle. As I usually do, I started out the puzzling process by separating out the edge pieces. Given how distinct the different sections of this puzzle were, I thought I could simply flip over the rest of the pieces and have smooth sailing from there. (Spoiler alert: I thought wrong).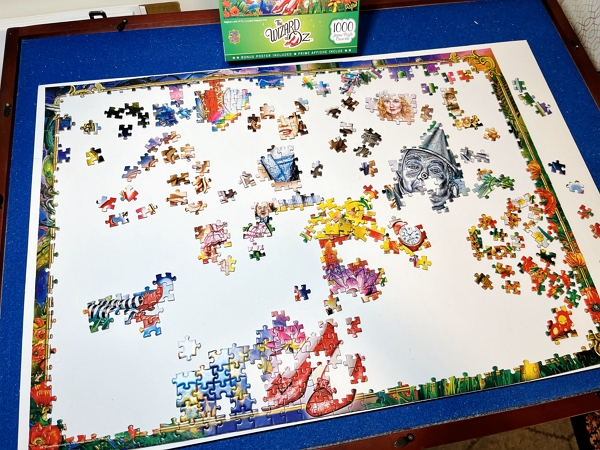 Here you can see the bit of progress I was able to make just from picking out some recognizable colors and textures – the silver of the Tin Man, the stripes of the Wicked Witch of the East''s stockings, Dorothy's gingham dress, and the ruby slippers.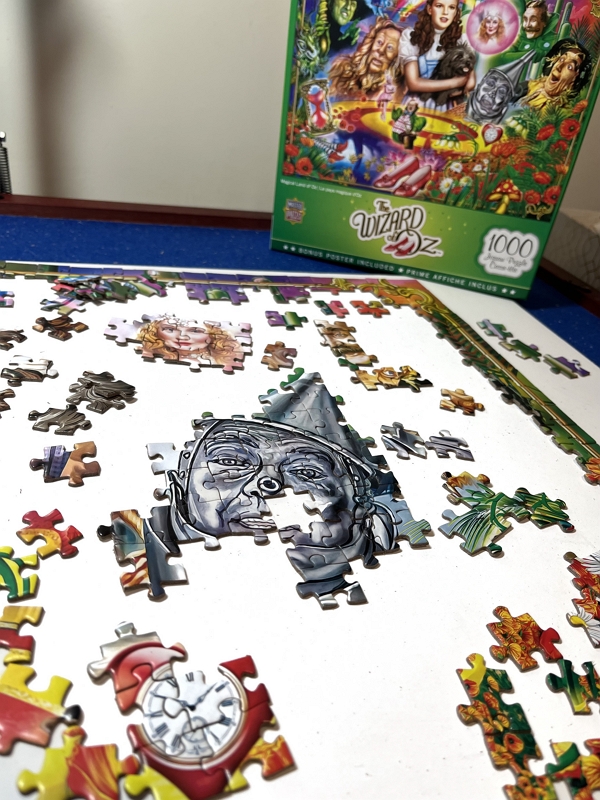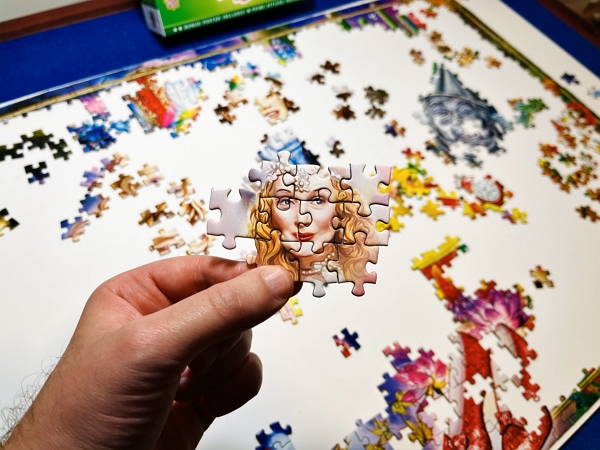 It was satisfying to see the movie characters start to take shape. Glinda's face and pink bubble stood out to me as I was turning the pieces right-side-up, so I put her section together next.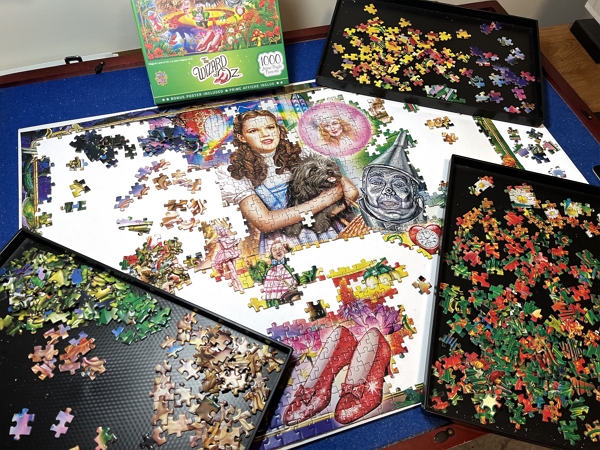 It quickly became apparent that I would need to do a round of sorting in order to make any real progress on the puzzle. I focused on some distinct categories for the sort: the green of the Wicked Witch and the vines in her corner of the puzzle, the Yellow Brick Road, green and red poppy pieces, and skin and fur textures especially. You can see the result of my sort in the sorting trays here.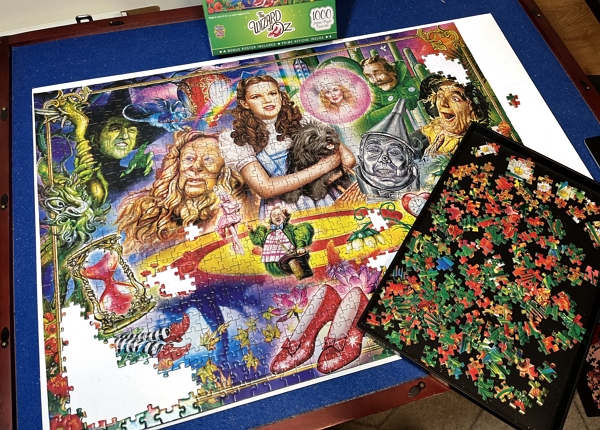 Suddenly, the puzzling process sped up! The rest of the puzzle came together so easily from here on out. The poppy pieces were the last to be completed, because theirs was the largest and trickiest section to finish.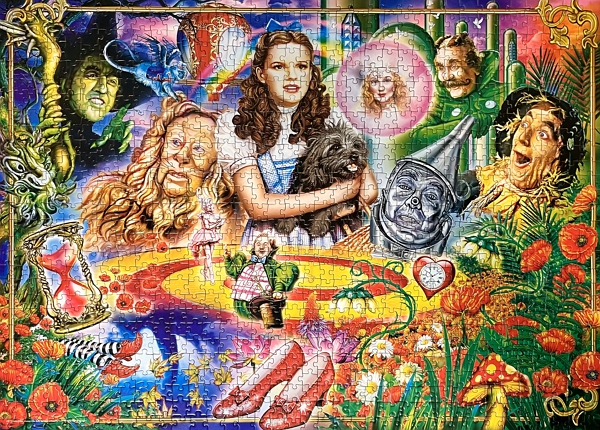 The completed puzzle looks absolutely incredible! I first tried MasterPieces as a brand recently at one of our Puzzle People of NYC meetups and have learned first-hand that they are a high-quality budget-friendly brand, comparable in quality to Buffalo Games, with sturdy, well-appointed boxes and pieces of medium thickness and semi-glossy texture (a little shiny, but not too shiny). I was especially impressed with the artwork by Ciro Marchetti, which feels almost photorealistic but with an extra-colorful, larger-than-life feel to it.
If you're in the mood to join me in celebrating June the Oz way, I can't recommend this puzzle highly enough.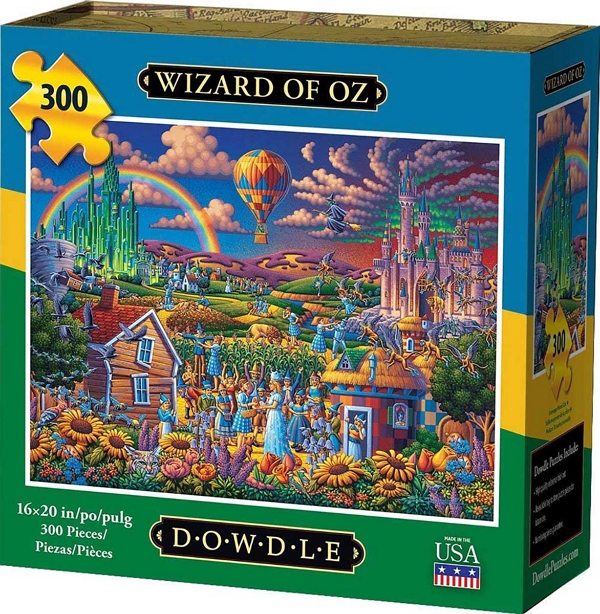 If this image isn't quite your style but you're seeking something Oztastic, fret not. Puzzle Warehouse has a number of other options up its sleeve.
I really love this 300-piece Dowdle puzzle, Wizard of Oz, which is just the right difficulty level. It's also available in a 1,000-piece version.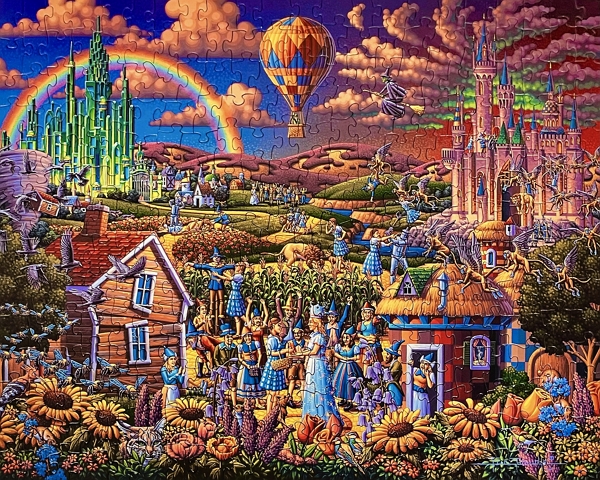 I did the 300-piece version and loved the quirky Dowdle piece shapes as usual.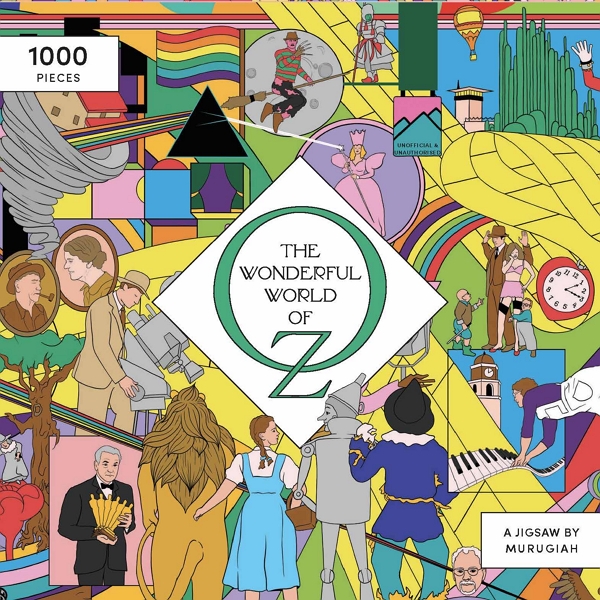 This 1,000-piece Laurence King puzzle, The Wonderful World of Oz, features a bright pop art-influenced illustration by Murugiah highlighting various Oz-related things, including The Wiz, Wicked, Return to Oz, and more.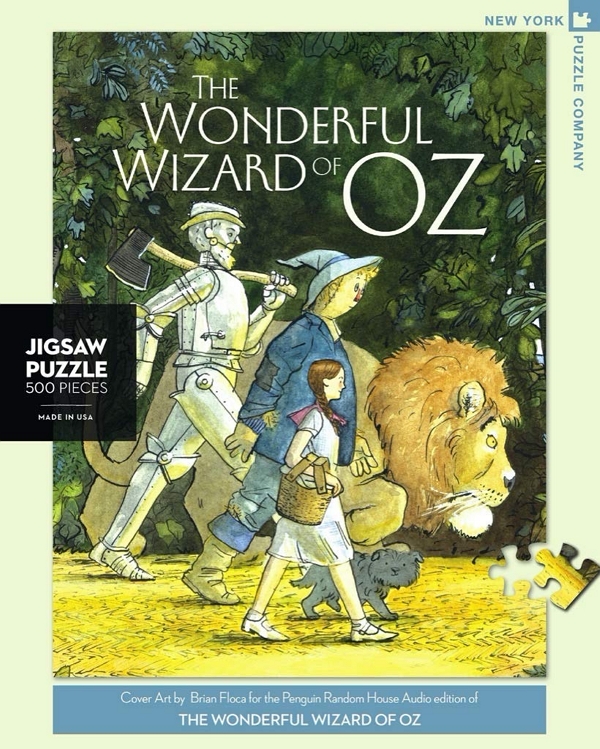 New York Puzzle Company offers this tasteful 500-piece puzzle with an illustration by Brian Floca from an audiobook version of the story.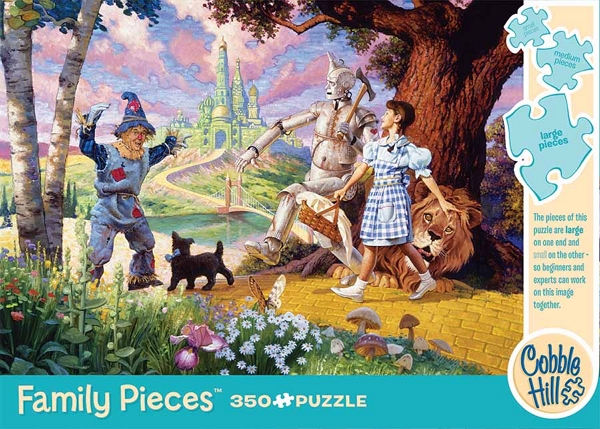 I
And if you're looking for a puzzle to complete with kids, here's a delightful 350-piece take on the Oz characters from Cobble Hill, in "Family Pieces" format, with different sections of differently-sized pieces for all ages.
No matter which Oz puzzle you choose, I hope you enjoy opening your imagination to the wonderful world of Oz. Part of the fun of this classic story is that its characters have been portrayed in a vast number of illustrated versions of the story. So whether the movie is your favorite iteration of Oz, or some other published version, there are options for puzzlers to choose from.
As I put together this month's MasterPieces version evoking the movie version, I felt in tune with all those June vibes I described early on in this post – thinking back to my childhood and remembering fun moments spent with my dad, celebrating Pride, and commemorating the life of Judy Garland. No matter which Oz puzzle you choose, I hope you join me in journeying over the rainbow through puzzling this month, and take a little time to turn a gray day into technicolor.
-Richard (@piecebypiecepuzzler / YouTube channel: Piece By Piece Puzzler)