An Ode to Aimee
This isn't your average artist review, this is a love song to one the most wonderful and prolific puzzle artists out there, Aimee Stewart. You can find ample factoids and data points about Aimee in plenty of other interviews and reviews, including here on Puzzle Warehouse Jigsaw Junkies Blog, or on her own website. This isn't that, but is the more emotional side, bringing all the joy, love, and inspiration to the surface.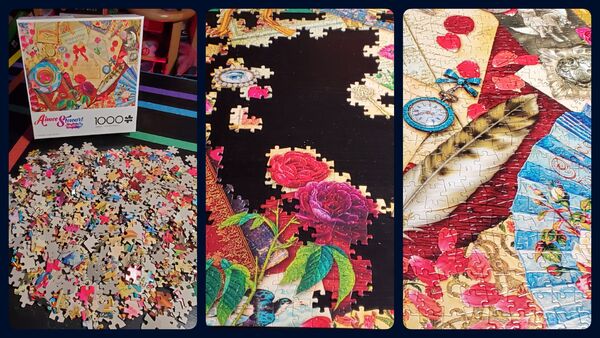 "We do this art thing, or we burst into flames..." - Sam Raffa
Oh boy, has she done this art thing, with the fury of fire raging inside of her, and spilling out onto her canvas. Dangling her feet off the edge somewhere between the realm of pure fantasy, and retro whimsy, blurring the lines between modern and vintage, with color choices that cannot do anything but make your soul sing. Picturesque scenes filled with memories, bookshelves filled with adventure, collages of treasures and tchotchkes collected along her journey, Aimee truly pours herself into her artwork.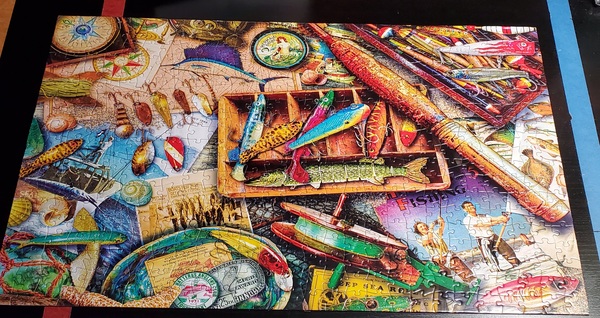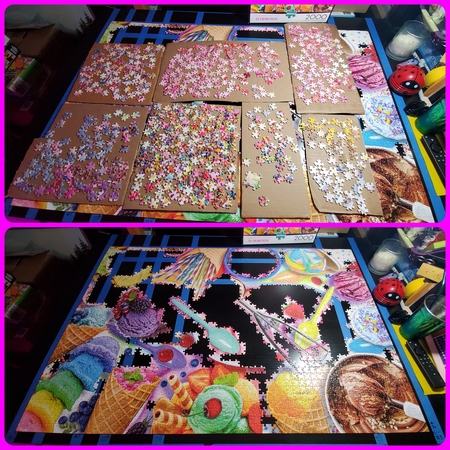 Fun Fact direct from Aimee: "Those are my mom and siblings name on the scoreboard, and my dog too. The reason it is the 29th annual bowling championship is I was celebrating our 29th wedding anniversary right around the time I made this!"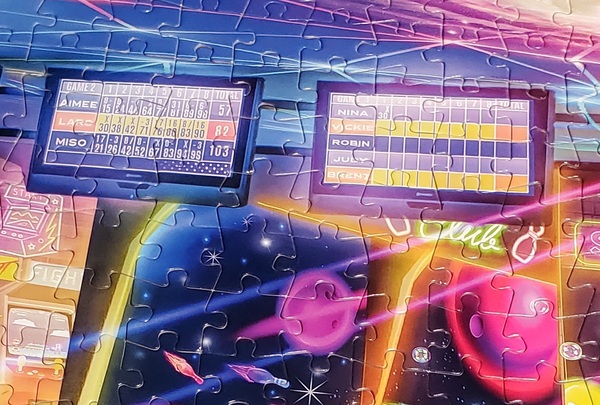 Although the month is nearing its end, an event has been happening over on Instagram, #AllAimeeApril where puzzle lovers have been celebrating the Queen of Color with a puzzle-along across the world with completing her puzzles and sharing all their amazing images pieced together.
"#AllAimeeApril is a a great display of how loved Aimees puzzle artwork is. Colors, fun themes, retro vibes… they've got it all!" - @Slightlypuzzled
The vibrant, eye-catching colors are enough to get one interested, but the details packed in will keep you engaged and on a visual treasure hunt. Did you know that most of her artworks feature a fox somewhere?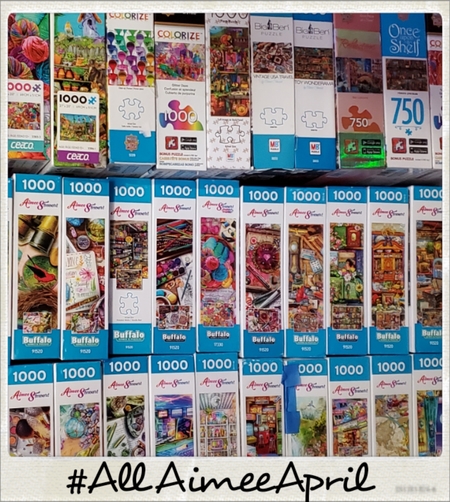 Something Aimee goes above and beyond with is her connection to folks on social media. Regular posts, comments, likes, and shares, you can see she not only takes pride in her work, but truly appreciates those who enjoy it. You can be sure to get the "inside scoop" on any of her works in progress or upcoming releases direct from her.
"Aimee reposts literally everything she's tagged on in her stories, and I think that is so cool. She really appreciates her fans and you can tell." -@Puzzled.mama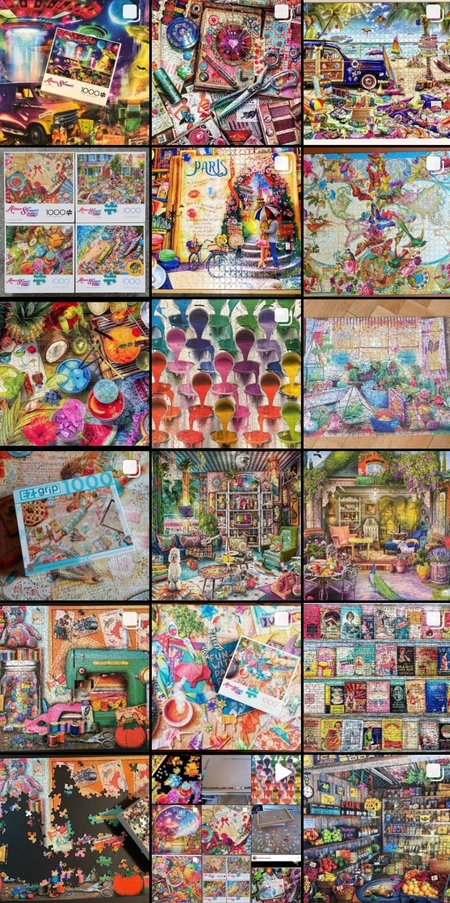 From the clever candy coated collages to the perfectly placed pink parasol, there is a magical world to crawl into and get lost. Swept away, feeling all that Aimee has put into her work, each handwritten note tucked behind a pair of binoculars, a concert ticket with a specific date on it, a critter perched on a shelf…all of it has a meaning, a purpose of why it is there, or how it came into her world, and why she is sharing it with all of us. If you've seen any of the photos of her studio, home, or cozy dwellings she burrows up in, you know that she is surrounded by inspiration. Vintage bottles and phones, records, sparkly birdcages dripping in glitter. I like to imagine her brain is hooked up to a projector inside of a mirror ball, her creative genius exploding out into the world and dancing in the light of all of our eyes.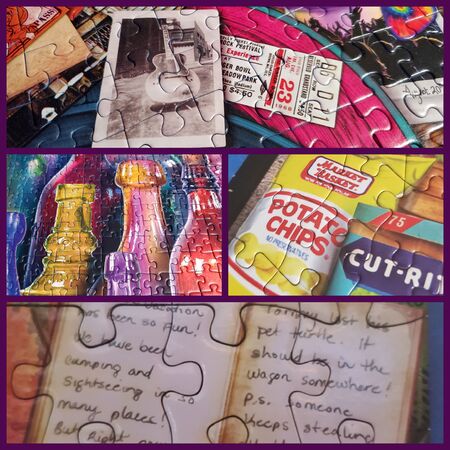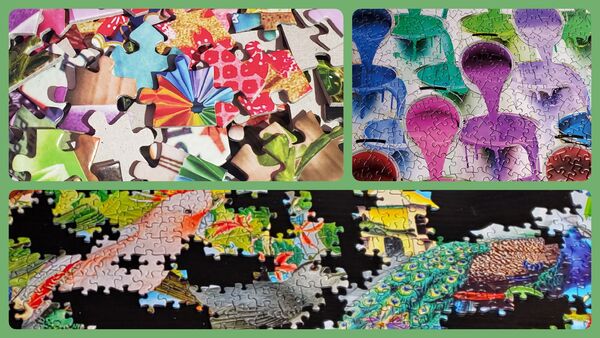 Do you like butterflies, books, or baking? She's got you covered. Cupcakes, donuts, a glass of wine in the garden? Those exist too. If your vibe is mermaids and pirates, or pizza and bowling, there is a happy little piece of Aimee with your name on it. 300 pieces to 4000 pieces, color splash to circus lights, there is a puzzle to suit your every whim, want, or need. Like a good book, an Aimee puzzle is a good way to spend an afternoon cozied up in whatever your dreams look like, or use her created lands to escape and drift away.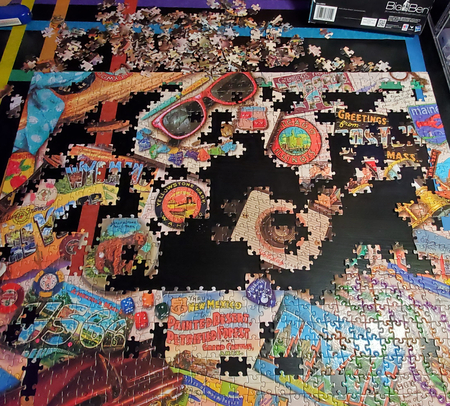 It maybe could go without saying, but I've said it all now. We love Aimee, and are thankful for the palaces built out of pieces for us. Good vibes only.
-Jenn / @puzzleknucks
P.S. Special shoutout to her vibrant loving husband Lars Stewart who is also a loved puzzle artist, although he likes life out of the social media spotlight. He does get enjoyment when Aimee shows him what people have done of his too.