Audiobooks & Puzzles? Yes Please!
Hey there, I'm Emilee, one of the new ambassadors with Puzzle Warehouse and I'm excited to share with you my first blog post! I have been puzzling since I was teeny tiny and in the past couple of years have discovered the puzzling community on social media when I started my YouTube channel, The Casual Puzzler.

One thing you should probably know about me and what explains a lot about my personality, is that my upbringing was unconventional. I grew up on a mountain in Maine, in an old farmhouse that had no electricity. We didn't have tv channels, radios, or computers. Nor did we have the endless supply of electric light in the evenings. Some of these everyday essentials gradually were installed, but even to this day there is barely any cell service. I could fill a whole book with my childhood stories. However, you can see why puzzling was one of my favorite pastimes. Now I live with my husband and our three cats in California and continue to puzzle.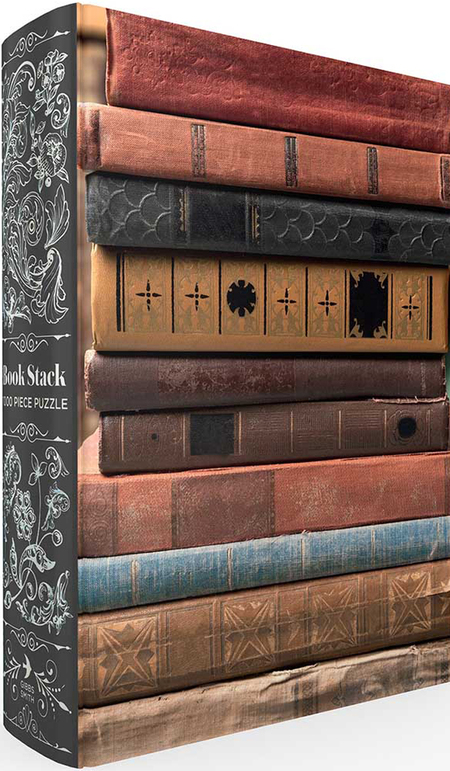 Book Stack | Gibbs Smith | 1000 Pieces

For me puzzles and books have always gone hand in hand. It may be because they are both calm indoor activities to do on rainy day, or they were both hobbies I could do on a weekend with no electricity. Puzzles with books on them are some of favorite types of images. There's even a whole category just dedicated to books and reading that you can find here. I love doing puzzles with words within the image and something about the color blocking of a bookshelf makes a puzzle oddly satisfying to put together.

I also love doing puzzles about a particular book that I have previously read. For example, I have done several Harry Potter puzzles, and have had both Wizard of Oz by New York Puzzle Company and Jane Austen's Book Club by eeBoo on my wish list for a while now. What makes these options appealing to me is that I can remember the books as I'm doing the puzzle. Sometimes I may watch the movie afterwards or during, but it didn't occur to me until recently to listen to the audiobook WHILE puzzling.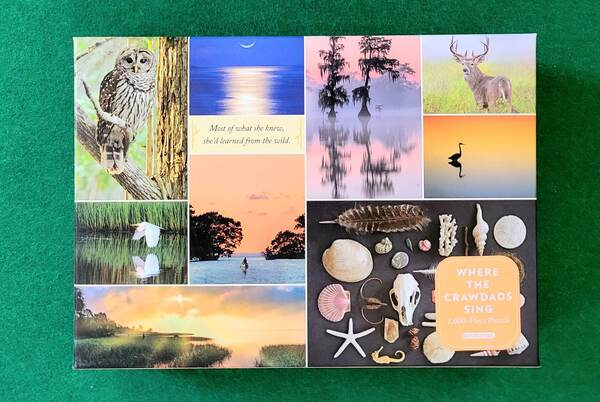 Where the Crawdads Sing | Workman Publishing | 1000 Pieces

The idea struck me when I stumbled across the 1000 piece puzzle Where the Crawdads Sing by Workman Publishing. I am often listening to an audiobook while puzzling anyways, and I was curious if it would alter my experience with the book. The puzzle is based on the novel by Delia Owens, a book that I have read twice, listened to the audiobook, and watched the movie adaptation. You can say, I'm a fan of the story. The story is about an orphaned girl who is left to her own devices within a North Carolina marsh. There is murder, mystery, and a bit of romance, three genres that I enjoy.
I set up my puzzle table, with two cats willing to help and started both the audiobook and the puzzle at the same time. Are you someone who does a big sort or just goes with the flow?? I am someone who does not have patience when sorting pieces, so I was surprised I sorted more than just the edges at first. Now, let's not get ahead of ourselves. I sorted out the edges, words to the little quote, the pieces for the blue, and all the pieces that divided the collage. Everything else went back in the box to deal with later.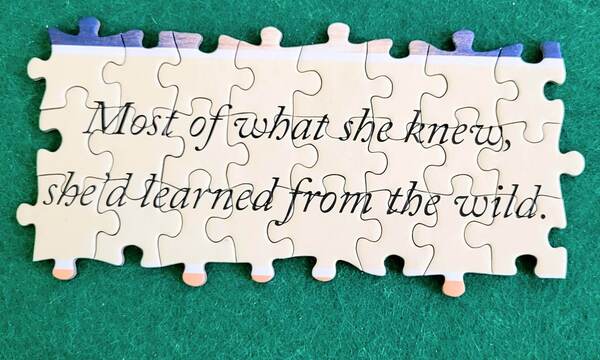 Here is a crazy thought – I didn't do edges first. I know! GASP!! I couldn't help myself and did this tiny little section first. Again, I like puzzles with words in them. But, going further I continued with the dividing pieces and blue square before I even touched the edges – a scandal.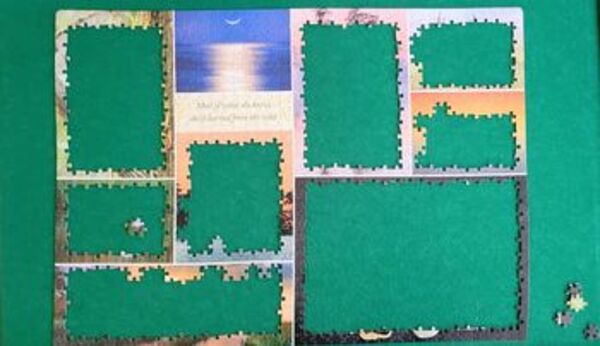 Let's just say from the very start, I was hooked on this puzzle… and the book. I listened to the book while doing sections of the puzzle that gave imagery to what I was hearing being described. For example: Kia, the main character, collects samples and artifacts from the marsh's creatures and plants. I really enjoyed filling in the section of the puzzle that was exactly that. I enjoyed putting together the different images of the marsh and the different sunsets that I was hearing about.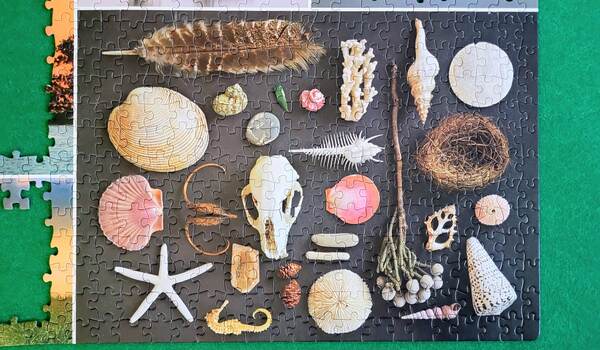 Another question for you. What types of images do you like to do? It always intrigues me because we all have our own preferences. I am someone who typically does illustrated puzzles like, All Good Things are Wild and Free.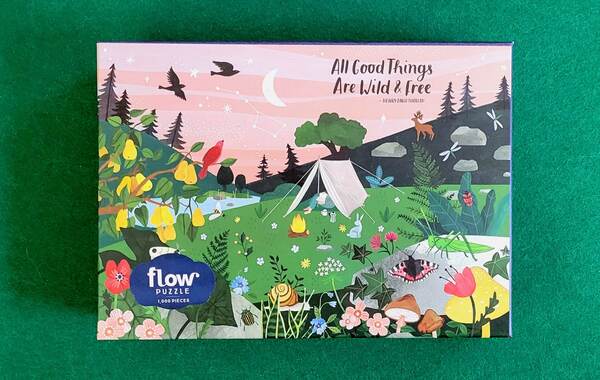 All Good Things are Wild and Free | Workman Publishing | 1000 Pieces
However, over the past couple of years I have discovered, I love doing sky. It could be an orange sunset, cloudy blue, or starry night, it is extra relaxing for me, and I find them satisfying and calm to put together. So, I was thoroughly enjoying all the different variations of sky that I was able to put together in this puzzle.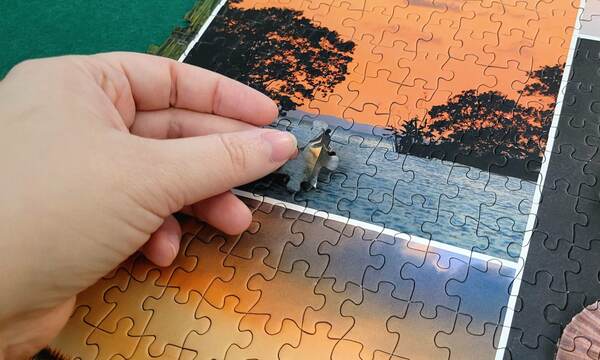 I think what I noticed while working on this puzzle is that, unlike previous times I had heard the story, this time around I was captured and more aware of the descriptions and visualization within the writing. Maybe it is because I have a medium to use as a guide or maybe because the puzzle was about the story, and I wasn't as distracted. I'm not sure, why this was, but I noticed more about the landscape and tone.
This got me thinking, does it have to be a puzzle based directly on the book for this to work? I don't think so. Even though the Where the Crawdad Sing's puzzle is based on the book, it isn't accurate but still effective. Kia has a small motorboat, not a kayak and I don't remember anything about an owl in the book.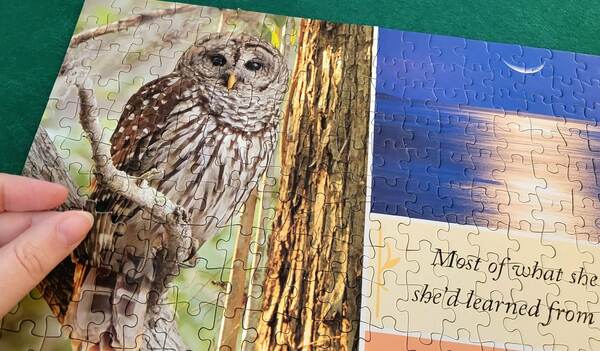 However, should I be picking my audiobook off the puzzle I am doing or vice versa? For example: if I was listening to a book based in the woods, should I do a puzzle like, Forest Path by Eurographics? If I were doing a puzzle that was in a fantasy style, should I pick a book or movie of the same genre? I'd be interested to explore this going forward, to see if I have a similar experience. Maybe, it will make the whole experience a bit more memorable.
Anyways, I hope you liked my first blog post! Let me know if you have done something similar or if there are any bookish puzzles that you have enjoyed in the past!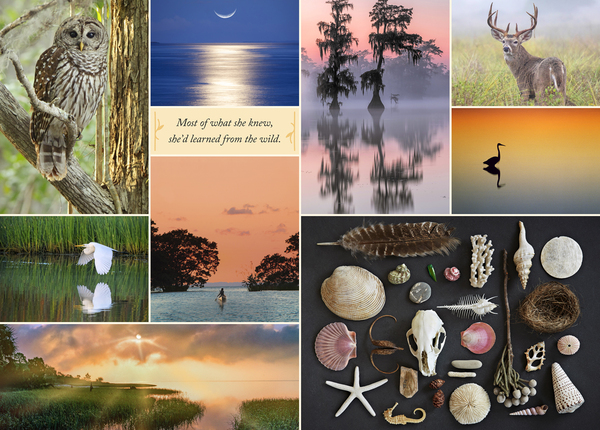 Emilee –The Casual Puzzler