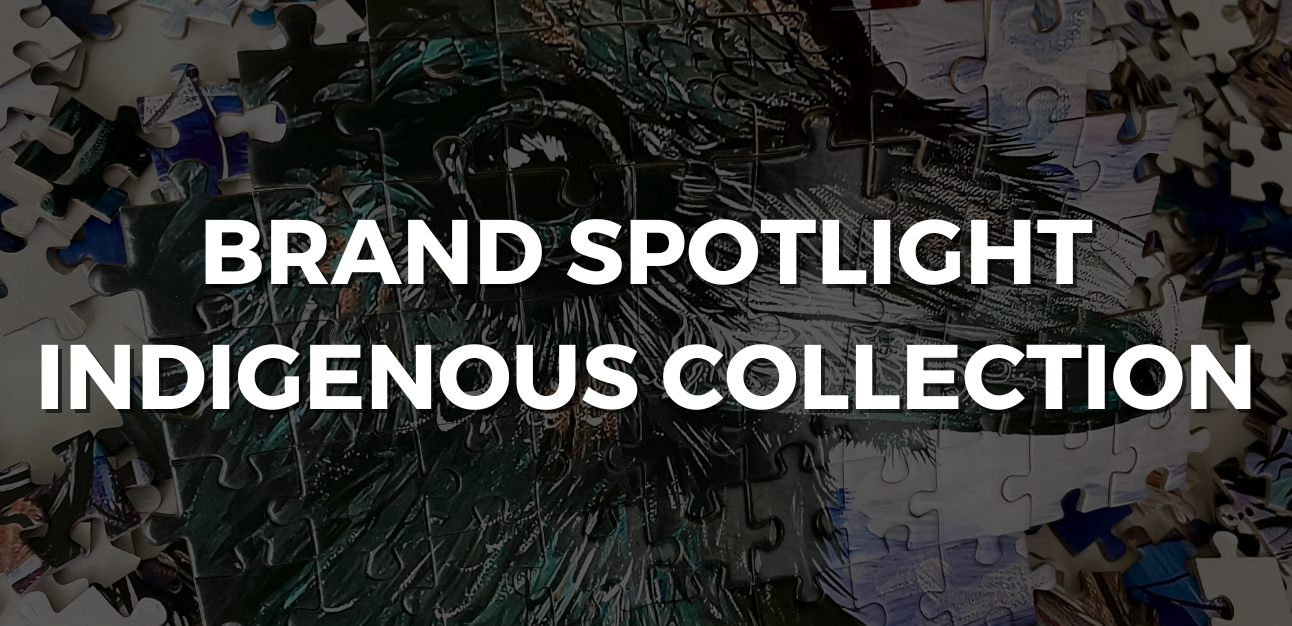 Brand Spotlight: Indigenous Collection
Most of you know that I'm an Australian puzzler. A lot of brands available in the US are either not available here or can be difficult and pricey to acquire. I'm so very grateful for the opportunity of being a 2022 Puzzle Warehouse Ambassador, as it has provided me with so many happy moments as I unbox puzzle brands that I've desired and have been so hopeful to try.
The brand Indigenous Collection was unknown to me until I became an ambassador. The one and only thing that attracted me to the brand in the beginning, was the stunning artwork that is featured on all of their puzzles. Once I found out more about the company, I was even more interested in trying one of their puzzles.
I've mentioned a few times that birds in puzzles are my thing, so the beautiful "Raven Dream Catcher" was added to my wishlist. I was so happy when I received it in my last ambassador box.
First a little background on the Indigenous Collection brand. The Indigenous Collection is a brand under their parent company Canadian Art Prints and Winn Devon Art Group. The second generation family-run Indigenous Collection has been in business for over 50 years. They specialize in indigenous art and represent cultural backgrounds from across North America. Some of their artist relationships have spanned an impressive 40 years.
One of the most wonderful things about The Indigenous Collection is that they look after their artists. Every indigenous artist receives royalties from the sale of products featuring their art. "Raven Dream Catcher" is designed by indigenous artist, Carla Joseph. Carla's cultural background is Métis/Cree.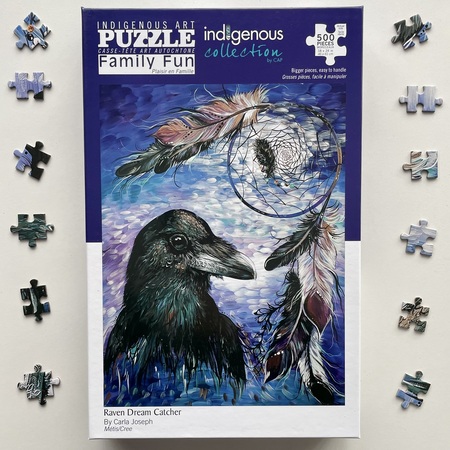 Now onto the puzzle! This particular design is made with 500 large pieces. There was a time when I would bypass any puzzle under 1000 pieces, but lately I've been enjoying smaller piece counts. As someone who wears glasses for reading, I really appreciate larger pieces when sometimes it's just too much effort to find the aforementioned glasses.
This puzzle is ribbon cut with traditional shaped pieces and I can confirm you won't find a single false fit. The pieces are a perfect thickness and I didn't experience a single damaged piece. No bent tabs, no splits and no peeling. Puzzle dust was also very minimal.
As with just about every puzzle, each piece in "Raven Dream Catcher" is a tiny work of art all of its own. The original artwork was done with acrylic paint and I love that you can see the individual texture in each brushstroke. I also really enjoyed the combination of heavier brushstrokes and the fine lines that make up the image.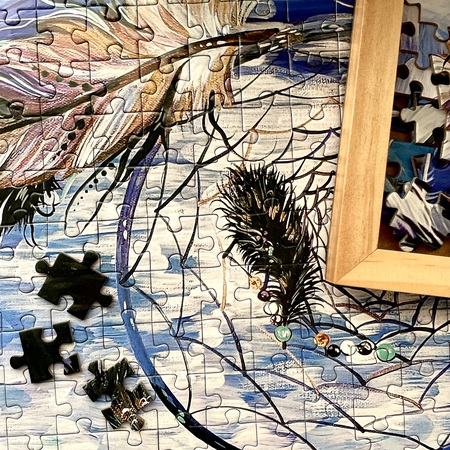 I did a very basic sort when I started this puzzle. I mainly sorted out the background and edge pieces then laid out the remaining pieces on my puzzle board. After the edges were put together, I had every intention of building the raven first but my puzzling brain had other ideas and the dream catcher and those beautiful feathers materialized first. You can see in the above photo the brushstrokes and fine lines I mentioned earlier.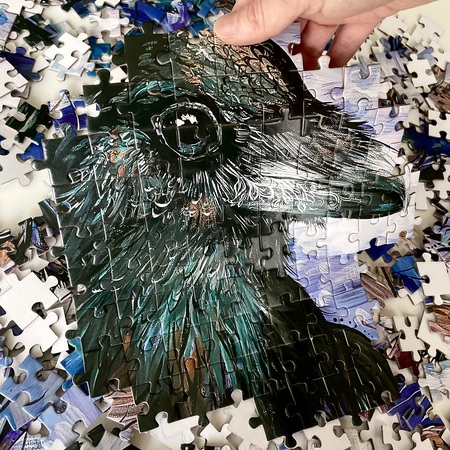 This puzzle went together like a dream (no pun intended). It had just the right amount of challenge for me. I always enjoy matching patterns and lines and the image had a perfect amount of both. The image was sharp without a hint of blurriness. I loved that I could piece together large sections and pick them up without them falling apart. With this puzzle, I found myself sitting at my puzzle board for a longer than usual puzzling session. I think it was a combination of pure enjoyment as well as addiction that kept me from wanting to stop. It really does show the power of what the right image and quality in a puzzle can do.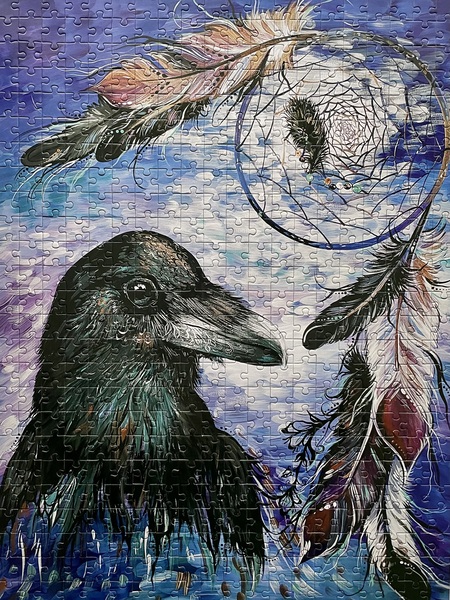 As you can see, the finished puzzle is stunning. If I was someone who framed completed puzzles, I absolutely would have done so with this one. It was a joy to put together from start to finish. The quality of the Indigenous Collection is fantastic. I couldn't find a single fault with the puzzle and as a result have added more to my wishlist. Please check out the Indigenous Collection on the Puzzle Warehouse website if you haven't already!
Until next time,
Rell @relishpuzzles