Brand Spotlight: Pomegranate
Hello Puzzle Fam! Today we are going to talk about my all time favorite puzzle brand, Pomegranate.
I remember my first Pomegranate. The year was 2019 and I had just gotten back into puzzles. I found myself in the possession of Gustave Baumann's Plum and Peach Bloom. I didn't really love the image, but I had never put together a Pomegranate and I wanted to try all the brands! I remember thinking how gorgeous the box design was and how amazingly the pieces fit together. The finish was unlike any other puzzle I had done before and the end result was this gorgeous, museum quality work of art, just sitting in front of me! After that, Pomegranate became the gold standard of puzzles for me.
Today, I have the most supreme honor of bringing you not only a peek at Pomegranate's newest releases, but also an interview with their publisher, Cory Mimms!
This is my Graceland, people.
*This interview has been edited for length and clarity*
How did Pomegranate come to be? Did the company start out in the puzzle business, or was the puzzle line started later?
Pomegranate was founded in 1968 in San Francisco. Thomas Burke, who still serves as Pomegranate's president, loved the art in the music venue posters and began distributing these posters to stores in the bay area. It was art featuring artists that no one outside of limited circles, like concert attendees, might have been lucky enough to see. So the business expanded quickly as the art became more widely seen. It was less than a decade later that Pomegranate had expanded and was reproducing art on calendars, notecards, and in books.
Pomegranate has published numerous formats and continues to have an expansive line of calendars, books, games, and stationery. Jigsaw puzzles were introduced about 20 years ago, and they just clicked. When you work on a jigsaw puzzle, you get to reassemble art piece by piece, finding little hidden clues you might overlook when viewing the image as a whole.
People are dying to know, why Pomegranate?
The exact origins of the name were lost when a ship carrying the company's founder and all his earthly possessions sank in the Pacific in 1977. He survived, but when he washed ashore he had acute memory loss and this bit of information is now securely out of reach in a trunk covered in coral at the bottom of the sea.
I'm kidding about the shipwreck. The name was chosen because the company's founder liked the way it sounded and the symbol resonated with him. Now, several interpretations have arisen, from pomegranates being ancient Greek housewarming gifts meant to bring abundance, to the fruit having an intricate appearance when sliced open that's mesmerizing to look at (like art). What's important is that the name Pomegranate has become synonymous with the love of art and the desire to consume it, to have more art in your life.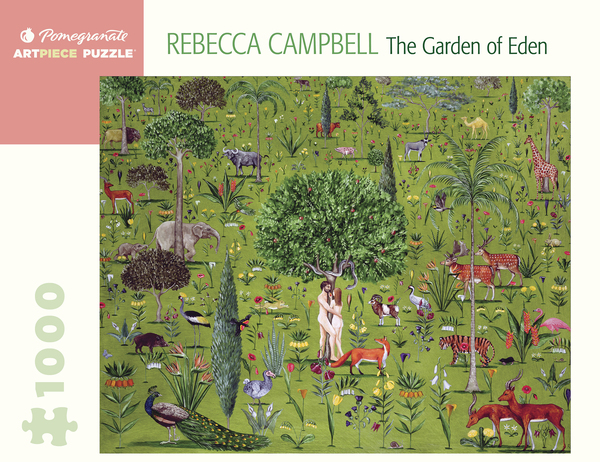 The Garden of Eden | Pomegranate | 1000 pieces
How do you go about choosing and sourcing your art? Do the artists submit their work to you or do you pound the pavement, so to speak? Do you take suggestions from fans?
We find art in all ways. We have an open submission line, we ask our fans to give us feedback, we work closely with galleries and museums, and we pound the pavement, as you said, to find people we haven't yet heard of.
Your catalog is quite extensive, and runs the gamut from classical fine art to modern art. Have you featured any new, contemporary artists?
We feature new contemporary artists with every release. In just the last year, we've published a slew of puzzles by many contemporary artists new to our line, including Amy Lincoln, Faith Ringgold, David Galchutt, Jon Ching, Ruben Topia, Yeanni Koo, Pablo Amaringo, Jan Barwick, PJ Crook, Heidi Taillefer, Jack Stuppin, and Phyllis Shafer. All of them are creating amazing work, and we're thrilled to be their puzzle publisher.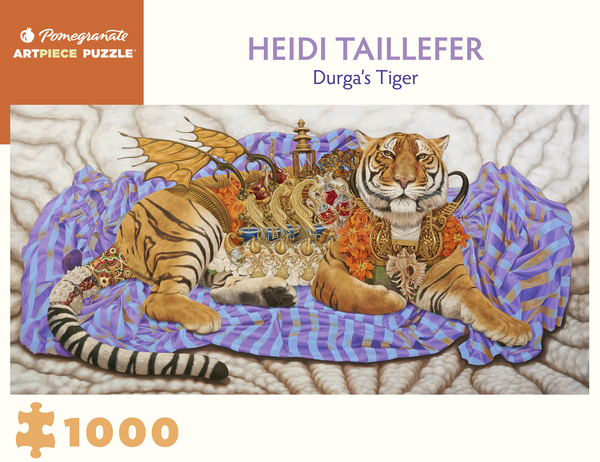 Durga's Tiger | Pomegranate | 1000 pieces
What does Pomegranate do to incorporate diversity and make sure BIPOC artists get featured?
Pomegranate has a wide network. We listen to curators and artists and colleagues who help us discover art by people of all backgrounds. Pomegranate also has a long history of publishing a diverse range of artists because we've always looked to publish art that inspires us. Exploring art to its fullest naturally leads to seeing art by a wide range of people. Much credit also goes to Pomegranate's former publisher, Katie Burke, who retired last year. She was a driving force behind publishing people of all backgrounds.
Eagle eyed Pomegranate fans have noticed a change in your puzzle construction. The pieces are slightly different and the bag has changed to non resealable. Have you changed manufacturers?
We're still partnered with the same manufacturers. Over the last two years, our puzzle printers have upgraded their equipment to produce more puzzles at the same great quality. Those upgrades have changed a few things for us like, for example, the bagging machine, which required a new type of bag seal to integrate with the new equipment.
I can say without a doubt that we're making the best puzzles out there. Our printers have the best die presses and source the best chipboard you can find. Our color reproduction is museum level. We work with institutions like the National Gallery of Art and the Smithsonian and hundreds of others who hold us to a very high standard. We print only on matte art paper designed to reduce glare and capture color accurately, and we carefully compare our color proofs under calibrated lighting.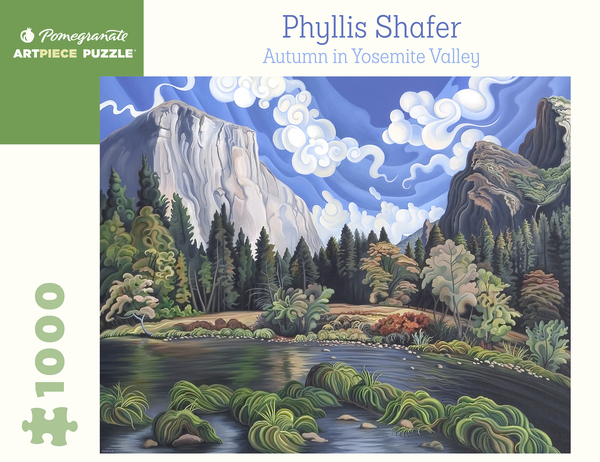 Autumn in Yosemite Valley | Pomegranate | 1000 pieces
What is your most popular puzzle and artist?
It varies by region and store type, but our 1000-piece puzzles are the most popular piece count. Artists Charley Harper and Edward Gorey are always hits, but contemporary artists like Faith Ringgold and Jon Ching have a large fanbase as well. There's always a run-away hit every release. This summer, it was PJ Crook's puzzle Tuesday, which depicts people from all over the world reading newspapers from around the globe. As soon as that one went live on our website, it was flying out the door.
How many times a year do you release new puzzles?
Three or four times a year. Winter, summer, and fall are a guarantee, and then we sometimes release new puzzles in spring as well.
For any Pomegranate newbies out there, what would you like them to know about your puzzles or brand?
First, we love art. Every single person at Pomegranate connects with it on a unique level. We want to share the art we love with others, and we hope that people will share their favorite artists with us and with their family and friends too.
Second, we're a family run business. Our staff is about 30 people, and we do our own warehousing and distribution. So it's a small team that does so much to make sure that we're making the best puzzles you can get, followed up by the best customer service and order fulfillment team out there. But we're not just a puzzle publisher. We have a massive range of notecards, calendars, books, and more. The company was founded with the goal of creating high-quality items with unique art and information, items that you'll want to delve into and have on display in your home, and Pomegranate will always continue to have that as the foundation of what we do.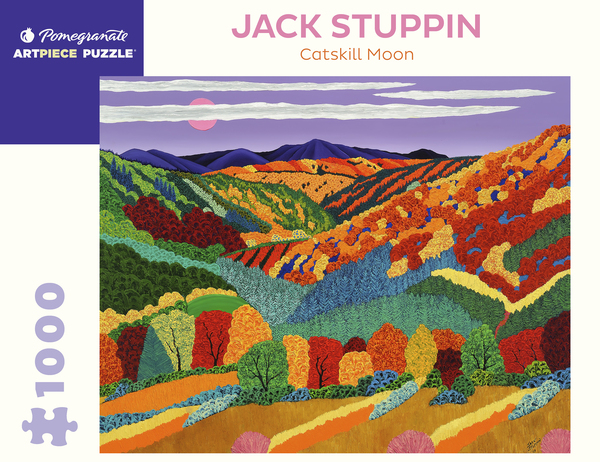 Catskill Moon | Pomegranate | 1000 pieces
Is there anything that you'd like to share with fans, any exciting upcoming releases or when we'll be seeing another 2000 piece puzzle?
We just released 12 new puzzles in June and six in July. We're excited to say we have the first ever original Charles Addams puzzle featuring the amazingly famous Addams Family. We also have new artists in our line who have never been published in puzzle format before.
As for the next 2000-piece puzzle, that's already in the works and comes out this winter. I can't give it away quite yet, but let's just say, it might be the best image we've chosen for a 2000-piece puzzle yet.
For anyone who wants to stay up-to-date on what Pomegranate is releasing, I'd encourage them to follow us on Instagram!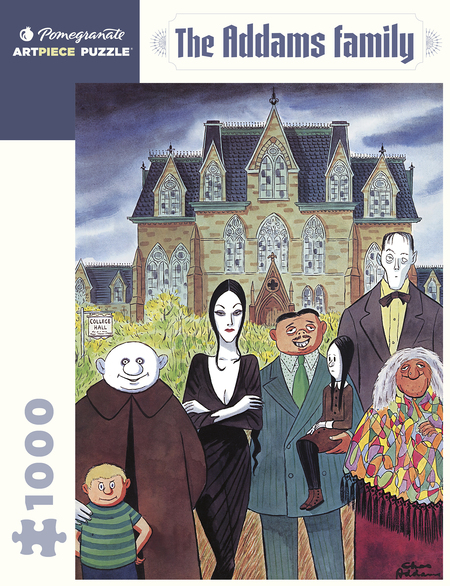 The Addams Family | Pomegranate | 1000 pieces
And now, without further ado, one of Pomegranate's newest releases, Edvard Munch's The Sun! As someone who doesn't know a lot about art history, I had no idea the Munch did anything other than The Scream. That's one of the reasons why I love Pomegranate so much. This company has single handedly educated me on so many works of art.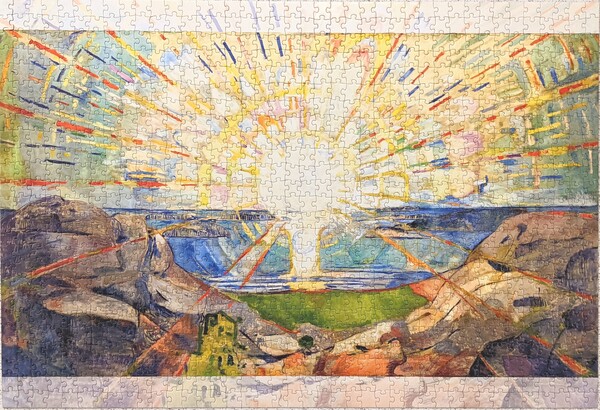 The Sun | Pomegranate | 1000 pieces
As Cory said in our interview, "It's particularly special the first time you see a new piece of art. It's like watching your favorite TV show for the very first time and having that need to tell your friends about it. It's a completely new experience, one you want to share. We want to share the art we love with others, and we hope that people will share their favorite artists with us and with their family and friends too." To Cory and all the wonderful folks at Pomegranate, thank you for all that you do to bring beautiful art into our lives!
Happy puzzling!!
Gaby @puzzlepastime