Bringing Sexy Back
Hello Jigsaw Junkies! I am so pleased to be back for a second year of representing the amazing Puzzle Warehouse! Last year, being an Ambassador for Puzzle Warehouse was one of the most amazing experiences I've had in the world of puzzles so far, and I can't believe I get to do it for a second year in a row! I am beyond excited, and hope you'll join me for all of my nonsensical ramblings that I have planned for you this year!
So let's just jump right into it! I'm not sure anyone would ever think of puzzling, and automatically think sexy. Am I right? If you're like me, you're in the comfiest clothes you can find, hair up in a messy bun, listening to some nerdy sci fi/fantasy audiobook (currently Speaker for the Dead), or watching the actual sexy Dean Winchester take on yet another demon.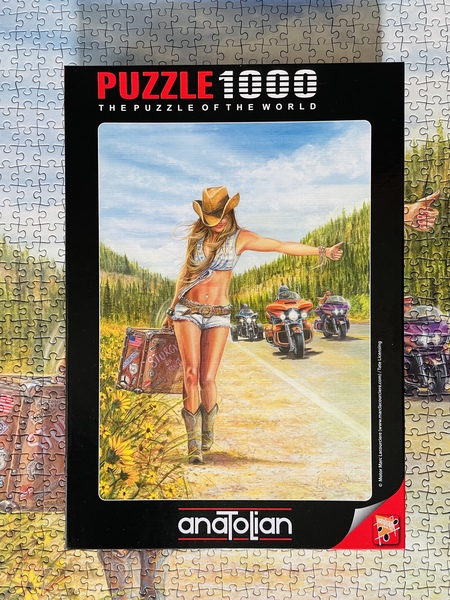 But as I was browsing the Puzzle Warehouse puzzles- a truly favorite pastime of mine- and I stumbled across this boho western meets biker chick sexy Anatolian puzzle, I started to wonder, could I class up my puzzle act a bit?
So I threw on some red lips, combed my hair (about as sexy as we get over here), and pieced this puzzle together to the truly sexy timbre of JT's SexyBack. I think the red lips lasted all of about thirty minutes before I couldn't stand it anymore and wiped them off, and the hair went up in a bun in less time than that, but I did give it the ole college try for you guys!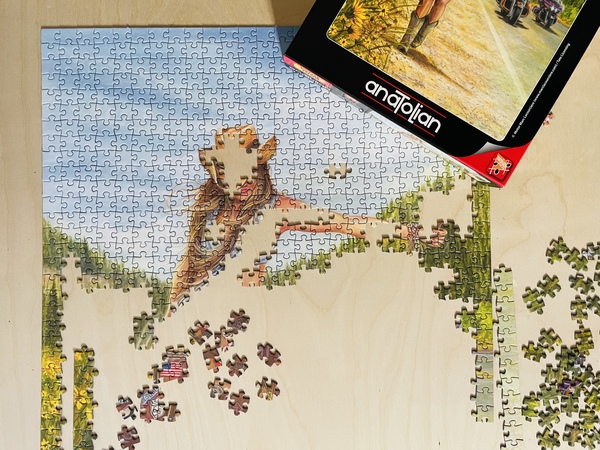 But let's get to the puzzle, shall we? If you've never done an Anatolian puzzle- I highly recommend them! The puzzle comes in a super sturdy and thick box, with the entire uninterrupted image on the front. The pieces are in a non resealable plastic bag, and there is no poster included.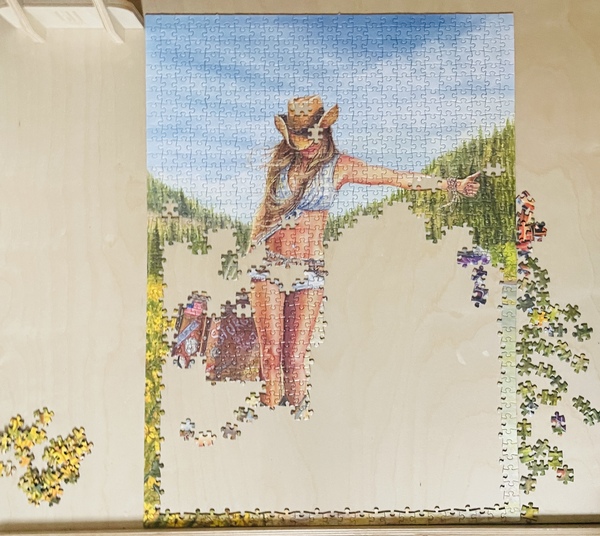 The pieces are fantastic! They are slightly smaller than your average puzzle piece, making the finished puzzle dimension 19 x 26 inches, instead of the more standard 20 x 27 inches, and I adored the slightly smaller size! The pieces have a great fit, with a semi glossy but leaning close to full glossy finish, and regular cardboard backing.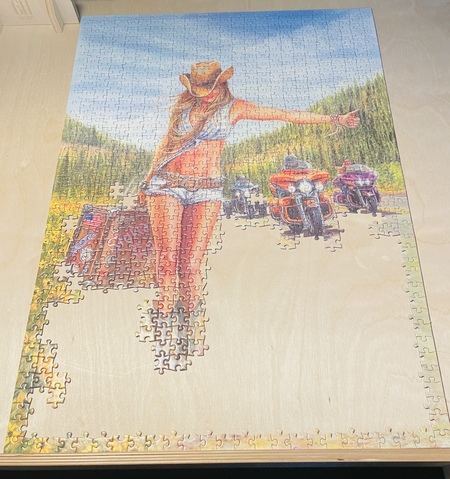 I pieced this puzzle together from the top down. Why did I start with the sky? I have no idea! But it does make for some satisfying progress pics! This image was quite a bit of fun, with enough difference in patterns to make sorting easy, which allowed the puzzle to flow together nicely.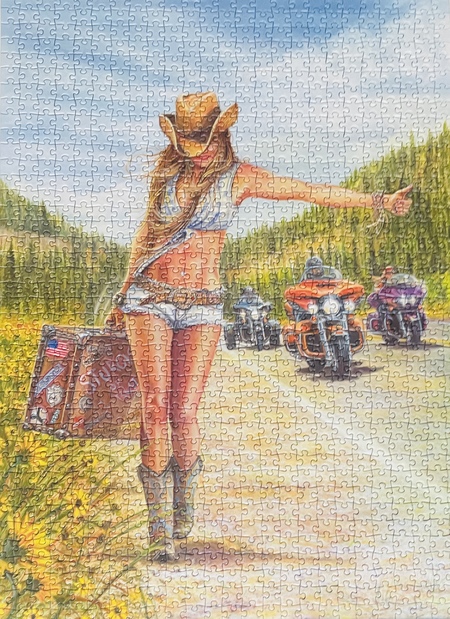 I myself might not have felt any more glamorous or sexy piecing this puzzle together, but it did make me wonder if there is a whole new type of puzzle theme I need to start adding to my wishlist? So back to browsing Puzzle Warehouse I went, and yeah, I might have found plenty more puzzles to add to my wishlist! In my mind, I grouped them into the subsets of Subtle and Not so Subtle sexy puzzles!
Subtle sexy: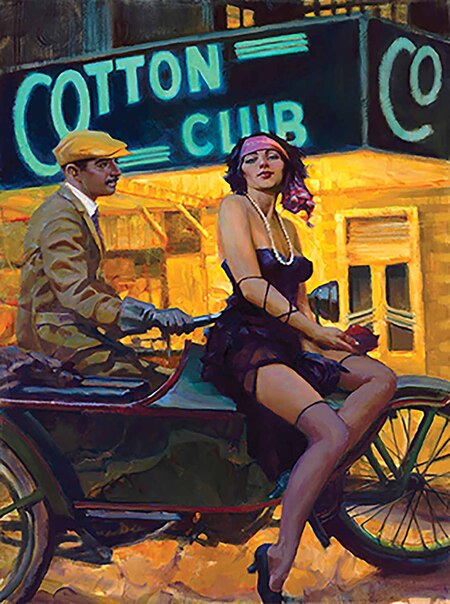 Cotton Club | Suns Out | 1000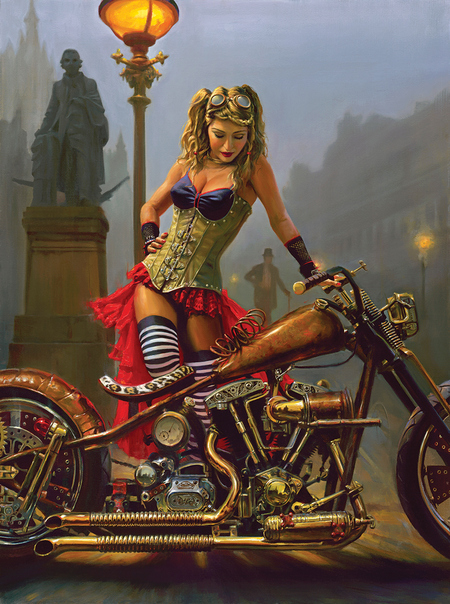 Steam Punk Seduction | Suns Out | 1000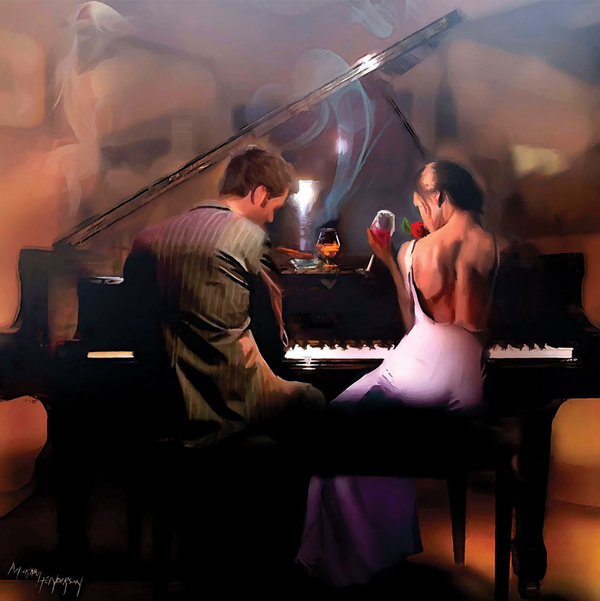 Not so subtle sexy: These ones are extra spicy- view with discretion!
50 Shades of Him by Eurographics
50 Shades of Her by Eurographics
My goal this year is to step out of my puzzle comfort zone, and really start to branch out to new and different images! I hope the beginning of 2023 has been good to all of you!
Happy puzzling-
Amanda @600hoursofpuzzle