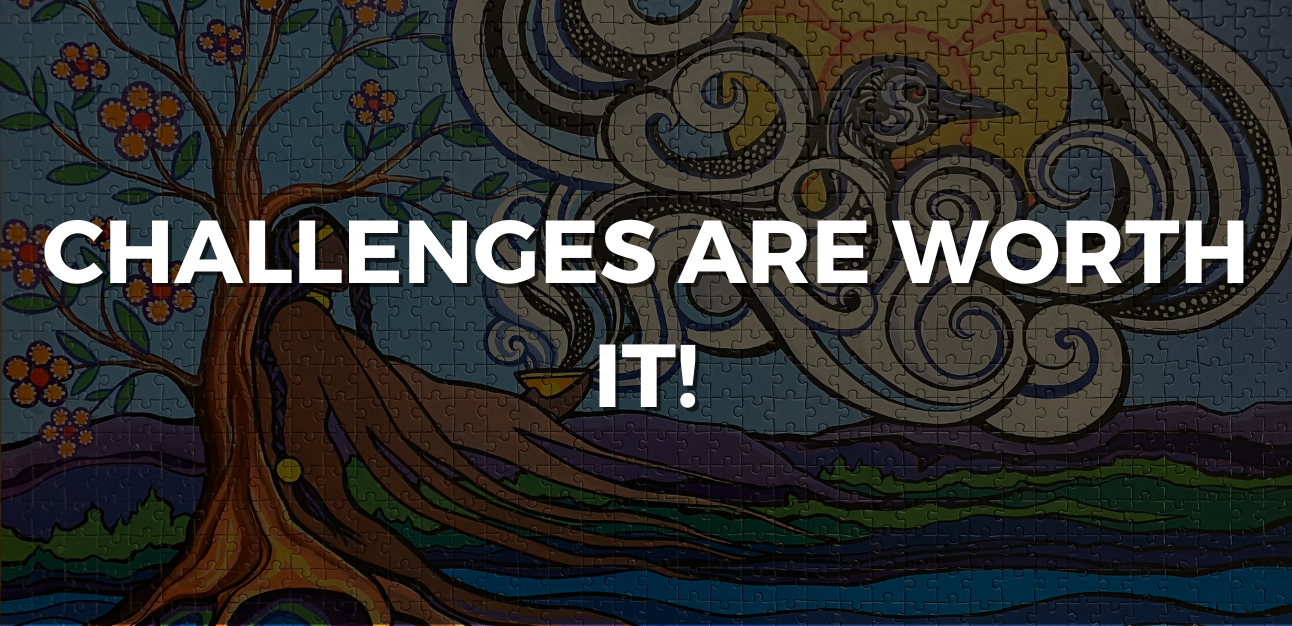 Challenges are Worth It!
I was drawn to the beauty of the artwork on this puzzle 'Prayers by the Lake', part of the Indigenous Collection. The scene is so colourful and calming. I was not prepared for how challenging it was to complete the swirls and waves. All worth it in the end and I can't wait to begin more in this series!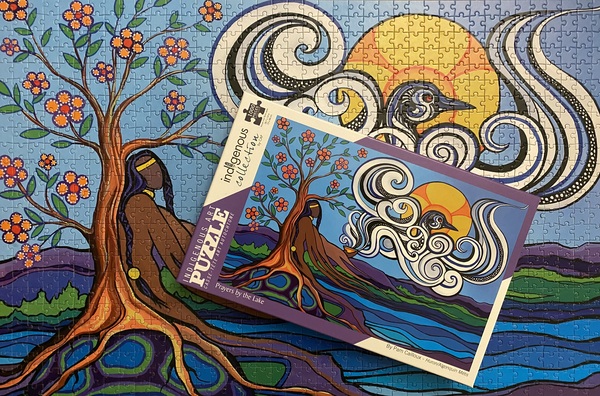 The puzzle box is sturdy with a full glossy image clearly displayed. Pam Cailloux, the artist, is of Metis descent, consisting of Huron and Algonquin heritage. Her art is influenced by the teachings of the medicine wheel bringing balance and harmony. Mother Earth is often represented as a healing and restorative presence.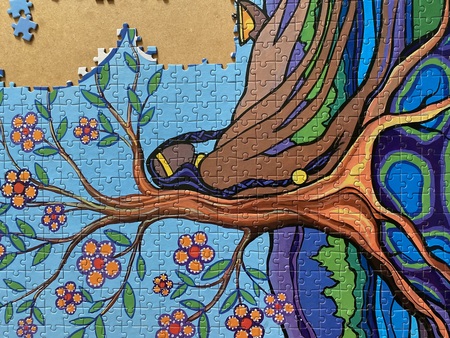 The 1000 pieces are strong, glossy with brilliant colours and fit together perfectly. When complete you could actually pick this puzzle up and carry it around! Finished size is 28.7" x 19". Dismantling it takes some time as well. So many great features… so many challenges. I think the variations in colour and the waving and swirling landscape added to the difficulty. This puzzle took me longer than most to complete and towards the end, I used my old trick of separating the pieces into their different shapes. Thankfully there were only 4 different shapes.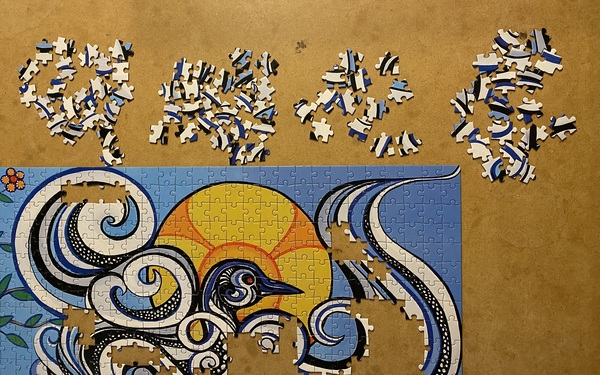 Indigenous Collection is part of an international company, Canadian Art Prints based in British Columbia, Canada. It is a family run business that values their relationships with the artists. They work with indigenous artists from across North America, some for over 40 years. The original designs are displayed on paper, totes, and dishes. All designs are authentic, and the artists are paid a royalty on each sale.
Now, to choose my next adventure into this collection?
All Children Matter is a 1000-piece work by Betty Albert. Her cultural background is Cree. This is a beautiful touching reminder that every child is important and should be honored. We should be aware and not forget what has been done in the past, so we do not repeat it.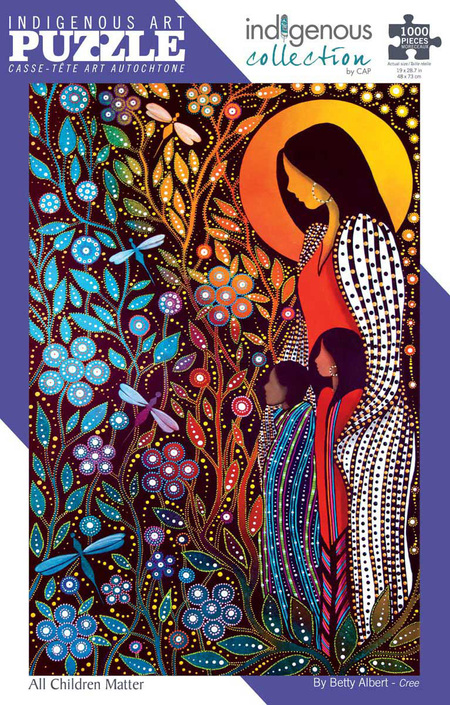 Sharing Knowledge features artwork by Jackie Traverse, whose heritage is Anishinaabe.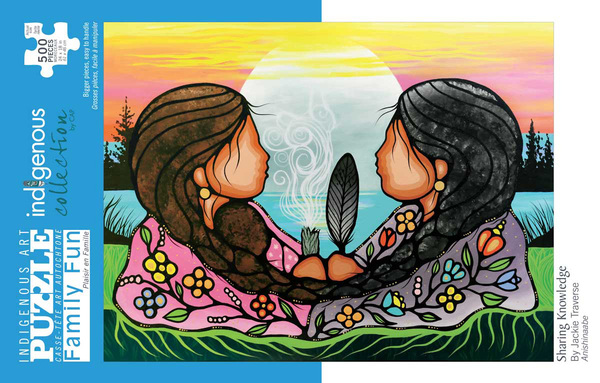 The Indigenous Collection also offers a wide selection of mini puzzles. This is one of my favourites, Owl Mini by Angela Kimble who is of Coast Salish/Nuu-Chah-Nulth descent. These minis are each 72-pieces, and their finished size is 8.3" X 11.2".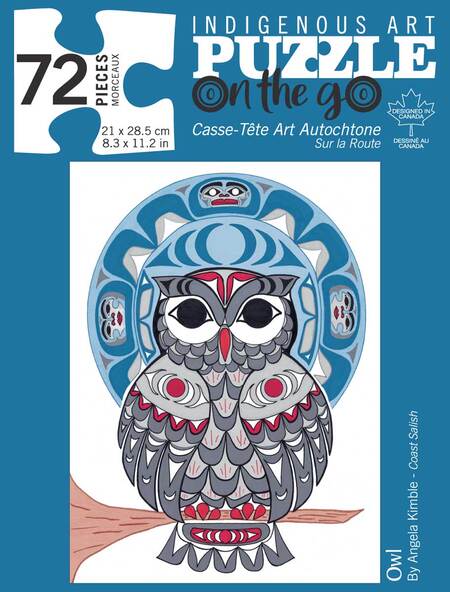 Objibway artist, Patrick Hunter has done an amazing depiction of Turtle Island. This is the name given by many indigenous peoples to the land we live on. The name is based on a common North American Indigenous creation story. I'm thinking that at 500-pieces this may be my next attempt at swirls! Or maybe the 500-piece round Caribou Winter by Mark Preston of Tlingit background.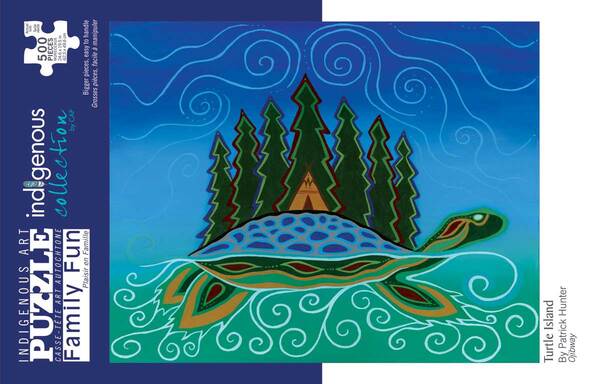 We can learn so much by becoming familiar with the art and culture of all the peoples around us.
Keep puzzling and overcoming challenges!
- Mary Ellen