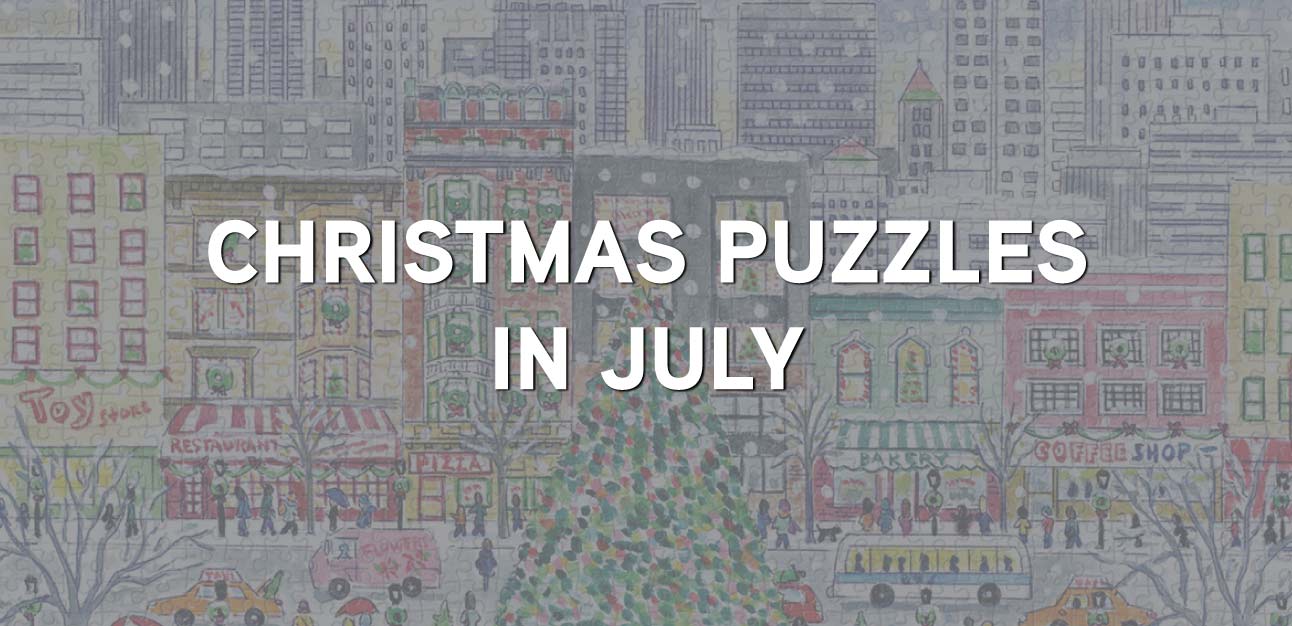 Christmas Puzzles In July
Upon hearing that I live in Florida, people often say, "I don't know how you live there in the summertime." My response is always the same – "You hide indoors in the winter. We hide indoors in the summer!" And what better way to entertain yourself and make yourself feel a tad cooler than to do than a Christmas-themed puzzle in July.
I absolutely adore Christmas puzzles! I have WAY too many on my shelves. It doesn't help that with all the "to-dos" that surround the holidays, there's never enough time to get through as many as I like. That's why I love the idea of Christmas Puzzles in July!
I must confess, I'm a "puzzle with the image" type of person. People who puzzle without the box amaze me. For this reason, I've always shied away from puzzles where the image inside the box is different from what's pictured on the outside. However, I decided to get brave and give PuzzleTwist a shot. My favorite Christmas decorations are snowmen, so I gravitated towards this 500-piece, random-cut titled Winter Snow Jam.

Artist Denny Driver raised a smile throughout the assembly as the antics of Coalman The Snowman slowly revealed themselves. And the build was almost as much fun as building a snowman itself! The pieces are a linen finish, which reduced glare, and the thick-cut pieces felt great to the touch and fit together well.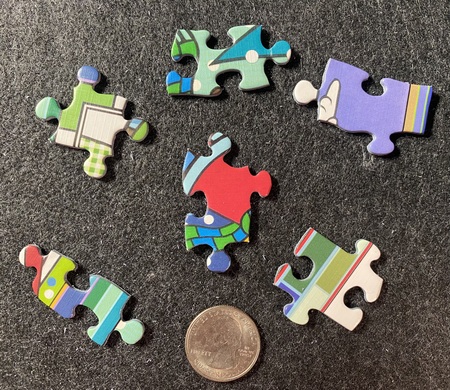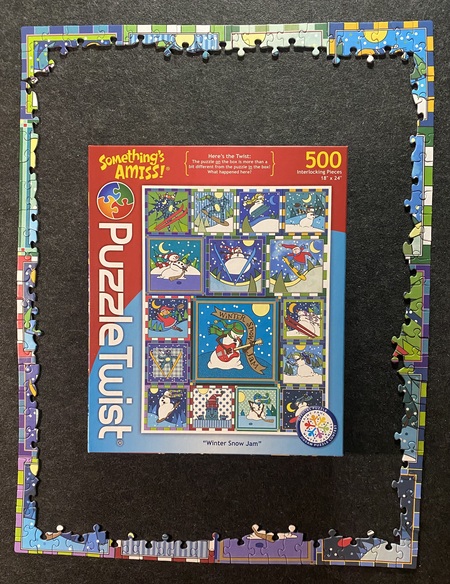 If you are like me, I discovered that this brand was a great one to ease into the "what you see is NOT what you get" type of puzzle. I won't spoil the surprise and show off the completed image, but you can see from the photos here that the panel borders and background colors made it easier to spot what would go where. PuzzleTwist puzzles, which are made in the USA, can be bought in several categories including the "Something's Amiss" series this one comes from, where the images differ; "Mixed Up" where the panels simply shift, "4 More" where four additional images join the scene, "Reveal The Color, where the image shifts from black and white to full color, "What's Up" & "PuzzleTwist" where the image changes drastically; and lastly, for those who do not want the image to be different, they also offer the "Maynard Signature Series."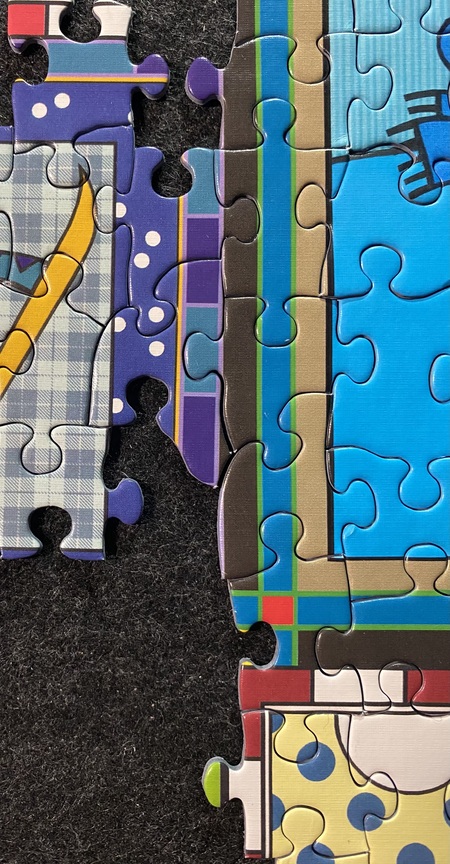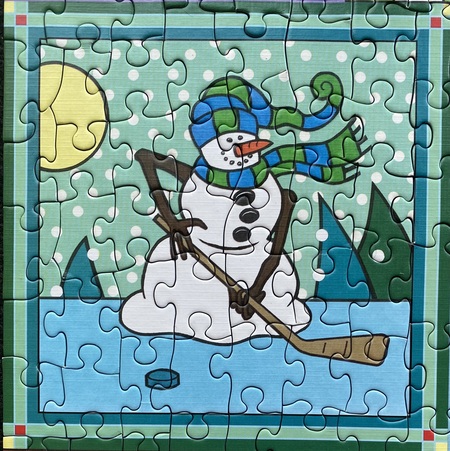 Next on the puzzle board was the 1000-piece Christmas Spirit manufactured by Trefl, a family-owned business out of Poland that has been creating puzzles since 1985 – published by Pierre Belvédère. I fell in love with their Prestige Collection the moment I put my first one together. The pieces, printed on sturdy recycled cardboard with 100% organic inks that yield minimal puzzle dust, have an exquisite feel. My only slight annoyance with the series - the box image is partially obscured by the branding. I've attached photos of the top and bottom corners where this happens to help others who may need the image to help them!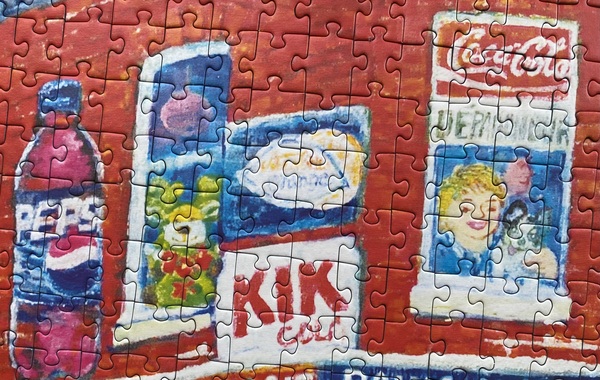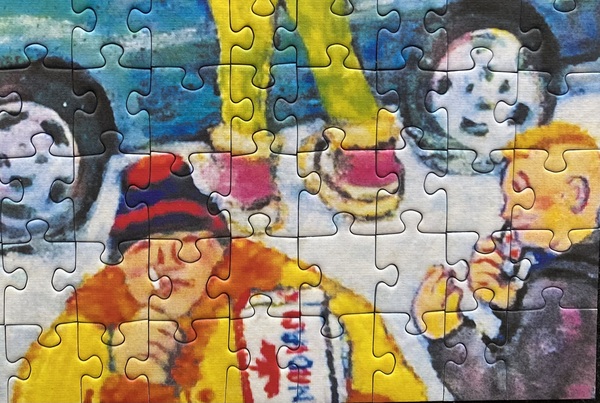 They feature artwork from world-class artists, with this one featuring the work of Japanese born, Canadian painter Miyuki Tanobe who uses the Nihonga technique of Japanese painting. Miyuki means "deep snow" so it was fitting that this puzzle immersed me in a world quite unlike my own. It was fun to complete a scene of a family transporting a Christmas tree as I sat under a palm tree!

This one was not for the faint of heart! All the red was a bit daunting and as you can see, I saved it for last, preferring to start with the borders and the billboards first. The pieces on this puzzle had a looser hold than the Vintage Bazaar puzzle in the series I put together earlier this year, but the image was charming and it still made for an enjoyable build.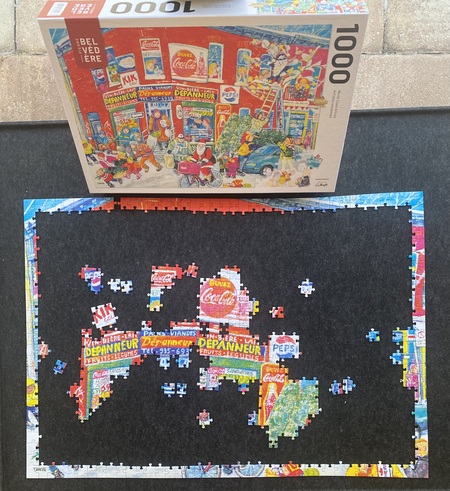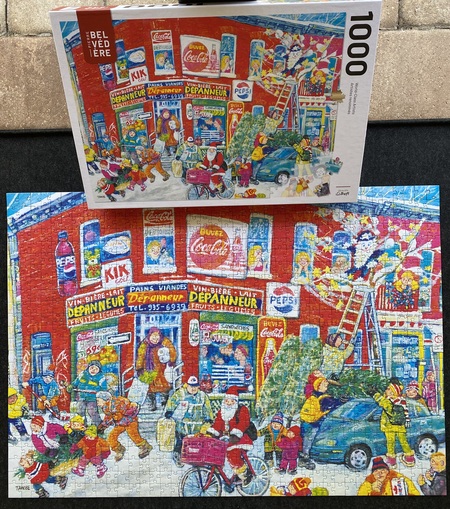 We're only partially through July and if I listen carefully, I can hear lots more Christmas puzzles jingling on my shelves, trying to get my attention, including Vermont Christmas Company's Christmas Cheer, Eurographics' Christmas Ornaments, and Cobble Hill's Ugly Christmas Sweaters and Doodletown: Elves at Work.
Also, if Santa wants to take a vacation to Florida this summer to deliver me these puzzles – Heritage Puzzles Seas "N" Greetings, or Vermont Christmas Company's Santa's Vacation themed perfectly for my location - I'll happily bake him some cookies.

Merry July everyone!

Lisa - @lisalovespuzzles