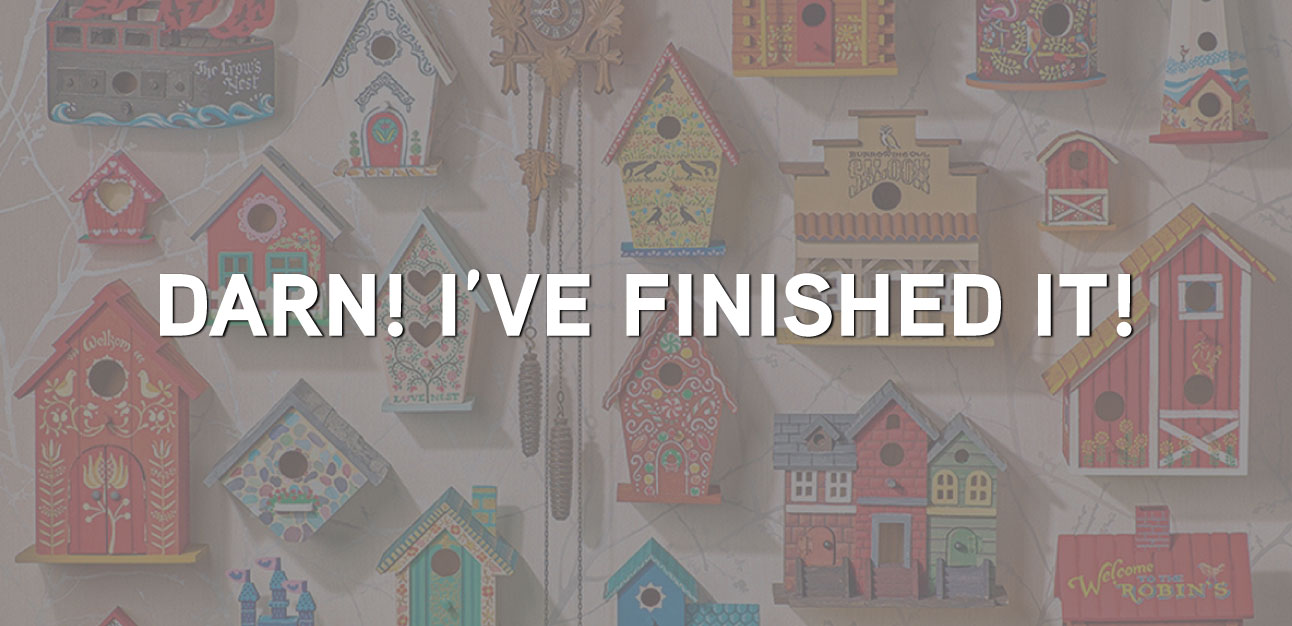 Darn! I've Finished It!
What is it about a puzzle that causes someone to say, "That was a GOOD puzzle," rather than I'm so glad I finished that. Put it in the box and donate it to the thrift store!" I think it varies from one person to the next. That's why there are so many different types of puzzles – something for everyone. Not much of an answer, I know. But it's why it's so difficult to buy a puzzle for someone else. Hint to family and friends: Gift cards please!

Some spatially oriented puzzlers might enjoy the challenge of having large parts of the puzzle a single color because they like to work based on the shape of the pieces. Others might enjoy a fuzzy, water color look because it's artistic. But those are not my preferences.

When I choose a puzzle, I want:
No large areas of a single color. If there's sky it's a small part of the picture – preferably with clouds or various shades of blue.

Crisp, clear resolution – not fuzzy or out of focus.

Very few dark, muddy brown, grey areas that make it impossible to know what they are.

Random cut pieces that once attached don't come apart if I touch them.

Lately, I have put together several puzzles that left me saying, "That was a GOOD puzzle. I'm sorry I finished it."

Village Station is a lovely 1,000 piece puzzle from White Mountain, made in the U.S. It came in a sturdy box with a poster. I loved the purple backing on the pieces because I could find them when pieces fell on the floor. On the other hand, that backing encouraged pieces to cling to each other, and then there was between ⅛ and ¼ teaspoon purple puzzle dust.

Artwork is by Trevor Mitchell who specializes in paintings intended primarily for use as jigsaw puzzles. He tends to focus on steam and vintage vehicles and the British countryside. He is well known for his nostalgic, authentic scenes depicting farming, rural, and family life. His work can be found in puzzles from a variety of companies, including Ravensburger, Gibsons, and White Mountain.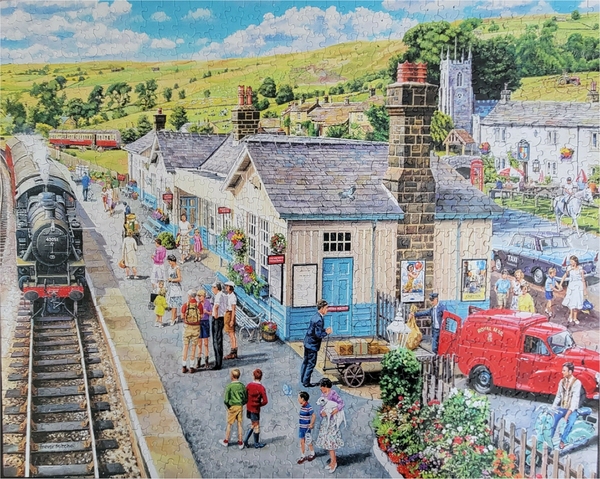 Village Station | White Mountain | 1000 Pieces | 24x30 Inches
When I learned Mitchell tended to create pictures with puzzles in mind I realized this puzzle was a perfect example of that. It has different areas – sky, green hills, chimney, red Royal Mail van, train tracks, blue parts of the building. I could gather those pieces and work on them without being confused about where a piece belonged. This was one of those puzzle that I started at the top with the sky and worked my way down – after I had completed the red Royal Mail van of course. The pieces are a nice size and random cut. They do not align at all four corners. I didn't put any pieces where they didn't belong. Surprisingly, the chimney was more of a challenge than I anticipated.

One thing I particularly liked was that so much of the detail in the puzzle is of people – friends chatting as they waited for the train, folks enjoying the sunshine at tables outside the pub, while Royal Mail employees make sure the mail goes through. These two adolescent school boys made me a tad nervous though. I won't say they're up to no good, and I hate to cast aspersions, but there's something about them that makes me cautious: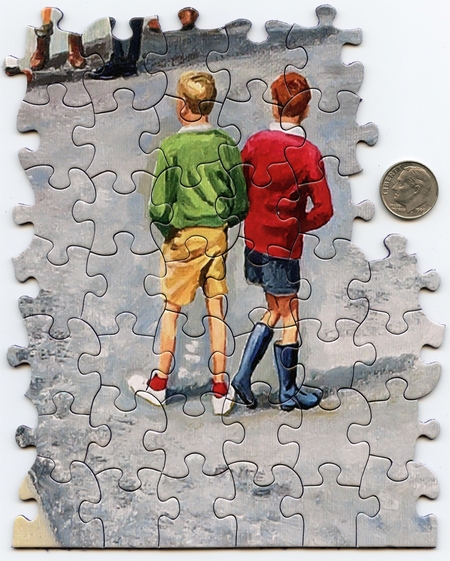 Instrument Collection, from New York Puzzle Company, is a 500 piece puzzle made from recycled materials and made in the U.S. It comes in a sturdy box with original photography by artist Jim Golden.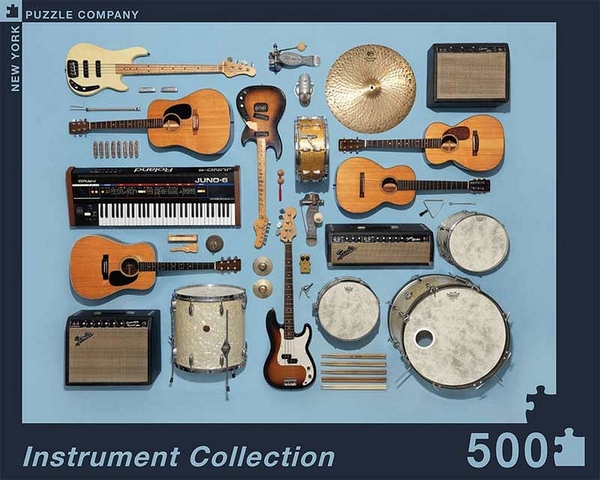 Instrument Collection | New York Puzzle Company | 500 Pieces | 24x18 Inches
The pieces are cut in a random grid pattern that tends to alternate horizontal and vertical pieces. They do not align at all four corners. Pieces have a linen finish that significantly reduces glare. When I started working on this puzzle I was concerned that I'd have a bunch of solid blue to deal with. Thanks go to whoever designed the die cut template for this puzzle. A lot of the blue pieces had bits of instruments on the edges – made putting it together a lot easier.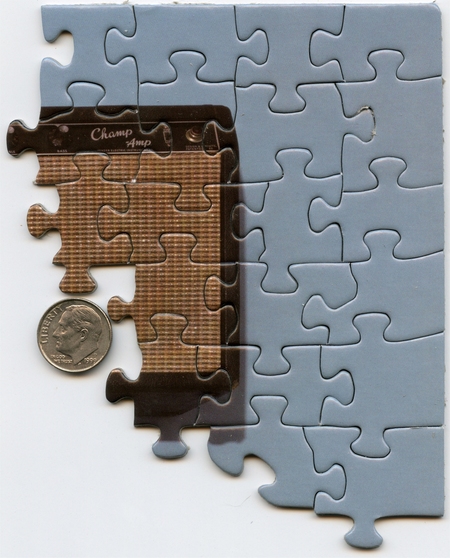 Cuckoo and Friends from Cobble Hill is a 1000 piece collage of bird houses. Several of the houses have whimsical names: "The Crow's Nest," "Burrowing Owl Saloon," and "Welcome to the Robin's." I didn't notice the cat at first; hope he isn't waiting for birds to emerge. That could be a bit of a wait.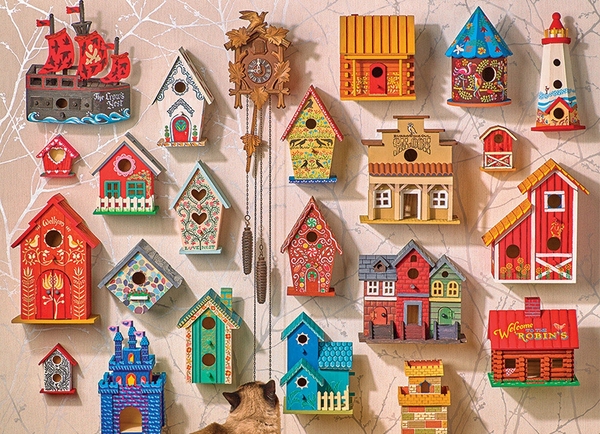 Cuckoo and Friends | Cobble Hill | 1,000 Pieces | 26.6x19.25 Inches
The puzzle is made in the U.S. from recycled cardboard – nice sturdy box. It came with a poster which I didn't really need as the picture on the box was large with plenty of detail. I love these puzzle pieces with a no-glare linen finish – no bobbing and weaving around to see past the glare from my overhead light. The pieces are cut in a random pattern and do not align at all four corners: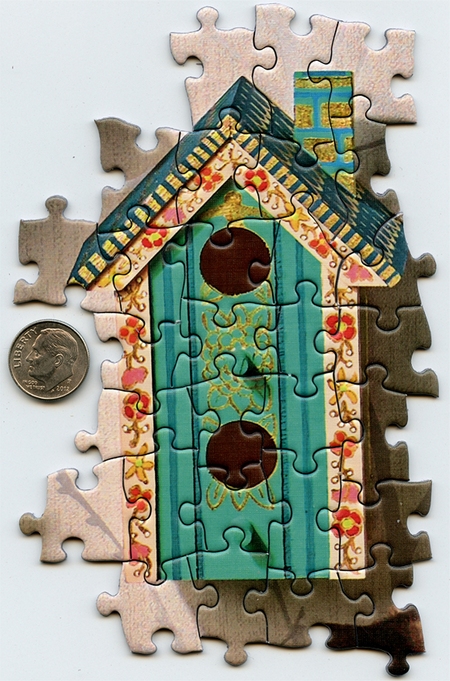 As I was turning the pieces over and doing some basic sorting by color my heart sank. There was an awful lot of that background peach color. So, of course, I put the bird houses together first and left the background for last. I was pleasantly surprised to discover two things that allowed me to continue enjoying this puzzle:
Whoever designed how the pieces were cut must have had me in mind. Many of the wallpaper background pieces had a little bit of birdhouse color on the edges. That was a BIG help in placing them correctly.

The peach wallpaper is not a solid color. It has a tree branch pattern that varies from grey to white and the shadows are different shades of brown.



When I got Lovin' From the Oven I had no idea it was going to be one of those puzzles that when finished I would sit there staring at it, saying to anyone within hearing, "That was a GOOD puzzle!"

My daughter helped me turn the pieces over – the only part of puzzling I absolutely do not like. Why can't manufacturers come up with some way for puzzle pieces to come out of the box already turned over? Anyway, by the time I was about half way through I kept hoping she wouldn't come back and help me with it. I was having way too much fun with this one. I did NOT want to share.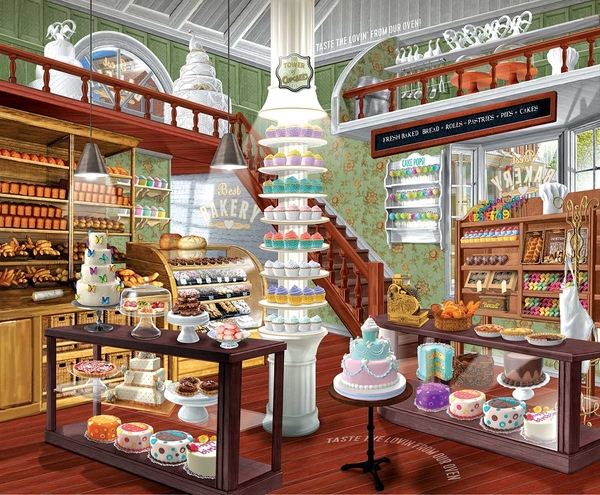 Lovin' from the Oven | SunsOut | 1,000 Pieces | 23x28 inches

Each area of the puzzle has something different in it. There's not too much of any one thing, whether it's floor, wallpaper, or ceiling. The different colors and shapes help you know where a piece goes. The floor and ceiling have boards – that helps you line things up. The colored cupcakes, the cake pops on the white shelves on the wall, the colored macaroons, and the decorated cakes are all different. The breads are a different color from everything else so that helps too.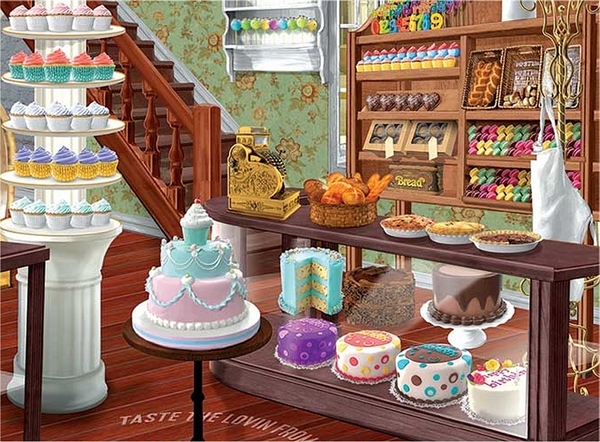 The puzzle is made in the U.S. with recycled materials. The pieces have those really random SunsOut shapes with good resolution. They're crisp and clear. The colors are bright. Yes, there was some puzzle dust, but just get out your colander or punch holes in the bag. The pieces don't have a matte finish, but there really wasn't much glare. The medium thick pieces were all in good shape – no hanging chads or bent edges.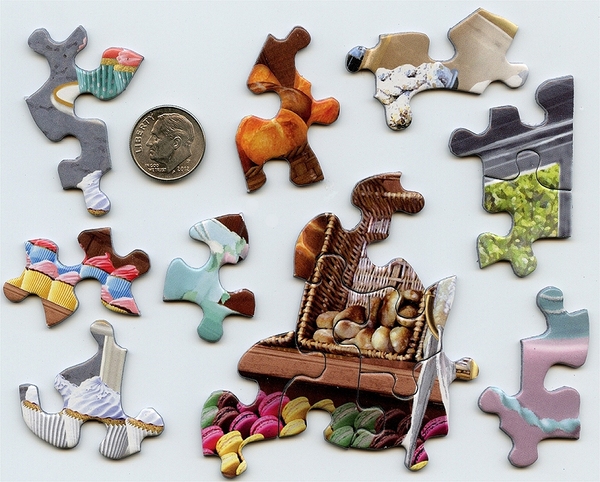 Don't blame me if after finishing it you go on a bakery binge! It's mouthwatering.

If you have a puzzle that you were sorry to finish, let us know in the comments below.
Happy puzzling,
Madelle