Insert Coin: A Day at the (Puzzle) Arcade
It was always the best news when us kids learned we were going to that one pizza place with the mini-arcade in the back. What better combination than stuffed crust and slashing through the foot clan as our favorite Ninja Turtles? Even though that pizza place is long gone, the allure of arcades is still strong. My local options are disappointingly nonexistent, which is surprising considering I live in a college town (how is there not a barcade!?). But I have been able to revisit my childhood excitement through some fabulous arcade-themed puzzles. This first puzzle, Pixels and Pizza by Aimee Stewart from Buffalo Games, was the perfect nostalgic trip for me.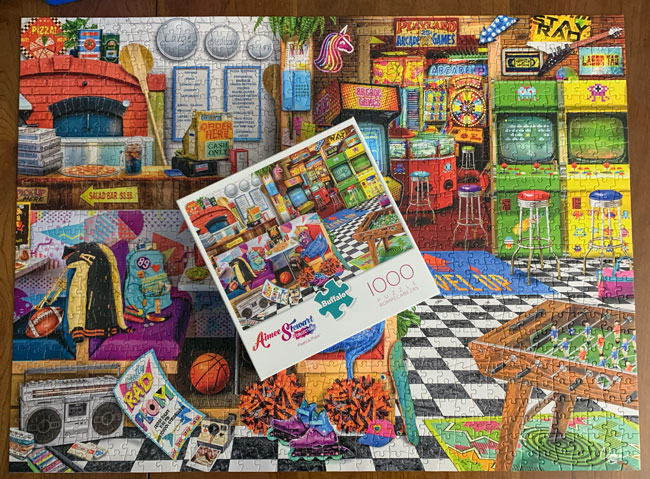 This puzzle has everything that I—a product of the 80s—was looking for. Those 80s triangles in wild colors, jean jackets, arcade cabinets, and, of course, pizza. I put together the 1000-piece version of this puzzle, but it's also available in 1500 pieces under the little Pizza Arcade. As someone who always initially sorts my pieces, sometimes I find puzzles with artwork by Aimee Stewert a bit intimidating at first because it can be so busy. But once I figured out how to sort out everything on this one (brick wall, arcade cabinets, booth, wood grain, etc), it all came together very smoothly.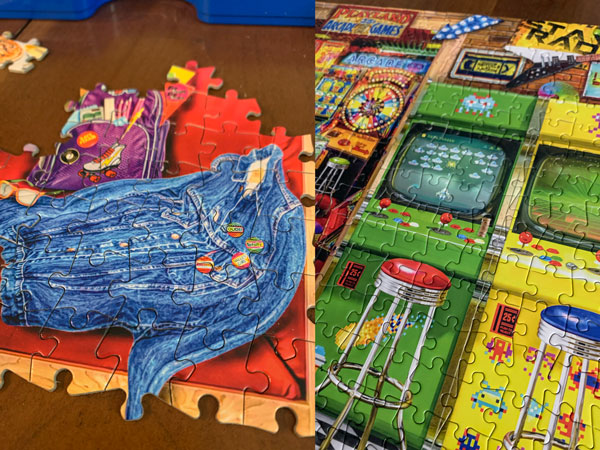 My favorite arcade games tend to be button mashers and what I call "shooty games", like Gauntlet and House of the Dead. Granted, I know I'm better off playing these games at home where I have infinite lives, but that doesn't stop me from putting in more quarters than I should when I do find them in the wild. Honest truth: when traveling, my husband and I may have entered a Chuck 'E Cheese as adults, without kids, on a few occasions to quickly play the two or three good games they have! (When you're desperate… And how can you deny the Jurassic Park shooty games?) In this next puzzle, although decidedly not operational, the many different games were fun to make out.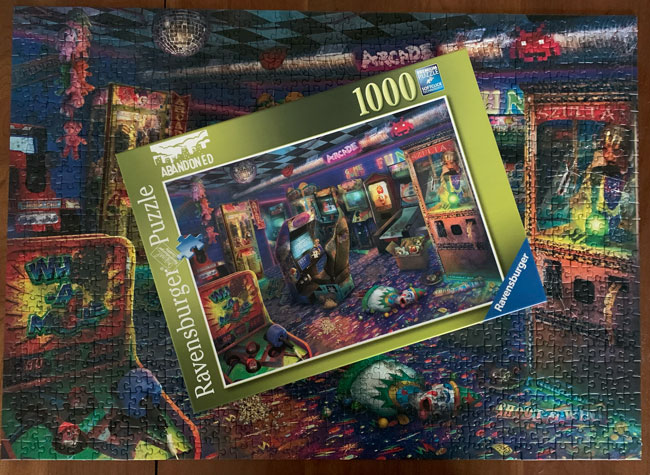 This entry in the Ravensburger Abandoned Series, titled Forgotten Arcade in 1000 pieces, is a fun combination of urban decay and classic arcades. As with some of the other puzzles in this series like Hotel Vacancy and Gloomy Carnival, the puzzle is overall quite dark, but this image was otherwise interesting enough that it didn't cause a huge problem for me. I love the neon signs and seeing all the tickets and prizes, though the dirty little animals make me sad! In spite of this, I was happy to see a claw machine represented here, as it is another one of our favorites and one of few things we can actually play locally. We occasionally stop at an arcade in a mall about an hour away from our house, which has a huge array of claw machines. Here was the result of one frustrating attempt, but we ultimately did get our Yoshi! Now he overlooks my puzzling table, perched atop some of my to-do pile (pictured here with Cat Zodiac by Galison, The Fox Went Out on a Chilly Night by Very Good Puzzle, and 13 Moons from the Indigenous Collection).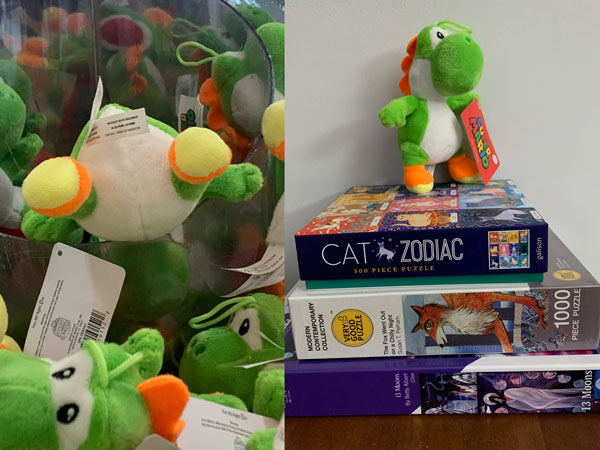 Another staple of arcades is of course the pinball machine, although I was never terribly good at them (does the version that came pre-installed on Microsoft 95 count?). It's still fun to put in a quarter when I see a machine, and I did just that during a recent work-related conference, where I drug some other conference attendees over to a barcade. (Yes, I am an adult.) But in that vein, I was super excited to pick up Pinball Invasion, a 1000-piece puzzle by Mchezo.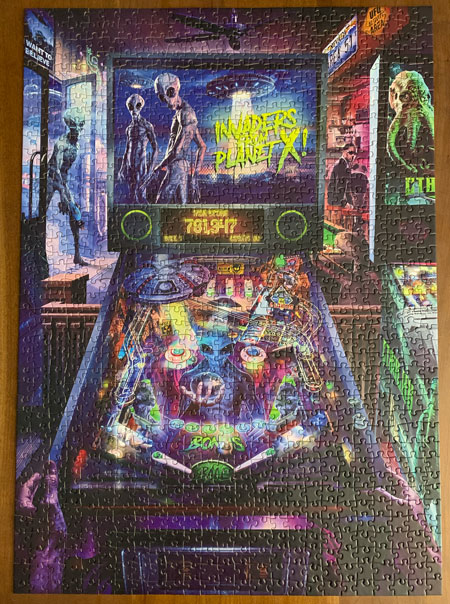 I loved all the little nods to fandoms—Will Smith from Men In Black, Mulder's poster from the X-Files, E.T. playing pool, and the Cthulhu machine nearby. This was another dark puzzle and I struggled for a while with how to sort, but again, once I figured it out, it wasn't a problem. There were enough differences in the ceiling and shadowed pinball machines, for example, that I never really slowed down. Mchezo is a new brand for me, and wow are the pieces satisfyingly thick! They have some other great gaming-related puzzles that I'm excited to pick up. Check out Alex's brand review here for more about Mchezo!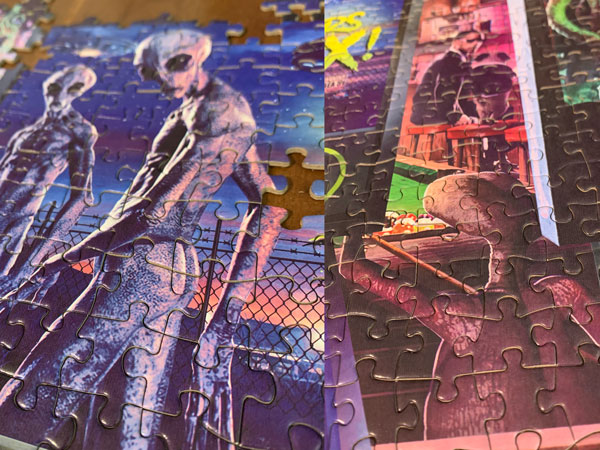 And of course there are plenty of other arade-themed puzzles that have caught my eye, including the 400-pieceDisney Together Time Arcadeby Ceaco, 2000-piece Fun Zone by Kodak, 350-piece Fun Pinball Game by Kodak, a more period 550-piecePockets Pool and Pub by Master Pieces, and this 300-piece Pac-Man by Buffalo Games.
I admit that going to a barcade these days feels decidedly different than running around a Chuck 'E Cheese as a kid. And there's just something weird about swiping plastic cards instead of inserting quarters (and the infuriating new system where you're always left with 0.7 credits left on the card!). But at least I can still relive the memories with some fantastic puzzles.

- Gail, @jiggies_and_gems