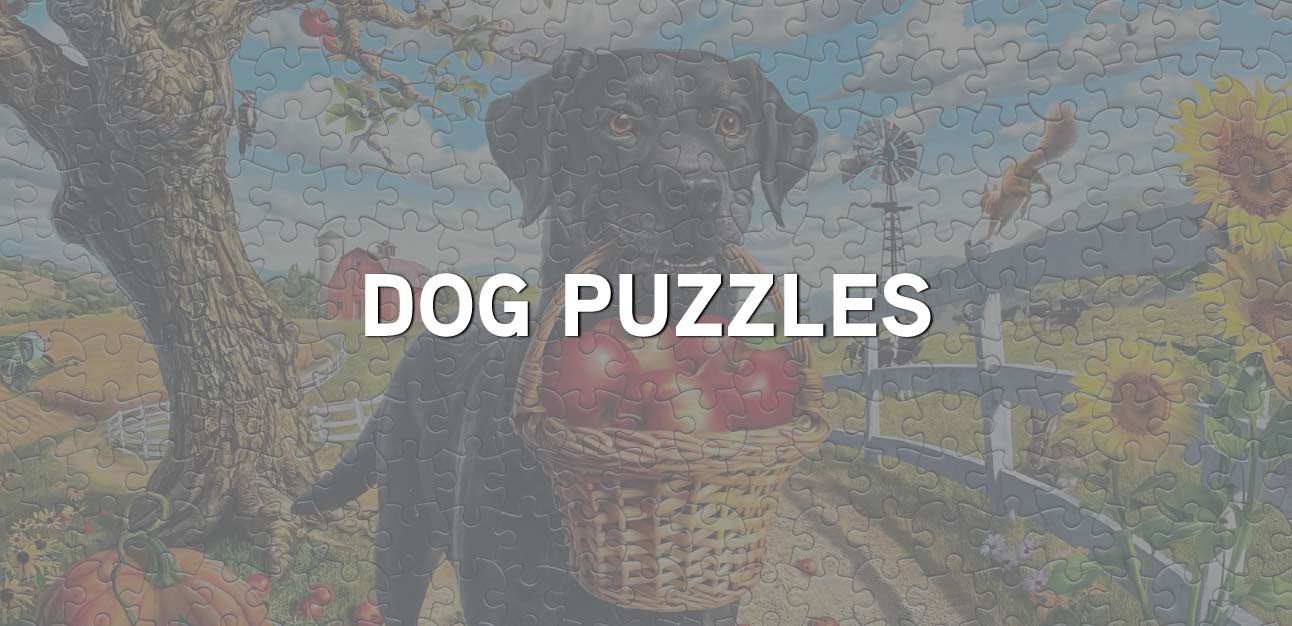 Dog Puzzles
Recently I managed to find my "unicorn" puzzle. It's an out of production puzzle made by Ceaco and depicts a chocolate Labrador swimming in water. The puzzle features the artwork of Mark Fredrickson. Fredrickson is well known in the art world for his various illustrations and fine art, but my favourite pieces of his art feature his amazing ability to capture the spirit of dogs.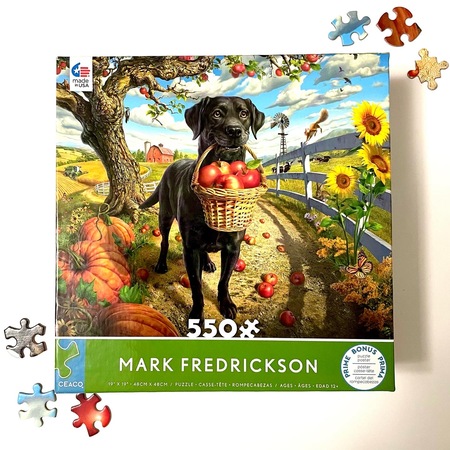 My most recent delivery from Puzzle Warehouse included the 550 piece "Farmers Friend" which is the latest offering from Ceaco featuring a Mark Fredrickson dog. Needless to say I was pretty excited to receive it.

Ceaco puzzles have very quickly become one of my favourite mainstream international brands. We can get Ceaco here in Australia but it's usually via the import process, so I'm pretty happy when I manage to get my hands on one. I personally find Ceaco to be a decent and budget friendly brand. They have a wonderful array of images to choose from too!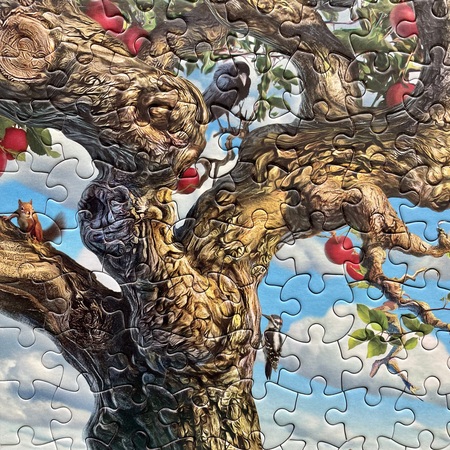 First of all, I'm just going to bypass the star of the puzzle temporarily and point out the really beautiful and not so obvious details that make up the bigger picture. The texture of the bark on the tree, the sheen on the apples, the shadows on the ground and the critters scattered throughout the image were such a delight to unfold as I put this puzzle together.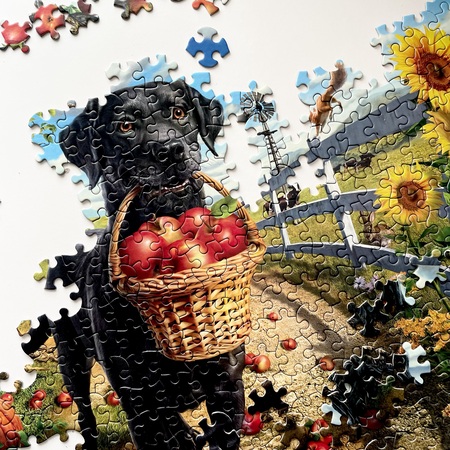 The details on the dog are stunning. From the individual line strokes that make up the fur on his face, to the texture on his nose that every dog lover is familiar with. My absolute favourite part though is his tiny teeth. He almost seems to be smiling behind the handle of the basket. Fur tends to be a little bit of a challenge for most puzzlers. Even though I was dealing with black fur, there was just enough variation with detail as well as how the dog was posed that I had very little trouble piecing him together.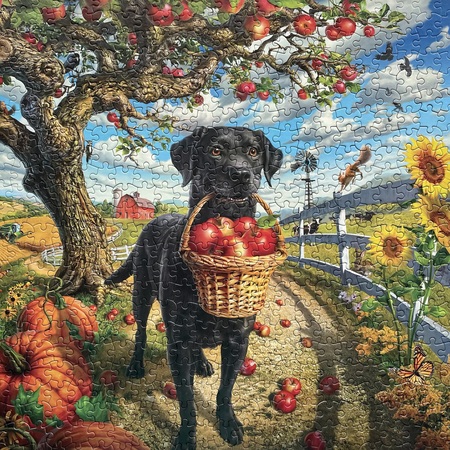 As you can see, the finished puzzle is just beautiful. It's one of those puzzles that has the perfect blocks of colour that made the building process just flow. I started with the more obvious colours like the yellow sunflowers, orange pumpkins and the red barn. I was able to pretty much work my way around putting the details towards the edges together, working my way towards the center until I filled in the dog last.
"Dog" is actually one of the most popular keywords entered into the search engine at Puzzle Warehouse, so it's a good thing there's plenty of dog puzzles available for you to browse through! I thought I'd choose three of my favourites to show you.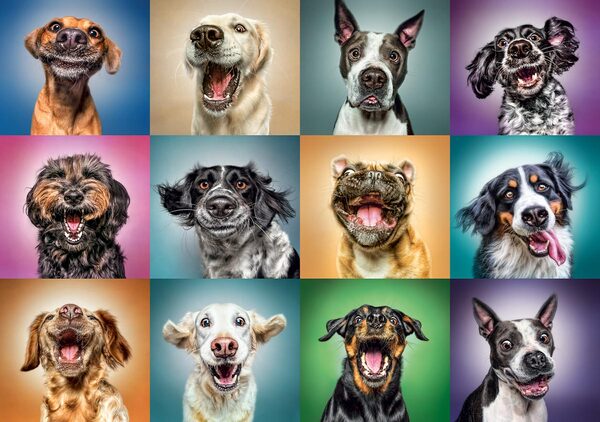 Funny Dog Portraits | Trefl | 1000 pieces
This 1000 piece "Funny Dog Portraits" by Trefl is so cute. I admittedly don't tend to like a lot of photography style puzzles. I do have certain topics where I'll make an exception and this puzzle is one of them. I think this one would be a pretty fun build, with the coloured backgrounds being most helpful in putting the sections together.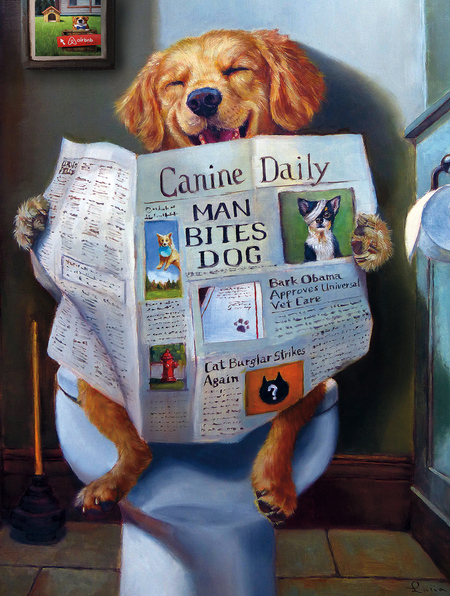 Dog Gone Funny | Buffalo Games | 750 pieces

This 750 piece "Dog Gone Funny" by Buffalo is a great piece count for those that find 500 pieces a bit too quick to put together but don't want to do a larger 1000 piece count. I'm probably easily amused, but this image makes me smile for various reasons, the main one being….there is a dog using the bathroom like a human. I guarantee you this is currently on my wishlist for that reason alone.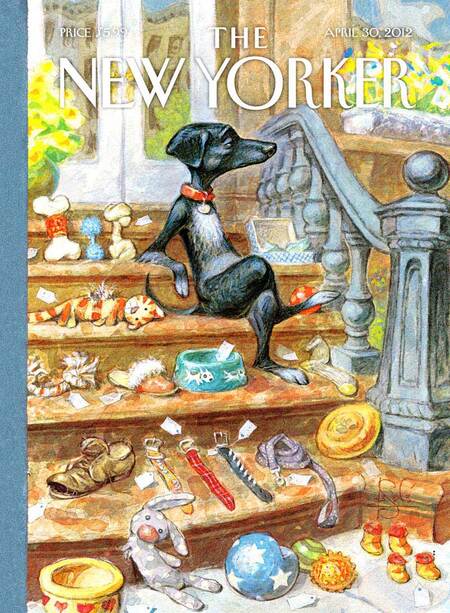 Tag Sale | New York Puzzle Company | 1000 pieces
Finally it's "Tag Sale" by New York Puzzle Co. I have actually completed this puzzle so I'll warn you, this one is a challenge. With the random cut pieces, the art style and plenty of similar colours all combined, this definitely took me quite a bit longer than I would usually take to do a 1000 piece puzzle. If you are familiar with the aforementioned characteristics that many New York Puzzle Co designs have and you don't shy away from a challenge, this puzzle is a great one to do.
If none of these captured your heart, head to the Puzzle Warehouse website and enter "dog" into the search bar. With 300+ products that match the term, you are bound to find something you will doggone love. Yes, I said it.
Until next time,
Rell @relishpuzzles