Double Double, is it Trouble?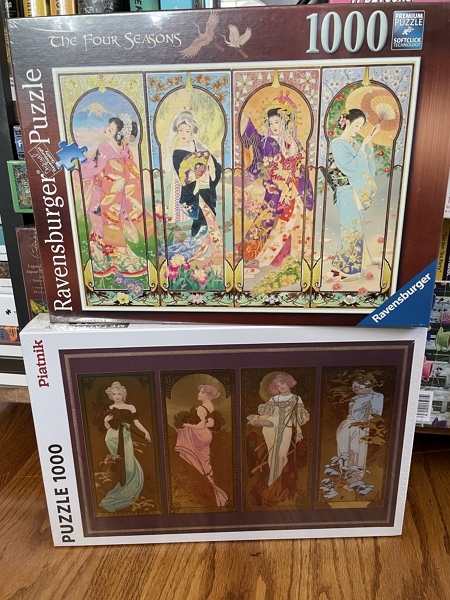 Have you ever been browsing through Puzzle Warehouse, and stumbled across a puzzle so pretty, you knew you had to have it? That is exactly what happened with this gorgeous Piatnik Four Seasons puzzle. Not only is this a stunning take on the famous Four Seasons by Alphonse Mucha, but I was incredibly intrigued by what a metallic puzzle looks like, and how it would be to piece one together.
First- let me start of by saying this puzzle box is the prettiest puzzle box I've ever seen. The full image is on the front- slightly raised up from the puzzle box, and is so beautifully shiny and metallic. When I saw this puzzle box, I assumed that there would be no way that the puzzle itself could live up to how beautiful the box was.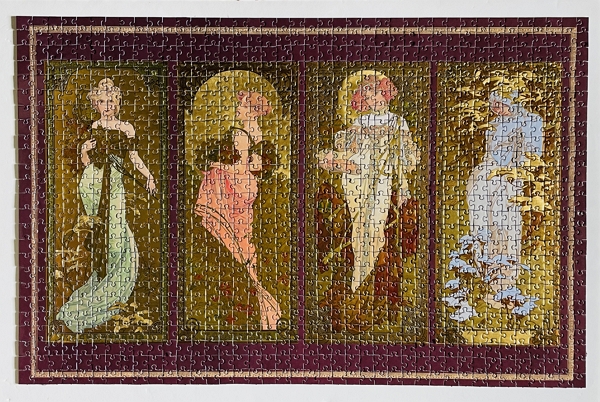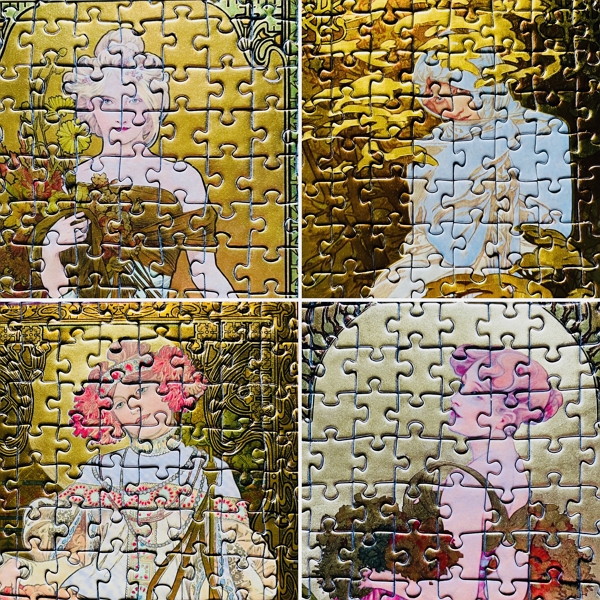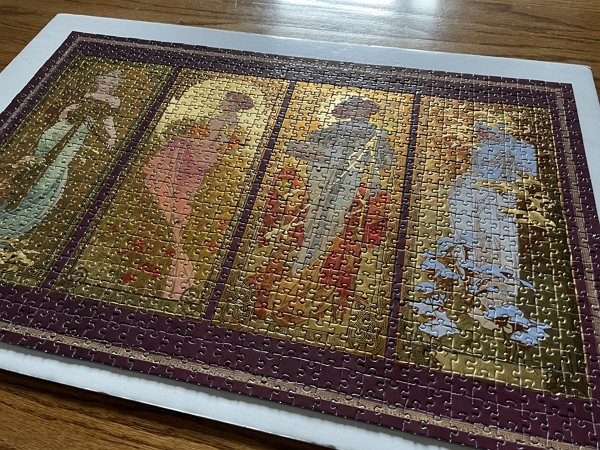 Wrong! The pieces were amazing! I would guesstimate that 90% of this puzzle is metallic, and I spent a good portion of this experience just being in awe of how gorgeous this puzzle was! I definitely worked this puzzle in the four sections, and as it came together, the beauty was just stunning. I could not figure out how to photograph this puzzle to even begin capturing how stunning it truly is! This is definitely a puzzle you'll work from the inside out- the last bit of this puzzle I did was the border!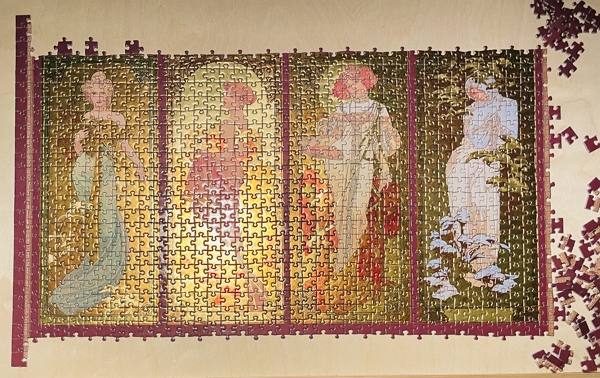 Well, a few weeks later, I was surfing through the Puzzle Warehouse website again (see a pattern here?), and I stumbled across Four Seasons from Ravensburger. I was instantly drawn to the beautiful colors…but I hesitated because I had just done a Four Seasons puzzle. Eh, who am I kidding. I hesitated for a split second, then bought it immediately!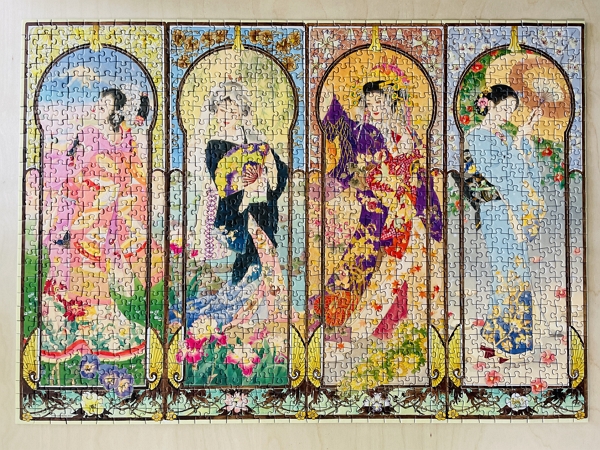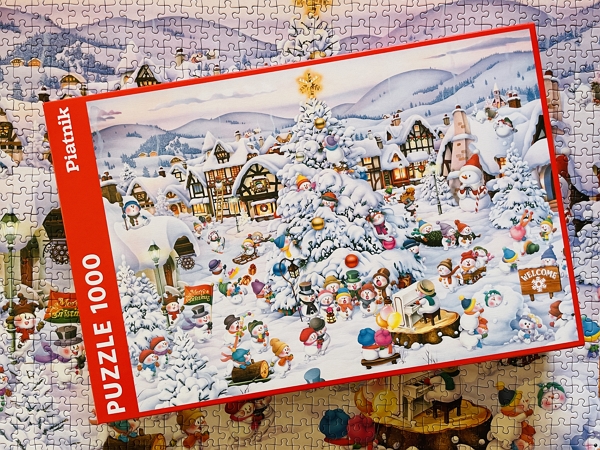 As I was diving into Ravensburger's Four Seasons puzzle, I wondered if I'd be bored puzzling a similar image. I was absolutely not bored for one second. It was really interesting to puzzle a different take on the same image, with different colors and different patterns. I definitely attacked the puzzle the same- working essentially from the inside out, and doing – gasp – the borders last again!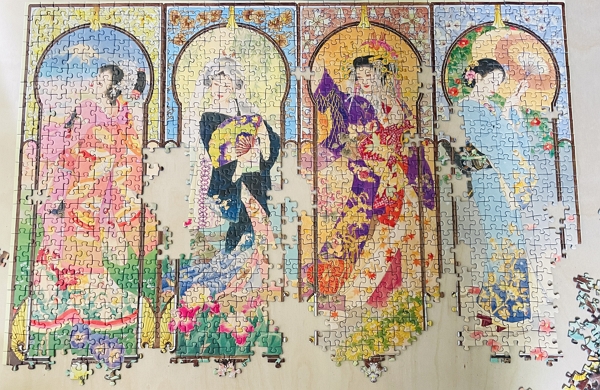 I think that any puzzle with a similar image, but from a different puzzle brand, is always going to be a vastly different experience. I enjoyed that Piatnik puzzle so much because the metallic pieces were such a unique way to experience a puzzle. Even working on areas that were similar didn't bother me, because I couldn't get over how pretty the pieces were! Moving on to the Ravensburger puzzle, it was like settling back into an old friend- tried and true and always a perfect experience!
If I had enough time, I would have attempted to do Four Seasons from Eurographics as well- although for some reason, green is the most difficult color for me to puzzle!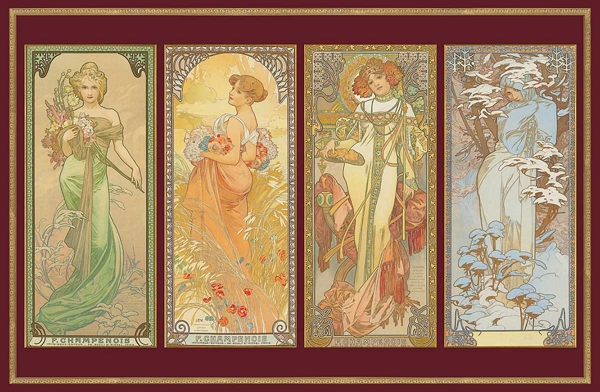 The reason I ultimately decided this to do this experiment is because there are often duplicate puzzle images from different puzzle companies that I stumble across, and I always wondered what it would be like to try them all out.
The Birth of Venus has several iterations- including an adorable take from Galison: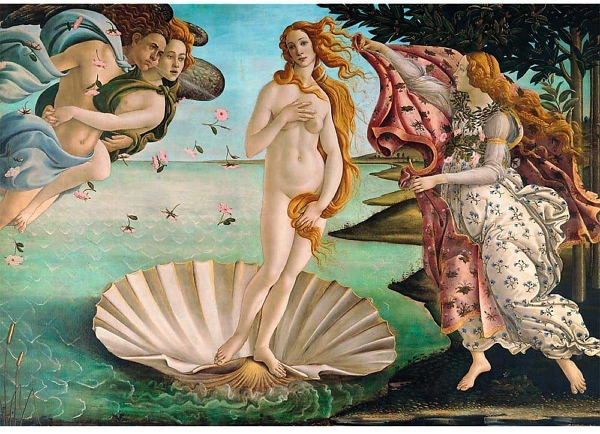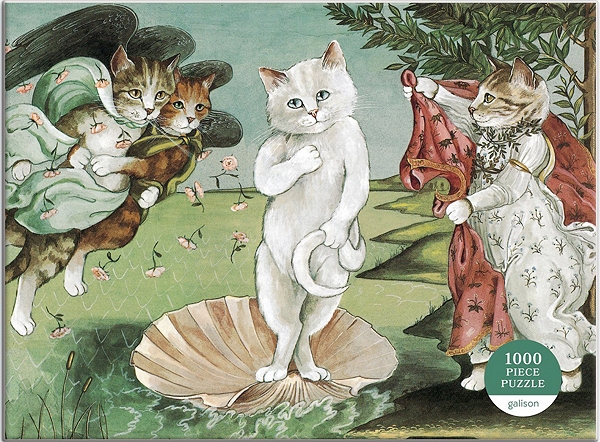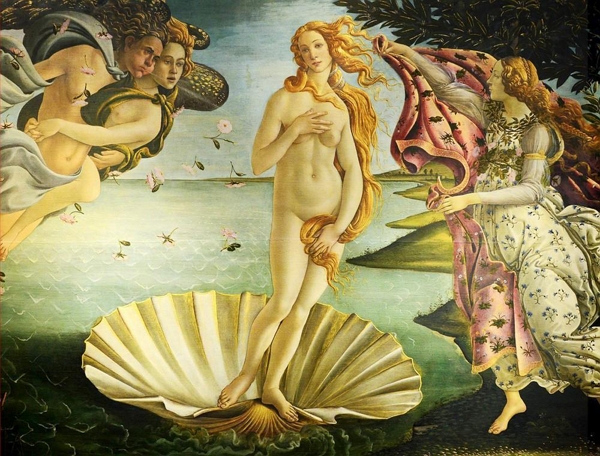 You'll end up finding many different takes on a lot of the art puzzles. If you don't believe me- search for Starry Night, Luncheon of the Boating party, and anything by Klimt, including this second metallic puzzle from Piatnik: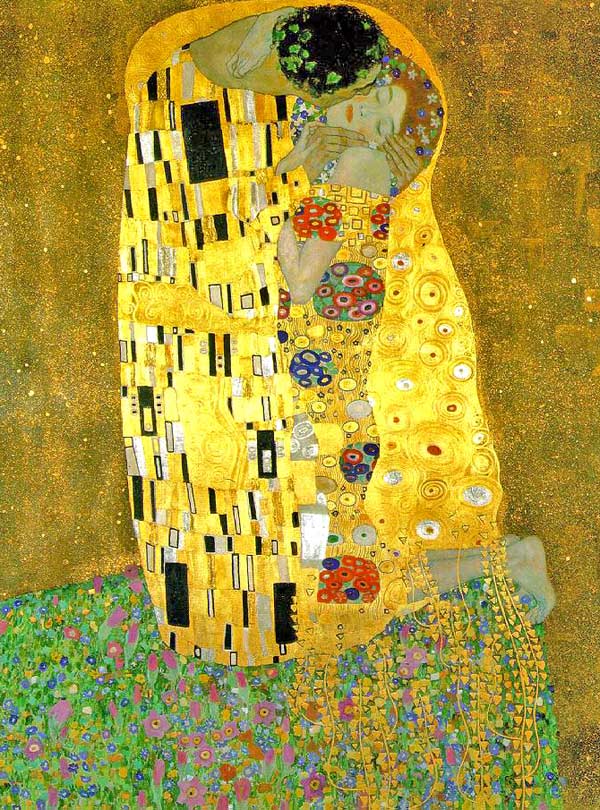 If you want to try duplicate puzzles, but don't love art puzzles, check these Rosie the Riveter puzzles out: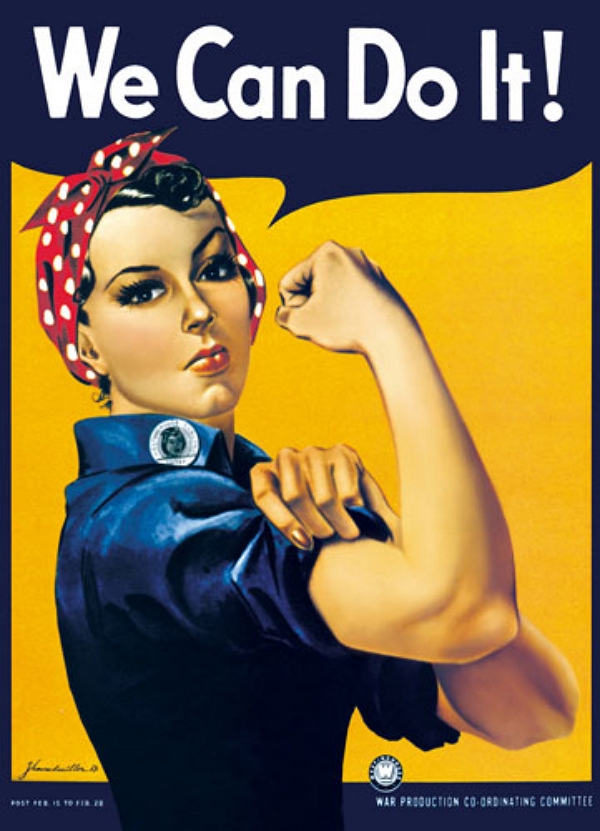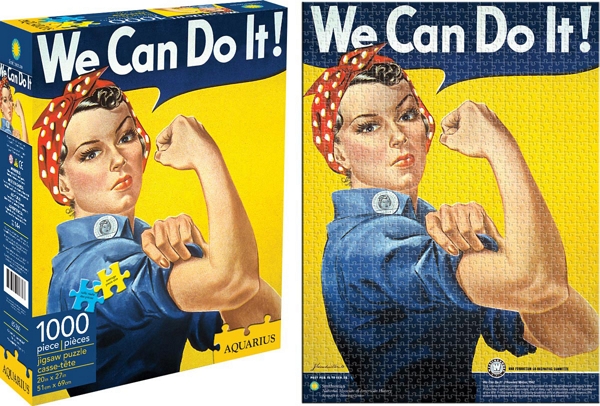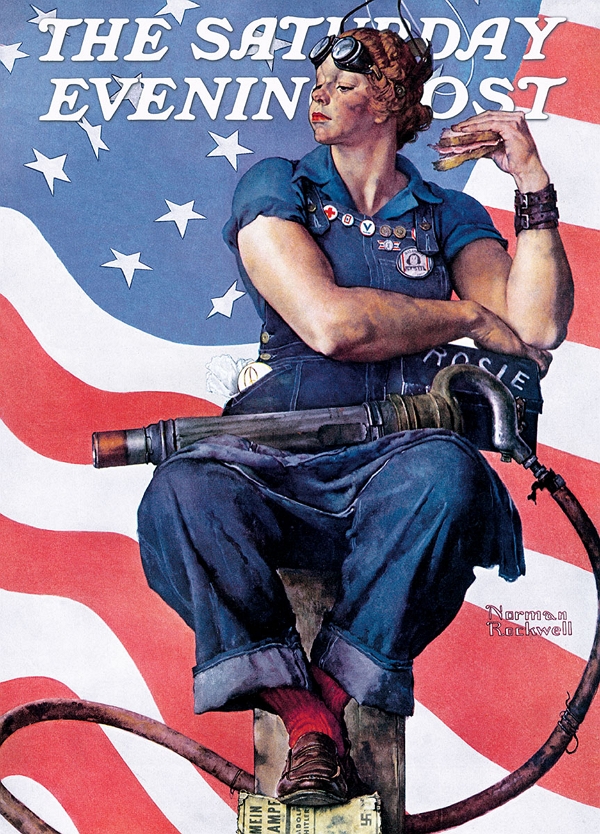 It has been so interesting puzzling duplicate images from different puzzle brands! Until next time my Jigsaw Junkies- happy puzzling!
Amanda @600hoursofpuzzle