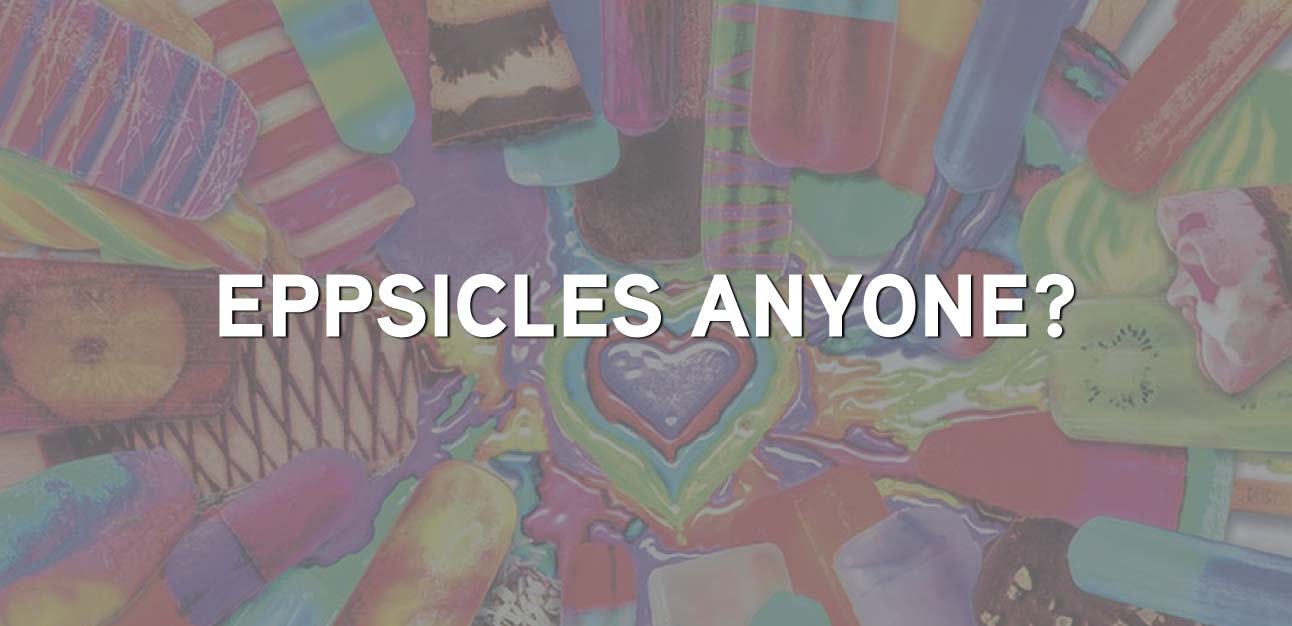 Eppsicles Anyone?
In 1905 11-year-old Frank Epperson left a glass filled with flavored water and a stirring stick outside one winter night. It froze. The next morning he ran the glass under hot water and removed the ice pop using the stick as a handle. As an adult he made these for family and friends. In 1923 he filed for a patent for his invention, calling them Eppsicles, but his children called them "Pop's sicles." The name stuck and the rest is history.

In honor of the coming hot days of summer I thought I'd hunt for popsicle puzzles. You'll be happy to know there is no shortage.

Cool Treats from MasterPieces is a 300 large piece puzzle, made from recycled board and soy-based inks. Artwork is by Lars Stewart who works at Foxfire Studios in Washington State with his wife and fellow artist, Aimee Stewart, who was the subject of a recent Jigsaw Junkies post.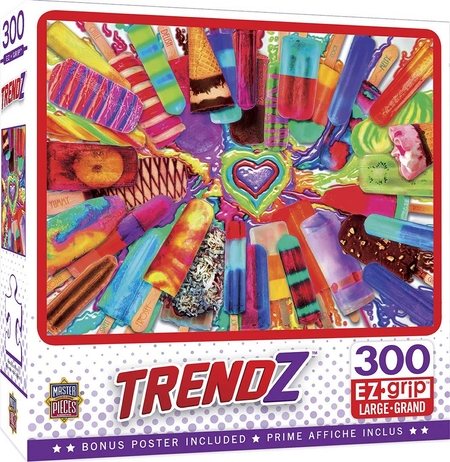 Cool Treats | MasterPieces | 300 Pieces | 24" x 18"
I didn't need the enclosed poster but it's always nice to have in case you're working with another puzzler or you need to see detail not clear on the box. I thought this puzzle would be easy – it's only 300 pieces after all, but it was a little more of a challenge than I expected. I found it easier to start by adding popsicles to the edge pieces: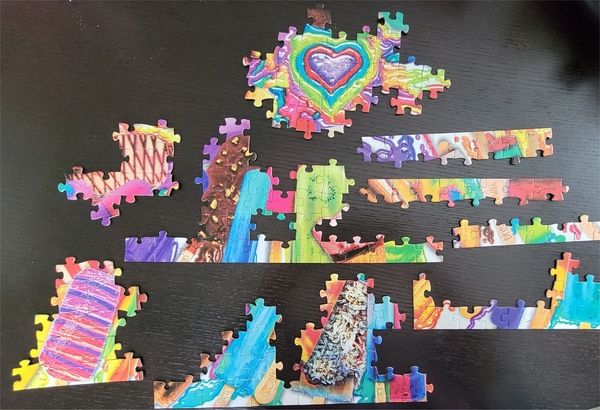 Pieces are cut in a somewhat random grid pattern – pieces did not align at all four corners. I enjoyed the colors of this puzzle so much I went looking for more popsicles – a tasty treat when you want something quick.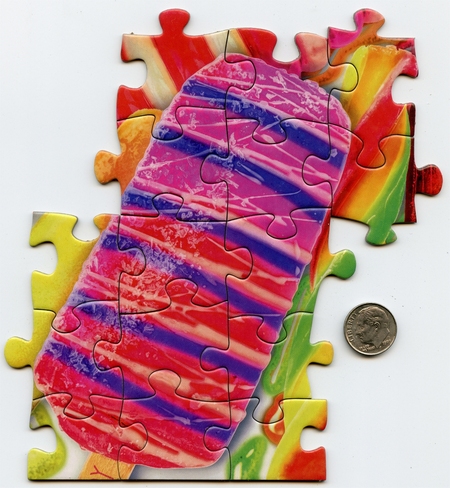 Colorcraft seems to have cornered the popsicle market with three 1000 piece popsicle puzzles. It's a brand I have only recently discovered and highly recommend for their bright colors with clear resolution. They pride themselves on their European blue board, 100% recycled cardboard, soy-based inks, lack of puzzle dust, reference posters, and lifetime free lost piece replacement. Each puzzle piece has a unique shape and place in the puzzle.

Popsicle Rainbow by Colorcraft is indeed a rainbow of popsicle flavors and colors.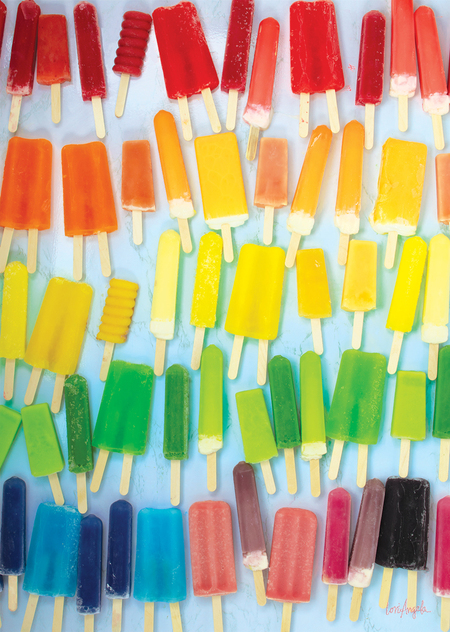 Popsicle Rainbow | Colorcraft | 1000 Pieces | 19" x 27"
Popsicle Palette, also by Colorcraft, features popsicles that are little more unusual: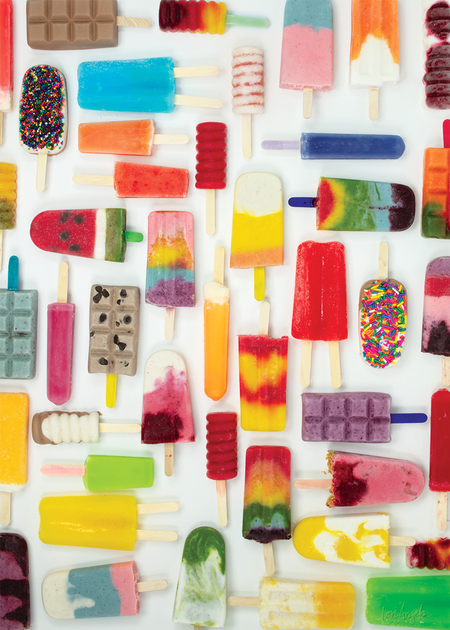 Popsicle Palette | Colorcraft | 1000 Pieces | 19" x 27"
Cold Colorful Treats – Another 1000 piece puzzle from Colorcraft that lives up to its colorful name. I'm not sure these can be strictly called popsicles, as some seem to have ice cream, but hey on a hot summer day, I'm not one to quibble.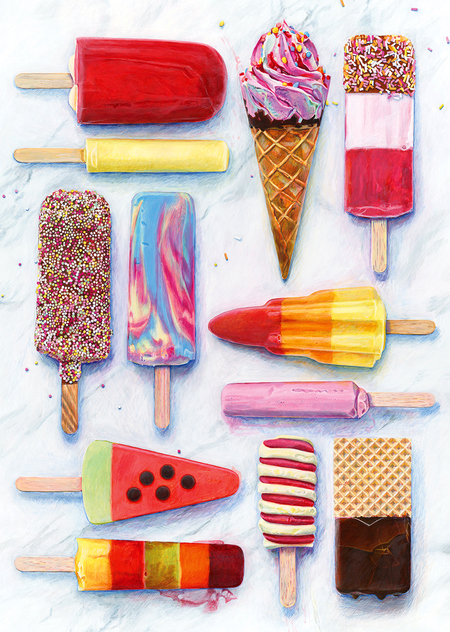 Cold Colorful Treats | Colorcraft | 1000 Pieces | 19" x 27"
Frosty Treats from Buffalo Games comes in two versions – 1500 pieces and 300 pieces. They both feature a mouth-watering assortment of frozen goodies from their Art of Play series. The pieces of the 300 piece version are 67% larger than traditional puzzle pieces so they're easier to see and hold. Buffalo Games puzzles are made in the U.S. from recycled puzzle board. Reference poster is included.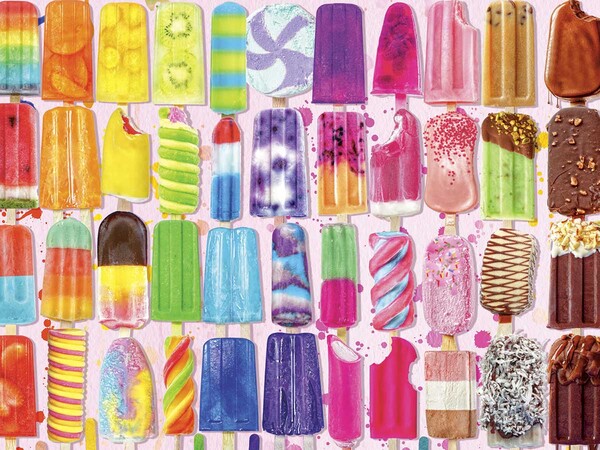 Frosty Treats | Buffalo Games | 1500 and 300 Pieces | 31.5" x 23.5" and 18" x 18"
For those of you who prefer a different puzzle cut, Popsicle Rainbow from Eurographics is a perfect 1000 pieces. And it comes in two versions – in a tin or in a box. These are not your standard popsicles. They're packed with fruity goodness – perfect for a hot summer day.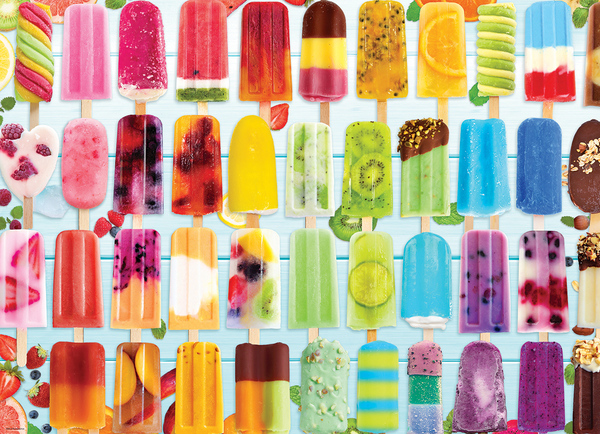 Popsicle Rainbow | Eurographics | 1000 Pieces | 26.5" x19.25"
Popsicles is a 1000 piece puzzle from SunsOut that also comes in a 100 piece version. SunsOut is one of my favorite brands. I love their random cut pieces. Not only do I think they are more interesting, I don't have much of a problem with false fits. Artwork is by Fiona Stokes-Gilbert, an illustrator/designer working in the Los Angeles area. She has a fondness for patterns – perfect for collage puzzles.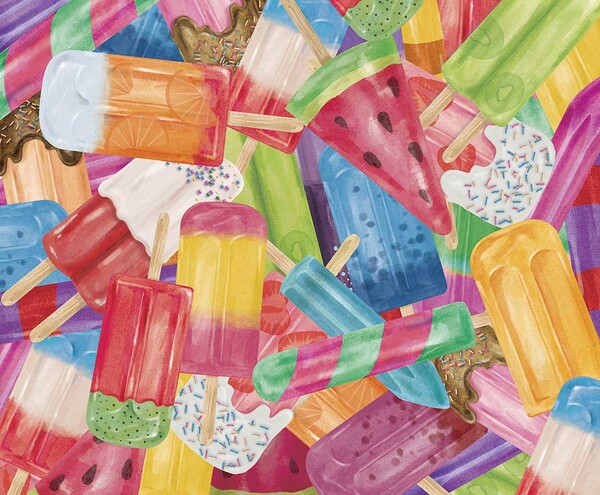 Popsicles | SunsOut | 1000 and 100 Pieces | 28" x 23" and 10" x 16" Inches
I've been told that in Australia popsicles are called "ice blocks." Ask for that here in the U.S. and you'd get a reusable ice pack to keep your lunch box cold. When I visit Australia I'll be sure to call them ice block, but for here and now, they're popsicles!
Happy puzzling,
Madelle