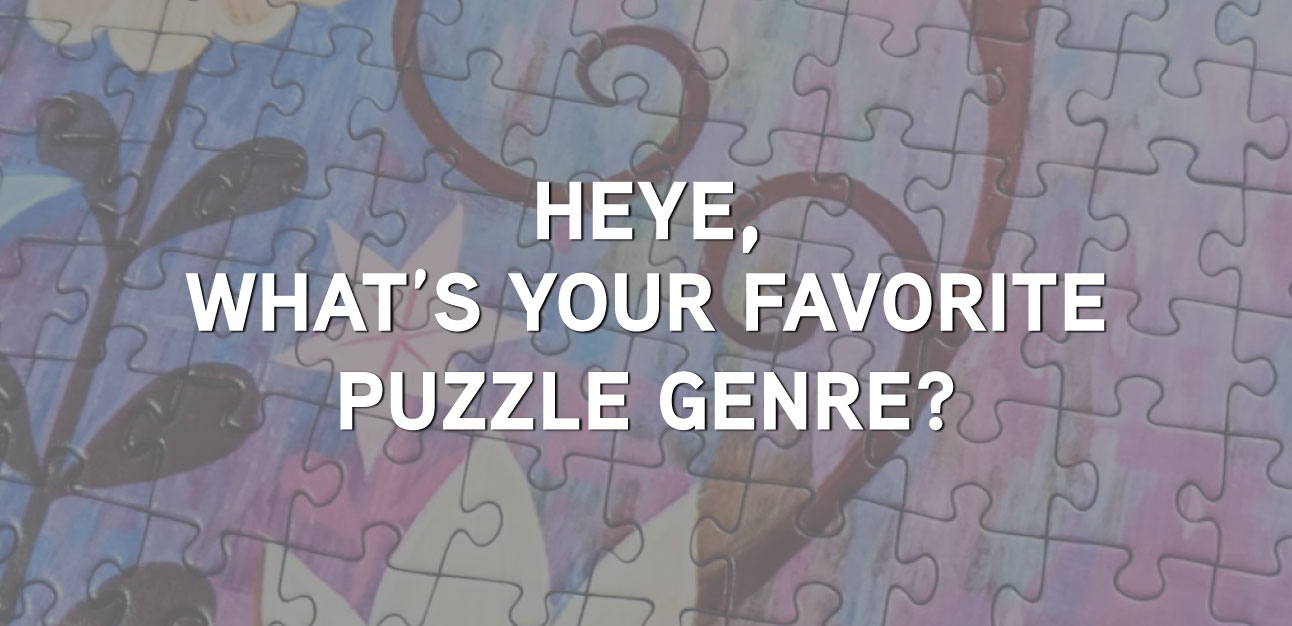 Heye, what's your favorite puzzle genre?
Hello, Puzzle Fam! After a week of sunny (but cold) weather here in the PNW, the rains have returned. That's fine with me, because rainy days equal puzzle days for me. Well, let's be honest, any day is a puzzle day in my book, but I don't feel as guilty spending the whole day puzzling on a rainy day. I will literally spend the entire day at my puzzle table, with a good movie or series on the TV. It can't be anything too gripping though, or I'll forget about my puzzle!

It's no secret that I definitely have a puzzle type. Whimsical, fantastical, surreal, bright, lots of color and absolutely zero photographic puzzles. This has been the case since I was little. Talk about unicorns and dragons gone amok. I went through a HUGE fantasy phase, both with puzzles AND books. As I got older, my tastes branched out (I had quite a long affair with Koontz and King during high school. The Eyes of the Dragon is an underrated gem) but the majority of my puzzles are still easy, breezy, beautiful fantasy. Do you ever wonder why you gravitate towards one genre and not another? Why do you like one style more than the other? For instance, like I said above, I don't like puzzles of photos. I have trouble ascertaining the differences in shade and I find them so hard! For me, puzzling is all about my enjoyment and relaxation. I don't puzzle to challenge myself or to set time records. I like to zone out in a sea of color and imagination. Enter….fantasy puzzles.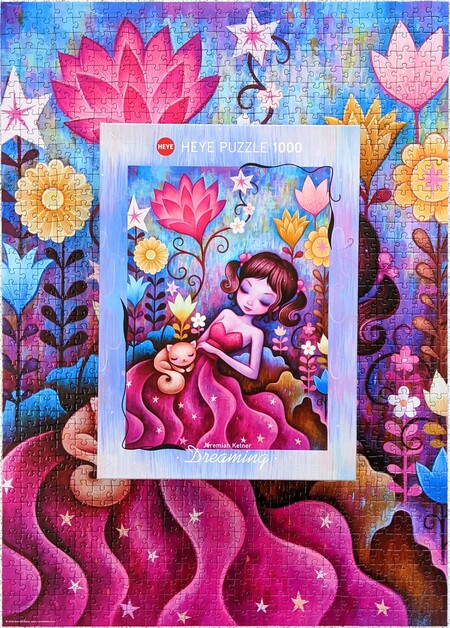 I recently did a gorgeous 1000 puzzle from Heye called Better Tomorrow by Artist Jeremiah Ketner. Heye has a whole series devoted to Ketner's work called "Dreaming". All of these puzzles are so gorgeous. I love how he uses so much color in the background and how he makes a simple image feel so lush and ethereal.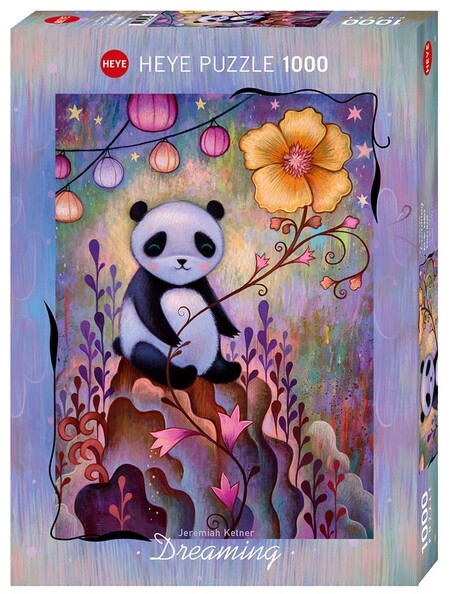 Panda Naps | Heye | 1000 pieces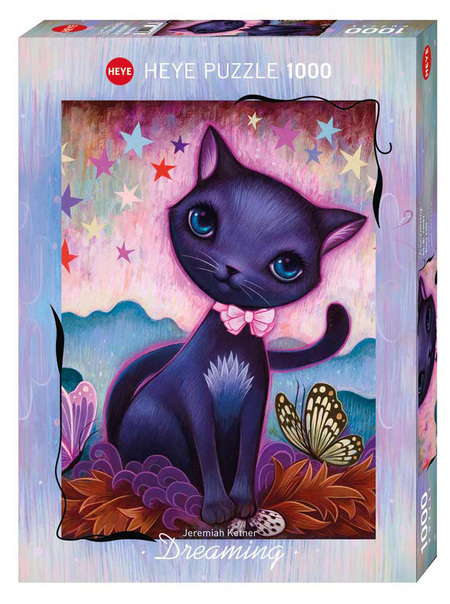 Black Kitty | Heye | 1000 pieces

So, after deciding which of these beautiful puzzles to do, I got to sorting. Edges first and that's all the sorting I do. All the other pieces go into one tray. I stared at the box top for a bit and contemplated where I would start. I do this for every puzzle. I assemble the border first, but then I sit and try to get a feel for the image. I guess you could say that I am planning my attack. Do I want to start with her dress? It's a large area, but pretty monotone. Maybe her face or the cat? After some mulling, I ended up starting with the flowers. I then did the girl and her dress, the brown clouds, the vines and then the background.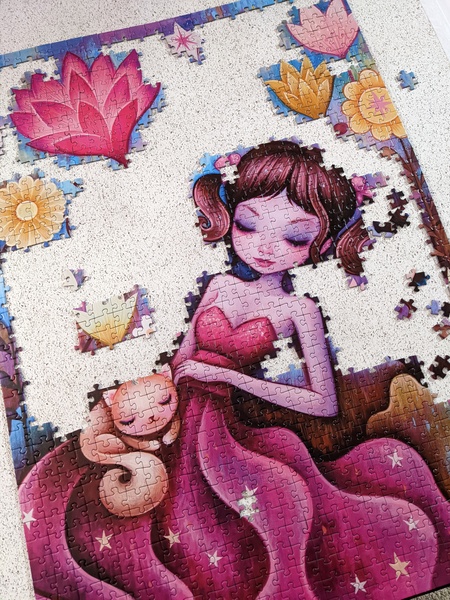 As you would have guessed, the hardest parts were her dress and the background. There were a lot of subtle color changes and both those areas were a little spicy, but still enjoyable. You guys know what I'm talking about. Sometimes when you have a ribbon cut puzzle with a large patch of monotone color, it can get old fast. False fits, sorting by shape…. Those are not my favorite puzzle moments. That was not the case here and there was much rejoicing. Heye puzzles have an anti-glare matte finish. The fit was a little looser than I like. I want to be able to transfer sections that are at least 6 pieces, but it was by no means a deal breaker. The finished product was a thing of beauty. Heye does make a great puzzle.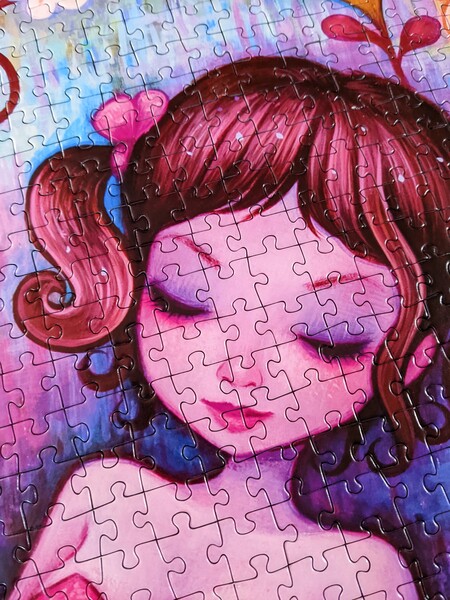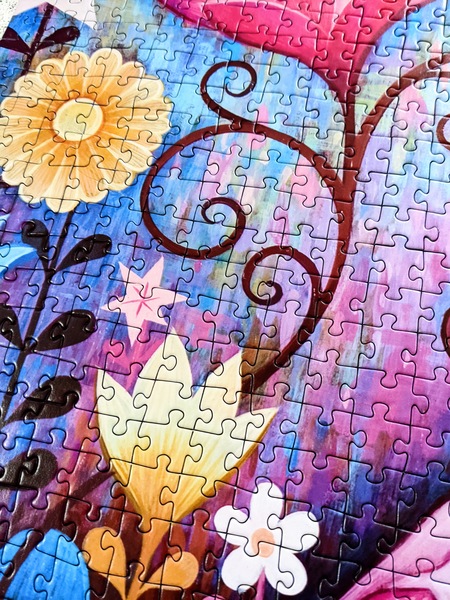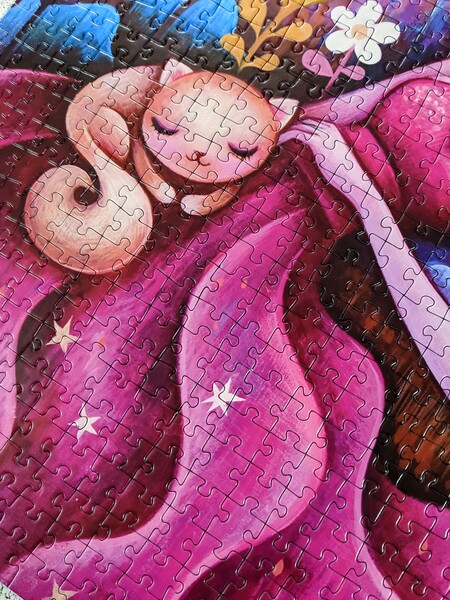 There are so many styles of whimsical, fantastical puzzles. Heye has such a great range of magical images.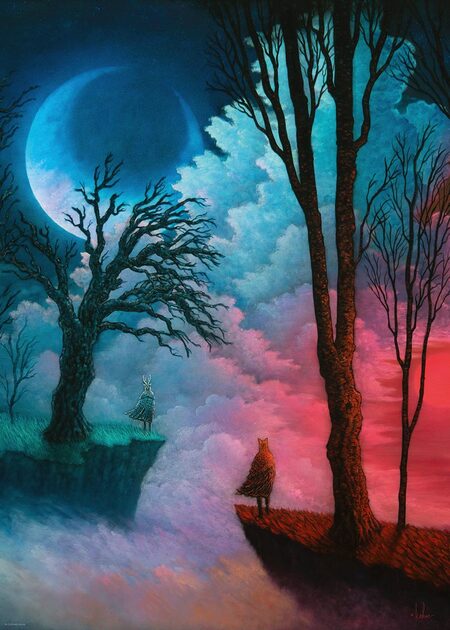 Worlds Apart | Heye | 1000 pieces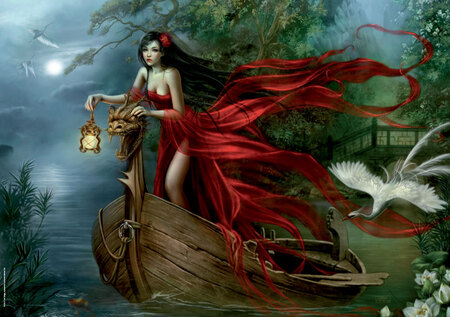 Swans | Heye | 1000 pieces
Puzzles really are amazing. There are so many styles and genres. For every person that loves fantasy, there is a person who loves real world images. Some people like collages and some people eschew cardboard for wood. I love that there is a puzzle out there for everyone. So whether you are set in your ways like me and prefer one style or you love all puzzles equally, happy puzzling!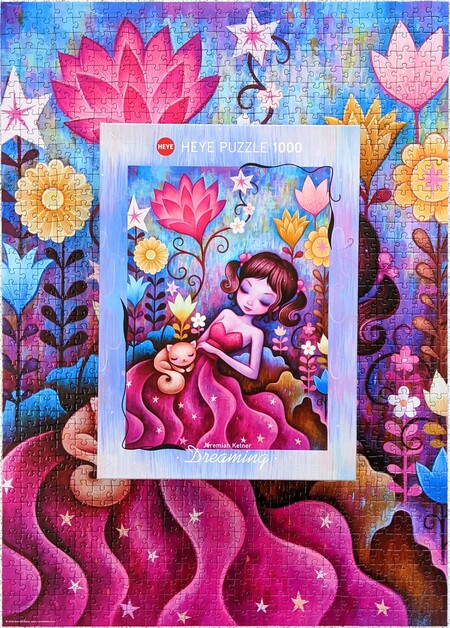 -Gaby @puzzlepastime
Amanda K. - Cincinnati, OH
I've always wanted to try one of these beautiful whimsical Heye puzzles! Great blog!