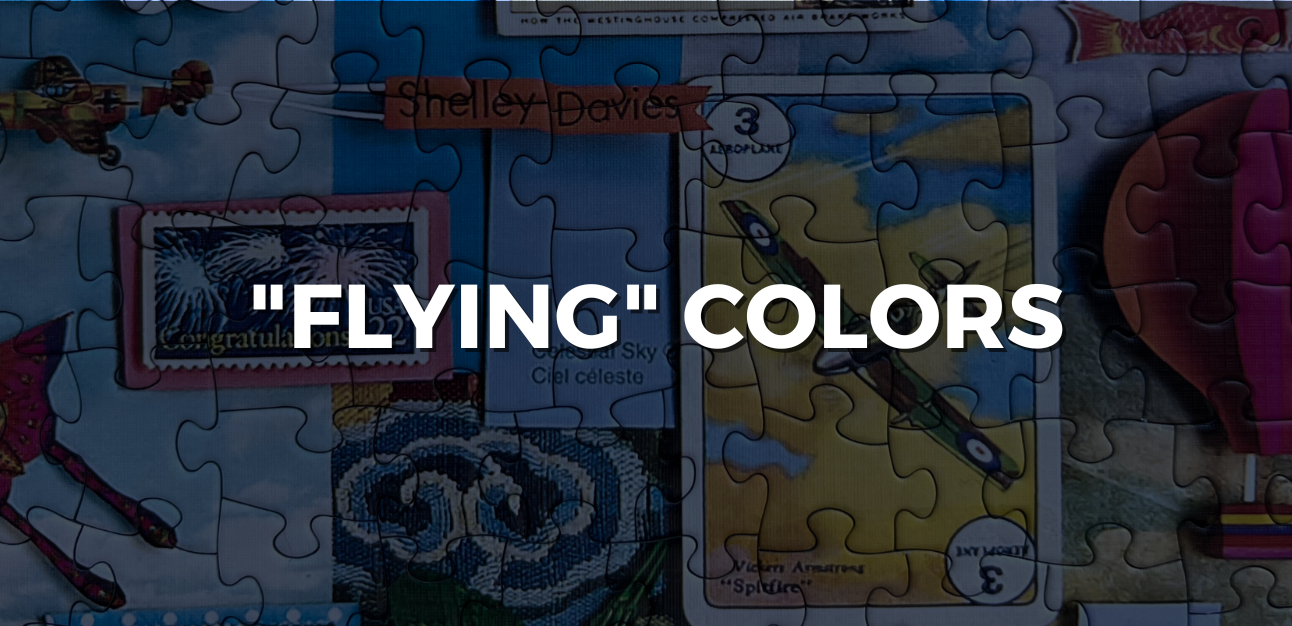 "Flying" Colors
November is National Aviation History Month, which propelled me to land the following puzzles onto my table! Aviation is near and dear to my husband's heart, which means it holds a special place in mine as well. His father was a Lt. Colonel in the Air Force – his claim to fame was flying President Johnson's helicopter after he was out of office. While asthma put a stop to my husband's dream of flying for the military as well, he did earn his license and enjoys going for joy rides in this beautiful 1945 Piper J-3 Cub that he lovingly restored from what came as parts in boxes when he bought it.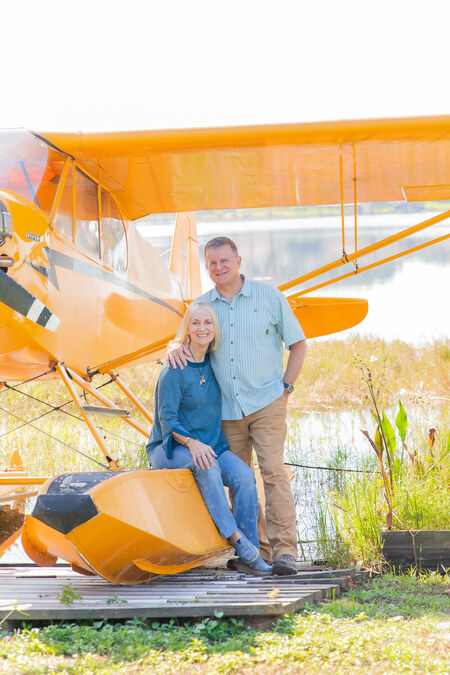 As flying is my husband's passion, it's only right that I kick off the blog with a puzzle he himself put together – this 1000-piece, World War II Aircraft from Eurographics. My husband, who can identify planes in an instant when not only they appear in the sky, but when he hears them, had no trouble assembling the planes. However, he did struggle a bit with the white space in between. He refused to crash and burn though and saw it through to the end! Despite not being puzzle-crazed like me, he enjoyed it so much, he has added History of Aviation, History of Canadian Aviation, Military Helicopters and Modern Warplanes, all from the same company, to his Christmas list!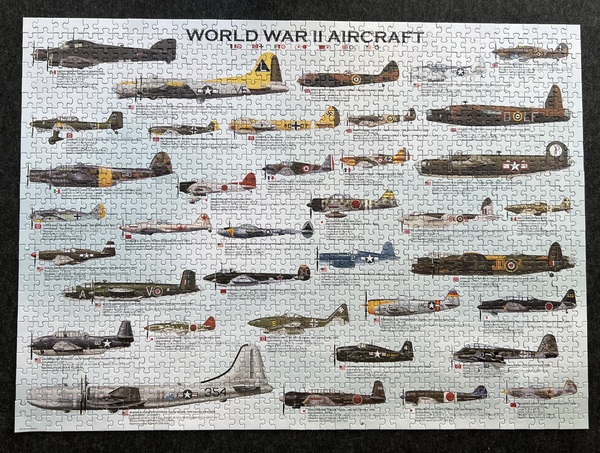 World War II Aircraft | Eurographics | 1000 pieces

Not to be outdone, I too added a Eurographics puzzle to my to-do list for this blog, which was a bit less technical than his – this 1000-piece Boeing Advertising Collection. I really enjoy collage puzzles and this one was no exception with its bright colors enabling me to soar through the build. I got a kick out of this old-fashioned ad in the puzzle. Ah…when flying used to be elegant!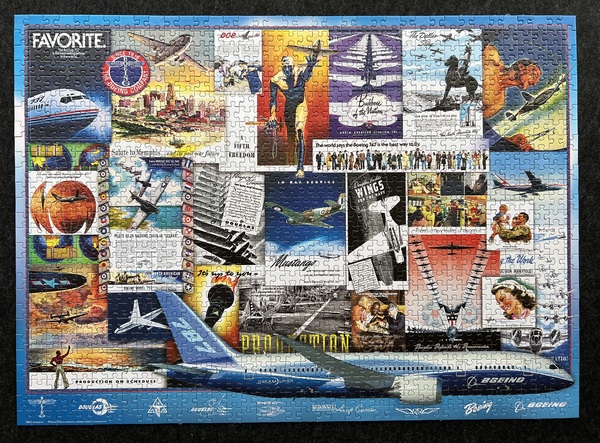 The name of this 1000-piece puzzle, Fly With Me! by Heye is apropos because it is something my husband constantly begs me to do. Despite feeling like a rockstar in the front seat of his plane (people not in the know assume I'm flying it instead of him as he flies from the back seat) I'm a nervous flier and rarely go with him. Putting together this puzzle is more to my liking! I saw this one on a post months ago and instantly knew I had to have it, as I adore the colors and whimsical elements.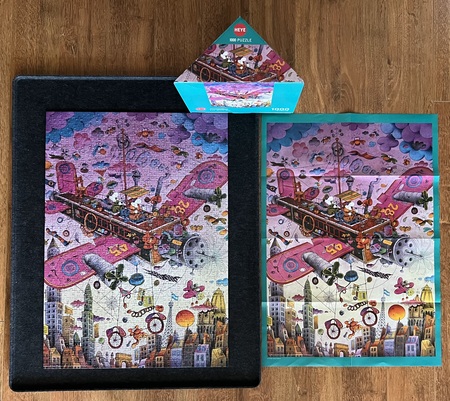 It was my very first Heye puzzle and everything about it, from the triangular shaped box to the Hindenburg-sized poster (the same size as the puzzle itself), to the pieces which had zero false fits or puzzle dust and held together fast, ensured that I'll jet towards more Heye puzzles in the future!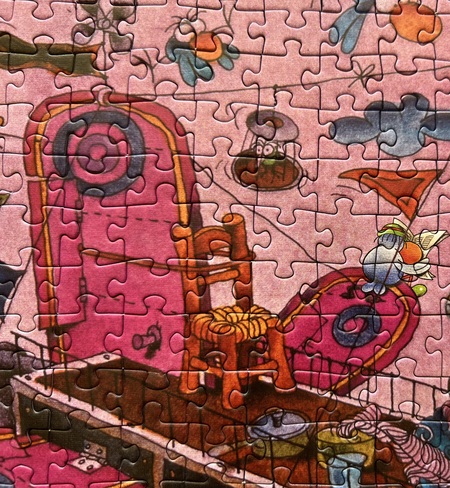 You can find a few aviation-themed puzzles by artist Charles Wysocki. What drew me to this particular 1000-piece Four Aces Flying School by Buffalo – in addition to the fact that their recycled paperboard pieces are excellent quality with their "perfect snap" fit - was the yellow planes, which reminded me of my husband's plane. Apparently, I wasn't the only one who had their spouse in mind when it came to this puzzle – the "I love you Elizabeth" featured on the art was a nod to Wysocki's wife, Elizabeth!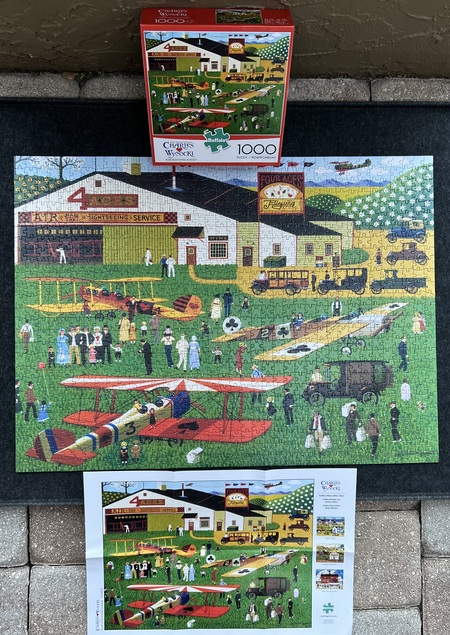 Lastly, there's more to aviation then just planes and this puzzle, Air by Cobble Hill, featured a touch of everything from balloons to zeppelins and more in this 1000-piece puzzle.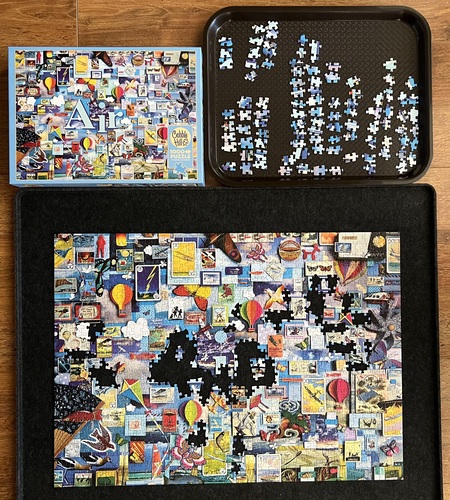 This is one of four puzzles that come from artist Shelly Davies' "The Elements Project," which was part of a single large installation that took her months to complete. I'm a big fan of Cobble Hill's random-shaped, linen-finish pieces and one of the other four in this series, Earth, is also on my shelf with the remaining two - Fireand Water – being on my Puzzle Warehouse wish list!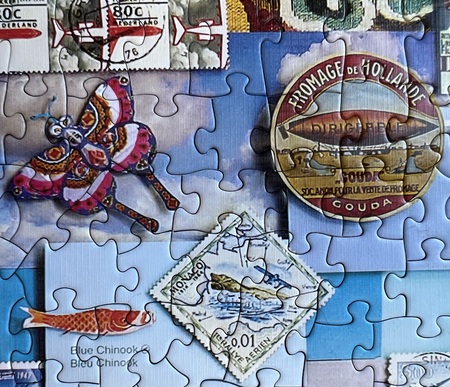 I know you have a choice when it comes to picking a blog to read, and I thank you for flying with me today! You can now raise your seat backs and put your tray table down instead of up (to do a puzzle, of course)! Wishing you blue skies until we meet again…
Lisa - @lisalovespuzzles