Get On Your Bike
In honor of May being National Bike Month, with May 7th being National Bike Day, I thought I'd put the pedal to the metal and feature bicycle-themed puzzles in my blog. As a little girl my bicycle was my trusty steed and I would gallop all over town on "her" from sun-up until the streetlights came on. Ah…that long ago time when mom had no idea where I was all day long… Nowadays, I still enjoy riding and especially love touring a city on one to get out of the main fray to experience the quieter areas, like in this photo where I got to ride on the Appian Way along the aqueducts in Rome!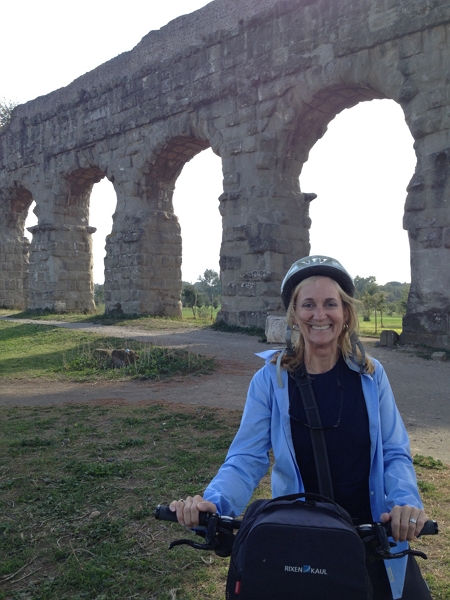 Get ready to hop on my handlebars and see what puzzles I wheeled out this month… My first stop on the ride starts off where last month's blog left off – Paris! This 1000-piece Springbok entitled Local Treasures made me feel like I was back there again, sipping a coffee along the boulevard. It was "tres" challenging for me, as I struggle with dark colors and the view of what's inside the windows is blurred. But once I grasped where the different shades of warm vs. chocolatey vs. walnut browns went, I was able to move into high gear. The random, unique shapes in this one ensured no false fits with a hold as snug as bicycle tights!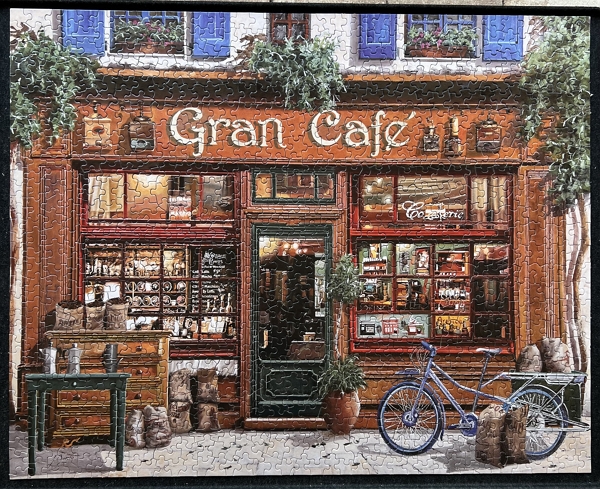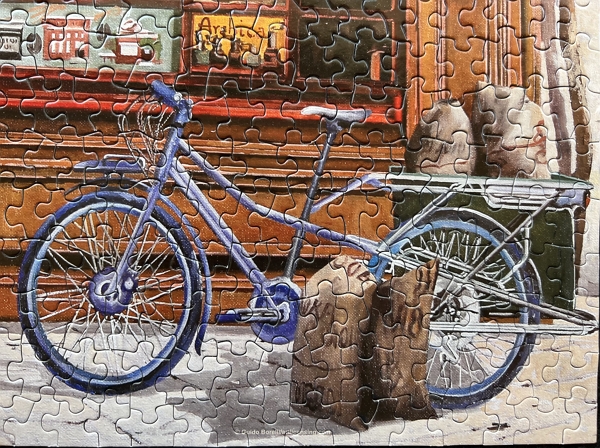 After all those browns, I was ready for brighter colors and I got truly vivid ones with these two 1000-piece puzzles from a new-to-me brand, Playful Pastimes. They may have been my first from this company, but they certainly will not be my last. Their quality is off the chain good! Their 2.34 mm super-thick pieces in varied shapes with a non-glare matte finish easily pass the puzzle pick-up test. The puzzles come with a high-resolution poster and the box is sturdier than most, so it's perfect if you, like me, prefer to prop up your box as you build. This woman-owned, Canadian company is generous too. She gave puzzles to her local chapter of Meals on Wheels during the pandemic, so those who were isolated could have something to do and she donates a portion of her net profits to mental health charities, such as the Brain Canada Foundation and Youth Mental Health.
Out For A Ride, with original artwork by Rebekka Ivacson, was the first Playful Pastimes puzzle I veered towards. True to my nature, I assembled the border first, followed by the gem-colored houses next, the girl on the bike and left the cobblestones and sky for last (sameness gets me every time). This one was a smooth ride and I enjoyed every minute of it.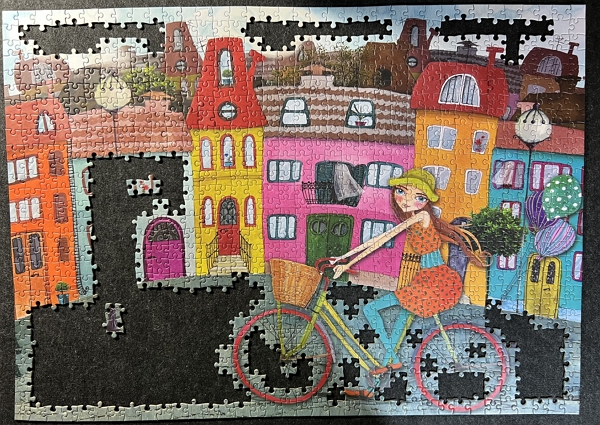 Next up was Market Day, featuring artwork by Taylor Davidson. This one had me pumping the brakes a bit, as the soft colors blended in slightly, much like an Impressionist painting. I adore pastels though, so spending time determining what went where was a joy.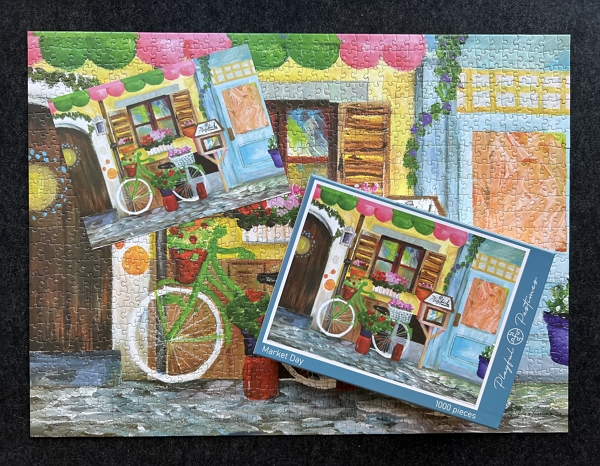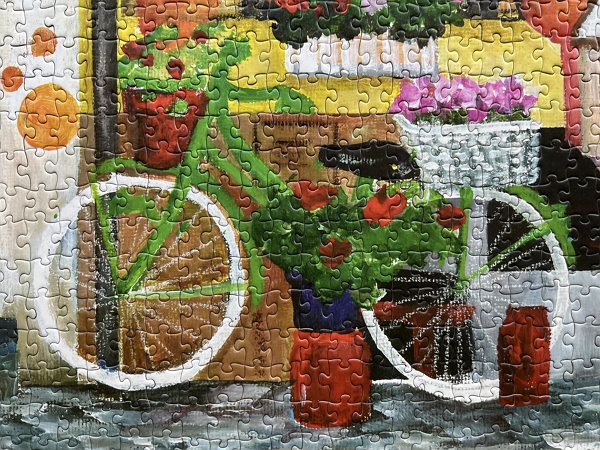 After going to the market, I headed to the general store with this 1000-piece SunsOut. My version of Waiting at the Store with its nostalgic feel, cute critters and colorful quilts, was 1000 pieces, but it's available on Puzzle Warehouse in a 300-piece as well. Artist Tom Wood's little details make puzzling as breezy as the wind on your face during a ride and I never faltered to wonder what went where.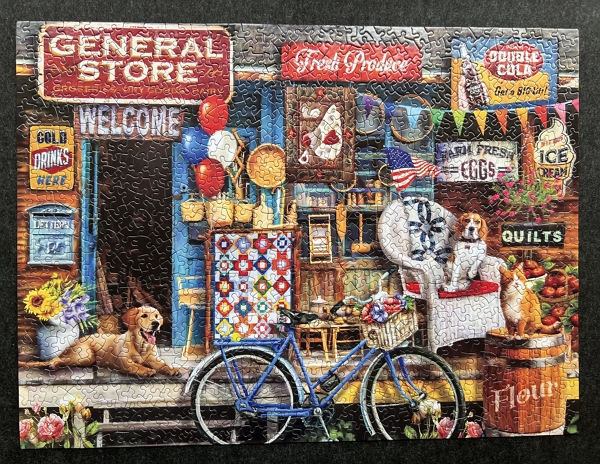 I gravitated towards The Bicycle Ride, a 1000-piece by Pierre Belvedere, as it harkened back to the carefree, all-day bike riding of my youth, which just so happened to be in New England where the colors on the trees were as vibrant as the ones in this puzzle! Like Market Day, this one with artwork by Lisa Labbe, also had an Impressionistic feel, making it challenging. After completing the yellow buildings, it was an uphill battle, but I'm so glad I stuck with it as the completed puzzle was stunning. I do wish Pierre Belvedere would include a poster in the box OR not cover the corner with their branding, but a quick workaround was to hop on Puzzle Warehouse's site to view the complete image.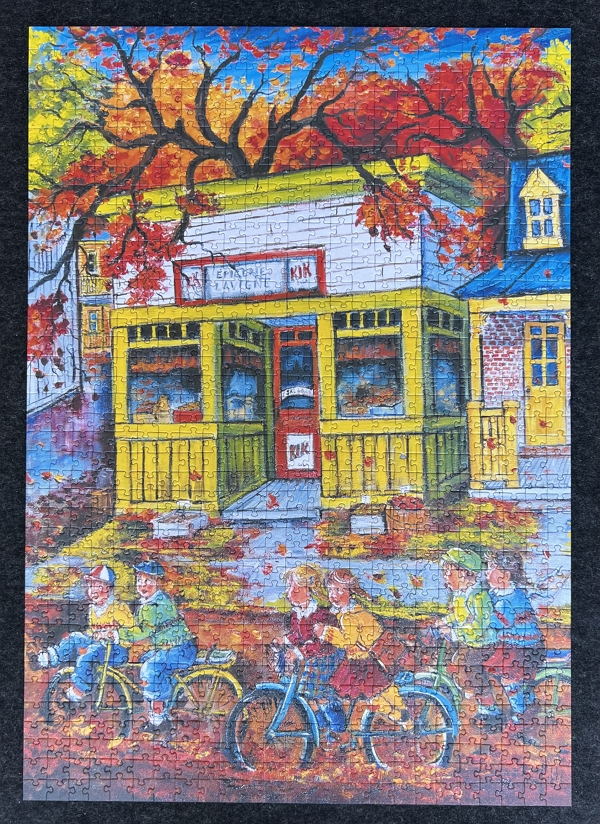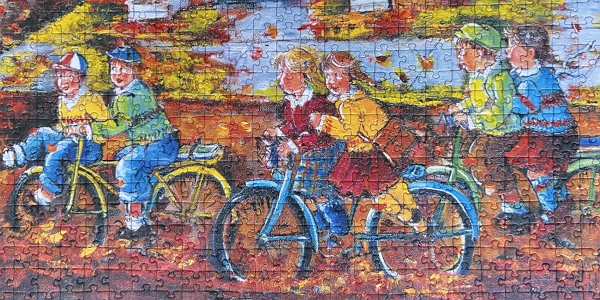 Last stop on the bicycle tour was this 1000-piece entitled Bicycles. Cobble Hill never fails to pump me up with their sturdy, random-cut, glare-reducing, linen paper pieces. After sorting I worried what I got myself into…SO many bike parts! Doing the border first initially proved concerning too…all that white! I'm happy to say these fears were quickly allayed. Each panel has varied shading behind it and the bikes are all different colors, making it stress-free. And if you look closely, the white border pieces have the words to Queen's Bicycle Race on them. So simply hum along as you slot in what word in the lyric goes in next! Such a quirky add to the puzzle, as were the cute bicycle themed quotes in some of the panels.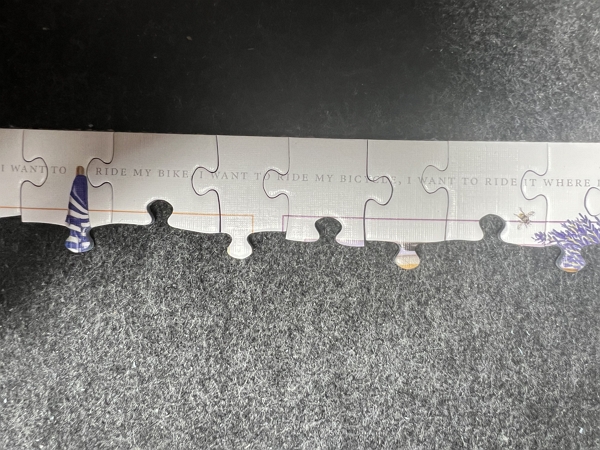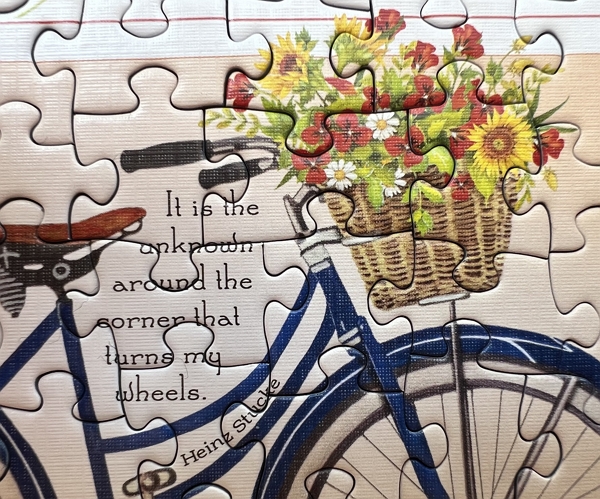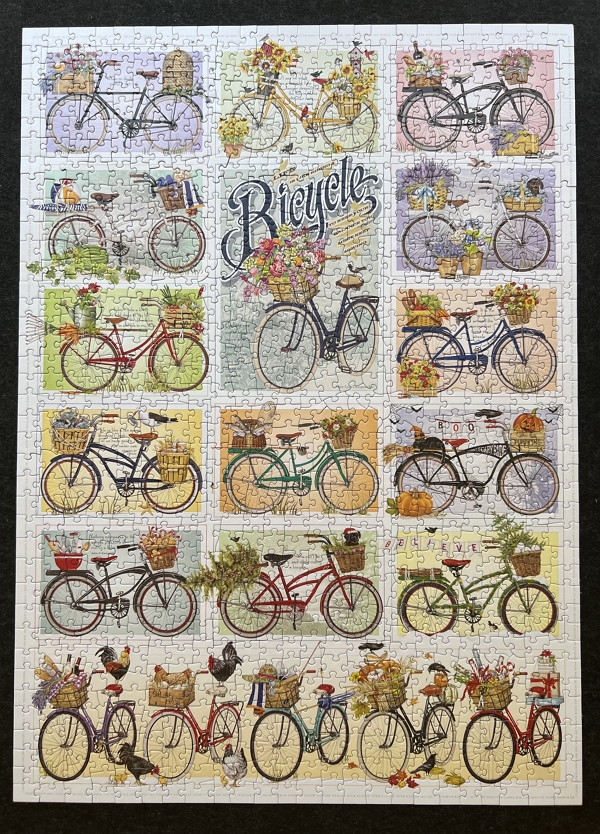 Well, that was quite a long ride, so go and stretch out your legs! Puzzles I wouldn't mind throwing in my bike basket for the next go round include Ravensburger's 1500-piece 99 Bicycles, Heye's 1000-piece Cycle Race and Heritage Puzzles 550-piece No Bicycles on the Beach or their 1000-piece Bicycles With Baskets.
In closing, it's been said you can't be sad while riding a bike, and I'll add, or when doing a bike-themed puzzle!
– Lisa @lisalovespuzzles
5 Stars
zuzubird - New Hampshire
I enjoyed your post, and decided to read it because I love bikes and bicycling, too. Glad I did! And what a cute photo of you!