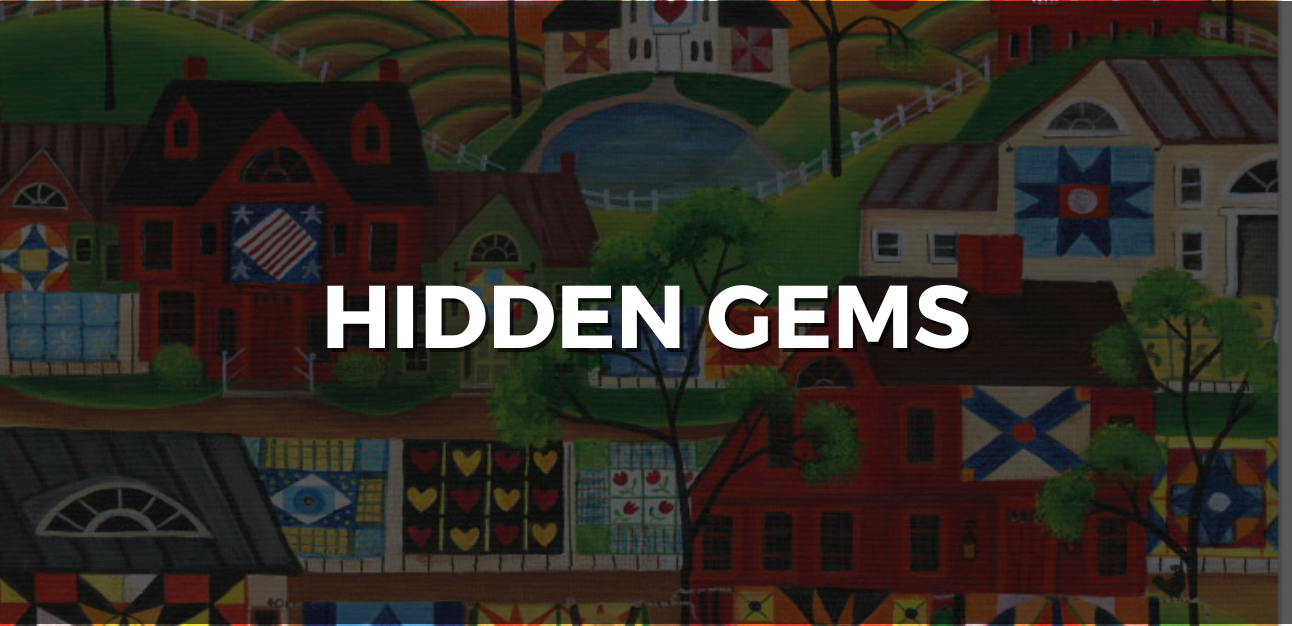 Hidden Gems
As puzzlers, we have a tendency to stick to niche image styles because we know what we like! During my last 12 months as a Puzzle Warehouse Ambassador, I've been sure to add puzzles to my wishlist that I wouldn't normally puzzle, knowing they had a chance of being sent to me in my ambassador box.
Many of those puzzles turned out to be hidden gems and have been some of my favourite puzzles I've completed this year. It's quite fitting that Puzzle Warehouse recently added a new section to their website titled: Hidden Gems
I thought it might be fun to explore this section and highlight some of the puzzles currently listed there.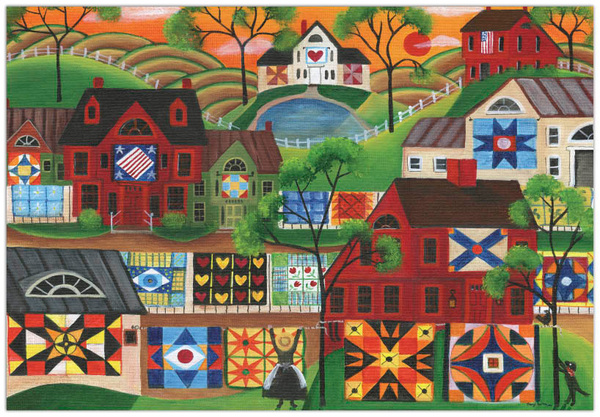 If you're like me and you get a lot of enjoyment from puzzling patterns and lines, this hidden gem is for you. Mama's Colorful Quilts by Crown Point Graphics is a 1000 piece puzzle that falls into the Folk Art and Americana category. I love the bold designs of the various quilts in this image but I also equally love the softer colours of the sky and hills. Even though your eyes are naturally drawn to the patterns, I really like the not so obvious details like the dog and the pair of socks hanging amongst the quilts.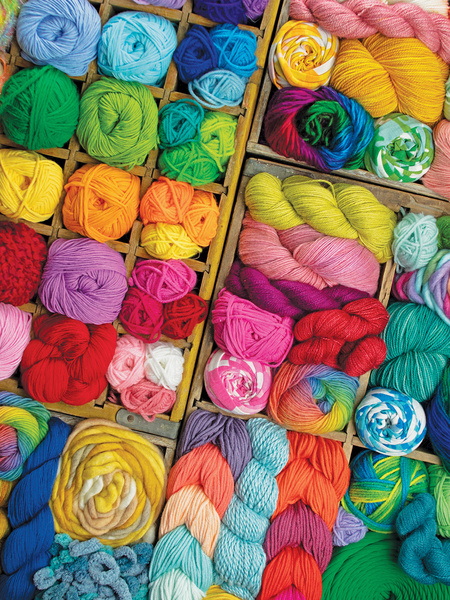 I do enjoy a Colorcraft puzzle and this one is no exception. For me, bright colours make the puzzling experience just that little more enjoyable. If bright colours are your favourite theme to puzzle, look no further than Yarn of Many Colors. I think this would be a super fun puzzle if you really enjoy sorting pieces. A feast for the eyes would be a suitable description here. The textures of the yarn and wool roving would certainly make each piece their own little individual work of art.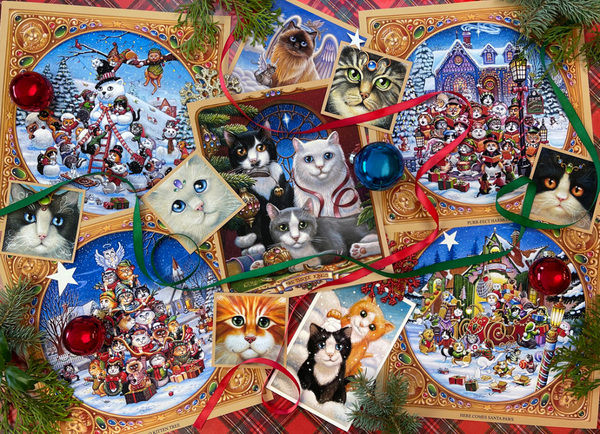 Even with me being the dog lover I am, I must admit this Christmas Cats puzzle by Vermont Christmas Company is absolutely beautiful. What is it about big eyes on cats that sends the cute factor well and truly soaring? I'm pretty easily amused so the sections in the puzzles titled "Here comes Santa Paws" and "Purr-fect Harmony" appeals to me greatly. The combination of photographed elements mixed with traditional illustrations in this image are so nice. I'm just going to quickly add this to my wishlist before I move on!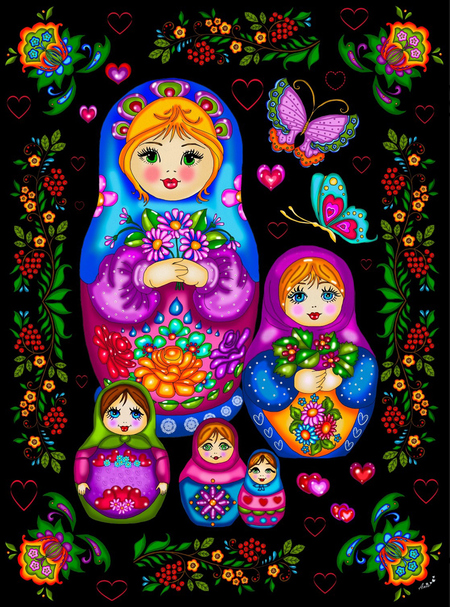 Now I know that dark backgrounds can be a bit of a no-go zone for many puzzlers. I find when you don't have to deal with big expanses of solid colour, they really aren't as difficult to piece together as you might think. The pretty details surrounding the centre image really will make the dark background a non-issue. Russian Dolls by JaCaRou wouldn't be quite as impactful with a different background colour. Those bright hues really do pop against the black, don't they?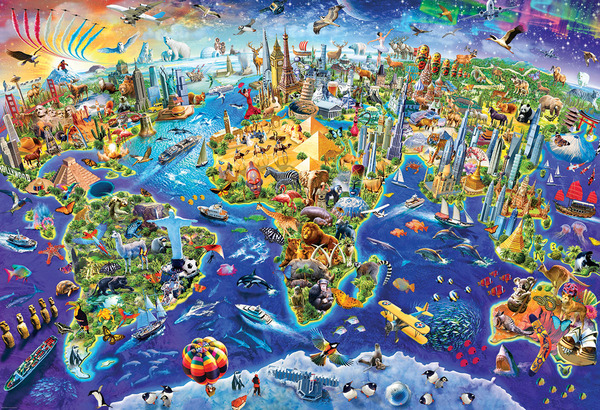 If bigger piece count puzzles are your thing, Crazy World by Eurographics might just rock yours. I like this fun depiction of the traditional map style of puzzle. It features a lot of the popular landmarks of the world and their native animals. I'm actually really hopeless with geography so I could probably learn a thing or two from doing this puzzle. As an Aussie, I always get a little thrill in seeing a koala or kangaroo in a puzzle and this has both! Extra points from me for that!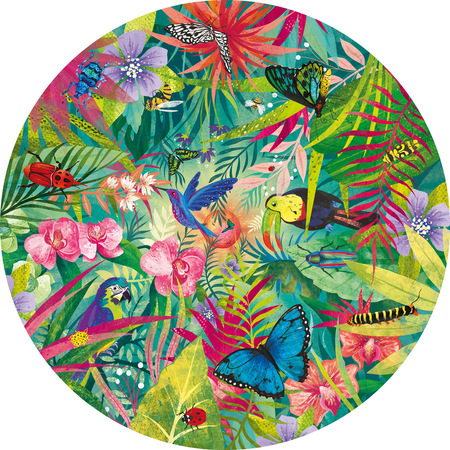 Believe it or not, I only recently completed my very first round puzzle and I found it to be a very refreshing change from the standard rectangular or square puzzle. This 500 piece Tropical puzzle by Gibsons is another hidden gem that I'm adding to my wishlist. The layered foliage and flowers are so pretty. Birds are hard for me to bypass as a subject when it comes to puzzling and even those bugs are a tiny bit cute.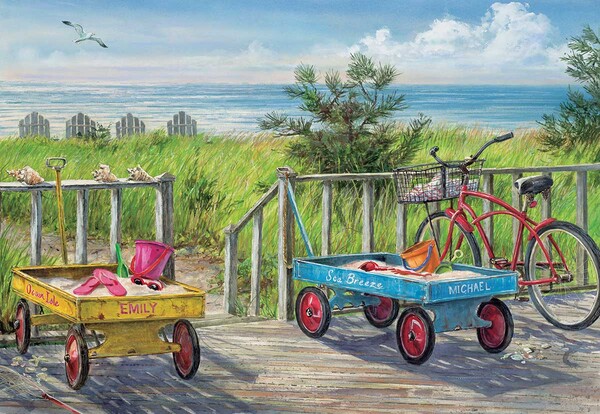 For the landscape style lovers, I think this Beach Buddies puzzle by Heritage Puzzles is lovely. I can actually imagine this one framed on a wall. It's summertime here in Australia at the moment so I'm looking forward to spending time at the beach. I know the Northern Hemisphere is getting cold right now. One of the things I love about this style of puzzle is being able to visit a place or season vicariously through the image.
Be sure to check out the new Hidden Gems section on the Puzzles Warehouse site. This is only a small selection of what you'll find there currently and I honestly could've made this blog post far longer by showing you so much more.
Finally, this is my final blog post for Puzzle Warehouse. I've had a wonderful 12 months as an ambassador for the company and I'm honoured to have been the first International and Australian puzzler to do so.
Thank you to Sarah and Puzzle Warehouse for allowing me the opportunity to represent such an amazing company. I'm more grateful than you realise.
To the current ambassador team, I couldn't have asked for a better group of people to work with. Thanks for the many laughs!
To you reading this, I hope I've given you a smile, something to think about and perhaps made you consider adding a puzzle or two to your wishlist or puzzle collection. I've enjoyed writing for you.
Thank you so much for reading my blog posts!
Rell @relishpuzzles